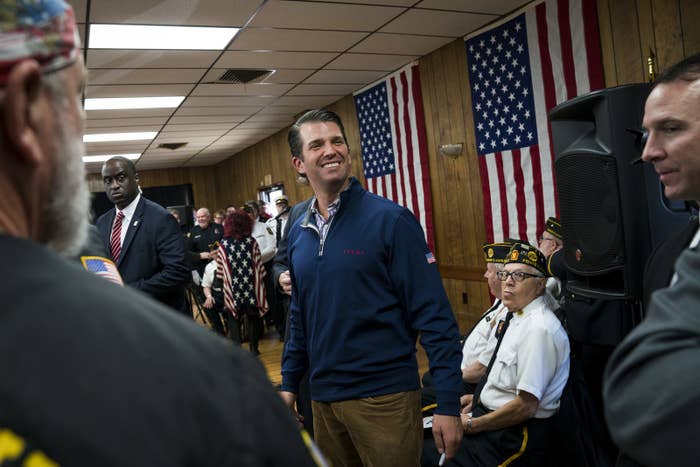 He smiled, shook hands, posed for photos, and grinned for selfies. He urged attendees to get out to vote in Tuesday's special election. The crowd chanted his name.
Donald Trump Jr. was the show Monday. And Rick Saccone, the Republican candidate in the special election, smiled and nodded along, craning his neck to see what was happening over the shoulder of the tall Secret Service agent flanking Trump Jr. as he romanced the crowd.
Saccone is the name on the ballot, but Trump was the name on Republicans' lips as they made their closing arguments in this surprisingly tight race.
"Just because DJT isn't on the ticket does not mean that everything he stands for and represents for the future isn't on the ticket, OK?" the younger Trump told a crowd clad in Americana at the Volunteer Fire Department hall here.
Saccone faces Democrat Conor Lamb in Tuesday's special election to fill the currently vacant House seat representing Pennsylvania's 18th Congressional District. The older Donald Trump won the district by 19 points in 2016, but polls show Lamb with an edge heading into Tuesday. And so in the final days, the cavalry has arrived. President Trump rallied for Saccone on Saturday evening, taking the opportunity to unveil a new campaign slogan — for himself — in a speech dotted with rare mentions of Saccone.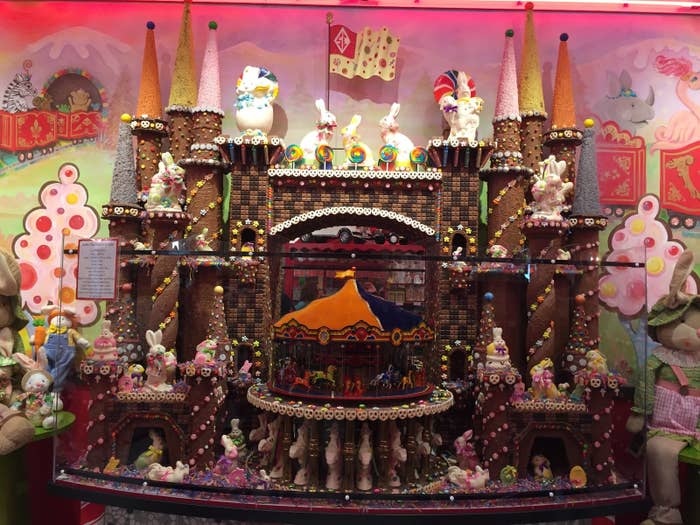 Trump Jr. began his Monday tour of the campaign trail in front of a giant candy castle, of which every part was edible except the carousel. Reporters and cameras jostled for space amongst the gummy candies, vying for a view of the president's son, sending the occasional stuffed animal cascading off a shelf — Easter, it was clear, is big business at Sarris Candies. Saccone and his wife looked on from the side, as a Secret Service agent stared grimly at the chaos.
The tour continued upstairs, where workers showed off their chocolate creations: giant bunnies of all shapes and sizes, a giant shoe, a Steelers football helmet, and a football. Trump Jr. donned a black mesh hairnet, pulling it low over his forehead.
"There's gonna be a lot of Trump hair jokes out of that one," he said, after one flurry of photographs.
But people in glass houses shouldn't throw stones, and one of Trump Jr.'s Secret Service agents ensured that reporters looked equally stylish, at one point physically blocking reporters from proceeding farther: "You can't come in here without a hairnet," he said sternly, a net pulled over his own shaved head. Saccone and his wife, clad in an American flag shawl, also in hairnets, followed along.
After chocolate, there was ice cream — two scoops, Trump Jr. pointed out on several occasions, evidently keen on his own joke about his father's special dessert treatment.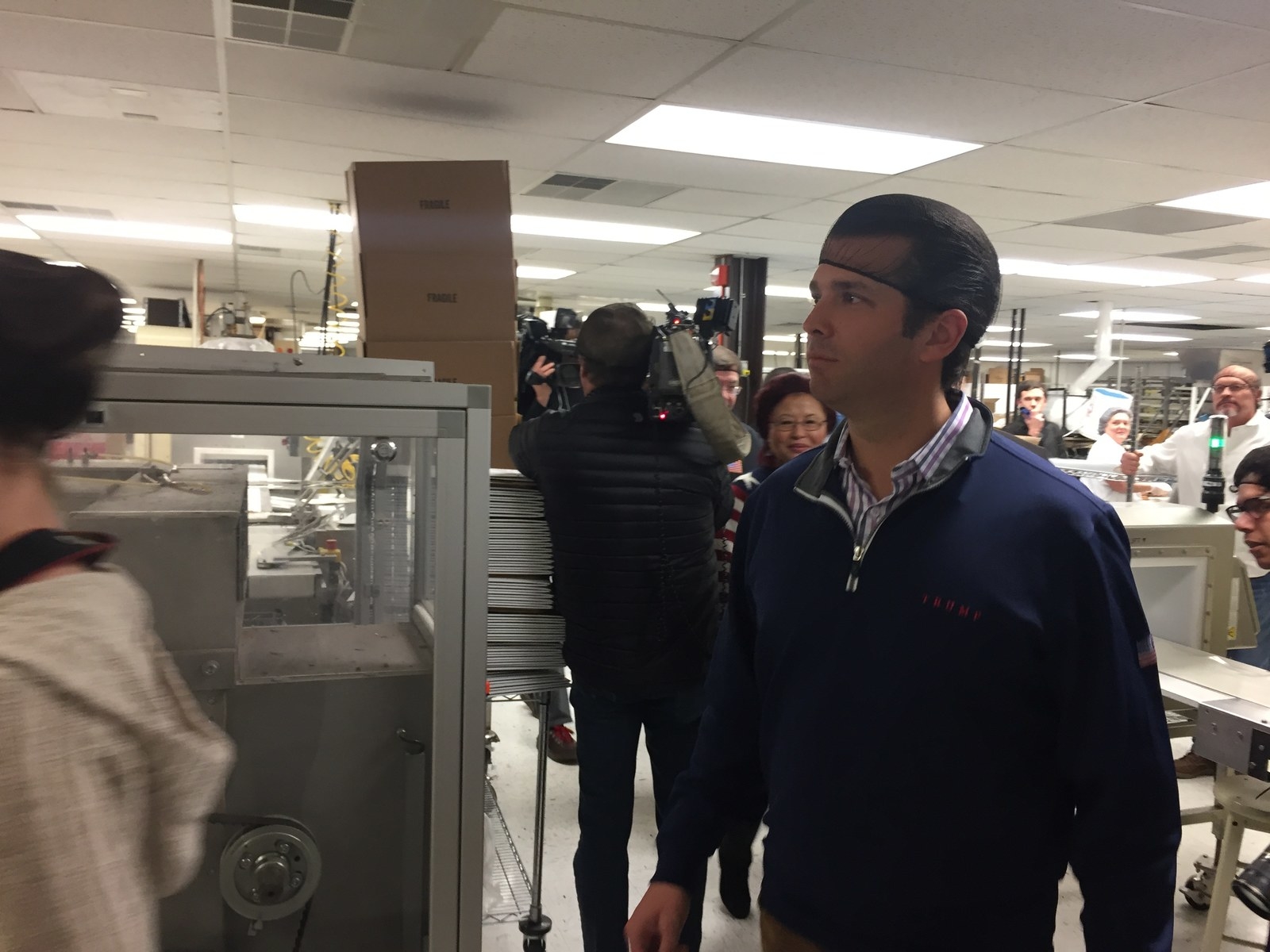 The event was planned as a photo opportunity; neither Saccone nor Trump Jr. would be talking to the press, an advisory warned. But as he sat there eating his ice cream sundae, surrounded by cameras, Trump Jr. seemed unable to help himself. As MSNBC did a live shot, he jumped in, joking with the reporter, and started answering questions.
"We don't need people pretending to be conservative," he said, in a shot at Lamb. The reports that national Republicans have soured on Saccone's lackluster candidacy? A media creation.
"I think the media is doing whatever they can to bolster up that, 'cause god knows, if it's gonna make it difficult for Trump, the media's gonna be all over it," he said. "We've gotten used to that, and it's OK."
He had not, he said, been interviewed by special counsel Robert Mueller.
Saccone's struggles, he insisted, were a symptom of a larger problem.
"Our guys just can't take winning for granted. They have to get out there, they have to continue this fight, now, for the rest of '18, in '20. And in eight years we can make a big difference. They just can't be lazy. They've got to get out and vote," he said.
He declined to answer a question about Stormy Daniels, the porn actor who allegedly had a relationship with his father.
"Thanks guys, that's not what we're talking about," he said, as Secret Service agents began to push reporters back, so the president's son could eat his sundae in peace.
Saccone left shortly thereafter, but Trump Jr. stayed, and so did the press. When he emerged an hour later, he carried a handful of bags. He bought "a ton" of chocolate, Norm Candelore Jr., the store manager, said, estimating five bags just for his kids, plus some for his wife and even some for his father.
"For Easter Day, the president of the United States will have Sarris chocolate," Candelore Jr. recounted. "He said that to me."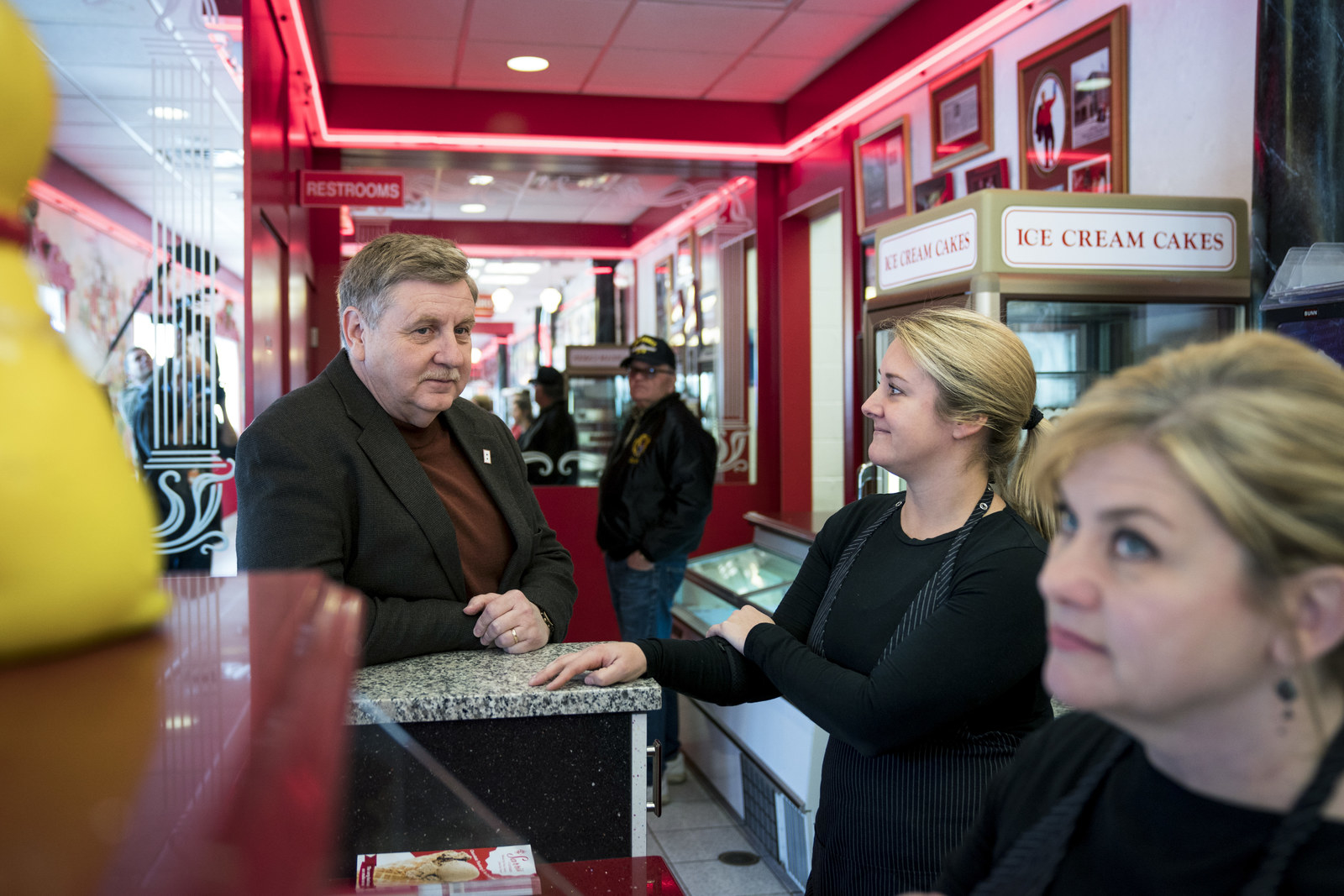 An hour later, Trump Jr. was on stage here at the Volunteer Fire Department, introduced by Saccone. "We've got to get the word out because [Trump] needs help," Saccone told a crowd clad in Trump paraphernalia and American flag–inspired accessories. "He's getting beat up down in Washington, DC, not only by the media, but by the bureaucracy and by Hollywood and the late-night hosts."
"They say the other side is energized. They're energized by hate for our president. I've talked to so many people on the left, and they have a hatred for our president. I think many of them have a hatred for our country. I'll tell you some more — my wife and I saw it again today — they have a hatred for God," Saccone said. "It's disturbing."
The crowd, it was clear, was Trump supporters. Mary Jo Silvis, a Pennsylvania Republican Party committeewoman, sported a bedazzled Trump 2020 pin and a Rick Saccone button. A group sporting shirts that read "Vote for Rick: Chinese Americans <3 Trump" chanted, "Build the wall! Build the wall!"
"Don't believe this nonsense polling stuff," Trump Jr. told them, hours after a poll came out showing Lamb ahead of Saccone. He pointed to his father's run for president, saying the polls never showed his eventual win.
"The one thing that my father has lied about — and I'm sorry, I've got to say it, he lied — he said that you would be sick of winning," Trump Jr. said. "I'm getting used to it. I'm getting used to it. But I am not getting sick of it."
But if anyone is, on Tuesday, polls suggest Republicans might get some relief.