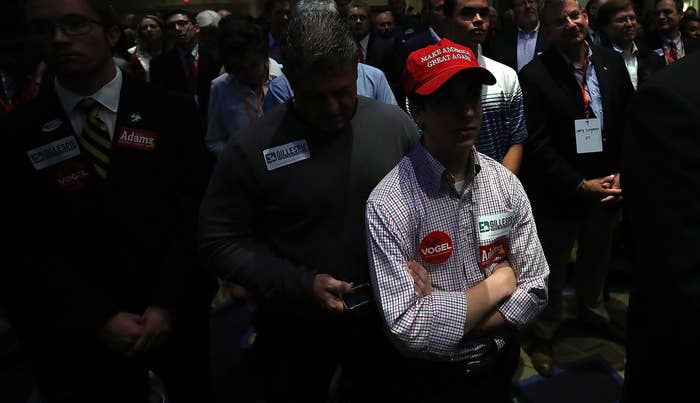 Republicans knew next year's midterm elections could be rough, but few were prepared for the beating their party took in the elections Tuesday night. Now, as House Republicans prepare for their turn on the chopping block, they know they're running out of time to make good on their campaign promises or risk suffering the same fate.
"Last night is a warning shot to Republicans: 'We don't see you getting enough done,'" said Oklahoma Rep. Tom Cole, a former chair of the House Republican campaign arm. "And so I take it as much a congressional failure as any shot at the president or anything else."
Republicans lost races up and down the ballot on Tuesday, both statewide in Virginia and New Jersey, and locally in a tidal wave that took out incumbent Republicans in several states and has put Republican control of the Virginia House of Delegates in question.
The headwinds come as no surprise, even if their ferocity caught Republicans off guard. The party in power historically sees losses in midterm elections, and Democrats have an advantage in New Jersey and Virginia, both states that voted for Hillary Clinton last year. But for several months, Republicans have seen signs of hope: Even in the face of turmoil in the White House and Democratic energy targeted against President Trump, Republicans went four-for-four in special House elections earlier this year.
But if Republicans were hoping that foretold an easier cycle than Trump's low approval rating and historical trends would otherwise suggest, Tuesday was a rude awakening.
"It's not like Republicans didn't know that this was going to be a difficult year … last night was just the first datapoint everybody can point to," said one House GOP chief of staff.
A source close to the Trump administration said Republican Ed Gillespie losing Virginia's gubernatorial race did not come as a shock to Trump allies, but the margin by which he lost did. Trump allies expressed concern over text messages as the results rolled in, the source said.
Republicans talk about the election as "a referendum" on Trump, as Virginia GOP Rep. Scott Taylor put it. And so, they say, congressional Republicans need to find a way to localize their races, to separate their own personal brand from that of the president. And that means they have to pass something — anything — and prove that they can actually govern.
Trump "will be the issue until we do what we said we'd do. And when we do what we said we'd do, then we stand a chance to be competitive," said Texas Rep. Pete Sessions, who chaired the House Republican campaign arm during the 2010 Republican wave.
Right now, that determination falls squarely on Republicans' tax reform push. "The results from last night give members of Congress even more urgency to pass tax reform," said James Davis, a spokesman for billionaire industrialists Charles and David Koch's political network, which has been working closely with the administration on tax reform. "They need to have something to run on."
With congressional Republicans' attempts to repeal Obamacare stalled out, some in the party now see tax reform as the only thing standing in the way of a 2018 election that decimates Republicans' ranks in the House.
If they prove unable to pass a tax package, said one GOP strategist, next November "could be cataclysmic."
"If we take our foot off the gas, I don't blame our base for saying, 'Take this browbeating and see what happens,'" North Carolina Rep. Mark Walker said of the need to get something done.
The silver lining, said one House GOP aide, was that Tuesday night might give congressional leadership something to point to when talking with members about the consequences of not getting tax reform done. "You've got to scare them," the aide said.
"If we as a party can't get tax cuts done, then I have serious questions that we can do anything as a party in power," said the aide.
Those questions have been irking Republican donors too, and Tuesday night did nothing to alleviate that.
Doug Deason, a major Trump backer and GOP donor who contributed to Gillespie's campaign, said Tuesday was disappointing, but that he's "not more concerned today" than he was before with the lack of accomplishments in Congress.
"They need to work," he said. "They need to get the job done."
Some Republicans cautioned against reading too much into Tuesday night. The results, pointed out Oregon Rep. Greg Walden, another former chairman of the House Republican campaign arm, are consistent with the historical trend of the party in power losing those gubernatorial races. What's more, said a Republican operative involved in House campaigns, House Democratic Leader Nancy Pelosi proved toxic for Democrats in this year's special elections, but she wasn't a factor in the nonfederal races Tuesday.
Still, few Republicans see a rosy picture. A number of senior House Republicans have chosen to retire rather than run for reelection, creating a growing number of open seats — several of them competitive for Democrats. Many Republicans expect more retirements are coming soon, as Republicans grow frustrated with a toxic political environment and congressional inertia.
And even with tax reform, some Republicans fear Tuesday's results — specifically the beatings Republicans took in suburban areas in Virginia and elsewhere — are a prelude to disaster.
"If last night is any indicator," said the Republican strategist, "we're looking at total wipeout."
CORRECTION
Rep. Greg Walden represents Oregon. A previous version of this story misidentified the state.