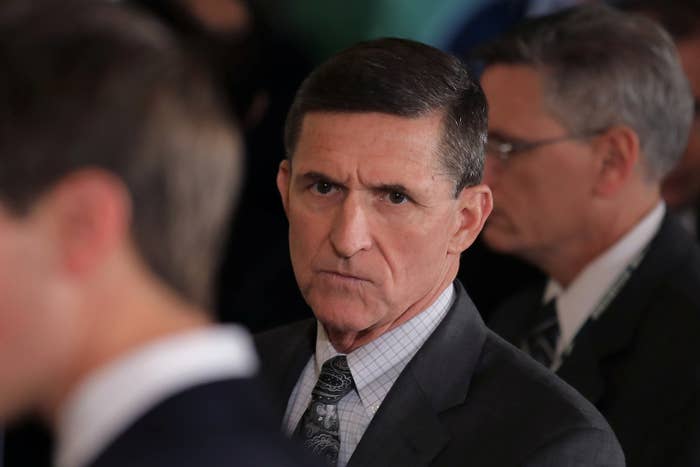 WASHINGTON — Gen. Michael Flynn's late-night resignation as national security adviser has left congressional Republicans in a position that has become familiar to them in the first 24 days of the Trump administration: caught by surprise and grasping for information.
Some top Republicans including Missouri Sen. Roy Blunt, a member of GOP leadership, Tennessee Sen. Bob Corker, and Arizona Sen. John McCain pushed Tuesday for greater urgency in investigating the administration's ties to Russia, but most others were still reluctant to make any strong statements against the president's handling of Flynn or call for an investigation into Flynn's contacts with Russia.
While those members are eager to move on now that Flynn has stepped down, Blunt told reporters that Tuesday "it's likely that General Flynn will at some point be asked to come in and talk to the [Senate Intelligence] committee," of which he is a member.
"I think that we should look into it exhaustively so that at the end of this process, nobody wonders whether there was a stone left unturned," Blunt added in an interview on KTRS radio on Tuesday, according to CNN.
Earlier Tuesday, however, Sen. Richard Burr, who chairs the Senate's Intelligence committee, declined to give any specifics regarding the committee's investigation and whether it will include Flynn. "We plan to have active oversight of the committee in our areas of jurisdiction," he said.
Specifically on reports about Flynn, Burr said: "Well, you know, I can't verify the facts of the stories, but I'll go where intelligence and where the agencies lead us."
Republican leadership was equally cautious. Asked if Congress should investigate Flynn's contact with the Russian ambassador, House Speaker Paul Ryan said he didn't want to "prejudge the circumstances of any of this."
"I think the administration will explain the circumstances that led to this. The [House] Intelligence Committee's been looking into this thing all along by the way, just involvement with respect to Russia," Ryan said.
Senate Majority Leader Mitch McConnell similarly pointed to the Senate's own Intelligence committee and its ongoing Russia investigation, when asked about Flynn on Tuesday.
"The intelligence committee is already looking at Russian involvement in our election and they have broad jurisdiction over the intel community writ large," McConnell said during a press conference, referring further questions to Blunt.
Flynn's resignation came just more than three weeks into Trump's presidency, a dramatic timeline unprecedented in prior administrations, and it coincides with a number of investigations into Russia currently underway in several different committees, including both intelligence panels, on Capitol Hill.
"It is frustrating to understand how we're going to get a full in-depth look at of all of the things that have happened," said Corker, the chairman of the Senate Foreign Relations Committee, about the different aspects of the investigation into Russia. "This episode does heighten the intensity around it to make sure we understand all aspects of what has occurred."
"I think it's good for the American people to understand in a wholesome way what has happened. And for us to get this behind us. This is going to go on forever if we don't address it," Corker added.
Neither Corker nor McCain offered any solutions for who needs to step in or how Congress should launch a more in-depth investigation into Russia. "I'm not ready to go into the details, c'mon," said McCain, the chairman of the Armed Services Committee. "It's been less than 24 hours since he quit."
"It's too early yet to draw conclusions except that there are serious questions that need to be answered," McCain said.
South Carolina Sen. Lindsey Graham, who has been one of the most outspoken Republicans about the importance of thoroughly investigating any Russian interference in the 2016 election, raised several questions about Flynn's call with the Russian ambassador before Trump's inauguration. "I believe in the one president at a time policy," he said. "I think it's important for us to be informed about the phone call; did he do it by himself, did he kind of go rogue, or did somebody suggest he call the Russians?
"I know we would be upset as Republicans if the Obama administration had done this during the Bush years. So the bottom line is I want to know, was there any legitimacy to the idea that Flynn could be compromised?"
But Graham, who recently launched another bipartisan investigation of alleged election hacking by Russia, stopped short of calling for an independent probe into Flynn's relationship with Russia, saying that "hopefully" the White House will give Congress the info it needs. "Time will tell."
"I was shocked this morning when I heard the news," Florida Rep. Tom Rooney, a member of the House's Intelligence committee, told reporters. Rooney deferred specific questions about congressional action to the committee's chairman, Rep. Devin Nunes, but said: "Everything is on the table for our committee."
"There's a million things that could have gone on, that could have happened, I just don't know them," Rooney said. "So I'm not going to play the speculation game and get myself in trouble cause I don't know what's true."
Some members of the House's ideologically conservative Freedom Caucus voiced tentative support for an independent investigation, but were careful to hedge that they did not feel they had sufficient evidence to make that assertion. "We need to make sure that we're careful what we're saying 'cause we don't have all the facts," said Idaho Rep. Raul Labrador.
Flynn's resignation also offered another opportunity for Democrats to aggressively call for Republicans to reassess the Trump administration and its relationship with Russia. "We need to know how this all came about, so that we can see what Russia is doing," said Sen. Ben Cardin, ranking member of the Foreign Relations Committee. "This is not just about General Flynn. General Flynn, you know, it's over. But what Russia is doing and its involvement with people who may be close to the president is of utmost urgency for us to get the details of."
But Trump allies on Capitol Hill continued to push back against any suggestions of dysfunction or mishandling at the White House.
"Over the course of one or two terms of past administrations you're always going to see personnel changes getting the right people in the right places. … If you realize that you can make a upgrade in a particular position, then you do it sooner rather than later," said New York Rep. Lee Zeldin.
"The administration is fine," Georgia Sen. David Perdue insisted. "These things happen. It's unfortunate. But this president has seen this before, and we'll move on."
On the question of whether the White House handled the Flynn issue appropriately, Republican leadership was far more definitive.
"You cannot have a national security adviser misleading the vice president and others. So I think the president was right to ask for his resignation. And I believe it is the right thing to do," Ryan told reporters.