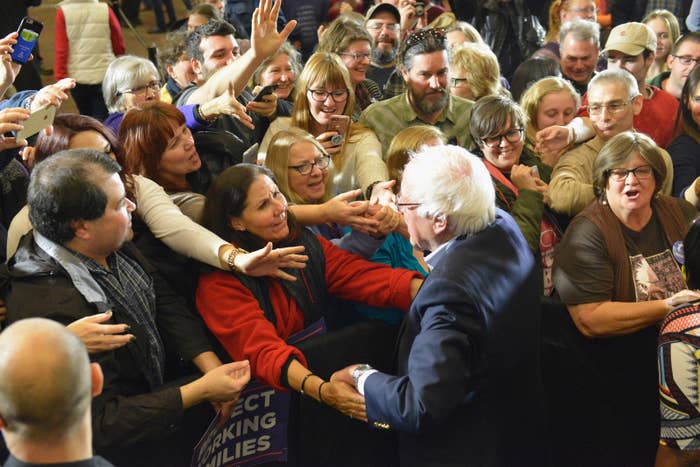 Bernie Sanders never had a chance to prove that he would have beaten Donald Trump in 2016 — but his supporters think they can win that argument in this year's midterms.
In dozens of primary races across the country, Democrats are arguing not just over what their party should stand for, but over the related question of whether the new radicalism or the old centrism is better for winning elections.
The traditional playbook is to nominate Democrats who can appeal to Republicans and independents, because in Republican-leaning districts, the theory goes, there simply aren't enough Democrats — even with the outsized enthusiasm this year — to propel a Democrat to victory in a midterm year without any crossover voters.
Progressive groups contend the opposite, saying that it's not a numbers issue but an excitement issue. A candidate running on a Sanders-esque agenda of things like single-payer health care and raising the minimum wage, those groups argue, can win by inspiring the electorate and turning out enough progressive voters to overcome any Republican lean in the district.
The stakes are incredibly high. Democrats have to win a net of 24 House seats this year to end nearly a decade in exile. If they do, they can turn the second half of Trump's first term into a nightmare — for the president — of opposition, investigation, and perhaps impeachment.
Democrats' path to power runs squarely through the 23 districts that voted for both a Republican House candidate and Hillary Clinton in 2016.. But Democrats are divided on how to win those districts.
It's in part a question of what turnout will look like in November, in a year that has seen political activism on the left at an unprecedented level.
"This is actually electorally savvy; it's not just ideologically good."
"This is actually electorally savvy; it's not just ideologically good," Annie Weinberg, electoral director of Democracy for America, the populist progressive group that backed Sanders in 2016 and was founded by Howard Dean in 2004, told BuzzFeed News of the group's efforts to support progressive House candidates. "It's that voters want to hear someone who knows what they're fighting for."
"The opposite tendency is what has lost us 1,000 seats at the state and local levels" over the past decade, Weinberg added.
Those tensions burst into public view last week, when the Democratic Congressional Campaign Committee attacked Democrat Laura Moser, who's running in a multi-candidate Texas congressional primary in a district currently held by a Republican but won by Clinton. Moser has been endorsed by many of the national and local Sanders-allied groups, and while the DCCC's attacks were not ideological, many of those groups saw the episode as the DCCC trying to play puppet master.
"Laura Moser is a fifth-generation Houstonian building a genuine grassroots campaign in her home community and, while that might not get the Republican-lite cheerleaders at the DCCC their sweet consulting gigs after this cycle, it's exactly the kind of campaign we need to win this critical race and retake the House," Weinberg said in a statement after the DCCC's move last week.
DFA is just one of several groups pushing progressives in primaries. Justice Democrats, which was founded by Sanders campaign staffers, and Our Revolution, the Sanders-endorsed 501(c)(4) run by former Ohio state senator Nina Turner, are also backing progressive candidates and combatting what they see as their institutional disadvantages, trying to propel candidates who once would have been unmentioned underdogs into a general election.
"We're all here to provide that alternative infrastructure for progressives to run as progressives," Waleed Shahid, a spokesman for Justice Democrats, told BuzzFeed News.
"We don't do our endorsements based on whether we think a candidate can win or whether they can fit into a box of what a candidate looks like. We endorse based on values," said Diane May, communications director for Our Revolution.
"We've had a lot of success winning in districts where progressives were never supposed to win," she added.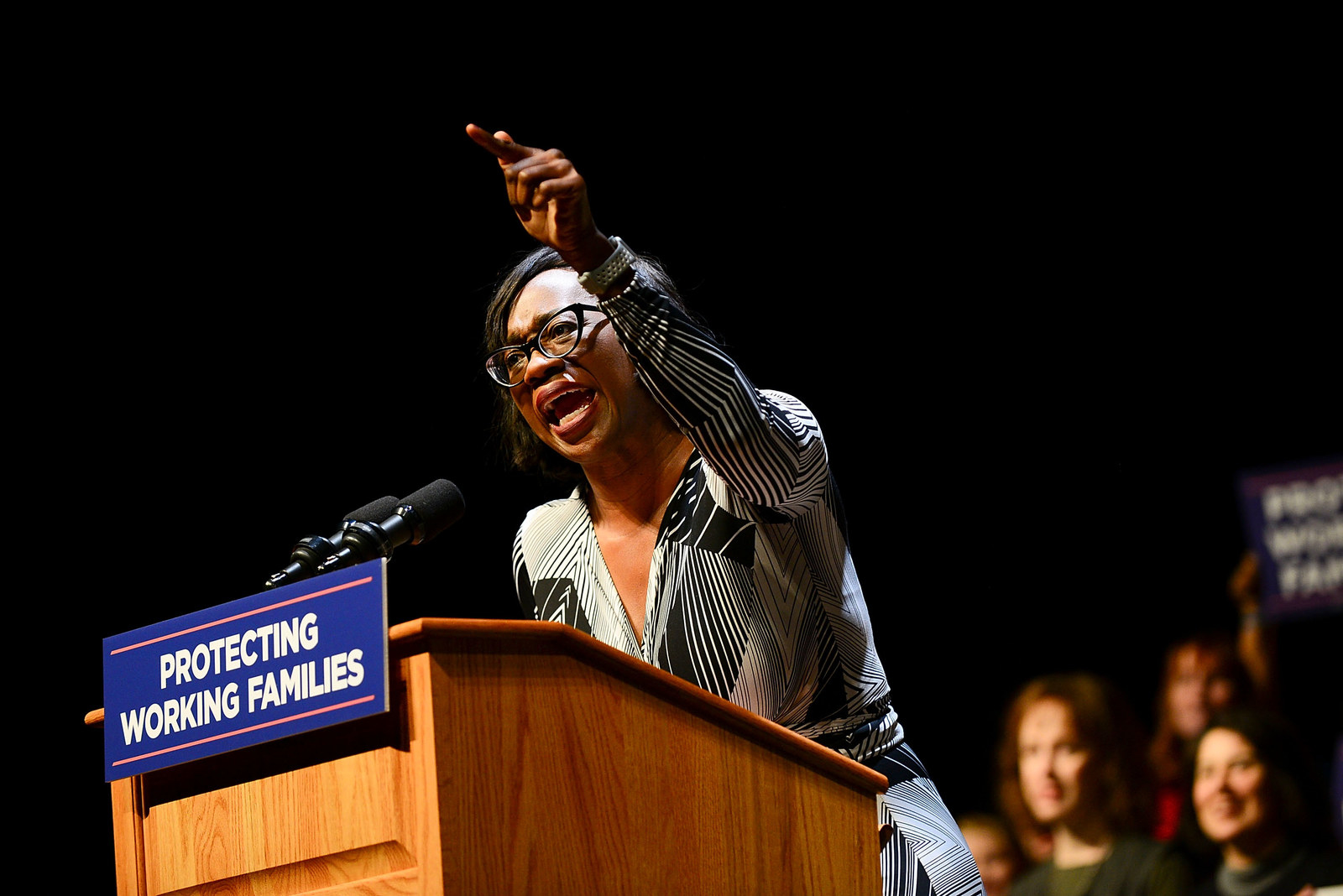 Some progressive candidates credit that infrastructure for helping to make their campaigns competitive. Greg Edwards, a pastor running for the Pennsylvania seat currently held by retiring Republican Rep. Charlie Dent with the backing of Justice Democrats and the Working Families Party, sees that progressive infrastructure filling a necessary void on the left.
"I think what happens, unfortunately, in swing districts in particular, is that the Democratic leadership tries to find candidates who are either Democrat-lite or Republican-like in order to have some of the Republicans come over to the Democrat side," Edwards told BuzzFeed News. "And we know statistically speaking that it is rare, I won't say never, but it's rare that Republicans vote for Democrats. But Democrats continue to want to message for Republicans, instead of galvanizing their base and doing targeted persuasion towards those who they know if they do show up, they'll win."
Edwards, who appears to be competitive based on his fundraising but is not a clear front-runner, is campaigning on "Medicare for all … universal preschool, debt-free college, livable-wage jobs of at least $15 an hour," ideas he describes as part of a "progressive political ideology [that] is not left but really center."
He outraised Susan Wild, seen as one of the particularly competitive contenders, by $29,000 in the fourth quarter, though the Democratic field could change now that the state's new district map made the district much more favorable to Democrats.
"When you raise a significant chunk of change, and you galvanize people who've never been interested in politics before, I think it begins to change the narrative," said Edwards.
Edwards' campaign is using Justice Democrats' phone-dialer system, which allows people to call cell phones — something a lot of phone-banking systems can't do because of a quirk of the law. The group's organizing team has been working to help with Edwards' volunteer strategy. It's also done textbanking — using their own volunteers to send texts to possible voters in the district on the candidate's behalf to to encourage supporters near and in the district to go to Edwards' campaign events — and solicited donations for the campaign, though the group did not immediately say how much money that has brought in.

In large part, Shahid said, Justice Democrats sees its role as providing a national framework so that a campaign can remain focused locally. The group can "help connect" campaigns "to national press outlets, help them connect to national donor networks, like the small-dollar donors who make up Justice Democrats," Shahid said.

In another Pennsylvania district, Justice Democrats and Democracy for America were backing Jess King, a nonprofit director, over Christina Hartman, a nonprofits consultant, for the opportunity to challenge Republican Rep. Lloyd Smucker. It was set to be a battle: Hartman had the backing of EMILY's List, the name recognition from having run in 2016, and more money. In the fourth quarter last year, King outraised both Hartman and Smucker.
The newly drawn state district maps, however, have made this a much more difficult seat for Democrats to win. Hartman dropped her bid this week, leaving King with Democrats' unified support.
King, in an interview with BuzzFeed News before the new maps were released and before Hartman's exit, spoke of her expected primary as "an interesting proxy for some national conversations about what our vision is for this country and how we're approaching it."
Namely, she explained, "what can win."
"Turns out … it works to talk about issues and policies. You can raise money and still get on the radar of the kind of establishment politics by being focused on vision and values and policy," she said.
"Turns out … it works to talk about issues and policies."
Justice Democrats, Shahid says, doesn't have a one-size-fits-all plan for all of its candidates. It depends, in part, on what a candidate needs. The group offers to help prep a candidate for a debate or a policy forum, write policy platforms, and figure out how to message on a particular issue. And Justice Democrats will connect candidates to donors who "want to support candidates who are like Bernie Sanders," Shahid said, and just need to be pointed in the right direction. The group also tries to help campaigns hire experienced staffers.
Our Revolution can't coordinate directly with campaigns, like Justice Democrats can, but it can help in other ways. The organization inherited the Sanders campaign's contact list, a hugely valuable commodity in a Democratic primary, and Our Revolution puts that to use for endorsed candidates. "Everyone gets put on the website, everyone gets a get-out-the-vote email," said May. The group has, so far, endorsed in fewer House races than Justice Democrats and DFA, but that will likely change. "It's a rolling endorsement process and we do expect to endorse more candidates as the year continues," May said.
DFA has its own phone-banking technology, DFA Dialer, to help make phone-banking on a large scale easier for its volunteers, enabling them to make more phone calls on behalf of a campaign. The group does "texting programs to mobilize voters, the fundraising support which again can look like sending support staff, doing call-time programs and connecting them with our base of members who are excited to pitch in," Weinberg said.
The group also offers to lend "strategic support," said Weinberg, be that connecting campaigns to potential staffers or helping them with their media plan. And DFA holds training sessions for candidates and staffers, both virtual and in person, to train "thousands of folks in core electoral campaign skills," Weinberg said.
There is a tendency among DFA and Justice Democrats, especially in the wake of the dustup around Moser, to speak of the DCCC in adversarial terms. "I think that progressives everywhere should be preparing for the DCCC and the party establishment to crack down on progressive populists running in a lot of these districts," Shahid told BuzzFeed News.
A spokesperson for the DCCC declined to comment for this story.
There are some places where everyone is on the same side. In Wisconsin, for instance, DFA, Our Revolution, Justice Democrats, and the Working Families Party have all endorsed Randy Bryce to take on House Speaker Paul Ryan. But Bryce, an ironworker who rocketed to prominence and fundraising success with a well-produced web video, is also on good terms with the DCCC. Bryce has sent fundraising emails on the DCCC's behalf, he told BuzzFeed News in an interview. "There is a lot of unity there," he says of the Democratic Party, saying that he's seen a Democratic infrastructure that's united around getting rid of Ryan, despite the intraparty scuffles happening elsewhere.
Bryce's candidacy, opines Working Families Party spokesperson Joe Dinkin, is "helping to transform what the Democratic establishment thinks of as viable candidates."
Some Democrats are skeptical of this progressive experiment. There is a math problem, they say: In some districts, there are just more Republicans than Democrats.
"You literally run out of Democrats," said one Democratic strategist who works on House races. "No matter how energized they are."