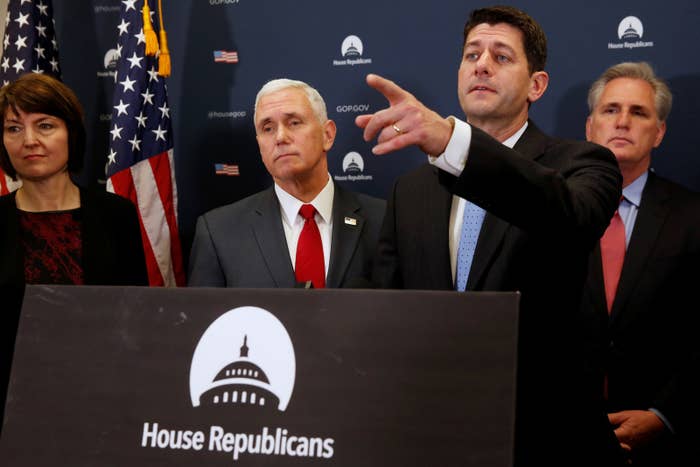 WASHINGTON — Vice President-elect Mike Pence promised that President-elect Donald Trump will take action on Inauguration Day to begin making good on his campaign promises in a meeting with House Republicans Wednesday morning that was heavy on messaging and light on specifics.

"Before the end of the [Inauguration] Day, we do anticipate the President-elect will be in the Oval Office taking action to repeal executive orders and also set into motion, through executive action, policies to implement promises that were made on the campaign trail," Pence said at a press conference following the meeting.
The meeting focused primarily on repealing and replacing Obamacare, which Pence called the "first and foremost priority" of the incoming administration. Pence's attendance at the weekly House GOP conference meeting was set to rival President Barack Obama's meeting with House Democrats to discuss Obamacare at the same time. Kellyanne Conway and Reince Preibus were also in attendance at the meeting.
Members described an "optimistic gathering" with Pence, according to New York Rep. Chris Collins, with little detail on how the administration would move forward with specific agenda items.
"It was less detailed in terms of agenda and more broad strokes in terms of, 'here's our approach and we look forward to working with you,'" South Carolina Rep. Mark Sanford told reporters after.
Pence said Trump intended to get to work on Inauguration Day with "immediate executive action," according to Missouri Rep. Ann Wagner, though he did not specify what kind. Per another member in the room, Pence said there were some parts of Obamacare that they felt could be repealed using executive orders alongside Congress's efforts to repeal the health care law. But he gave no specifics as to what those things would be.
"What can be done with a pen and a telephone can be undone with a pen and a telephone," Pence said, according to Texas Rep. Blake Farenthold.
Pence, a former congressman whom many House members still claim as one of their own, will have an office on the House side of the Capitol, several members said. He told members his "door was always open," Wagner said.
Pence spoke and then took questions. The meeting focused largely on Obamacare, but when Pence opened the floor to questions, several members had a different topic on their mind. According to a member in the room, California Rep. Doug LaMalfa, Utah Rep. Jason Chaffetz, and Washington Rep. Jaime Herrera Beutler brought up Obama's designation of two new national monuments in Utah and Nevada last month, asking for relief from the incoming administration.
Minutes before the meeting was set to start, Trump tweeted a warning to Republicans on healthcare. "Republicans must be careful in that the Dems own the failed Obamacare disaster, with its poor coverage and massive premium increases, like the 116% hike in Arizona. Also, deductibles are so high that it is practically useless. Don't let Schumer clowns out of this web. Massive increases of Obamacare will take place this year and Dems are to blame for the mess. It will fall of its own weight – be careful!" Trump wrote in a series of three tweets.
Collins, who was the first member of Congress to endorse Trump, interpreted the tweet as Trump saying: "We're gonna do it right. They did it wrong. They, the Democrats, own the disaster called Obamacare."
Collins lauded the impact that Trump has through his Twitter account, crediting him with the GOP conference's decision to strike an amendment to the rules package to make changes to the Office of Congressional Ethics, though several other members said at the time that Trump's tweets did not affect their decision.
"The President-elect has a way of communicating with America that is unique for the presidency and we all expect that will continue," Collins said. "We saw that yesterday when a tweet really saved our conference from self-inflicted pain on the ethics issue. That tweet was enough to get our conference to come together and do the right thing."
Lissandra Villa contributed to this story.