In the circus previously known as the Alabama Senate race, Doug Jones has been relegated to a sideshow.
A victory by the Democrat, who entered the Alabama Senate race as a longshot, would be monumental: a coup for Democrats that would have major ramifications for the balance of power in the Senate, the state of Alabama, and the Republican Party's ongoing identity crisis.
But Jones is not the story in Alabama. And he seems to like it that way.
"Look, we're gonna stay in our lane, and we're gonna talk about the issues that we continue to talk about," Jones told reporters Tuesday near the University of Alabama at Birmingham campus when asked about the allegations that Republican Roy Moore had sexual relationships with teenagers when he was in his thirties.
"They're gonna have to make their own judgments about Roy Moore; they're gonna have to make their own judgments about Doug Jones," Jones went on. "But we're gonna continue to talk about those issues. We will bring up his record, his previous record. Other people are gonna bring up the issues of the day. And people will have a choice."
On the ground here this week, paying attention to Jones has been almost impossible. The low-key normalcy of a Jones meet-and-greet or press conference is set against a cascade of new allegations against Moore and drama-filled events where his supporters endeavor to discredit the allegations, the media, the Republican political establishment, and everything else in the Washington, DC, swamp.
A Jones event Wednesday was preempted by a meeting of the Alabama GOP steering committee, the body that has the power to withdraw the Republican nomination from Moore. Instead of watching Jones speak to women supporters — an important demographic for him in the wake of the allegations against Moore — reporters from local and national media outlets staked out 13 miles away in the lobby of an Embassy Suites in Birmingham for several hours, only to have members of the steering committee slip out another entrance.
While Jones held a meet-and-greet in Dothan Friday, the horde of reporters crowded around the steps of the state capitol to hear women, including Moore's wife Kayla, defend her husband. The Moore event did not make news — the former judge himself was not even in attendance.
Yet watching Jones do the basic blocking and tackling of campaigning later that day in Troy — shaking hands, reminding people the election is Dec. 12, urging a man to make his own yard sign while he waits for an official campaign one ("All it is is the name and the Senate") — feels a little beside the point. What is this man doing, in his slacks and his navy sport coat, greeting the women working the ice cream counter at Byrd's Drugs as if this were just an ordinary campaign?
Jones appears content with running a campaign that is unremarkable in its normalcy. He has been willing to answer reporters' questions about Moore, but has largely avoided the allegations when given the choice.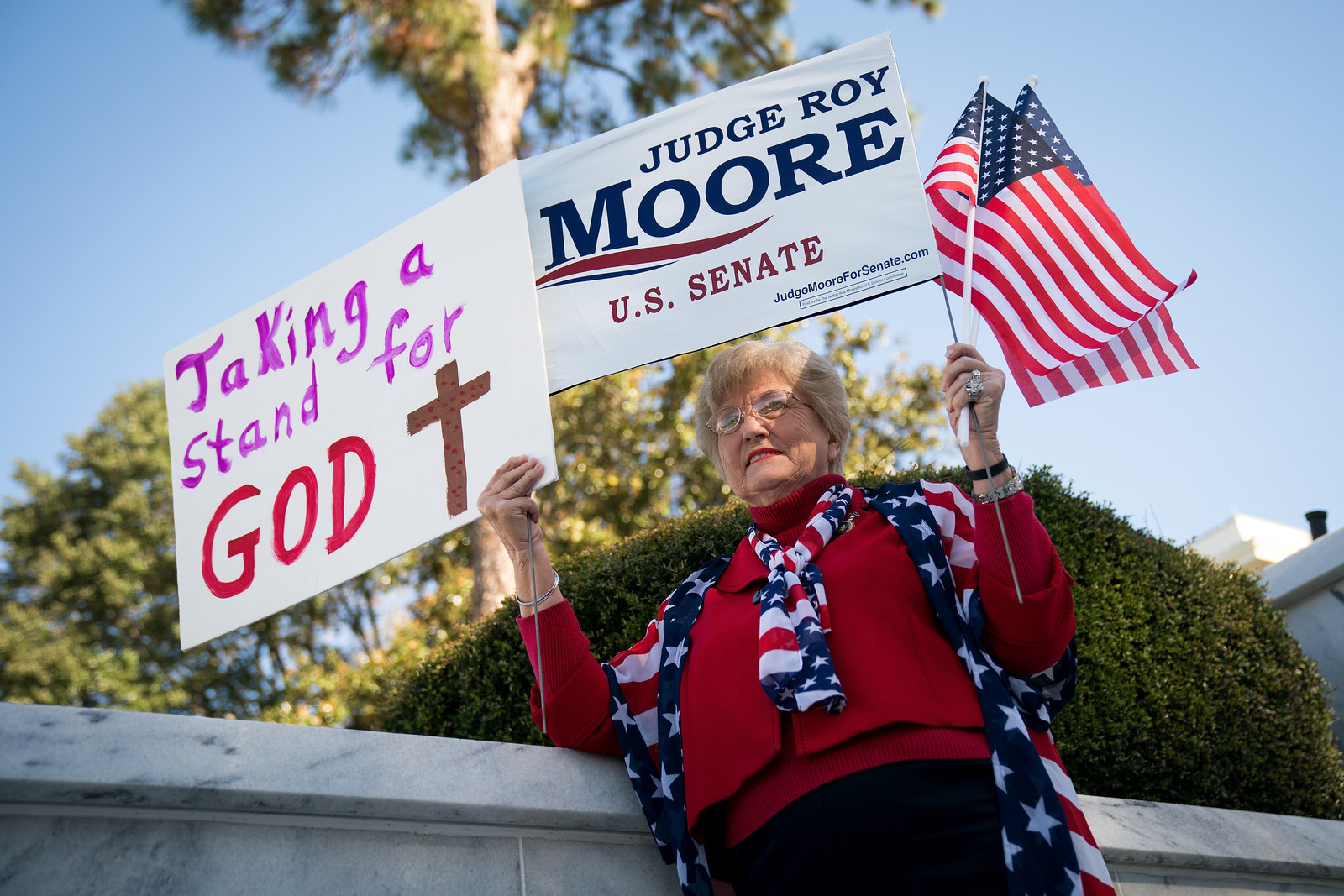 "People are tired of the same old same old politics, they're tired of the division, they're tired of people playing political football with their health care and their jobs and their economy," he told a small group of reporters here Friday in Troy's town square. "They want somebody who can get something done and not just beget chaos and chaos. So that's why we're seeing an upsurge I think in this campaign, and we were seeing it long before anything arose last week. We've felt like we've had the wind at our back for a long time."
Jones isn't hallucinating an advantage in a deep red state, where Donald Trump won 63% of the vote last year. Two public polls in the last several days have shown Jones with a significant advantage over Moore.
In the 10 days since the first allegations against Moore were published, Democrats say the race has fundamentally shifted, but their plan is fundamentally the same.
"I did finally wash some clothes," said Ann Green, chair of the Democratic Party in Etowah County, home of Gadsden and the mall where Moore is alleged to have pursued several young girls when he was in his thirties.
But despite her increased "stress level," Green told BuzzFeed News in a Thursday call that Democrats' campaign strategy is continuing just as it was before the allegations came out. She promised that an Etowah County Democratic Party meeting that evening, where Jones would not be in attendance, would focus only on how to elect Jones. "It will not be a Roy Moore bashing event," she said. "I mean, if people start that they can leave and go do it in the parking lot."
"Doug Jones, Doug Jones, Doug Jones — that's all we've got to worry about between now and December 12."
And indeed, Moore was rarely mentioned at the meeting that night at a restaurant in Gadsden just over a mile down the road from the now-infamous mall (Green booked the venue for the party's monthly executive committee meetings before the first allegations surfaced). Just several hours after a Moore defense rally with religious activists in Birmingham turned into a verbal lashing of reporters, the biggest action in Gadsden was a pie auction. Pie payments, which topped out at $75 each for one of Green's famous German chocolate pies, went directly to the Jones campaign. Later, a Jones field organizer talked about the importance of organizing and canvassing, and candidates for other offices made short pitches.
"Doug Jones, Doug Jones, Doug Jones — that's all we've got to worry about between now and December 12," said one man running for local office.
"We're focused," Mary Carstarphen, one of the meeting attendees, told BuzzFeed News. "We have a candidate. And we were supporting him because of his character, his consistency, and his representation of all the people, and that hasn't changed. That hasn't changed. So we have a positive message, and we don't need to focus on the problems that someone else has."
"Whatever goes on on the other side goes on on the other side," Kyle Pierce, who chairs the Etowah County Young Democrats, said in a phone call Monday.
"We're trying to take the high ground," Forrest Hinton told BuzzFeed News after the meeting. "They go low, we go high."
Jones, he said, was playing it right by treading lightly on the Moore allegations. "You get down in the dirt, you're gonna get dirty."
But in this town, where several people said they'd grown up hearing the rumors about Moore, the allegations have brought some hope about Jones' chances, and they are never far from mind.
"Doug Jones got justice for four little girls," said Hinton, referring to Jones' successful prosecution of two members of the Ku Klux Klan, leading to their conviction for the 1963 bombing a Baptist church that killed four black girls ages 11 and 14. "His opponent has been accused of abusing little girls."
"It is a battle for the heart and soul of Alabama. This has become, I guess, a critical moment, a turning point in Alabama history where it will define what it's going to be in the 21st century. And I told my friends, I think we have a moral imperative to vote for Doug Jones," Hinton said.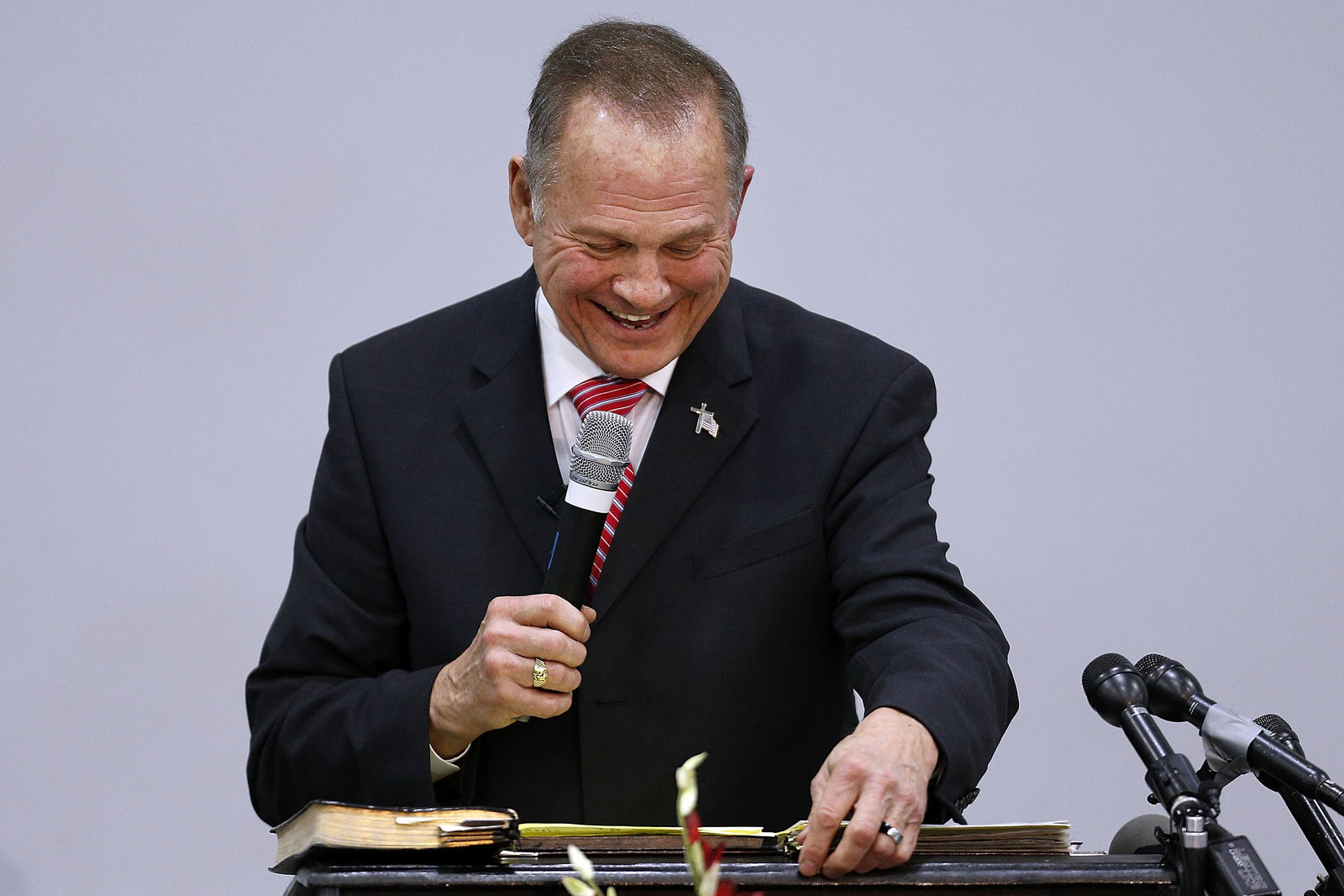 Some Alabama Democrats, though, are not thrilled with the way the race is playing out in the press. And while Jones says he wants to talk about issues, there's been little oxygen for such discussions.
"It'd be nice if we talked more about issues than something that happened with [Moore] 40 years ago," said Jesse McWilliams, who chairs the Butler County Democratic Party. "I think it makes both parties look bad in this situation if that's what we talk about."
But while Moore's campaign has largely thrown aside policy issues in the last week in deference of attacking Washington, DC, there's one issue Moore's campaign is trying to keep alive as a wedge against Jones: abortion.
Moore supporters, at events over the course of the week, repeatedly treated reporters to a rather gruesome description of the late-term abortion procedures they claim Jones supports. It's an appeal that's at once emotional and politically pragmatic — abortion is a nonnegotiable issue for many Republicans, making it an issue to potentially cause those Republicans considering defecting to Jones or sitting out the election to reconsider.
Jones, asked about abortion at a press conference Friday, took a rare, direct swing at the allegations against Moore.
"You expect them to say something like that to try to divert attention from the very serious allegations that [Moore's] facing and the very credible statements from the women in Etowah County that have been coming out," he said in Troy.
Political liability though it may be, Jones does not shy away from his pro–abortion rights stance.
"I believe the decision she makes should be hers, and she can make alone in consultation with her family, her physician, her faith," he tells reporters, adding: "I do not believe that I should be making the decision for her. I doggone don't believe that Roy Moore should be making that decision for her."
As for the late-term abortions his opponent's supporters described so graphically, Jones explains: "The law for decades has been that late-term procedures are only acceptable when there's medical necessity. And that's what I support."
And as Moore's supporters have leaned into abortion opposition, and the practicalities of voting for Moore to maintain a two-seat Republican advantage in the US Senate, Jones has become increasingly comfortable talking about the allegations.
"Roy Moore has made absurd comments his entire career. His handlers have made absurd comments his entire career. These are ranking right up there," Jones told reporters, of Moore's claim that the allegations against him were nothing more than political attacks.
Jones acknowledged the shift in his rhetoric between Tuesday and Friday. When something like this happens, he said, the media wants people "to take a side before you really know and you understand what's going on. And I'm a lawyer, I don't like to take a side that quick. I like to kinda look at the evidence and see what's going on."
By Friday, he said, he felt it was clear that the allegations had credibility.
With just over three weeks until the election, money is pouring into Jones' campaign coffers as Democrats excitedly attempt to boost his chances. He's not the first Democrat to experience that this year — next door in Georgia, Democrat Jon Ossoff became a cause célèbre this summer, pulling in millions of dollars for a House bid in a Republican district that he ultimately lost.
"I'm not running to make a template for anybody," said Jones. "I'm running for the people of this state."
Jones does not want to be the national figure that Ossoff became, and he resists attempts to classify him as the savior of the Democratic Party in Trump-voting states. "I'm not running to make a template for anybody," he told reporters in Birmingham. "I'm running for the people of this state."
And as Moore has isolated himself from Republican party leadership, Jones has tried to keep his own party leaders at an arm's length. On Friday, he attempted to brush off a fundraising email sent by the Democratic National Committee for him as a nonevent — "I think as this race has progressed, people have seen the importance of this race," he said, "and so I think a lot of folks have seen it, an uptick of interest in this race." Asked by reporters Tuesday, Jones declined to say if he would back the current Democratic leader, Chuck Schumer of New York, if he were elected.
"I am not a lapdog for anybody," Jones said.
On the calendar, Jones is the next great Democratic hope. But by choice or not, he does not get the spotlight that traditionally comes with that. Moore has a monopoly on press firestorms; Jones has homemade yard signs.
Jones closed Friday with a walk around downtown Troy with an old friend from law school making introductions. He casually rested his arm on a World War I monument as he spoke to the eight or so reporters who came to see him. He gave his best to a young couple who appeared to be taking wedding photos in the gazebo behind him.
He's not the story here, and with Moore as his opponent, he probably doesn't need to be.
As Alabama-based Democratic pollster John Anzalone told BuzzFeed News. "You just don't have to say much, right?" ●