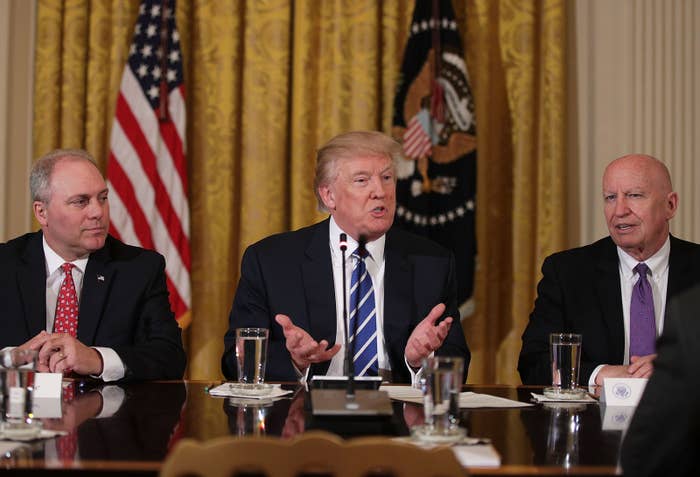 WASHINGTON — At the start of the new Congress, House Majority Leader Kevin McCarthy opined that conservatives would have a hard time opposing legislation that had President Donald Trump's backing because he had performed so well in their districts on Election Day.
Now, with the Obamacare replacement legislation facing stiff opposition from conservatives within the party, supporters of the bill are hoping that theory will prevail. Many of the bill's fiercest critics also happen to hail from places where Trump remains popular and voting against his agenda so early in his presidency could have consequences.
"Look, I'm a fan of the president, I support the president, but look, I have constituents I have to answer to. I work for them," said Pennsylvania Rep. Scott Perry, a member of the Freedom Caucus who has expressed reservation about the health care bill as it currently stands.
But, he acknowledged, if the president were to help sway his constituents in favor of the bill, he, too, might be brought along.
In the 48 hours since the bill was publicly released, Republican leadership has worked to hammer home the point that the bill has the full backing of the White House, and the executive branch has sprung into action to woo reluctant members and allied outside groups into the fold. On Wednesday, Trump is meeting with the leaders of conservative groups that opposed the bill and on Saturday, Vice President Mike Pence will travel to Kentucky to pitch the health care bill in the home state of one of its staunchest opponents, Sen. Rand Paul, whom Trump personally called out in a tweet this week. Next week, the Freedom Caucus — many of whose members have been the most vocally skeptical of the bill — is invited to the White House bowling alley to eat pizza with OMB Chairman Mick Mulvaney. Pence and Mulvaney met with members on Capitol Hill Tuesday evening.
"We're working hand-in-glove with President Trump, Vice President Pence," House Speaker Paul Ryan said Wednesday morning, saying he had spoken with Trump twice on Tuesday.
And it is clear that Republicans backing the bill expect the president's support will have some weight. "The people who are looking for perfect may find that an 80 or 90 percent solution may be enough once the president weighs in," said Texas Rep. Bill Flores last week, before the bill was released.
But if Republican holdouts cannot be wooed, perhaps they can be cowed, said several Republicans, pointing to Trump's ability to make life harder for members by subjecting them to an angry tweet.
"You'll be going up against the bully pulpit of Donald Trump. And Lord help anyone who gets in the way of a Donald Trump tweet storm," said one former House GOP senior strategist.
Freedom Caucus members acknowledged that the president could impact their opinion, but made clear they expected Trump to negotiate, not strong-arm.
"The opinion of the White House matters to all members of the House, certainly what President Trump thinks with regards to policy decisions and policy positions matters a great deal to Freedom Caucus," Freedom Caucus chairman Mark Meadows told reporters Wednesday. "That being said, I think those around the president that serve him a policymaking position would have to acknowledge the unbelievable blowback from conservatives and moderates across the country. And so in serving him well, hopefully they will look at the need for modification of the current GOP bill to make it more user-friendly."
Would he be comfortable going against the president on major legislation?
"I don't think we'll go head-to-head," Meadows said, saying that when an acceptable bill was put forward, they'd be on the same page.
Arizona Rep. Trent Franks, another skeptic of the bill, said he was "of course" concerned about the prospect of facing off with the president. But he said he believed conservatives had more wiggle room than people were letting on. "Some of the highest-level echelons of the administration have said to conservatives that if we can improve the bill, that they would be very amenable to that," he said.
Arizona Rep. David Schweikert, the lone member of the Freedom Caucus who sits on the Ways and Means Committee, one of the committees charged with writing and marking up the legislation, is more open to supporting it than his colleagues. "It's not perfect but I think it will be a lot better for the country than what's happening today," he said.
But he was skeptical that Freedom Caucus members would be swayed by Trump on a policy issue just because he was popular in their home districts.
"We're a tough group, whether it be with Trump or Obama," Schweikert said, pointing to the multiple personalities and policy views that would preclude a one-size-fits-all conclusion.
"I think whoever pitched that didn't understand the personalities of the Freedom Caucus," he said.
Lissandra Villa Huerta contributed to this report.
UPDATE
An earlier version of this story included reports that Trump himself would travel to Kentucky this weekend. Those reports were updated Thursday with the news that Pence would make the trip instead.