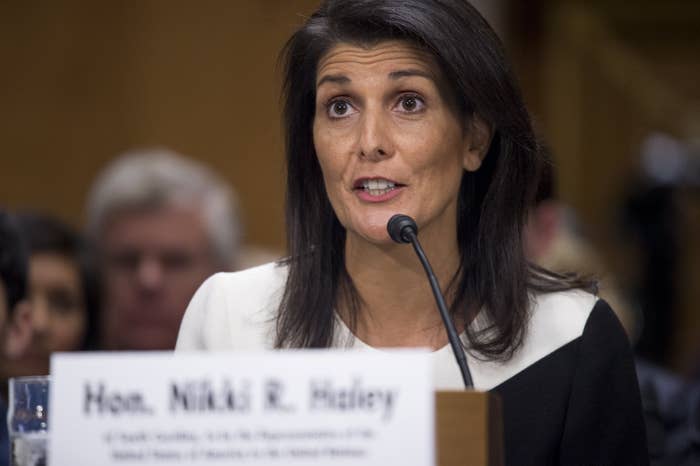 WASHINGTON — South Carolina Gov. Nikki Haley, President-elect Donald Trump's nominee to be ambassador to the United Nations, was not the first nominee to acknowledge disagreements with the president-elect in response to questioning by the Senate.

But before the Senate Foreign Relations Committee Wednesday, Haley made explicit that she not only disagrees with some of the things Trump has said, but she also believes that she and other advisers can change the president-elect's mind.
"I do anticipate that he will listen to all of us, and that hopefully we will get him to see it the way we see it," Haley said, explaining that she believed that she and other advisers to Trump on national security could bring him around to the view that alliances and coalitions like the UN and NATO, which he has maligned, are important.
Trump has disparaged the UN, calling it a "just a club for people to get together, talk and have a good time," and saying that while the body had "tremendous potential," that if it did not live up to that potential, "it's a waste of time and money." Last week he referred to NATO as "obsolete."
During her confirmation hearing, Haley diverged from him in no uncertain terms saying she did not want to pull funding from the UN (a proposal some congressional Republicans are hard at work on), calling NATO "an important alliance for us," and saying that she believed she could get the president-elect on the same page.
But Haley also was extremely vague on actual details of what she hoped to achieve at the United Nations. "I do not believe we need to pull money from the UN," Haley initially said when asked about proposals to cut UN funding over a recent UN Security Council resolution. "I do not believe in slash and burn." She later amended her stance to say that any cuts to UN funding must be targeted, in order to extract concessions from other member countries.
Haley also insisted that more countries need to have "skin in the game" with regards to the UN's peacekeeping efforts, suggesting that the US should contribute less money to missions than it currently is, but insisted that peacekeepers also need to be held to higher standards of accountability.
"I want to bring back faith to the UN. I want to show that we can be a strong voice in the UN. I want to show that we can make progress and have action in the UN. That's going to happen from my actions and from the things that I do. And that's how I will show [Trump] that the UN matters," she said.
Haley's appearance before the Senate Foreign Relations Committee was a far less contentious affair than when Rex Tillerson, Trump's nominee to be secretary of state, was aggressively grilled last week. Haley gave specific answers on questions that Tillerson declined to touch, for instance agreeing that the actions of Philippines President Rodrigo Duterte violated basic human rights, and saying that she believed that the Russians committed war crimes in bombing civilians in Aleppo, Syria. Tillerson, in his hearing, declined to go so far.
Haley also said that both she and the administration opposed a Muslim registry, or "any registry based on religion."
Democrats on the committee repeatedly pressed Haley on the confusion sewed by Trump's scattershot comments on foreign policy in interviews and on Twitter, and the daylight between those comments and the remarks she had made.
"Can you understand why, right now, the world perceives the Trump administration foreign policy to be the exact opposite of clear about where we stand?" Connecticut Democratic Sen. Chris Murphy asked.
"I understanding there's always nervousness and concern" when a new administration comes in, Haley said, but she called that "natural."
"Once you govern, it becomes very different," she said. "And I think that what we have seen is when the president-elect gets to hear from his national security team, I think what he says after that is the most important," Haley added.
Pressed on some of Trump's conflicting comments on the value and strength of the UN, Haley made clear that whatever Trump had said did not necessarily speak for her.
"Any comments that the president-elect has made, those are his comments," she said, launching into an explication, from her own "standpoint," of how the United States could exert power from within the UN.
The approach was well-received. "I think she will speak her views to the president of the United States and to the president of Russia, and she's not going to be intimidated, that's the impression I got. So where she disagrees, I think she'll speak out," Maryland Sen. Ben Cardin, the ranking Democrat on the committee, told reporters after the hearing. Cardin would not commit to backing Haley's nomination, but it is, he said, something that really "impresses" him about her.
Hayes Brown contributed to this report.