National Democrats Are Trying To Figure Out How To Run Local Races In The #Resistance Age
After a pro-Bernie Democrat lost in a little nationally-funded Kansas special election, some Democrats want to know where the national committees are to capture the anti-Trump sentiment. Others are wary of replaying last year's sharp critiques of establishment politics.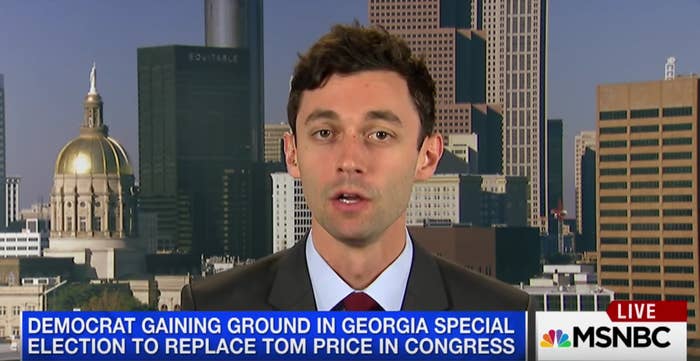 WASHINGTON — The Democratic Party is trying to ride this wave — but they might get crushed by it.
Washington Democrats are celebrating the surge of excitement, energy, and — of course — money pouring in from the #resistance to Donald Trump. But they're also increasingly aware that some of the forces powering the new left have no love for a party seen as betraying Bernie Sanders or for congressional campaign committees with long acronyms most Democratic voters have never heard of. And so the question now is whether the resistance will energize the organized Democratic Party — or burn it down.
"Do not surrender parts of the country to right wing Republicans," Sanders warned on MSNBC's Chris Hayes Wednesday night, the day after a Sanders-supporting Democrat in Kansas came within seven points of a massive upset in a conservative district, a race in which the House Democratic campaign arm opted not to get involved. "With a little bit of help, they might have pulled it off. And I would hope that the Democratic leadership learns that lesson."
Democrats are certainly having a moment. The energy that has materialized on the left in the wake of Donald Trump's election in November has Democrats ebullient about their prospects for the 2018 congressional elections.
There was almost an upset in Kansas. In Georgia, a 30-year old, first-time Democratic candidate raised $8.3 million in under two months. And in states from Arizona to North Carolina, Democrats say, candidates are lining up to run for Congress in challenging districts.
But some Democrats worry that energy could be a double-edged sword, one that might turn inward between now and 2018.
That dynamic was on display Tuesday night, after James Thompson, a Democratic lawyer from Kansas, outperformed Hillary Clinton by 20 points in Kansas's deep red 4th District. The national Democratic Party apparatuses steered clear of the race, deeming it too much of a longshot to warrant spending precious money or resources. After Thompson's close call, some Democrats deemed that decision a mistake.
The fight in Kansas Tuesday was between a Democrat and a Republican, but it also marked the latest chapter in the internecine Democratic Party fights marked by deep distrust of the Democratic campaign institutions by the grassroots. The distrust, some Democratic operatives allow, is earned: It was just six months ago that a similar cast of characters was saying states like Wisconsin and Michigan — states Donald Trump won — were safely in Democratic hands. In the aftermath of that defeat, some are questioning whether Democrats are blowing a shot in the opposite way — throwing away an opportunity to make great gains in the House and the Senate, despite a very difficult map for incumbent Democrats.
"Why wouldn't you take these opportunities?" said Democratic strategist Mary Anne Marsh, saying the DCCC made a mistake not doing more in Kansas.
"To me, this is what you pray for as a party. These are the days you spend years waiting for," she said.
But there are dangers ahead that rather than being able to ride the wave, Democratic institutions will find themselves getting crushed by it.
It's happened before. In 2010, the tea party proved a huge boon for Republicans, energizing their base and helping them win historic majorities in a wave election. But in 2012, that energy turned inward, and their party ate its own in primary elections, losing some seats they were favored to win. Some Democrats worry that if they're not careful, this midterm cycle could prove more 2012 than 2010 for their party.
A major source of both peril and opportunity is candidate recruitment. A favorable-looking political environment can be a huge boon for Democrats, helping to persuade top tier recruits to take the plunge. But it's also a moment rife for conflict. "Democrats can mess it up by everybody piling up into certain districts to run rather than running in as many districts as possible," said a Florida Democratic consultant, or "if Democrats start imposing purity tests and start questioning the goodwill of folks like at the DCCC."
Or the issue could be simply a wealth of riches.
"Where we have run into problems with enthusiasm before is when you get a lot of people last-minute running for these offices," said North Carolina Democratic consultant Morgan Jackson. A candidate might be hugely appealing, but if they get in too late without having built the necessary infrastructure, they can find themselves easily bested in a primary by someone with better name recognition.
In watching what's happening in North Carolina, Jackson says he's hopeful. Strong candidates are starting to explore House campaigns already — even in some more Republican-leaning congressional districts — and they are doing so early enough before the election and the candidate filing deadline to give someone time to really establish themselves as a candidate, and perhaps even avoid a primary. "To me that shows that the enthusiasm is being channeled the right way and we may be able to avoid the divisive primaries that we've had in the past," Jackson said.
The question is how — and where — the Democratic campaign establishment figure into this unbridled energy. Quite clearly, it's a boon for Democrats overall. And some Democrats say it's important.
But for all the griping about the DCCC's absence in Kansas, some Democrats also caution that the party institutions have to be careful. It's a tricky balance for a national party to take advantage of the energy and try to channel it to its uses, without being seen as trying to coopt it. Democratic campaigns right now are trying to figure out how to at once get involved and plugged in to newly formed activist entities like the Indivisible Group, without trying to take over.
"I think the best thing you can do right now is let the genuine citizens lead this," said Colorado Democratic consultant Laura Chapin.
"It's not that you abandon strategy," she added, "but I think there's kind of a 'water finds a way' principle going on here."
And given that the energy seems to be there regardless of what the party structures do, some, like Marsh, think Democrats are making a mistake to ignore opportunities to channel that water like in the Kansas special election — and should look at upcoming special elections in Georgia (where Democrats are already very involved), Montana, and South Carolina. Even if they aren't going to win, the specials pose opportunities to do party building, these Democrats argue. It's an opportunity to help train people on the ground in all the campaign mechanics – door knocking, phone banking, campaigning. Maybe Democrats don't win the House seat, but "maybe that investment in infrastructure has a ripple effect that can maybe bring over a Senate seat, bring in a governor, bring in other elected positions," Marsh said.
But some say that maybe it shouldn't be the party structures that are helping to amplify this energy at all. "No campaign has ever been won by waiting on the party to act … the party is definitely helpful, but the party comes in only after the candidate finds their magic," said the Florida consultant.
And that leaves some Democrats asking if maybe instead of an adversarial relationship between the institutions and the grassroots, it could evolve into more of a "symbiotic" relationship, as Hawaii Sen. Brian Schatz termed it, between entities like Daily Kos and more liberal organizations, which helped fundraise for Thompson, and established institutions like the DCCC.
"I think there's a strategy that you want to harness that energy, that you want to give everybody an opportunity to participate maximally, but the last thing we need is a bunch of smarty-pantses telling us, you know, how the Resistance should be deployed," said Schatz. "People are going do what they want to do and that's the beauty of this thing."