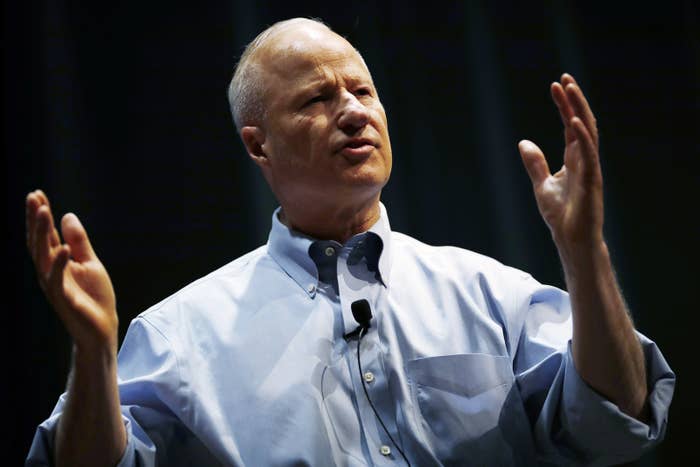 AURORA, Colorado — Rep. Mike Coffman stood out in the celebratory crowd dancing and clapping and singing along at an Ethiopian New Year celebration at a local high school. Not because he was the only white face in the crowd, or because he was the only person wearing a tie — though someone had given him an Ethiopian-style scarf to complement it. Nor was it for his dance moves, which he later described as "the old man shuffle." Coffman, it appeared likely, was the only Republican in attendance that day. And he was also a guest of honor.
"We are majority Democrat in our party, but no party line will hold us from helping reelect Congressman Coffman, our champion," said Deacon Yoseph Tafari, introducing the lawmaker earlier in the night.
The Colorado Republican has been a top Democratic target — arguably the top Democratic target — for the past three election cycles, ever since redistricting put him into a congressional district that, by the numbers, ought to be in Democratic hands. And for the past three election cycles, Coffman has defied political gravity, in part on the strength of his relationships with his district's growing immigrant communities that might otherwise vote Democrat.
"He's the exception," said Neb Asfaw, a community organizer who emceed a fundraiser Coffman attended earlier that evening for an Ethiopian charity and lives just outside of Coffman's district. "I mean, he's the one, only candidate, elected official, that we support that is a Republican."
On a September Sunday, Coffman spoke to students and parents at a Chinese school, reading his recognition of the school on the House floor; spoke in practiced and poorly accented Spanish at a Spanish-language town hall, where reporters were asked not to take photographs of attendees because some might be grappling with immigration issues; spoke at a fundraiser for an Ethiopian charity, where he greeted the organizers warmly; and rocked out at the Ethiopian New Year celebration where he was lauded for his help in passing a House resolution condemning human rights abuses in Ethiopia.
"I've been able to be in these communities, to become a part of their community to break that narrative, and to earn their respect where they see me as their congressman, and the partisan affiliation is meaningless," Coffman told BuzzFeed News in an interview that day.
For the past three elections, this has been enough. But this year, Democrats hope, and Republicans fear, that no matter how established Coffman's personal brand is in his district, it will be no match for the personal brand of the Republican now in the White House.
"The Trump effect is very real," said Morgan Carroll, the chair the Colorado Democratic Party. Carroll is intimately familiar with the unique difficulties Democrats have faced in ousting Coffman: She was his Democratic opponent in 2016, and he beat her 51% to 43%, even as Hillary Clinton bested Donald Trump 50% to 41% in the district.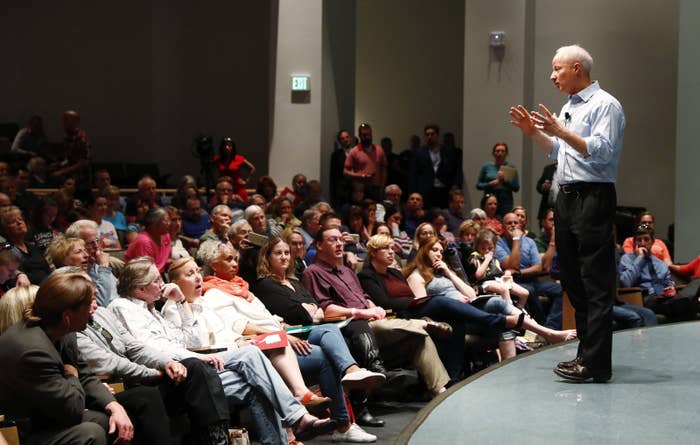 Coffman, for his part, keeps his party, particularly the parts of it that might alienate the constituents sitting in front of him, at arm's length.
"My strategy in this race is to localize it, not to nationalize it," he told BuzzFeed News in an interview, saying he wouldn't want any member of the Trump administration showing up to campaign for him.
Trump went unmentioned as Coffman campaigned across the district, but his presence loomed. "En estos tiempos…" began multiple questioners at the Spanish-language town hall: "In these times…"
Sitting around a long table with about a dozen attendees, Coffman deployed the Spanish he has been studying, his sometime Spanish tutor looking on approvingly from several seats down and occasionally offering him the right word. One woman asked him why she should vote for him, given his party affiliation. "Republicans have committed atrocities," she said in Spanish. How, she asked, could she be confident that if she voted for Coffman, she wouldn't be throwing away her vote?
"I'm your congressman," Coffman told her. Besides, he went on, it wasn't just Republicans ­— Democrats had full control in Washington in 2008 and they hadn't made immigration reform a priority then either.
This has been Coffman's aim, he said after in the interview: "earning their respect in terms of seeing you just as their congressman — not as a Republican congressman, but just as their congressman."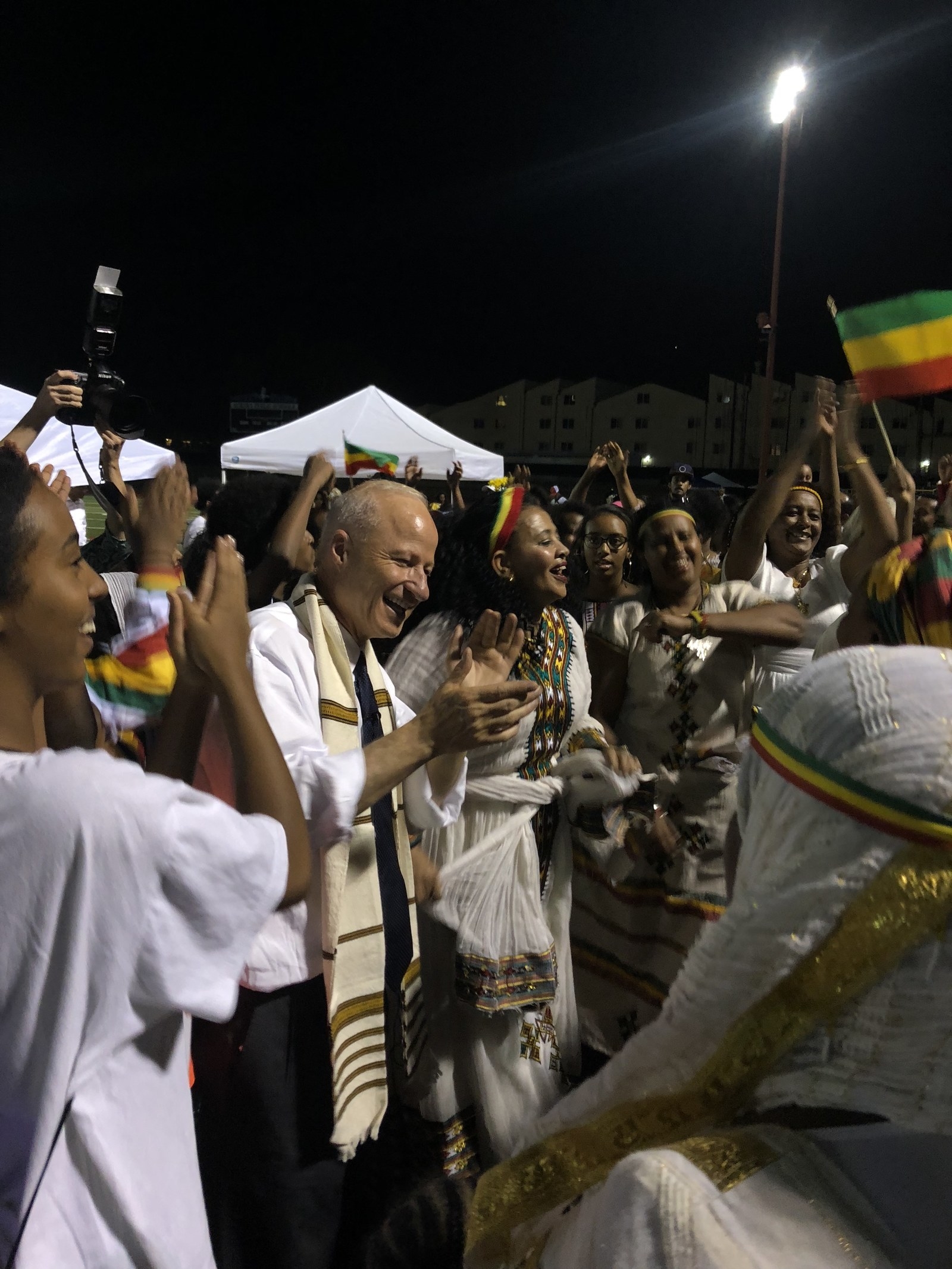 In another lifetime — May of 2016, to be specific — Newt Gingrich held up Coffman as an example of how Republicans could expand their congressional majority, in part by making their candidates acceptable options for communities that had never really considered the possibility of not voting Democrat. In 2016 Election Principles: Lessons from the Last Three Elections, a document commissioned by the Republican National Committee and released days after Trump secured the Republican nomination, Gingrich credited Coffman for taking Spanish lessons to enable himself to communicate — if haltingly — with the large Hispanic population in his district, and for making inroads with the Ethiopian community.

"Suddenly he became acceptable both to many Hispanics and to moderate whites," Gingrich wrote in a document published two days after Trump tweeted about eating a taco bowl.
Coffman, for his part, says "nothing's changed" since last cycle, when he was a top Democratic target, or the cycle before that, when he was also under siege. And Republicans and Democrats alike acknowledge that he's doing what he needs to do to win the district as a Republican.
But the intervening time has demonstrated how little can hold its own against the din of whatever Trump tweeted most recently, or whatever chaos is emerging from the White House and its orbit.
"In a year like this I think you have a lot of independent voters that basically just want to put a check on the president, and they're going to send that message through those House members," said former representative Tom Davis, who chaired the House Republican campaign arm.
"I try and tune out the president whenever I can."
"I try and tune out the president whenever I can, in terms of his tone and saying things that I think are inappropriate," Coffman told BuzzFeed News.
"Unfortunately," he acknowledges, "it takes a lot of oxygen."
Democrats are hoping to capitalize on that fact. Trump is "certainly a big figure in this race," Jason Crow, Coffman's Democratic opponent, told BuzzFeed News in an interview in his campaign office. In 2016, when Coffman spoke directly to the camera in an ad and promised to "stand up" to Trump, a Trump presidency was theoretical. Now, argued Crow, "He's had two years to fulfill that promise, and he's broken it." The Democratic Congressional Campaign Committee has turned that ad into an ad of its own — splicing Coffman's words together alongside a calculation from FiveThirtyEight that he voted with Trump 96% of the time. It's a stat Coffman calls "bogus."
"That is just so ridiculous; it's off some blog. I mean, the only time the president reached out for me personally and asked for something, I said no. That was on the health care bill," he said, going on to tell the story of him rejecting Trump's personal entreaties, complete with a not-unimpressive imitation of the president's voice.
"I think Trump has really helped mobilize," said Millete Birhanemaskel, an organizer of Africans in Aurora for Jason Crow. Birhanemaskel is Ethiopian who told BuzzFeed News she has a business in Coffman's district, though she does not vote there. She recalled the time Andrew Romanoff, the Democratic candidate who lost to Coffman in 2014, spoke at her church, but she said there wasn't nearly the level of engagement then.
"It wasn't the type of environment we have right now with Trump that feels like hate of immigrant groups," she said, pointing in particular to the child separation policy.
There's little public polling for the race so far, but Republicans acknowledge it's a tough seat to hold. The Cook Political Report calls the race a toss-up.
"This may be one of the toughest reelection campaigns that Mike Coffman has faced," said Ryan Call, the former Colorado Republican Party chair and one of Coffman's constituents. "The national political environment is very challenging."
With Crow, Democrats believe, they have neutralized some of Coffman's past advantages. Crow, like Coffman, is a veteran — a former Army Ranger. And Crow has never held elected office before, leaving Republicans with no political record to pick apart (though that hasn't stopped Republicans from attacking Crow's time as a member on the Colorado Board of Veterans Affairs).
"I'm a very different candidate than folks who have run in this race before," Crow told BuzzFeed News in an interview in his campaign office. "And we're in a very different world than we certainly have been in prior election cycles."