Matt Gaetz was relatively anonymous for the first 10 months of 2017, a first-year Republican newly arrived in Washington to represent the Florida panhandle.
Then, on Nov. 1, Gaetz introduced a resolution to force Robert Mueller to resign as special counsel investigating Russian interference in 2016's presidential election and any possible collusion with the Trump campaign, alleging his conflicts of interest made him unable to do the job well. On Dec. 29, he was the lone House member to vote against a bill to give the federal government more resources to fight human trafficking. By mid-January, he was leading the charge to declassify a memo written by fellow House Republicans alleging FISA abuses by the FBI. On Jan. 25, he became the subject of widespread ridicule when he mischaracterized the Immaculate Conception on CNN. Five days later, he brought someone who allegedly believes the Holocaust did not happen as his guest to the State of the Union.
Gaetz, in practically no time, has rocketed from fresh face in the Republican conference to one of President Donald Trump's most high-profile, die-hard defenders in Congress.
"I think he's a rising star, but I told him, I don't want him to hitch his star on notoriety," Rep. Ileana Ros-Lehtinen told BuzzFeed News, after expressing, several times over, her intense displeasure over his State of the Union guest.
Gaetz is unconcerned, even if he's ruffled some feathers along the way. Asked by BuzzFeed News this week if he worried he might be gaining notoriety, rather than star power, he responded, "What's the difference?"
Asked by BuzzFeed News this week if he worried he might be gaining notoriety, rather than star power, he responded, "What's the difference?"
"People have to know who you are and what you're doing if your opinions are to matter," Gaetz opined over the course of a nearly 40-minute interview in his Capitol Hill office Wednesday. Seven publications, he says, are writing profiles of him. (His interview with BuzzFeed News started a few minutes late, as his preceding interview with GQ had run a bit long). Later that evening, he would appear on Tucker Carlson's primetime show on FOX News. He'd been on Lou Dobbs' show earlier in the week and spoken with Shannon Bream to close out the week before. The president, he says, has taken to calling him every week or two ("He cracks me up when he calls," Gaetz says, in that tone of warm familiarity usually reserved for a dear friend). And Gaetz is pretty clear on why he believes those calls started: "I think it's because I defend him on television."
Gaetz is, in his way, perfectly in tune with this political moment, where word flubs, misstated positions, accusations of treason, or mischaracterizations of Catholic dogma are swept up in a steady torrent of news and forgotten almost as quickly as they happen. "I think a lot of that stuff is temporary," Gaetz said.
"We live in such a fast world, like, people don't even remember anymore that I botched the Immaculate Conception, you know what I mean? Weeks, months from now, people won't remember who my State of the Union guest is. But every time we get to throw somebody in jail that drags a dog behind a pickup truck, it's a lasting effect. So that's why I think the work always ultimately survives over the discourse," he said.
"Everybody has an error rate, and any politician that pretends that they don't is already viewed as disingenuous by their constituency," he said. "I have an error rate."
Gaetz, 35, represents the eastern swatch of the Florida panhandle, a district once represented by MSNBC host Joe Scarborough. He comes from a political family: His father served ten years in the Florida state Senate and served as state Senate president while the younger Gaetz was in the state House. His district is Trump country: Trump campaigned there three times during the 2016 campaign, and remains wildly popular in the district, according to new poll numbers from Gaetz's consultant, which are scrawled on a whiteboard in the corner of his office. Some residents jokingly refer to the area as LA, or Lower Alabama, because in some ways it shares more in common with its neighbor to the north than the rest of Florida. Per his poll numbers, Gaetz himself has a high favorability rating, and isn't facing any real threat from his currently announced primary opponents.
"I'm looking good," he says.

Some Republicans around the Hill, for better or for worse, see him as following in the footsteps of someone like Mick Mulvaney, formerly a South Carolina congressman and now the director of the White House Office of Management and Budget, or Rep. Raúl Labrador, who is leaving Congress to run for governor of Idaho. Like Gaetz, both Mulvaney and Labrador took loud and aggressive stances on issues that riled the base, and rode that to increased prominence.
Gaetz has carved out a prominent role that wouldn't normally be there for a freshman member of the House. He even hitched a ride on Air Force One with Trump in December, and he was standing with the president as he went to take the stage that night in a rally that was ostensibly to talk about economy, but had the added benefit of being in the same media market as Mobile, Alabama, four days before the Senate special election in that state.
"He turns to me, he says, 'You hear that, Gaetz?' I don't know if it was something in the crowd or what," Gaetz recounted.
"He says," and for this, Gaetz lowers the volume of his voice to better reflect the gravity, "'The Stones. Only Trump gets the Stones.' And then he walks onto the stage."
Now, says Florida Republican Rep. Tom Rooney, when he goes home to his reliably conservative district, people ask him if he knows Matt Gaetz. "That happens all the time," he told BuzzFeed News. "When I first got elected, people were like, 'Do you know Allen West??' I'm like, 'uh, yeah.'"
"He's getting famous quick," Rooney added.
A big reason for that is Gaetz's prominence on what he calls "the Russia question," which he says was born out of necessity.
"I wanted to spend my first year only doing local media and only understanding how this place works. And that lasted about ten months. And when this Russia question continued to persist, in the absence of really strong advocacy on the Republican side, I stepped up," Gaetz explained.
"Frankly," he says, "I was tired of the Democrats being the only team playing offense."
He allows that he's probably not the best one to be making the argument on the propriety of the investigation into Russian political interference and the Trump campaign or the FISA memo released last week by House Intelligence Chair Devin Nunes. Someone like Nunes or House Oversight Committee Chair Trey Gowdy might have been "more effective communicators" or "better masters of the facts," but they were busy conducting the investigation, he said. "I'm far more unbridled."
Gaetz last week wound up holding court with reporters outside the House Intelligence Committee room after the Nunes memo was made public, despite not even being on the committee.
"I think as a consequence of the work that Devin Nunes has done, that Trey Gowdy and Bob Goodlatte have done, that I've amplified in the media, we've got our groove back," Gaetz says. "I think we're winning."
"He's a shock jock of Congress."
His activities have not gone unnoticed.
"I don't know if I should tell you this. I called up [Steve] Bannon the other day, just to check in, see how he's doing — I find him to be a fascinating mind and political character," Gaetz recounted. "And he referred to me as 'Nunes' pulling guard.' I thought that was an interesting description."
Gaetz's style has come as no surprise to those who worked with him in Florida. When Gaetz was first elected to the state legislature, Collier Merrill, a real estate developer and Republican donor who's been a personal friend of the Gaetz family, called up a friend in the legislature to ask after him.
"You know," replied the friend, who'd been in the legislature for a while, "it sure would be nice if every once in awhile Matt would let the fight come to him."
"He's a shock jock of Congress," said former Democratic state Senate minority leader Arthenia Joyner, who has no love for Gaetz.
He formed "the Liberty Caucus" with fellow Republican state House Rep. John Tobia, and the two would score their fellow members on various votes that they deemed indicative of support of libertarian principles. "Of course, we were encouraged very strongly to shut down" by Republican leadership at the time, said Tobia.
Tobia and Gaetz shared a three-bedroom condo in Tallahassee for part of their time in the legislature, along with a third roommate — former state House Rep. Chris Dorworth — and Gaetz's dog, Scarlet ("middle name is O'Hara, from Gone With the Wind"), an Australian Shepherd. "He spends a lot of time with his dog when he's not debating on the House floor or, you know, in front of a television camera," said Tobia.
"It's me and Scarlet against the world," Gaetz says, showing off a photo of Scarlet, who, along Stella, his second dog, and Tucker, a cat, has a place in a frame on his desk alongside photos of his family.
"I'm not a dog person at all," noted Tobia.
Dorworth, the third roommate, describes Gaetz as a workaholic. "You will get a phone call from him on a Saturday at 9:45 p.m. and he'll want your opinion on something he's working on," he said.
"Sometimes it appears that he's firing off the cuff," Tobia said. "But he does a lot of work in the background that I don't think people see."
Few doubt Gaetz's ambition. But where that ambition might be taking him remains to be seen. Rooney said he assumed those ambitions might tend toward House leadership, and says he advised Gaetz, unsolicited, not to "pigeonhole" himself into one clique or another, and rather to build relationships across the conference.
But Gaetz expresses little patience for such things. He skipped the Republican retreat in West Virginia last week, an opportunity for Republicans to hang out in a more casual setting. "I don't really socialize with my colleagues," he says.
He has not eschewed all such political relationships. He seeks advice from Roger Stone and Steve Bannon, even if he says he doesn't agree with them on everything ("I don't always agree with the people I spend time with. I mean, most of my girlfriends have been Democrats"). He speaks warmly of his calls with Trump, during which, he says, the president "talks like New York construction worker." When complimented on his shoes, a style choice his colleagues in the House have taken notice of, he responds, "You sound like Ivanka."
But he has some disagreements with how those colleagues handle themselves.
"A lot of these politicians around here, they want to sit around and have eight committee meetings and five staff huddles before they decide to say peep," he said. "And I think that in today's politics, decisiveness gets a pretty good return on political investment." Voters, he says, are less likely to reward politicians for being careful in their statements, or reserving judgment to avoid offending them.
"They just want to know that you're not full of shit," he says.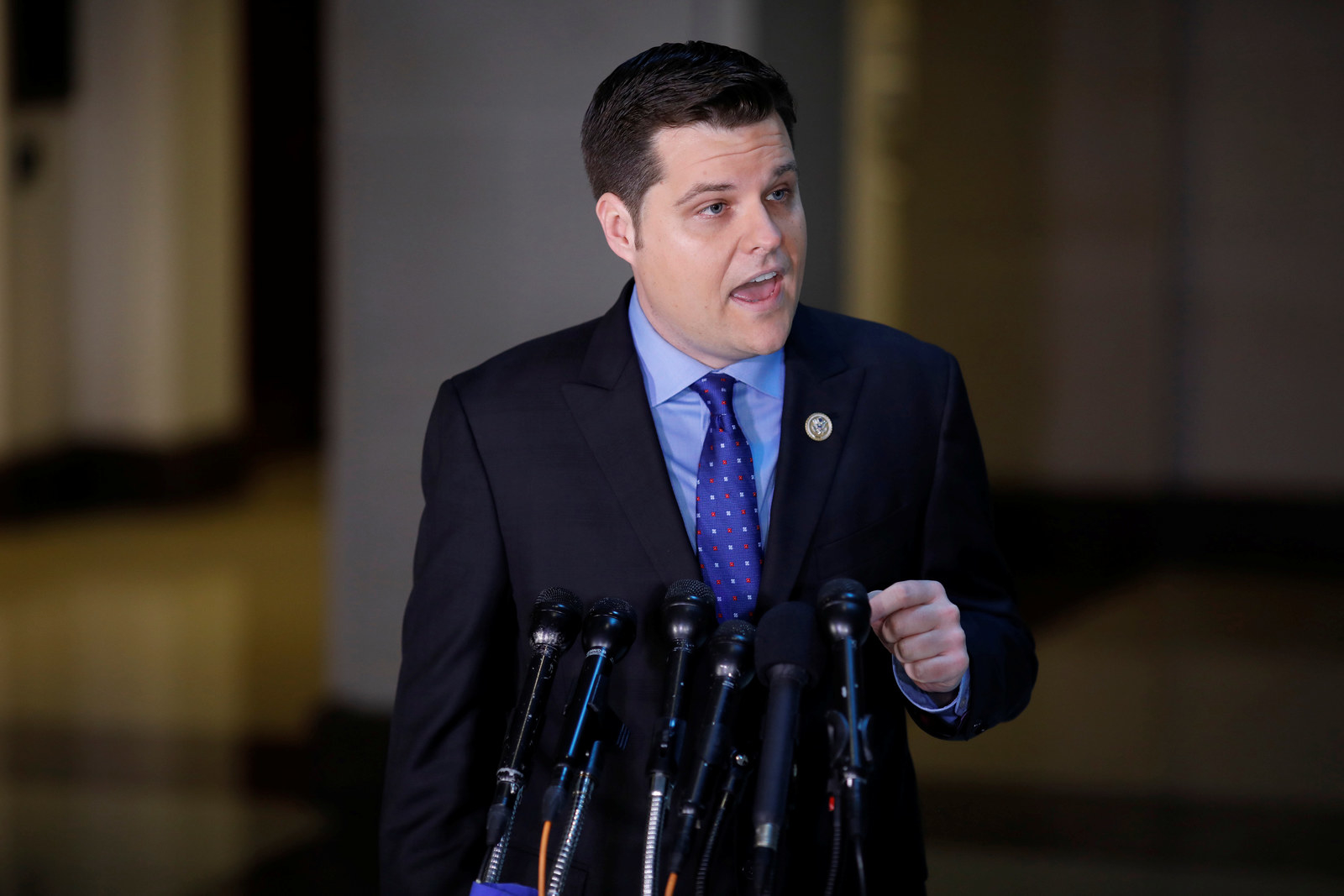 Gaetz says he expects his current office to be the last one he'll ever run for, and that he doesn't think he'll be around "for decades." And as for any chance of moving up, he had few kind words about even the concept of congressional leadership.
"I don't really know what leadership means. Like, what does leadership mean? Right, we use leadership in this town to describe elected and often times ceremonial positions. Leadership is about, in my read, over 13 months in this town, you lead if you can do two things: move money and people. Move money or votes."
Is he referring to Speaker Paul Ryan? Majority Leader Kevin McCarthy?
"I think Paul Ryan's the smartest guy in Congress. And Paul Ryan did not become speaker through the traditional leadership ranks. And I'm not going to talk bad about my colleagues," he continues, "but I am not a prodigious fundraiser. I do not have the capability to move the amount of special interest money in this town that it takes to win some ceremonial leadership position. But at times, I have the capability to talk to colleagues and move votes. That's not a unique capability, but I think people can lead without having a bigger office and a bigger title."
Just two weeks ago at the State of the Union, Gaetz set off a small flurry of outrage by inviting as his guest Chuck Johnson, a right-wing provocateur who once stated on Reddit that he did not believe the Holocaust happened (Johnson has said he is not a Holocaust denier, he was just testing Reddit's algorithms). It was, Gaetz has now said on several occasions, a last-minute failure of vetting, and one he regrets. He had planned to bring his father as his guest, but when his father got sick, he gave the ticket to Johnson, who had come by his office that day.
"I was greatly disappointed when I heard about his guest because for me, that is a name that is synonymous with Holocaust denier," Ros-Lehtinen told BuzzFeed News.
"I've told him that," she added. "But those are private conversations."
Johnson told the Daily Beast he was drawn to the congressman because of his libertarian positions on "weed and bitcoin and Trump and animal welfare." He declined to speak with BuzzFeed News for this story.
Amid the uproar about Johnson, Gaetz critics and defenders were careful to note that he, himself, is very pro-Israel.
"A champion of Israel and the Jewish people," his friend Joel Greenberg, the elected tax collector of Seminole County, who counts Gaetz as a friend and political mentor, offered, unbidden.
"We may have to retroactively throw him a bat mitzvah," he added. "A bar mitzvah. Both, he gets."
In Gaetz's retelling, he's placated concerns from colleagues about Johnson by pointing to statements from Alan Dershowitz, the Jewish legal scholar, and Alfred Balitzer, who he cites as a founding member of the Republican Jewish Coalition, who say that Johnson is not an anti-Semite or Holocaust denier, just a "provoker."
However, the RJC in a follow up email to BuzzFeed News, said Balitzer is not a founding member of the RJC, is not a member of the organization, and the organization's records show that his only association with the group was that he attended one event over a decade ago.
"This organization is deeply troubled by the comments from Charles C. Johnson, and it is incredibly important for the congressman to acknowledge he is a Holocaust denier and has extensive writings that attest to that and that it was wrong to bring him to the State of the Union. We are are deeply troubled by any inference that our organization believes otherwise," said RJC executive director Matt Brooks in a statement.
Gaetz, asked about Brooks' statement, which has been published elsewhere, replied: "I understand that Dr. Balitzer played a role in hiring Matt Brooks." RJC told BuzzFeed News that is false. Still, Gaetz believes he's been able to convince the people he's talked to that he's not in the wrong on Johnson. "Sharing that with my colleagues has, to a person, been persuasive," Gaetz said.
"He is an agitator, yes, but not a racist," a Florida political leader once said of Gaetz.
What exactly was he to persuade them of?
"That Chuck Johnson is not a Holocaust denier and he's not an anti-Semite," Gaetz said. "He's a provoker, I should've vetted him better before inviting him to the State of the Union, I regret that I didn't. That's my fault. I take responsibility for it. But he is not a Holocaust denier."
Three years ago, the Republican Speaker of the Florida state House issued a similar statement about Gaetz.
"He is an agitator, yes, but not a racist," tweeted Speaker Steve Crisafulli, after Gaetz specifically called out two black state senators, Joyner and Sen. Dwight Bullard, in a tweet ridiculing the spelling and grammar of a lawsuit filed by the Democrats in the state Senate. Both Bullard and Joyner, who spoke with BuzzFeed News, were unconvinced by the subsequent apologies. "He's very much on the wrong side of history," Bullard said of Gaetz in a phone call Wednesday.
Greenberg, also unsolicited, defended Gaetz against any charges of racism. Gaetz explained this as a natural instinct of friends in a moment where he was being publicly attacked.
"When a nasty story got written about me, or two, and people would see it, every Jewish person I knew was texting me saying, 'I will defend you.' Which, you know, I appreciated their willingness to do that. I did not think it was an appropriate time to make a list of every Jewish friend I had, and all the nice things they had to say about me," Gaetz said. "So I just moved on."
This largely is Gaetz's philosophy. Attacks from the media, screwups on CNN, are not worth dwelling on.
His mother, though, has some thoughts.
"You know I talk to my mom probably three or four times a day. Call her in the morning, call her at night, call her during the day. She often provides her thoughts on how I'm doing on television," he says. "'Stop going on CNN and MSNBC, they lay in wait for you.' And I say, 'But mother, I lay in wait for them.'"