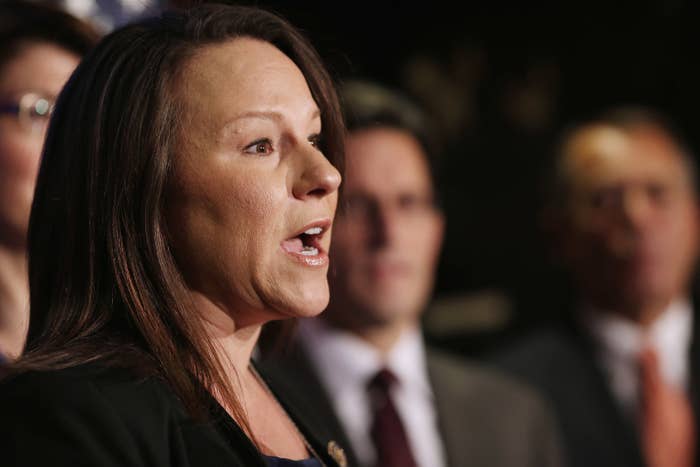 Alabama's 2nd Congressional District is about to answer a question few had ever thought to ask. What angers Republican primary voters more: A candidate who disavowed Donald Trump? Or a candidate who voted for Nancy Pelosi for speaker?
Rep. Martha Roby will face former Rep. Bobby Bright in a Republican primary runoff in July, after she fell well short of 50% of the vote in Tuesday night's initial election.
Roby, the incumbent, called for Trump to step aside late in the 2016 campaign following the release of the Access Hollywood tape, and even went so far as to call him an "unacceptable candidate."
Bright is a former Democratic congressman who lost the seat to Roby in 2010.

Roby has spent the past year and a half working to win over Trump voters, and the Trump administration, after that rocky start. But her words came back to haunt her. She drew four well-known primary opponents seeking to oust her in this campaign. And while none of them were able to match her in fundraising or spending, the number of candidates in the field kept her vote share below 50%, forcing a runoff.
Bright, the former mayor of Montgomery, is playing up his support for Trump. His slogan is "Make District 2 Bright Again." But as a former Democratic congressman, he voted for Barack Obama for president, and he supported Nancy Pelosi for speaker, a vote he described to BuzzFeed News as "procedural" and a politically expedient choice to get good committee assignments.
It is something Roby will almost certainly use against him in a runoff. She has already run ads using Pelosi as a liberal bogeyman, though she did not mention any of her opponents in ads during the primary.
The runoff could prove a referendum on which is more unpalatable to Republican voters: attacks on Trump or support for Pelosi.
Already, Bright aired an ad with a video clip of Roby calling on Trump to "step aside." She "turned her back on President Trump," a narrator says.
Voters took Roby to task for that in the 2016 election: She got just 49% of the vote, while Trump won her district with 65%. Since then, she has done what she can to mitigate the issue. She worked with Ivanka Trump to expand the child tax credit; she was part of a House delegation that went to the White House in an effort to get other members on board with the Republican health care bill; she has been present at several bill signings and ceremonies. All of this has been carefully documented on social media and in press releases.
But it's clear that some displeasure remains over her 2016 vote and statements. Though she swamped her opponents financially, spending over $850,000 by May 16 to Bright's $213,000, she was unable to get a majority of the vote. In the unofficial results, Roby was held to just 39 percent of the vote, while Bright netted 28 percent.
The runoff election will be July 17.