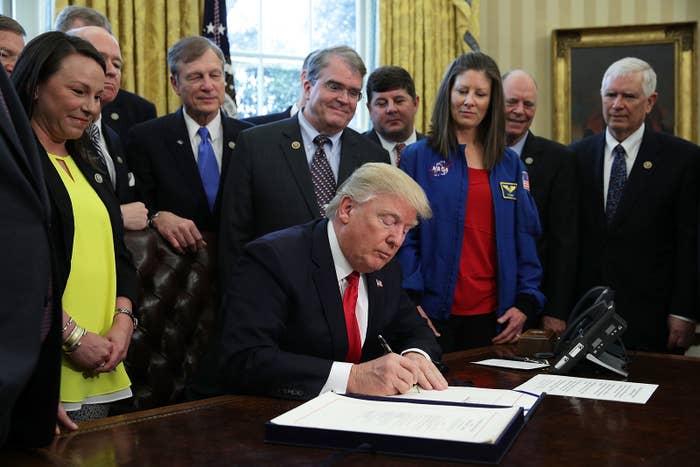 Rep. Martha Roby won a runoff election Tuesday night, beating back a challenge animated by her 2016 criticism of Donald Trump's candidacy.
Roby defeated Bobby Bright for the Republican nomination in Alabama's 2nd Congressional District. Bright is a former Democratic representative of the district turned avowedly pro-Trump Republican. Roby previously beat Bright in the 2010 general election to win her first term.
The race had given some Republicans heartburn. In October 2016, after the Access Hollywood tape was released, Roby had said she would not support Trump in the election and called on him to "step aside." Voters punished her for it: She won reelection with just 49% of the vote, while Trump took 65% of the vote in the district.
When Trump took office, Roby very publicly made nice with the administration, and she highlighted those efforts to her constituents. Still, four Republicans challenged her in 2018, citing her comments about Trump. Voters, it was clear, were not over it. She got just 39% of the vote in the primary, well shy of the 50% she would have needed to avoid a runoff.
But the runoff with Bright presented a potentially favorable contrast for Roby. Yes, Roby bashed Trump in 2016. But Bright, as a Democratic congressman in 2009, voted for Nancy Pelosi for speaker. It gave Roby an easy point of attack and raised a question few had ever thought to ask — which would a Republican base find less palatable: opposition to Trump or support for Pelosi?
Then, in late June, Trump endorsed Roby in a tweet. Vice President Mike Pence followed it up last week with his own tweet, and recorded a robocall for the campaign urging voters to support Roby.
Trump congratulated Roby on Wednesday, but hinted at their less friendly past.
In a state where voters have twice in the past year ignored Trump's endorsement and voted for the other candidate on the ballot, the endorsement was not a magic bullet for Roby. Voters who spoke to BuzzFeed News in the final weekend of the race had not forgotten her comments, and even those who planned to vote for her said Trump's support had had little impact on their thinking. Roby's campaign did not even mention the endorsement in any of her television ads.

But the endorsement did help take the sting out of Bright's attacks that she was insufficiently loyal to the president.
Trump is now one-for-three in Alabama elections endorsements in the last year. He previously endorsed Luther Strange, who lost a special election Senate Republican primary, and Roy Moore, who lost the general election for the Senate seat.

In a district where Trump won 65% of the vote, Roby's victory Tuesday means she will likely return to Congress in the fall. She will face Democrat Tabitha Isner in the general election.