Mark Sanford's political career survived one of the most notorious sex scandals in American history. If he loses his House primary Tuesday, it will be because South Carolina Republicans think there's something more unforgivable than hiking the "Appalachian Trail": crossing Donald Trump.
Republican Rep. Martha Roby was forced into a runoff in Alabama last week, drawing a multitude of primary challengers as a result of her decision to denounce Trump in 2016 after the Access Hollywood tape. Her efforts to repair her relationship with the president in the intervening year and a half were an insufficient salve. Now Sanford, who has made no such effort to ingratiate himself with Trump, may lose his job.
Sanford has never lost an election. But his first campaign with Trump in the White House has put some wear and tear on that aura of invincibility.
On Tuesday, Sanford will face off against Katie Arrington, a Republican state representative. The contest has tested the contours of the Republican Party in the Trump era: How much loyalty does the Republican base demand to the man in the White House?
"I'm running for Congress to get things done, not to go on CNN to bash President Trump," Arrington says in one campaign ad.
Another ad cuts together a series of clips of Sanford criticizing Trump on Fox Business, MSNBC, and CNN, over a banner that reads "#NeverTrumper Mark Sanford."
"It's time for a conservative who will work with President Trump, not against him," Arrington says in a third ad.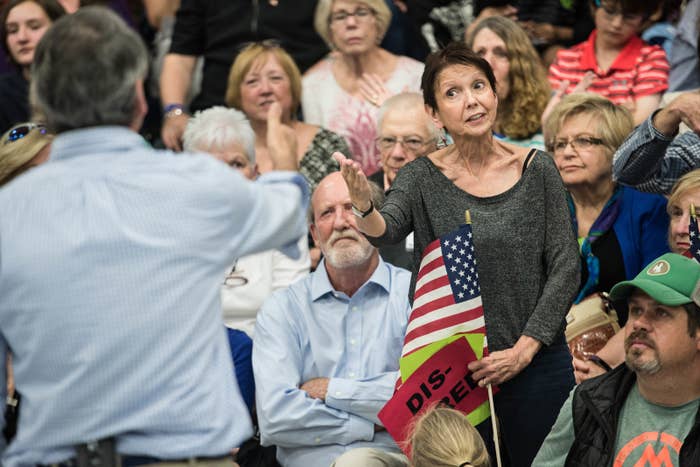 Trump's most vocal critics in Congress are either retiring (Sen. Jeff Flake), already retired (former Rep. Charlie Dent), or not up for reelection (Sen. John McCain). And then there's Sanford.
Last year, according to Sanford, the president delivered an unpleasant missive through Sanford's former South Carolina colleague, Office of Management and Budget Director Mick Mulvaney.
"The president asked me to look you square in the eyes and to say that he hoped that you voted 'no' on this bill so he could run (a primary challenger) against you in 2018," Sanford said, recounting Mulvaney's remarks to the Charleston Post and Courier.
Sanford ultimately voted for the bill in question — the House Republican bill to repeal Obamacare — and Trump, as of press time, had not gotten involved in the primary.
But his presence has loomed over the race.
"Sanford's brand of conservatism goes well with the coast: He's kind of this laid back khaki and madras guy with no socks. But I think he may have underestimated the support Trump had in that district," said South Carolina Republican consultant Chip Felkel, adding, "That seems to be something that's hurting him."
A public poll last week from consulting firm Monument National found Sanford at 40% and Arrington at 39%.
Trump is "the number one issue on the campaign trail," says Sanford's challenger.
Arrington says Trump is "the number one issue on the campaign trail" when she talks to voters. For Sanford, the president is less of a factor: "I don't hear that much from voters, but I certainly hear a lot about it on the TV screen," he told BuzzFeed News.
"She's certainly trying to make it an issue," he said. "We'll see to what degree that has effect."
But Arrington has also attacked the very ideological underpinnings on which Sanford has staked his career and reputation. Sanford is a fiscal conservative. As governor, he once brought pigs to the State House in a dramatic protest of excess spending in the state budget. In Congress, that has meant repeated breaks with his own party, voting against legislation that he feels would add to the national debt. Last year, as the House worked to repeal Obamacare, Sanford authored, along with Sen. Rand Paul, a conservative version of the bill. He can be very "cerebral" as former Charleston County GOP chair John Steinberger put it. "He likes to refer to historians and Greek philosophers and things."
Arrington argues that isn't the same as being a productive legislator.
"Saying 'no' doesn't solve a problem. And Mark is the king, he is the master of saying 'no,'" Arrington told BuzzFeed News in a phone interview. And having ideas, she said, wasn't any good if the president would never accept them.
"Mark has offended the president on so many, many occasions, that even if he had an intelligent idea that would make change, do you think he's going to be invited into the Oval Office to have coffee and have a discussion about it?" she said.
Rep. Lin Bennett, an Arrington supporter, echoed that complaint. "He writes a lot of great missives about his philosophy of government, but I don't see any action," she said.
The classic Sanford baggage isn't absent — in one of Arrington's ads, she speaks to the camera while walking down a hiking trail. The ad ends with her urging Sanford to "take a hike — for real, this time."
It's an appeal to the already fair number of people in the district who appear to be inclined to vote for anyone but Sanford. Two years ago, Sanford had a tighter-than-it-should've-been race against former state Rep. Jenny Horne. She had little money and ran a limited campaign. He had plenty of money, but spent none of it, still reeling from the financial blow when the National Republican Congressional Committee cut him off during his special election in 2013. He felt it was more important to stockpile the money he had, just in case, he told Politico last year. He won, 56% to 44%.
"The writing was on the wall that the Sanford shtick, that the Sanford approach to things was catching up to him," said Felkel.
This campaign has been dramatically different. In the run-up to his 2016 election, Sanford spent just over $16,000, none of it on advertising. This year, Sanford spent over $267,000 from April 1 through May 23, and he's on air with an ad attacking Arrington for her vote in favor of the state's gas tax while touting his fiscal conservative bona fides.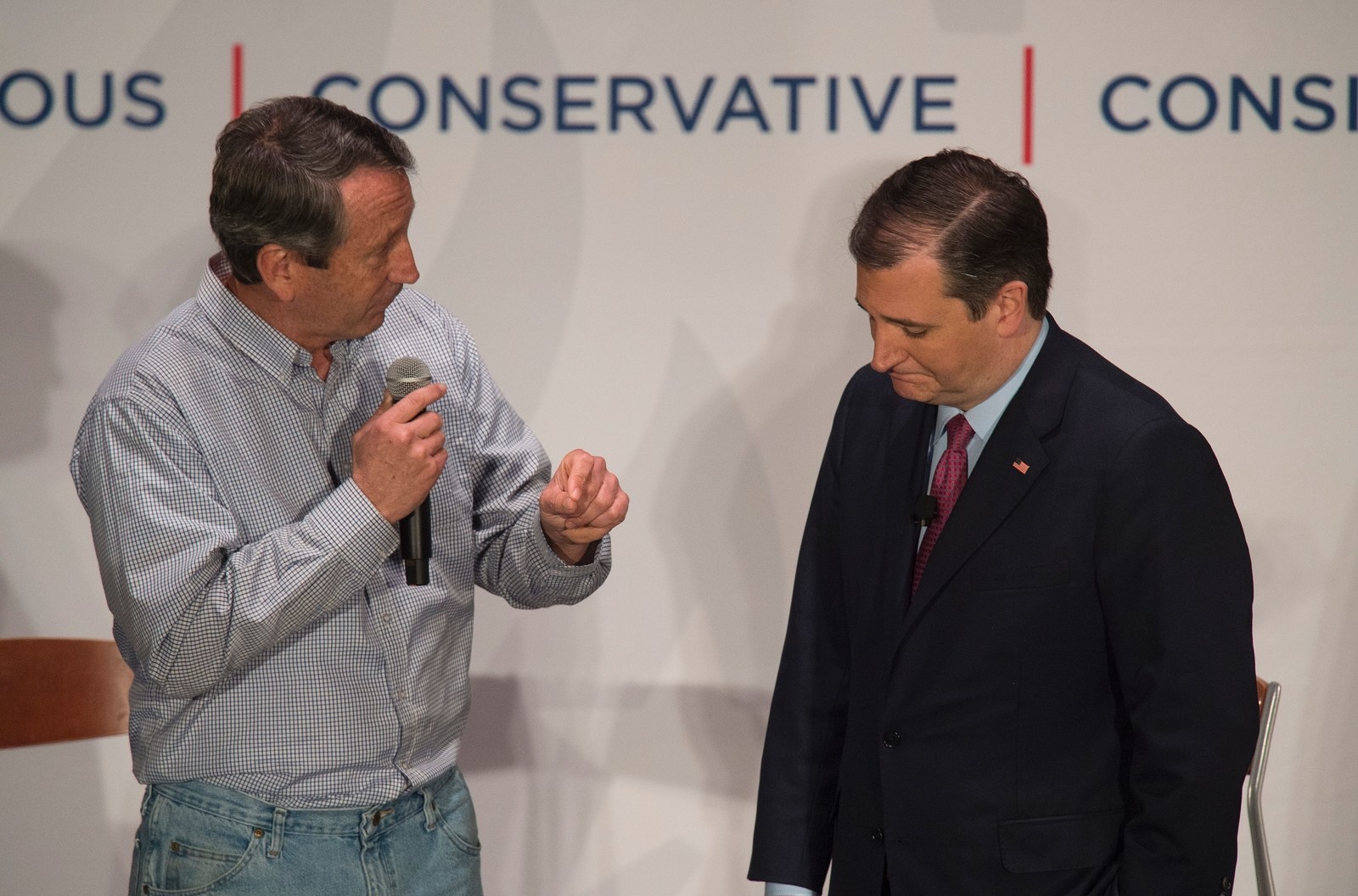 Sanford's spending alone has raised eyebrows. Getting Sanford to open his wallet, said Rob Godfrey, who served as deputy chief of staff to former governor Nikki Haley, was a feat in and of itself. Sanford's fiscal conservatism isn't just a political stance, it's a way of life.
Sanford rolled his eyes at the idea that this suggested a different race than in the past. "I think that's what you're supposed to do in a race last time I checked," he said. Comparing it to a race where he didn't spend any money at all, he said, didn't quite seem like apples to apples.
Still, Charleston-area Republicans say this one has a different feel than his past races.
"The passion level is really elevated on both sides," said Larry Kobrovsky, chair of the Charleston County Republican Party, saying it was "much more" than in previous cycles.
But the question for some South Carolina Republicans is whether anything, even Trump, can overcome the mix of political talent and je ne sais quois that has sent Sanford back to office, time and time again.
"Mark is Mark," said one South Carolina Republican strategist. "Some people have likened him to a cat. You can throw him up in the air and he can land on his feet. He hasn't lost an election yet."