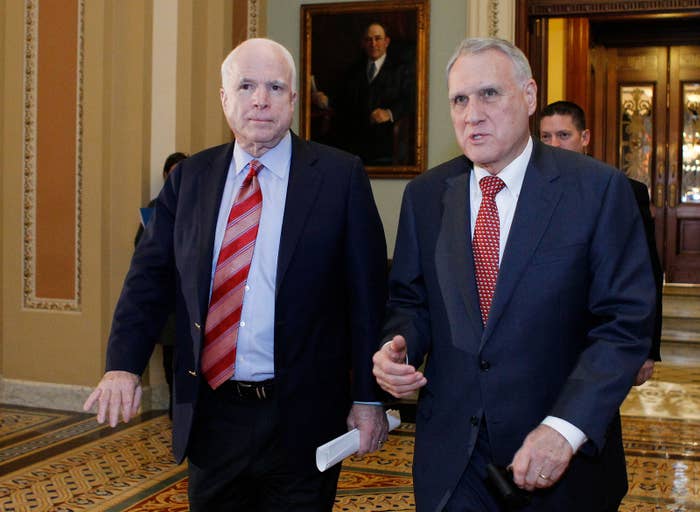 Former senator Jon Kyl will return to the Senate to fill the seat vacated by Sen. John McCain, who died earlier this month.
Arizona Gov. Doug Ducey announced the decision on Twitter Tuesday following news reports.
"There is no replacing Sen. John McCain," Ducey said at a news conference on his decision. "But the law requires me to do it."
Kyl served three terms in the Senate before retiring in 2012. For six years, he served in the party's Senate leadership as minority whip. He will not retain his seniority when he returns to the Senate.
"Sen. Kyl is prepared to hit the ground running," Ducey said.
The appointment lasts until 2020, when a special election will be held to fill the seat. Kyl has not yet committed to serving through 2020, Ducey said, but he has said he will stay "through at least this session of Congress."
"It's my hope that he serves longer," Ducey said.
Ducey, up for reelection this fall, is widely seen as having political ambitions, and his decision to appoint Kyl allowed him to dodge a political minefield and avoid angering competing Republican factions within the state and country. Kyl was close to McCain, but also has a good relationship with President Donald Trump's administration. Kyl had been shepherding Supreme Court nominee Brett Kavanaugh around the Hill in preparation for his confirmation hearings.
"Now," said Ducey, "Sen. Kyl can cast a vote" on his nomination.
Trump applauded the decision in a tweet, saying Kyl "will be an extraordinary Senator representing an extraordinary state, Arizona."
McCain had been a Trump critic and was not close with the president, who as a candidate in 2016 denigrated McCain's military service as a Vietnam prisoner of war. And Meghan McCain, the late senator's daughter, made a pointed Trump critique while eulogizing her father Saturday.
Several Republicans noted Tuesday that the Kyl pick should satisfy those loyal to both men.
"Literally perfect," said one strategist who works on Senate campaigns.
"It appeases conservatives and establishment political players," said another who works on gubernatorial races.
"Safe and smart," said one former Trump White House official of the choice. "Someone who was personally close to McCain but also someone who basically a down-the-line conservative when he was in the Senate."

"His hands were tied. Had he picked a conservative like [former Rep. Matt] Salmon, he would have alienated McCain world," the former White House official added. "And if he had picked Meghan McCain or someone like that, he would have had a conservative revolt on his hands."
CORRECTION
Kyl will not retain his seniority when he returns to the Senate. An earlier version of this story incorrectly stated that he would.