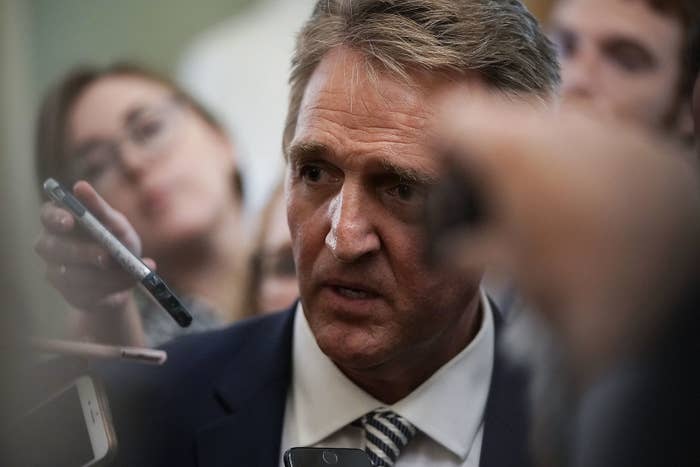 MANCHESTER, New Hampshire — Jeff Flake's speech in New Hampshire wasn't supposed to be such a thing. It was the Arizona senator's second trip to the state this year, and whatever ambitions underlay those trips were likely pipe dreams for anyone, much less a man who had staked his political reputation on being out of sync with the rest of his party. The speech, which he had titled, "After the Deluge: A Rejection of Destructive Politics and a Return to Principle," was set to be just more of that, an impassioned plea for bipartisanship and less warfare-like politics, a nod to that pipe dream that drove home just how much he was a man on an island.
And then, after a tense hour on Friday that left an atypically large segment of the country glued to C-SPAN, Flake became the man of the moment. A speech earlier on Monday in Boston was relocated due to security concerns. Saint Anselm College shut down registration for his speech here at the New Hampshire Institute of Politics due to "increasing interest." The heightened number of security personnel stationed at the entrances grumbled over where all the reporters — 60 were expected — would park. About 100 people gathered outside to protest Brett Kavanaugh's nomination to the Supreme Court and urge Flake to vote him down in the Senate. Nearly 200 more people were inside to watch him.
"When I titled this speech 'After the Deluge,' I meant that metaphorically," Flake cracked at the start of his New Hampshire speech. "I hadn't counted on an actual deluge."
On Friday afternoon, Flake cut a deal with Democratic Sen. Chris Coons to call for a one-week FBI investigation into Kavanaugh and the allegations of sexual assault brought against him, including those from Christine Blasey Ford, who had testified before Flake and the Judiciary Committee the day before. As the swing vote on the committee, and one of the swing votes in the entire Senate, Flake was in a unique position to delay a vote on Kavanaugh. He said in Boston that he did not want the FBI investigation he precipitated to be something that "gives us cover" and was working with the White House counsel and his colleagues to make sure it would not be.
"We're wanting to make sure that that is a fulsome investigation and it's not limited as some worried that it might be," he told reporters after his speech in New Hampshire.
And so, the man who insisted repeatedly on his status as a "conservative Republican" on Monday became, for the moment, a hero on the left. The people who gathered outside Saint Anselm College before his speech were there to protest Kavanaugh, but they were also there to encourage Flake.
"He seems to be the only Republican asking, 'Is there an elephant in the room?' And it's so obvious there's an elephant in the room," said John Seney, one of the 100 or so who gathered outside the New Hampshire Institute of Politics in the two hours before Flake spoke. That said, he added, "I don't hold him in very high esteem yet." It depended, he said, on what Flake did next.
"I think that there's hope," said Winnie Hohlt, wearing a pink beret to go with her companion's brighter pink pussy hats.
"We think Flake has a chance to do the right thing," she added. "And not everybody gets the chance."
Emily Eggens, a Democrat, held a sign on which "God Bless Jeff" was written in green marker.
"I try to teach through praise," she explained.
"He's symbolic of what needs to be happening more frequently all over," she added. "So, you know, it's not like I was ever a Flake supporter before. I am a Democrat. But I want to appreciate those small movements toward solutions."
Eric Woudenberg missed the affair entirely. He had been, he said, at a silent retreat for the past two weeks, and it had only ended Sunday morning. He had tried to catch up in the intervening 24 hours but had mostly come out of "solidarity." He was on the mailing list for a Democratic group, and this, he said, was the first event they'd urged him to go to that he was actually free to attend.
Flake's speech seemed little changed by the increasing applicability of the imagery with which he titled it. Wearing a navy suit and a tie, he spoke softly and in measured tones in a speech peppered with metaphors.
"We Republicans have given in to the terrible tribal impulse that first mistakes our opponents for our enemies," he told the crowd.
But, he said, "Not only are we not enemies, we are each vital organs in the same bodies. It's as if in order to save ourselves, our brains start to destroy our hearts."
He likened giving a speech on the Senate floor before the Kavanaugh and Ford hearings Thursday to "dipping a toe into a pool of piranhas."
"I had failed my tribe," he said. "I've been failing my tribe for some time now. Well, with the ways that we measure political success in this sordid era and by the conventions of how party loyalists are supposed to behave, I hope to continue to fail my tribe."
In this room, it earned him a round of applause, and an approving "hear, hear!" from one man in the audience.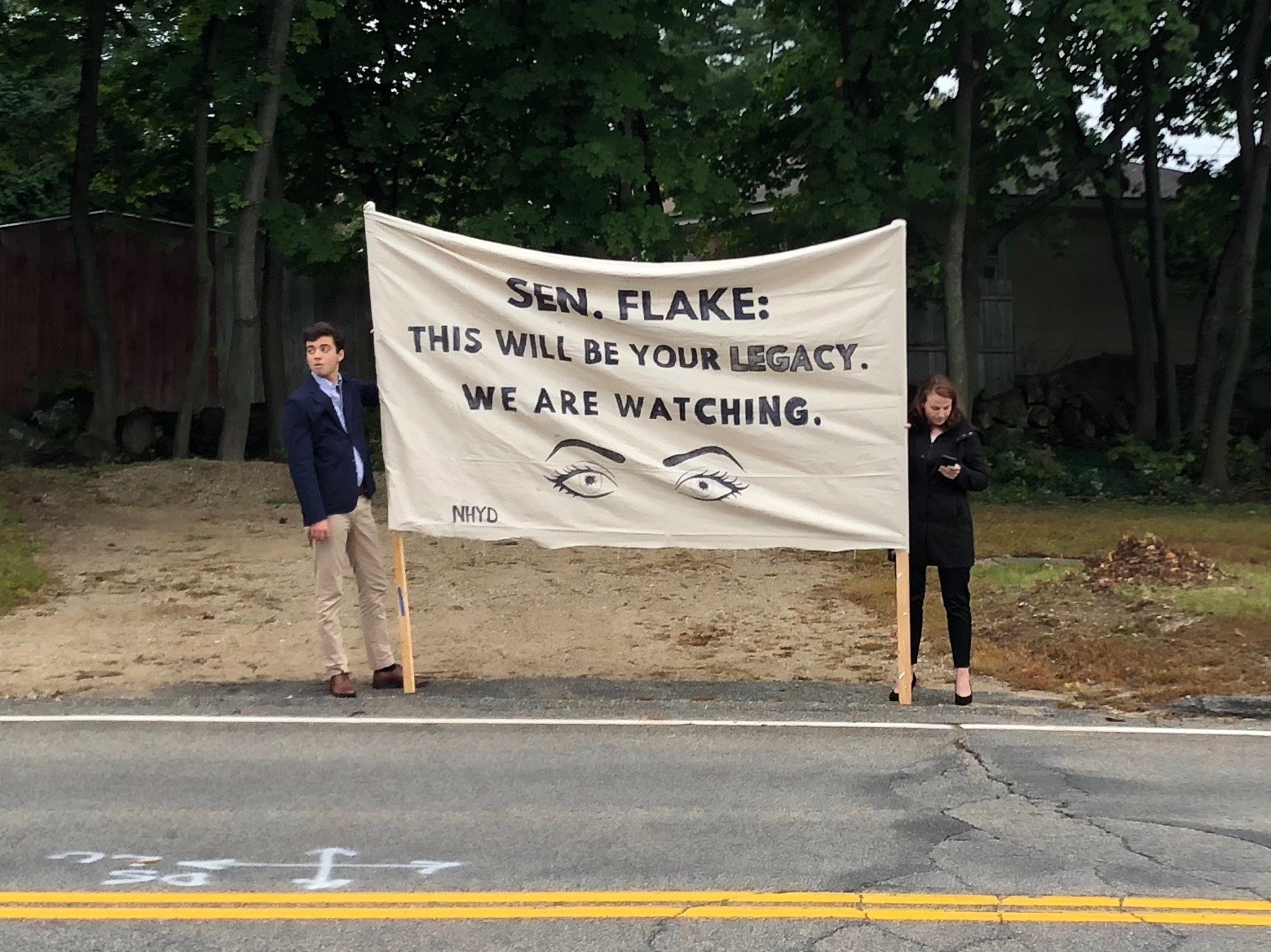 "To self-styled smashmouth tough-guy politicians, bipartisanship has become sort of a mushy word," Flake went on. "It isn't viscerally satisfying to people who always have to have their way, the way 2-year-olds must have their way. No offense to 2-year-olds. But they have no business in elected office."
(Speaking to reporters after, he declined to elaborate on which specific political figures were the 2-year-olds in question.)
He called for a change in the political culture, one in which "indulgence and tribalism at the expense of what's good for the country will be punished at the ballot box."
He even quoted a Democrat: noted Texas activist Jim Hightower, who famously declared "the only thing in the middle of the road is yellow stripes and dead armadillos."
"With all due respect to Mr. Hightower and those poor armadillos," Flake said, he wanted to emphasize that an "abandonment of conviction in deference to some kind of soft middle-of-the-road-ism" was not what he had in mind for this new political culture.
But by next week, Flake, who he himself acknowledged is "a man temporarily without a party," might have both less of a megaphone and less goodwill. By next week, one side will inevitably declare him a hero; the other will wish him the same fate as those poor armadillos.