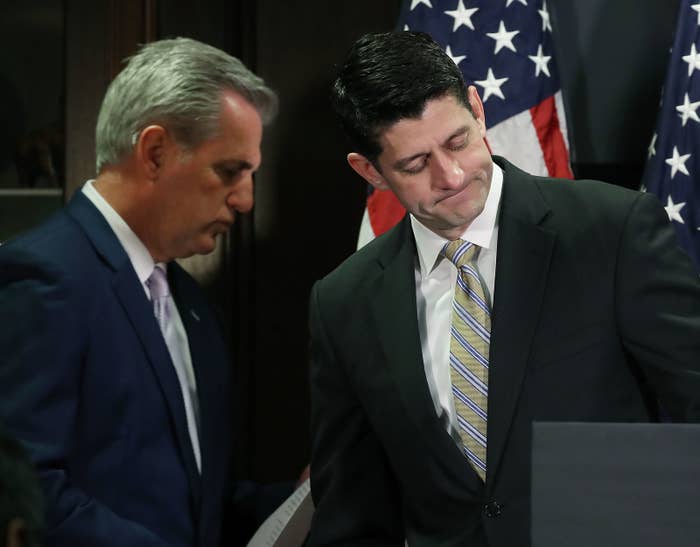 WASHINGTON — The 115th Congress had not yet been sworn in when House Republicans had their first screw up.
In a hastily called meeting Tuesday morning, House Republicans opted to get rid of a rule that would have effectively defanged the Office of Congressional Ethics.
The rule was passed in another closed-door meeting on Monday night and quickly devolved into a giant messaging problem for House Republicans. Just three weeks before swearing in a Republican president who had campaigned on "draining the swamp," House Republicans appeared to have done exactly the opposite.
The move left House Republicans flailing even as their party prepares to take control of all the levers of power in Washington. Majority Leader Kevin McCarthy was peppered with questions about the rule during a meeting with reporters Tuesday morning, and at times seemed to express uncertainty over the exact details of what the rule would do. The majority leader even found himself fending off questions about whether or not House leadership was "weak," as the rule had passed over the objections of both him and Speaker Paul Ryan.
Ryan appeared to defend the rule on Tuesday morning — before the conference met — saying in a statement: "I want to make clear that this House will hold its members to the highest ethical standards and the Office will continue to operate independently to provide public accountability to Congress."
"Offices were getting flooded with calls" from constituents angry about the rule, according to one House Republican staffer. President-elect Donald Trump tweeted criticizing Republicans for making the move "their number one act and priority," over other much-hyped GOP agenda items. Many members leaving the meeting said that Trump's tweets had little to do with the move to kill the provision. McCarthy said he had spoken against the rule for exactly the reason Trump mentioned, telling reporters Tuesday morning, "I didn't think this was the best timing."
Several House Republicans were prepared to vote against the rules package in its entirety if the amendment affecting the Office of Congressional Ethics, which had been proposed by Rep. Bob Goodlatte, was not removed. If the provision were not stripped, Rep. Walter Jones told reporters before the meeting, "I'll vote no on the rules package." South Carolina Rep. Mark Sanford said he had been prepared to do the same.
The abrupt move to abandon the ethics provision less than a day after the House GOP conference agreed to it surprised supporters and gave Congress' first day back in Washington more of a frantic feel than usual. Asked about the sudden reversal, North Carolina Rep. Richard Hudson who opposed the ethics amendment, said that not all members got to weigh in on Monday. "If you look at the vote total, all the members weren't there last night. So maybe that had something to do with it."

But when Republicans emerged from the brief meeting shortly after noon on Tuesday, they had determined to simply kill the rule that was causing them so much grief. "We'll go up and approve the rules package as it passed last night, minus the Goodlatte language," Rep. Steve King told reporters.
Instead, Congress will work to pass a bipartisan reform to the Office of Congressional Ethics before the August recess.
"We should have laid out ahead of time exactly what we're doing, what the goals are," said Virginia Rep. David Brat. Instead, he said, "folks are reading it as we're backing off ethics because of the headline."
Not everyone is pleased with the striking of the rule. King said he would now push to "abolish [the OCE] entirely."
"The OCE is unconstitutional, it has damaged or destroyed a lot of political careers in this place and it's cost members of Congress millions of dollars to defend themselves against anonymous allegations," an evidently furious King told reporters.
And the Iowa Republican didn't sound pleased with Trump's decision to insert himself into the discussion either. "I'm concerned that now we have Republicans criticizing Republicans. We need to stay away from that, we need to go back to Ronald Reagan's 11th Commandment. But this decision that was made by the House conference last night was an objective decision made upon the activities of the OCE that unjustly targeted members of Congress."
Asked if he was pointing specifically at Trump's decision to tweet his disapproval on Tuesday morning, King quipped: "If I did that, I'd be violating the 11th Commandment."
Trump spokesman Sean Spicer emphasized to reporters on Tuesday, however, that Trump's objection was not to making changes to the independent ethics office, but was about the timing and the need to focus on bigger issues. "He says their focus should be on tax reform and healthcare. It's not a question of strengthening or weakening, it's a question of priorities," Spicer said.
Goodlatte, who had proposed the rule on Monday night, declared himself "wholly disappointed" in a statement on Tuesday's actions. "While I understand the need to do so, I am wholly disappointed that these important reforms to strengthen due process rights and the mission of the OCE did not move forward. Gross misrepresentation by opponents of my amendment, and the media willing to go along with this agenda, resulted in a flurry of misconceptions and unfounded claims about the true purpose of this amendment."
House Ethics Committee chairman Charlie Dent said after the meeting Tuesday that there had been some confusion about the amendment, based on the way Goodlatte originally wrote it, saying the Virginia Republican didn't intend "to fold OCE into the committee on Ethics, that was not his intent. But it was not clear what he was doing." Given some time for further discussion and changes, Dent said he thinks it's likely that they can come up with a new version of the measure that will "enjoy bipartisan support."
"I think they realized that the issue needed more deliberation and discussion and they didn't want to spend swearing-in day fighting over that," Dent said of leadership.
The result, undoubtedly, was not how Republicans had hoped to ring in their newfound reign in Washington.
"It was a stumble," said Sanford. "And, you know, probably not the way you want to start out."