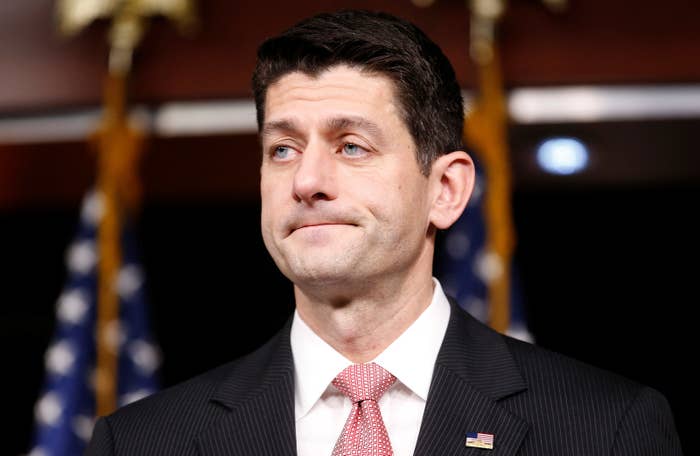 WASHINGTON — House Republicans started the year with big goals: Obamacare would be gone by the April recess; tax reform would be done by the August recess. With Republicans in control of the House, the Senate, and the presidency, this was their moment.

On Thursday morning, Republican House members raced for the exits to get home for their districts after six weeks straight in DC. They have less to show for it than they might have liked.
"Every House member I know is praying for the Gorsuch confirmation [to the Supreme Court] and figuring out a way that they can take credit for it," said Oklahoma Rep. Tom Cole, only half-joking.
Many members are heading home dissatisfied with where things stand. Though Republicans have touted their successful efforts to roll back some Obama-era regulations, they have fallen short on their most high-profile priorities. They have neither repealed nor replaced Obamacare, and there is as of yet no deal to do so. There is also no clear path to tax reform. And by the time they return, they will have just one week to agree on how to avoid a government shutdown.
"I think we ought to be here. I don't know why we're going home," Colorado Rep. Mike Coffman said bluntly.
"It's not ideal, but it is what it is," New Jersey Rep. Tom MacArthur countered. "And I think that we can't have a vote when we're not ready to vote, and I don't think we should have people cancel all of their district plans. We all have meetings with constituents and things we're doing back with the people we represent. And to just stay here with an uncertain end and have to change and cancel a lot of meetings back home, that's not helpful either."
Republicans across the ideological spectrum faced crowded, raucous town halls over the last recess in February, and many anticipate a reprisal. "We're gonna hear it from both sides," said Texas Rep. Joe Barton. "We'll hear the Democrats defend the Affordable Care Act as one of the Ten Commandments, and then we'll hear the Republican base demand why we haven't done anything."
Leadership, on Thursday, offered a Band-Aid to members on that last issue: an amendment to the health care bill that Republican leaders hope will show that progress is being made on the issue. Authored by Alabama Rep. Gary Palmer and Arizona Rep. David Schweikert, the amendment would set up high-risk pools for Americans with pre-existing conditions and serious medical conditions, which Republicans say would help lower premiums.
The amendment, alone, is not going to solve the problem. MacArthur and North Carolina Rep. Mark Meadows — who chair two of the groups that leadership has struggled to get on board with the health care bill — both had roughly the same take: it's a step in the right direction, but not enough to get them to the finish line.
But it's something for members to take home to their constituents. "People in my district will be able to see we are trying to solve the problem and repeal and replace of Obamacare is not dead," said California Rep. Mimi Walters, one of 23 House Republicans who represents a district that Hillary Clinton won.
To some degree, it's a matter of adjusting expectations. Republicans brought this on themselves, in some ways, by declaring set timelines for when things would be done. "Bad to set deadlines," said Ohio Rep. Pat Tiberi, repeating it a second time for emphasis.
But the constant near-death experiences and resuscitations of this bill, said some Republicans, are just the way it is.
"This is the dance of legislation: it's never clean, it's never orderly, it's chaotic and that's just the way it's designed. And it's always been that way and it's always going to be that way," said Schweikert, one of the authors of the risk-pool amendment.
"It's not a state of limbo. It's the legislative process in action, which is you know, it's a process of continued refinement," said South Carolina Rep. Mark Sanford.
But for some Republicans facing tough re-election bids in 2018, the stakes are higher than just blown deadlines and tough town halls. As House Speaker Paul Ryan repeatedly said last month as he was trying to get the health care bill passed, Republicans campaigned on a promise to repeal and replace Obamacare. And if they can't make good on their promises, why should voters re-elect them in 2018?
"We need to realize that what happens on the political battlefield is really impacted by whether we're successful as a governing party or whether we're unsuccessful," said Cole, a former chairman of the House Republican campaign arm. "Americans don't vote for losers. And if they think we're losers, they're not gonna vote for us. They'll go look for somebody else, or they'll stay home."