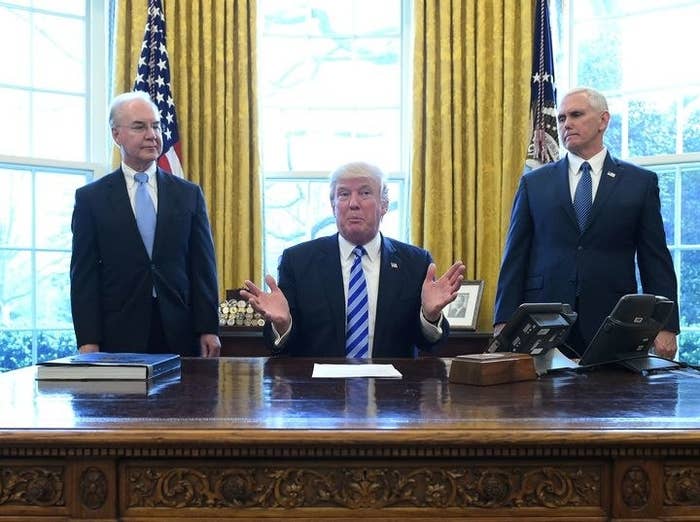 WASHINGTON — Republicans abruptly pulled their health care bill from the House floor just minutes before a scheduled vote on Friday afternoon, conceding that the party, after seven years of vowing to repeal and replace Obamacare, did not have the votes to get it done.
It was a stunning rebuke for President Trump — a self-styled deal closer, who wrote The Art of the Deal, and who "left it all on the field" in trying to pass the bill, according to his spokesperson — and House Speaker Paul Ryan, who recently gave a PowerPoint-style presentation in shirtsleeves extolling the measure.
"I don't know what else to say other than Obamacare is the law of the land. It's going to remain the law of the land until it's replaced," Ryan said in a news conference Friday afternoon. "We did not have quite the votes to replace this law. And, so, yeah, we're going to be living with Obamacare for the foreseeable future."

"Doing big things is hard. All of us, all of us, myself included, we will need time to reflect to get to this moment," Ryan added.
House Republicans are now left with a choice, he added: "Are all of us willing to give a little to get something done?"
Trump, in a hastily organized media appearance in the Oval Office flanked by Vice President Mike Pence and Health and Human Services Secretary Tom Price, said he and the GOP are moving on from health care legislation and would instead focus on changes to the tax code.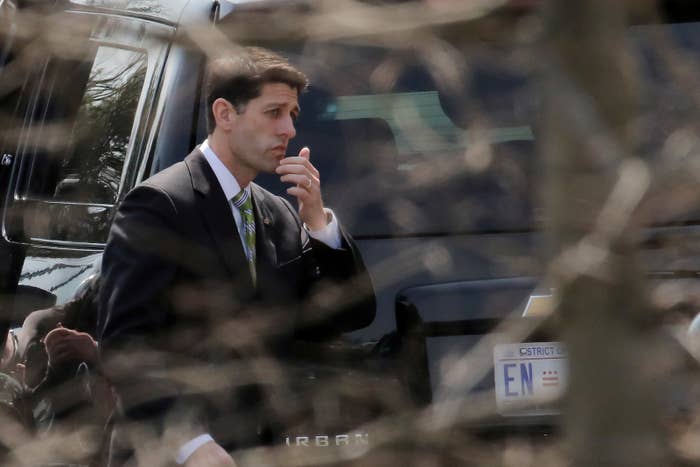 He said that health care may be revisited after an "imploding" Obamacare "explodes."
"I think we have to let Obamacare go its way," Trump said. "I would love it to do well. I want great health care for the people of this nation. But it can't do well. It's imploding and soon will explode and it's not going to be pretty. So, the Democrats don't want to see that. So, they're going to reach out when they're ready and whenever they're ready, we're ready."
So far Trump, Ryan, and factions of the GOP have not publicly pointed fingers at each other, but that will likely change — and fast.
Democrats were, in a word, gleeful.
"Today is a victory for the American people," Rep. Nancy Pelosi, the leading Democrat in the House, said. Hillary Clinton followed with a tweet, saying, "we are reminded today that there is no substitute for standing up and defending our values."

On Friday, just before they were set to vote, the bill was pulled from the floor. "The speaker talked to the president at 3 o'clock today and the president asked the speaker to pull the bill," a leadership aide told reporters.

In a brief meeting with House Republicans before his press conference, Ryan told members they were moving on to other issues starting next week. Rep. Jim Renacci of Ohio said that Ryan told party members that they would work on tax reform and other top Republican agenda items.

"I think the president was pretty clear. This issue's over," Renacci said.

Despite many defections over the last several days, House Republicans planned to bring the American Health Care Act to the floor Friday afternoon. President Trump issued an ultimatum Thursday night, dispatching Office of Management and Budget Director Mick Mulvaney to the Hill to tell House Republicans that the White House was done negotiating. Leadership had announced they would vote Friday, with or without enough votes to secure passage — an unusual move in Congress, where leadership almost always knows they'll get a positive result before a vote is taken.

House Speaker Paul Ryan visited the White House Friday to update Trump on the situation. More than 30 House Republicans had said publicly that they would oppose the bill, but GOP leadership and the White House were continuing to hold meetings with some of the holdouts, hoping to get sufficient support.
White House press secretary Sean Spicer said during a Friday news conference that it would now be up to the House to decide "whether or not they want to follow through on the promise" of repealing and replacing Obamacare, reiterating that the White House would move on if the bill did not pass Friday.
Spicer said that both Trump and Ryan had done all they could to get the bill across the finish line, balking at a reporter's question about whether he could still refer to the president as "the closer."
"At the end of the day you can't force somebody to do something," Spicer said of Republicans opposing the bill.
Failure to get the bill through is a big a blow to Trump and Ryan, who have been the most public faces of this bill.
Since Republicans won control of the House, the Senate, and the White House in November, they have trumpeted the potential of unified Republican government and laid out an ambitious agenda. Their inability to find the votes to deliver on one of the biggest items on that agenda, repealing and replacing Obamacare, raises the question of just how unified Republicans are.