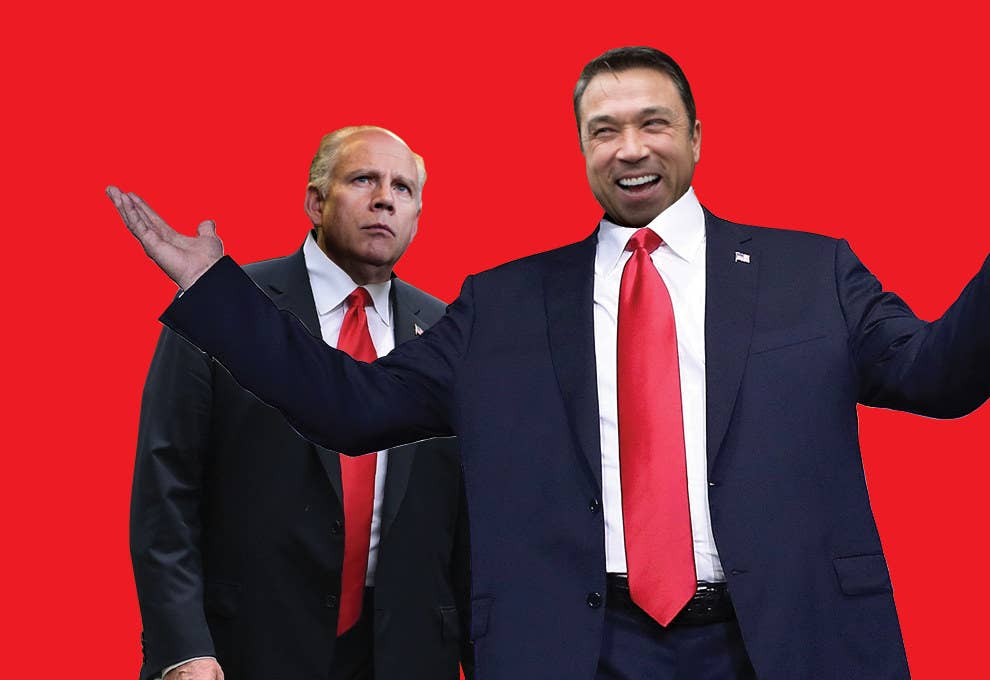 Republicans have declared, with variations of despair or delight over the last several weeks, that the Republican Party is now the party of Donald Trump.
On Staten Island, there was little doubt.
In what has become one of the nastiest primaries of the year, Rep. Dan Donovan and former Rep. Michael Grimm are vying to convince New York City's lone bastion of Republicanism that each is the most supportive of, the most closely affiliated with, the most kindred spirit of the man in the White House. The race revolves around how Republican voters evaluate Trumpiness — is it merely about who the president supports? Or, with a president whose personality often determines policy, is it more about style?
On a sunny Saturday afternoon, Donovan stood in a hotel ballroom engaged in a close reading analysis of Trump's two-tweet, 83-word endorsement of his candidacy, lest anyone miss the campaign sign on his podium declaring that fact. A who's who of New York City area Republicans was arrayed behind him, with former mayor Rudy Giuliani, Trump's consigliere and frequent mouthpiece, flanking Donovan as the guest of honor.
"The people behind me have been my friends for a long time," Donovan told the crowd of 150 that filled about half of the space in the Tea House Garden ballroom of the Hilton Garden Inn Staten Island. "People may have expected them to come out and support me. People may have been disappointed if they hadn't. One person, two weeks ago, decided that he had seen enough of the lies and deceitfulness from the other side's campaign about his own record and about mine, and decided to tell the world that Dan Donovan is his chosen person for the 11th Congressional District. That person is the leader of the free world. That person is President Donald Trump."
A month before, in the ballroom around the corner where the Fil-American Senior Association was gathered Saturday, the Hilton Garden Inn Staten Island had hosted another Trump associate.
"I know he's going to vote alongside of the president," Anthony Scaramucci told a crowd waving signs that read "Grimm 2018" on one side, and "Trump 2020" on the other. Grimm represented the district until 2014, when he resigned shortly before pleading guilty to tax fraud. Now, out of jail, he wants his seat back.
It was 11 days before Trump endorsed Donovan. The ballroom was smaller, but the flag — a 25 feet by 15 feet banner that had been stored in Grimm's garage since his last campaign — was bigger. Though similar in number, the raucous attendees packed the smaller room.
"Compare it to anything he's done," Grimm said in interview at his campaign office Saturday of the energy at the Scaramucci rally relative to any Donovan event. "I'm not sure if you're at a Donovan event or at a Jeb Bush event. Because this is really low energy."
Grimm brushed off concern about Trump's endorsement. "It hasn't moved the needle," he said. "If anything, it's fired up our base a little bit. I've had several supporters say to me, 'oh the president picked the wrong guy, we gotta, we gotta rally to show him why you're a better supporter of his.'"
There are no hard feelings, Grimm said, it's what he expected the president to do. House leadership's job is to "protect their incumbents," he added. "The president needs them to pass his agenda, so he has to play some ball."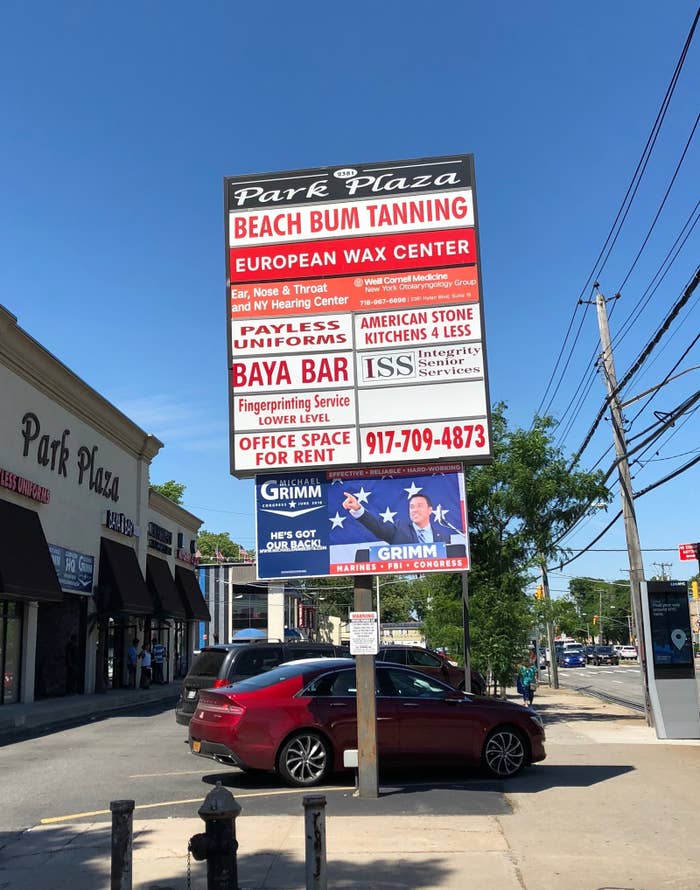 Grimm's campaign is headquartered in large spartan office on the lower level of a strip mall complex that also contains a tanning salon and "European Wax Center." The whiteboard behind the desk in his private office — a room off the main area where volunteers make phone calls on his behalf — reads "Tasks." There are none listed. His desk is covered in a computer, piles of paper, a pile of Post-its. There are two large bottles of hand sanitizer, one bottle of hand soap, and one gift-wrapped decorative bar soap, on which the card reads "From Alyssa's Shower to Yours."
When he was in Congress, Grimm once threatened to throw a reporter off a balcony and "break [him] in half. Like a boy." But he keeps his tone calm and even good-natured as he launches attack after attack on his opponent.
"He really has become the proverbial swamp that will do and say anything and pretend to be something they're not."
"He really has become the proverbial swamp that will do and say anything and pretend to be something they're not," Grimm said. "Look, it doesn't make Donovan a bad person because he's very liberal on immigration deep down in his heart. Or that he has an F rating with the NRA; he's always been anti-gun his whole life. That doesn't make you a bad person, But those positions do make you a bad congressman."
Still, he said, if he loses, he'll back Donovan in November. "As bad as his voting record is, as anti-Trump as it is, it would still be better than a Democrat," Grimm said. "Not much, but it would still be better."
Donovan will not make the same commitment.
"I don't have to make that decision," he told reporters after the rally with Giuliani, in a clipped tone that did not match the elephants in Uncle Sam hats parading across his tie. "I'm not making any decisions. I'm gonna win on June 26."
The Donovan-Grimm debates have been similar in tone, an exercise in which of the two can get the most mileage out of the word "liar."
With the primary on a summer Tuesday, the same week that public schools in the city let out, both camps are concerned about getting their voters to turn out at a time when many in this district, which covers Staten Island and a small sliver of Brooklyn, may already be headed out on vacation.
"We're gonna win if you get the vote out," Giuliani said Saturday. "And we're not gonna win if you don't."
"I see you everywhere!" person after person tells Grimm at an annual fundraiser for breast cancer at a restaurant on the marina this week, where he was mingling with voters.
"That's what it takes," he invariably replies. Speaking to another person at the event, he adds: "If you don't vote, I don't win.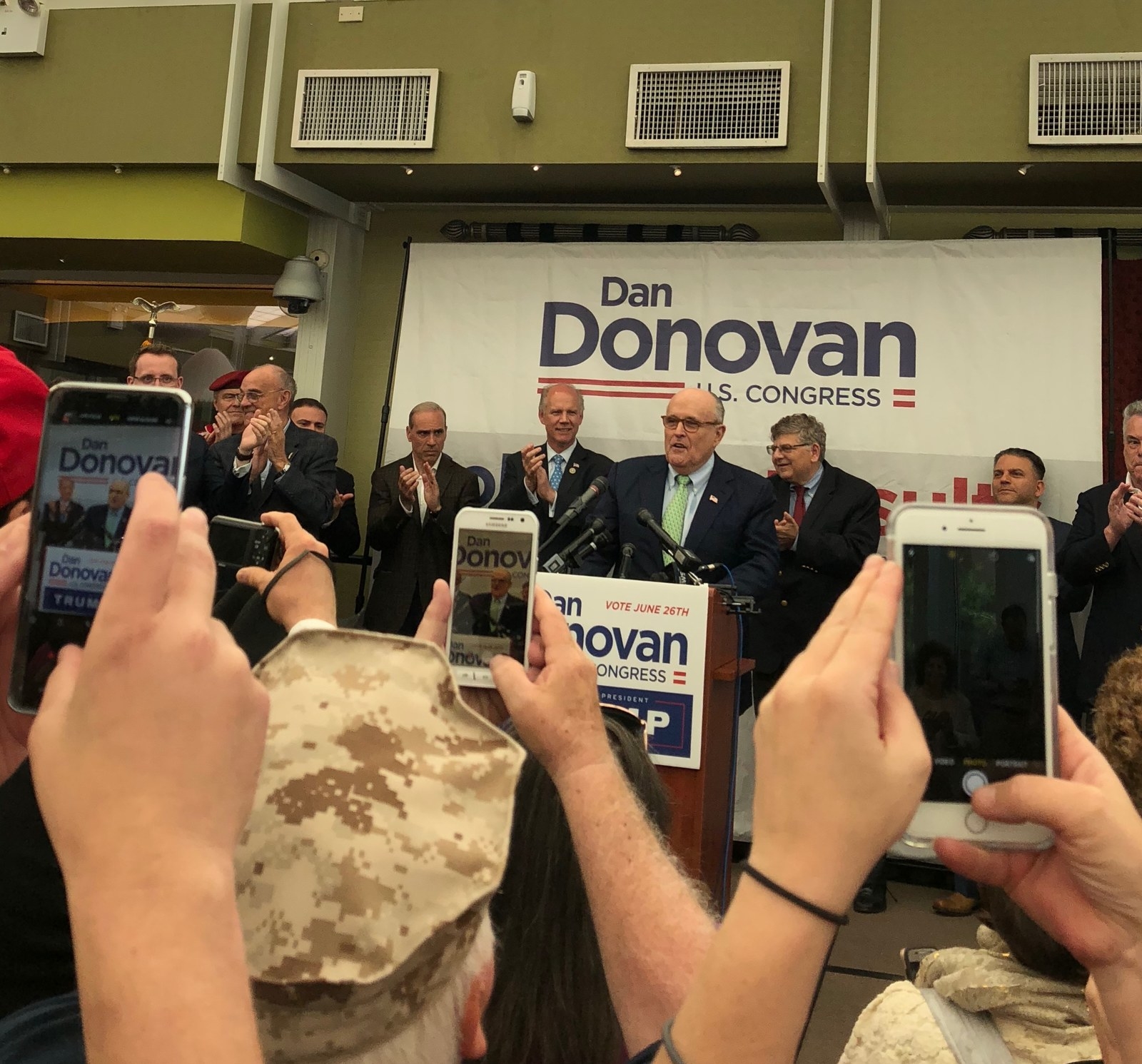 Donovan has raised nearly four times as much money as Grimm over the course of the campaign. He is the sitting incumbent, and has the backing of House leadership and the National Republican Congressional Committee, and the New York Republican Party apparatus. Yet a NY1/Siena College poll conducted over the final days of May and early June, found Grimm leading 47 percent to 37 percent.
A source familiar with the Donovan campaign's internal numbers said the public poll was not an accurate depiction of the race. Donovan noted that much of the poll was conducted before Trump's endorsement. "We're seeing the president's endorsement is just sinking in with voters now," he told reporters Saturday.
Besides, he said, voters know Grimm. "You guys keep writing about him," Donovan told reporters. "I suspect he's an attractive story if you're in the media, if you're a journalist, that somebody who was in prison — because it's so hard to believe — is trying to come back. And so even though I'm the sitting congressman, even though I'm the one who's passing laws, even though my bills are going to the floor, one this past week, one this coming week, you guys write about the story about this ex-con who's — actually, he's not an ex-con, he's still a convict, you're always a convict — that's trying to come back."
When Trump endorsed Donovan in a pair of tweets last month, he pointed to last year's Alabama Senate race as a cautionary tale. In that race, Trump's preferred candidate, Luther Strange, lost to Roy Moore, and Moore went on to pull off the seemingly impossible: losing to a Democrat in Alabama. Grimm, Trump wrote, would meet the same fate.
In Alabama, Trump's endorsement wasn't enough to give Strange the win. It wasn't that Republican voters there weren't supportive of Trump — they were. But days before the primary there last year, Moore supporters at a rally, many clad in Trump gear, said they believed the president's endorsement of Strange wasn't reflective of his true feelings, but rather the result of pressure from the Washington establishment.
Some Grimm supporters are now saying the same thing.
"I'm gonna give him another chance," one voter says of Grimm, adding: "I think he'd support Trump better than Donovan."
Santo Lippo, a Staten Island resident, wasn't pleased when Grimm, whom he'd voted for, went to jail. "I felt discouraged and like I wasted my time," he told BuzzFeed News at the breast cancer fundraiser.
So he's voting for Donovan? Not so. "I'm gonna give him another chance," he says of Grimm, adding: "I think he'd support Trump better than Donovan."
It's not that Trump's endorsement doesn't carry weight, Lippo said. It's just that Trump, Lippo thinks, probably endorsed Donovan "because he had to."
"I think Trump almost had to because he's the incumbent," echoed Jeanmarie Sigismondi, a Grimm backer at the fundraiser, of Trump's endorsement.
"He did his time," she told BuzzFeed News of Grimm's conviction, referring to people attacking him as a "lynch mob,"— "just like" what people are doing to Trump on the Russia investigation.
Absent Trump's endorsement, Grimm has leaned into the comparisons between him and the president both in style and substance.
"How can a convict have a chance among law and order Republicans?"
"If you think about it, my race is exactly like President Trump's," he said in his office. "There are those that have mocked me, late shows and some of the far left press literally go as far as to mock me and call me all types of names. It's personal attacks, it's never substance. And yet you'll see when I have an event, or when I walk down the street in a parade or whatever, I get tons of people that want pictures and they're excited, and they're energized. Just like President Trump. They all were saying this guy has no chance, he can't win, what does he know about politics, he's new. And me, I'm still very new to this game. I wasn't a staffer. I didn't run for another office before Congress. I had no experience in the political world; this is all still fairly new to me. But it is very much like the president's political run."
Of course, there's more to it than just Trump. Grimm, as Donovan and his supporters point out repeatedly, went to jail for tax fraud. "How can a convict, in a law and order borough, in a law and order district, how can a convict have a chance among law and order Republicans?" Giuliani said at the rally Saturday.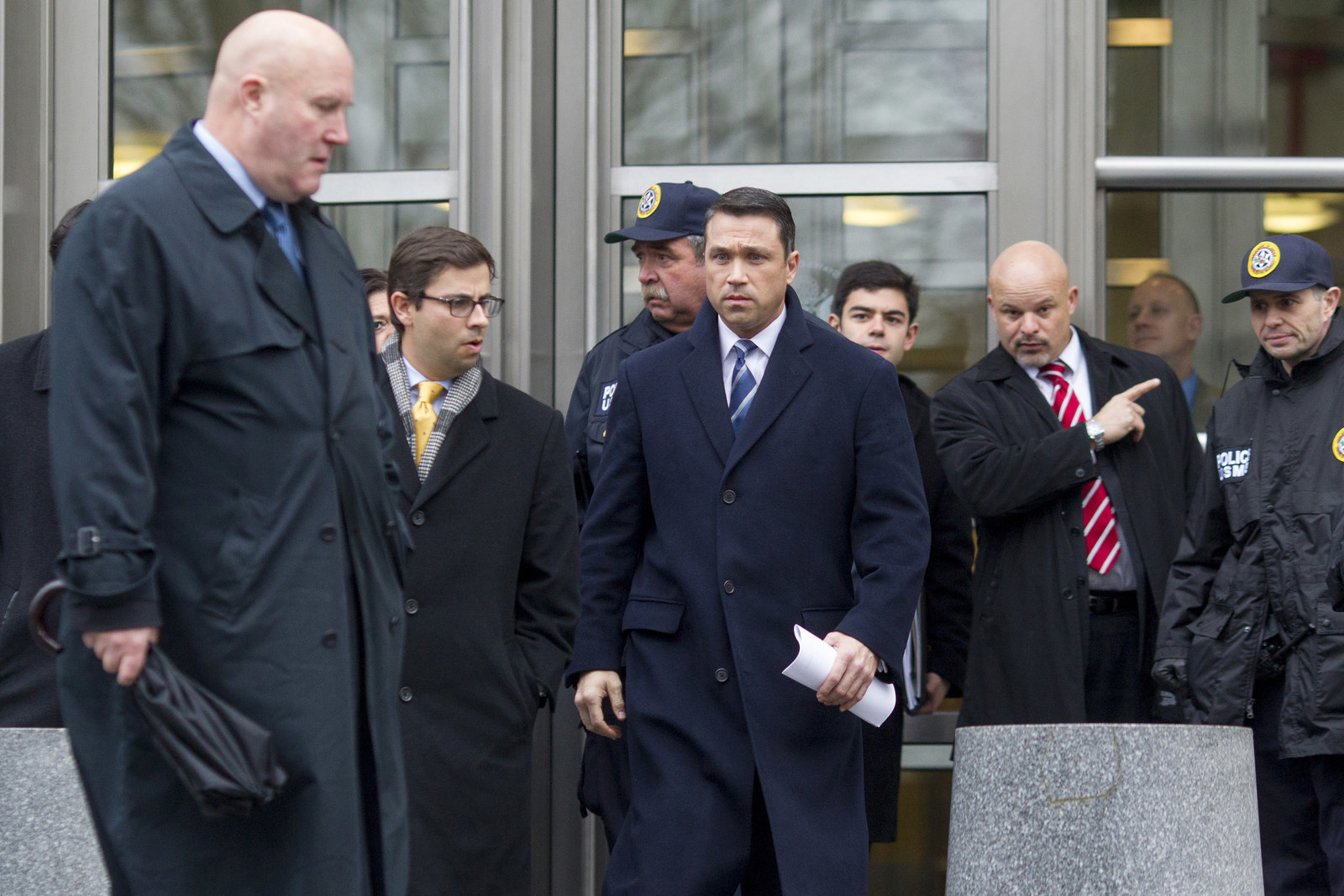 "You can go a long way of getting rid of a bad stereotype that Staten Island and Bay Ridge and Dyker Heights are bad, that somehow it's a haven that idolizes and romanticizes guys who fancy themselves as wise guys," Curtis Sliwa, a conservative radio host and founder of the Guardian Angels, a vigilante crime fighting group, said at the same rally.
But more than the sheer criminality, Donovan and his allies have sought to use the circumstances around Grimm resigning from Congress to undermine one of his major selling points — that he is someone who shows up for his constituents, who is always there to help, who is loyal to the district itself.
"When my opponent betrayed our trust, when he asked us in November of 2014 to vote for him, that he would be exonerated, that he was not guilty, and he'd fight to the end. He took our vote, made a deal with the Justice Department, and quit on us," Donovan said Saturday. "And now he expects us to trust him again."
Some people seem ready to do so.
"He's so good," said Teresa Trovello, who works for realtor Robert DeFalco, the host of the breast cancer fundraiser. "Men don't like him cause, I think, he's cute."