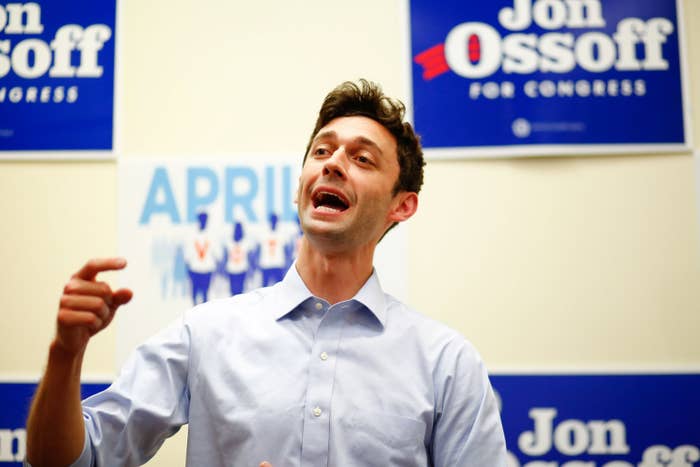 ATLANTA — The special election in Georgia will head to a June runoff, after Democrat Jon Ossoff appeared to fall short of the 50 percent he needed to win the congressional seat outright. Both CNN and Decision Desk HQ called the race a little after midnight Wednesday.
Ossoff will likely face Republican Karen Handel, who is currently in second place with about 18 percent of the vote as votes continue to come in, one-on-one in June.
The result leaves Democratic hopes of flipping this longtime Republican district in a precarious position. Had Ossoff won a majority of the vote tonight, he would have won the seat outright and avoided a runoff, something many Democrats saw as his best chance in a district that has long been Republican.
A one-on-one race will be more difficult for the Democrat, who benefitted from a large Republican field, which divided Republican supporters's loyalties and money among 11 candidates.

Ossoff, who addressed his supporters before a runoff became official, didn't focus on the challenges of a one-on-one contest, but instead highlighted how far his campaign — that of a 30-year-old, first-time candidate in a GOP district — had come.
"There is no doubt that this is already a victory for the ages," Ossoff said to cheers. "And no matter what the outcome is tonight, whether we take it all, or whether we fight on, we have shattered expectations."
Handel, the former Georgia Secretary of State rallied her troops in an election night speech as well, claiming second place and promising that she and her supporters would keep working hard "so that on June 20th we keep the sixth district red and kick a little Ossoff."
"Tomorrow we start the campaign anew," Handel said. "And it is imperative that all of us as Republicans come together in unity and recognize that beating Ossoff and holding this seat that has such great legacy ... is something that rises above any one person, and that means all of us band together."
Just before she took the stage, Republican Bob Gray, who held steadily in third place, conceded the race to Handel, saying on Twitter that he would support her in the runoff.

Republicans have easily held this House seat since 1978, when Newt Gingrich won it. But in November, Donald Trump won the district only narrowly, by just one percentage point, giving Democrats hope that the seat vacated by Health and Human Services Secretary Tom Price was within reach.

The race is also hugely important for Democrats on a symbolic level. The party had hoped they could strike a blow against Trump himself, not quite 100 days into his presidency, by not only winning a Republican-held seat, but by winning the seat of the man whom Trump had charged with helping to roll back Obamacare.
Ossoff benefited from a perfect storm: In a moment when Democrats were looking for a way to vent their anger and frustration against the Trump administration, Ossoff gave them a place to spend their energy and perhaps, more importantly, their money. He raised $8.3 million in about two months, a record-breaking haul, largely from outside of his district.
Republicans feel good about a runoff, confident that the fundamental makeup of the district will allow them to prevail in a one-on-one contest. Ossoff will face a largely united Republican Party bringing all its resources to bear behind a single candidate in June.
"It's certainly considered to be a red district in any way you look at it," former Georgia Sen. Saxby Chambliss told BuzzFeed News last week.
Republicans closely watching the race were confident throughout the day Tuesday that efforts to keep Ossoff below the 50 percent threshold would succeed. But, mindful of another better-than-expected special election performance for Democrats last week in Kansas, they acknowledged challenges facing the GOP in Trump's early days.
Some characterized the poor performance of the Republican candidates who emphasized their allegiance to Trump — including Gray — as a rebuke of the president.
"Candidates attempting to be Trump knockoff mini-me's did not do well tonight," Nick Everhart, a GOP media consultant, told BuzzFeed News. "Granted it's an isolated special election in a seat that was very close at the presidential level, but ... one would think emulating the party standard-bearer would work better."
Other Republicans cautioned against reading too much into the results.
It's "obvious," said J. Tucker Martin, a GOP communications consultant, that "Democrats have a lot of energy and momentum on their side. Equally obvious [that] Republicans have to run good candidates and good campaigns to counteract that. The numbers can move around a little. But that's pretty much the long and short of where we are."
Said Michael Steel, a Republican strategist who worked for former House Speaker John Boehner: "With every possible advantage and tons of outside money, Ossoff still fell short — not a good sign for Washington Democrats."
Tuesday night's election follows another near-loss for Democrats in the post-Trump era. In a special election in Kansas last week, the Democratic candidate outperformed Hillary Clinton in a deeply Republican district by 20 points, falling just seven points short of a win. But Democrats saw Georgia's 6th District, which Trump won by just a single point, as a more realistic test of what gains they might be able to make next year in this newly electrified partisan climate.

In Alpharetta on Tuesday morning, Handel told BuzzFeed News that she expected a runoff, arguing that it was a "good thing" for her party. "Eighteen people fully on the ballot, it would be almost impossible to not move to a runoff in this scenario," she said.
Trump even paid personal attention to the race, using his Twitter feed to knock Ossoff in recent days and recording a robocall to encourage Republicans to vote for a GOP candidate.
"I appreciate the president's interest in the race," Ossoff said when asked about the tweets directed his way on Tuesday morning. "He's misinformed with respect to my priorities."