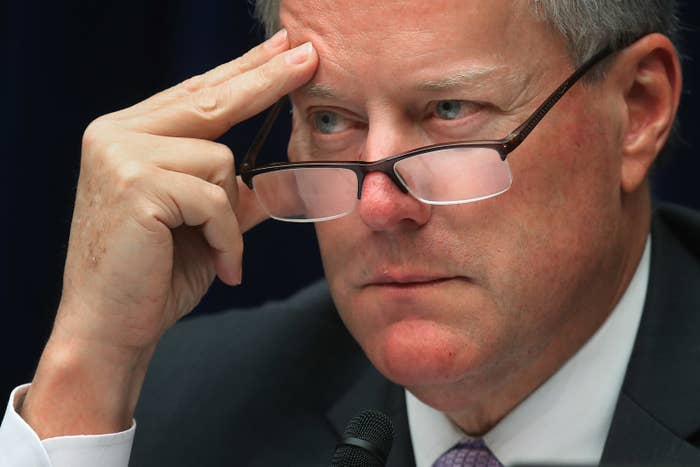 WASHINGTON — Rep. Mark Meadows, the chairman of the House Freedom Caucus, called the GOP healthcare plan released today "progress" with some good aspects, but told Fox News' Sean Hannity "we've got to do better," and that he would like to see it amended to address some concerns.
The Freedom Caucus, a group founded to keep the House GOP on a strict conservative path, threatens to upend leadership's efforts to pass an Obamacare replacement. Should the group of about 40 members choose to come out against the bill, they could leave Republican leadership with insufficient number of Republican votes to pass a bill to which Democrats are viscerally opposed. Already, one member of the group, the libertarian-leaning Michigan Rep. Justin Amash, deemed the plan released today "Obamacare 2.0," a damning assessment from a group that has attacked the 2009 law at every turn.
Meadows initially came out against a leaked draft of the legislation earlier last week, saying he could not vote for it in that form. And it appears that this amended version — despite some concessions to conservatives on the refundable tax credits — does not do enough to assuage his concerns.
The bill as written, Meadows said on Fox, "sets a new entitlement, keeps some taxes, doesn't repeal all of Obamacare. We've got to do better, and hopefully with some new amendments we can do that."
The new entitlement refers to the refundable tax credits to help people buy insurance — an issue Meadows also cited with the leaked version of the bill.
Meadows also suggested he would like to see the bill go farther in eliminating the Medicaid expansion, though he acknowledged that was likely an untenable position in the Senate, where Republicans have only a slim majority, and a number of Republican Senators have already said they will not support a bill that completely repeals the Medicaid expansion.
"We've got to find that sweet spot," Meadows said.
He also said he hoped Trump would weigh in on "expanding the use of Health Savings Accounts," a facet of the Freedom Caucus endorsed plan put forward by Kentucky Sen. Rand Paul and South Carolina Rep. Mark Sanford.
Leadership and allies made clear in past weeks that the bill they put out would not be the finished product, but rather, would be subject to deliberation and debate among the Republican conference. But the Freedom Caucus could cause a problem for those efforts, should they come out against it. The group is not expected to issue any kind of group statement before Tuesday afternoon.
But appearing on Hannity Monday evening, took a more measured approach.
"Some of the taxes that were in the original version have been eliminated, so I can applaud that,"