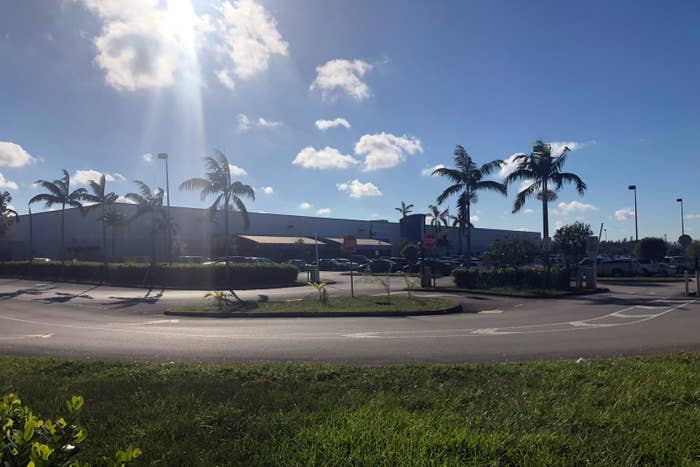 MIAMI — Last week, 11 people were murdered during Jewish services at a Pittsburgh synagogue. Two people were killed in a grocery store in Kentucky by a man who had previously tried, and failed, to enter a predominantly black church. A man sent more than a dozen pipe bombs to a media outlet and various public officials who had been publicly critical of President Donald Trump.
South Florida often finds itself at the epicenter of chaos, political and otherwise, and the last week was no exception. It was here that the attempted pipe bomber lived in his van, here where he was arrested last week, and here where he appeared in court on Monday. It was here where one of the intended recipients of those pipe bombs, Sen. Kamala Harris, campaigned for gubernatorial hopeful Andrew Gillum this weekend, a governor's race that has been marked with allegations of racism. And it was here where another intended bomb recipient, Rep. Debbie Wasserman Schultz, reckoned with the recent spike in anti-Semitic violence at an event in her district, an area that is home to one of the largest Jewish communities in the country.
But in a political moment that has been defined by chaos, these events, though they've invoked powerful emotions, seemed to have little impact on the political tides. On the campaign trail, there was still just one week left until Election Day. The future of the health care system still hung in the balance. Trump still had a political rally to go to.
The show goes on.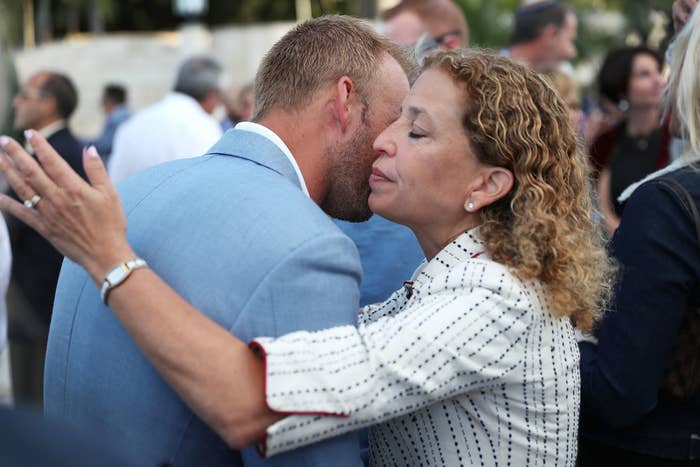 It "will no doubt be a bitter week of politics leading up to the election," predicted Rep. Ted Deutch, who represents Parkland, where students were massacred in a school shooting earlier this year, toward the end of a Monday press conference at the Jewish Federation of Broward County, where Deutch, Wasserman Schultz, and other speakers mourned those killed and lamented political rhetoric that is "too hot" and "too dangerous."
A Sunday rally for former House representative Ron DeSantis, the Republican gubernatorial hopeful, began with calls for justice for the victims of the Pittsburgh shooting. Minutes later, the crowd was chanting "Lock him up," after DeSantis turned his focus to criticizing his Democratic opponent, Andrew Gillum.
At a rally Monday afternoon for Gillum, a scuffle broke out around a protester holding a sign reading "God Bless the NRA," a sign that Gillum supporters took great pains to block by holding up their own campaign signs. As former attorney general Eric Holder spoke on the stage, the game of cat-and-mouse with signs turned into a skirmish, and law enforcement officials intervened. The man, James Hammers, told BuzzFeed News afterward that he was there to protest Gillum's stances on guns, gay rights, abortion, and taxes. "The man is evil, and everyone who supports him is evil," he said.
Another protester taunted Holder and Gillum with a megaphone as they spoke, asking them if they would "denounce mob violence," and attacking Holder for his comment earlier this month that bent a Michelle Obama catchphrase into "When they go low, we kick 'em."
"Why don't you cut out the fake outrage, my man?"
"Yeah, yeah, yeah," Holder scoffed from the stage. "Why don't you cut out the fake outrage, my man?"
Many Democrats blamed Trump, saying his aggressive rhetoric likely inspired the perpetrators of these violent events.
"We all have a responsibility to turn the volume down and speak with compassion. Words can be weaponized, and vitriolic words can foment violence in a human powder keg," said Wasserman Schultz, standing next to Deutch Monday morning, as 11 candles burned in memory of those who died in Pittsburgh. "They inform, inflame, and, I fear, can even trigger the horrific threats and violence that we are now seeing."
"The president of the United States, in particular, needs to understand that his words resonate and matter and reach further than anyone in the world," she added later.
"I've been saying it for a long time: There are a lot of powerful voices frankly that I think are sowing hate and division among Americans. I think it's irresponsible, and it is harmful to who we are as a country," Harris told reporters after a campaign event with Gillum's wife, when asked if the president's rhetoric was in part responsible for the events of the past week.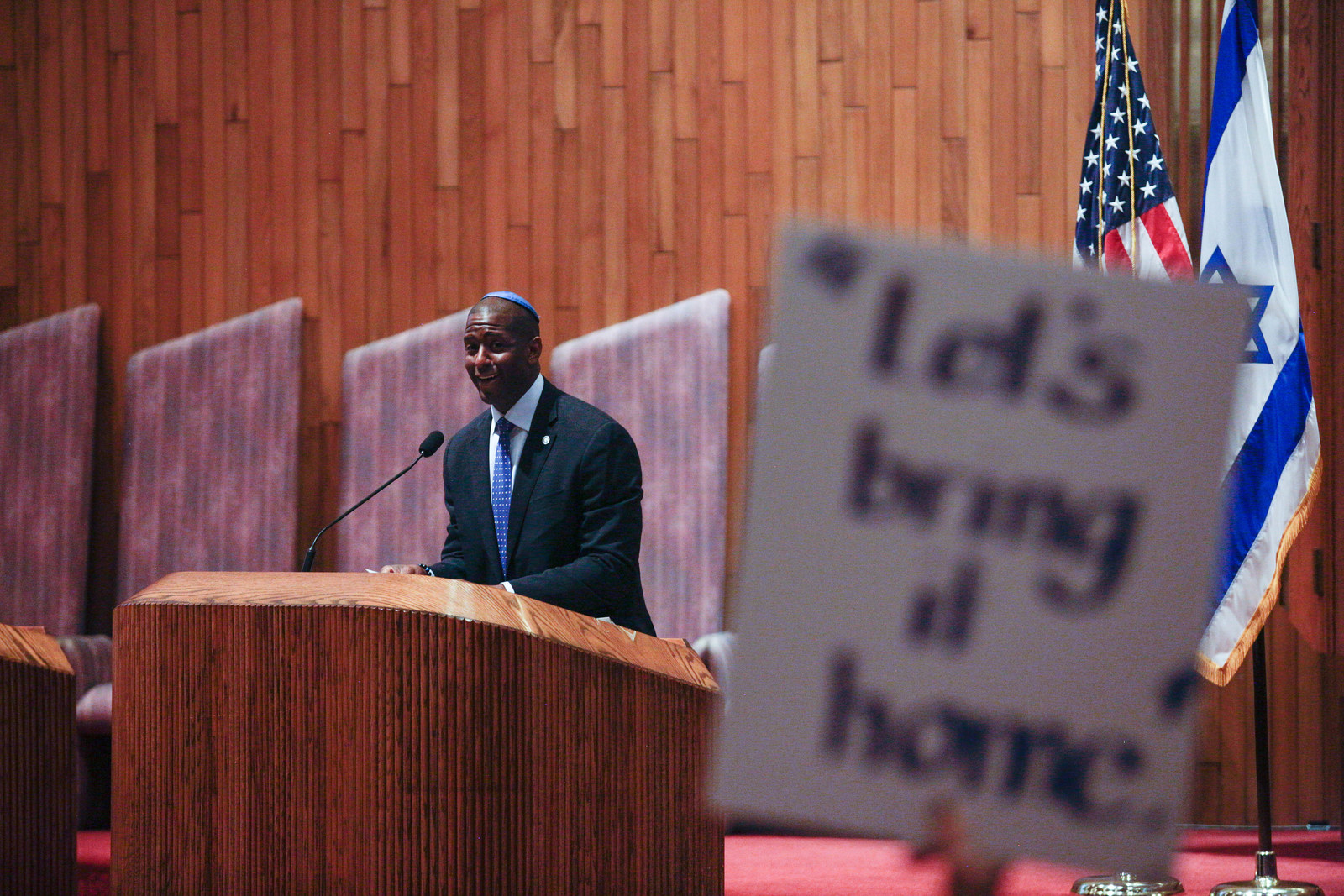 Trump "creates this atmosphere that allows the worst elements to think that they have a right to do things that are just horrific," Donna Shalala, a former Health and Human Services secretary who is running for a Miami-based House seat, told BuzzFeed News in an interview at her campaign office Monday. "But it's the atmosphere he's created, the culture that he's created, the 'lock 'em up' rallies that he has, the fact that he says, 'Yeah, it's all right to go beat someone up.' It's not all right to beat anyone up."
Last week, two members of the far-right men's group Proud Boys joined a planned Republican protest outside Shalala's office when House Democratic Leader Nancy Pelosi came to stump with her, and the scene turned aggressive, with protesters banging on the door of her campaign office. On Sunday, 250 miles north, shots were fired into the Volusia County Republican Party office. No one was hurt.
Shalala said the distress she was hearing over the past week, and what role Trump's rhetoric may have played in it, was part and parcel with what voters had been telling her about Trump since the beginning. "I have never been in Florida in an election in which people said to me, 'I'm voting the Democratic slate,'" she said, adding: "I'm sensing that people have in their minds that we have to have a checkmate on this administration."
In many ways, people seemed to process the horrific events of last week the way they have processed so much of the last year: as evidence to reinforce what they already believed to be true.
"Anything anti-Trump is good," said David Kaufman, leaving an early voting place in Miami. The violence of the past week hadn't impacted his decision in any way, he said. He'd already decided.
Brad, who declined to give his last name, had a similar reaction. "I usually just vote Republican," he told BuzzFeed News, and this year had been no different. The violence of the past week, if anything, served to "reinforce what I think" — for instance, he said, that it's important to "support the police," something he saw as more of a Republican idea.
Some Democrats went further than others, calling out Republicans for not doing enough to check this rhetoric out of the White House.
"I watched a lot of television this morning, and it's so disappointing because the person who needs to be leading is not, but no one else is calling him on it either," R. Jai Gillum, the gubernatorial candidate's wife, said at an event with Harris Sunday.
"I think that it's a time for all of us to take a serious look at the state of our political division," said Debbie Mucarsel-Powell, the Democrat challenging Republican Rep. Carlos Curbelo in the neighboring Miami district. "And I mean everyone should take personal responsibility in how they relate to each other. I think someone like Congressman Curbelo and the Republican Party, they need to take a hard look on what type of tactics they're using in their campaign to instigate some of this political divide and violence."
Pressed on her use of the word "instigate," a verb that goes a step further than many Democrats have gone in blaming Republican rhetoric for the violence, Mucarsel-Powell elaborated: "I think that anyone that uses hateful language against people they don't agree with politically can instigate the divide and the violence."
Curbelo, in a statement to BuzzFeed News, also called for public officials — singling out the president — to pay attention to their rhetoric.
"Every citizen and the media have a role to play in addressing the violence in our politics. However, leadership starts at the top. Public leaders, from the President down to local officials, need to do better. It's why I've called out and condemned things the President has said, as well as the actions of Democratic colleagues like the members of the Congressional Hispanic Caucus for embracing bigotry and the segregation of America's Hispanic community," he said.
"I agree we should each take personal responsibility and look at how we relate to each other, but it's disappointing someone calling for that would in the same breath launch a completely unsubstantiated and dishonest attack," he added, of Mucarsel-Powell's comments. "It's clear my opponent would contribute to the chaos and lack of civility in Washington. While I've been working to bridge the partisan divide, she's made it clear her preference is to exacerbate it for personal gain."
"I think that anyone that uses hateful language against people they don't agree with politically can instigate the divide and the violence."
Wasserman Schultz proposed concrete action to follow what had happened this week: Social media companies, she said, needed to put regulations in place to shut down accounts of people expressing the violence-tinged anger that was found on the accounts of both the attempted bomber and the shooter. If they did not do so, she said, the government should step in.

"I have stood up for the First Amendment when it wasn't popular, on things that people criticized me for. But the people who run Twitter and other social media outlets have to make sure that they have standards in place that can take down the modern-day equivalent of shouting fire in a crowded theater," Wasserman Schultz said.
She highlighted Twitter as, she said, the worst actor in this with "an absolutely outrageous, lax, unacceptable policy for takedown."
"Our First Amendment means something, but we also have had the Supreme Court of the United States lay out limits, and I don't think that our social media explosion, our social media policies have adapted to adhere to those limits," she added. "And they should."
In a moment where horrors that might once have reconfigured the political landscape now often wash away in the stream of steady chaos, some wondered how long these terrible acts would even stay at the forefront.
"In Judaism, we never forget the names," said Rabbi Hector Epelbaum, who spoke at the event with Wasserman Schultz and Deutch. But, he said, he feared most people had already forgotten most of the names of those killed in Parkland, just 30 minutes away from where he was speaking Monday.
"That will be the most painful issue here," he said. "Not to forget who they were. Not to forget who we are."
CORRECTION
The 11 people killed in Pittsburgh were attending different services at the synagogue. A previous version of this story misidentified exactly where in the synagogue the shootings occurred.