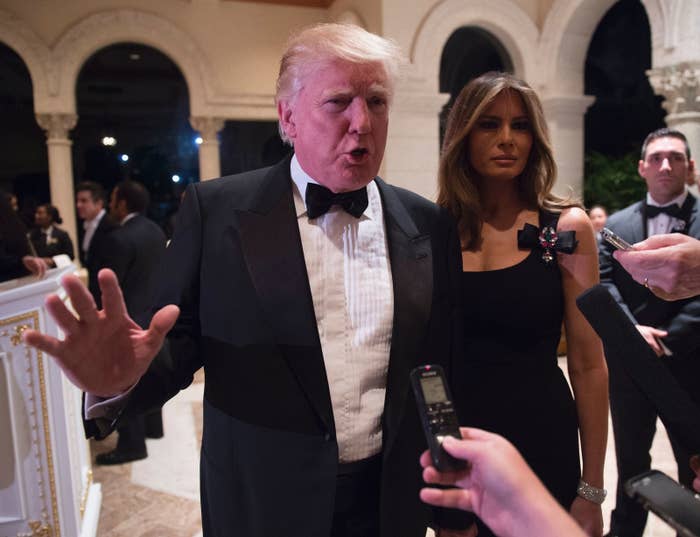 WASHINGTON — When Greg Simpson got the call Thursday afternoon that President-elect Donald Trump wanted to speak with him, he thought it might be a recording.

Instead, he was "stunned" to find Trump himself on the other end of the line, asking him to "consider" voting for Jane Timken for Ohio GOP Chair. Trump's relationship with Ohio Republican Party chairman Matt Borges this past year was a rocky one, and through surrogates, the president-elect had conveyed his support for Timken to unseat Borges, a longtime ally to Trump critic John Kasich.
Then, the day before the vote, Trump himself got directly involved. He personally called some of the 66 state central committee members who would actually decide the key state's party leadership.
It worked: Borges allies believed they had enough votes for him to be re-elected — now Timken is the Ohio Republican Party chair.
This is the prospect many Republicans either fear or delight in: President Trump getting involved in their race. Even a simple tweet from the president could make life very difficult for a representative.
This year, there will be special elections to replace cabinet nominees, there are the governor's races in New Jersey and Virginia, and preparations for the 2018 midterms will begin soon. No one knows how much Donald Trump will be involved, how much he will try to help friends — or how much he will work to punish detractors, defectors, and would-be challengers. Will the president-elect use his political capital to influence primary fights? And if he does, will it be an organized effort to leave his personal mark on the Republican Party, or a settling of scores?
Trump's personal involvement in the Ohio GOP Chairman's race suggests to some Republicans that the prospect could be realer than anticipated.
"I think the one thing that it does is send a signal that clearly he's willing to play in primaries, at least from a party perspective, so one has to think he might be more willing to do so in the legislative primaries as well," said Saul Anuzis, former Michigan GOP chairman.
A state party chair election, as one Ohio Republican put it, "is about as in the weeds as it gets," suggesting that could foreshadow Trump involvement up and down the ballot. "I would say state representative races are on the table; I would say state senate races are on the table," the Ohio Republican added.
Others caution that Borges was a special case. There was a perception among some Trump supporters that Borges, a Kasich loyalist, was insufficiently supportive of Trump once he became the nominee. He was a top supporter of the Ohio governor in his presidential bid, and some Trump supporters perceived that he continued to side with Kasich, who declined to endorse Trump even after he won the nomination.
But if Borges was a special case, he is not an isolated one. There were plenty of NeverTrump Republicans in 2016 cycle, and while most have come around, Trump could opt not to let bygones be bygones. Arizona Senator Jeff Flake, for instance, was an outspoken critic of Trump's throughout the campaign and never endorsed him. Flake is up for re-election in 2018. Some Republicans wonder if Trump will choose to turn his sights on ousting him in a primary.
Early tests could come in the special elections to fill the seats of some of Trump's cabinet nominees, four of whom are sitting members of the House. The short turn-around time of special elections, and the fact that they traditionally have low turnout, means big monetary investments, or a big name endorsement from, say, the sitting president, could have a big impact.
In Kansas's 4th District, Alan Cobb, a senior adviser to Trump's presidential campaign, is one of several Republicans considering a bid to replace Rep. Mike Pompeo if he is confirmed as CIA director. The Republican nominee will be chosen at a district convention by 126 delegates elected by the county parties in the district. Though a special election will not officially be called until Pompeo is confirmed, Cobb, along with several other potential contenders, including state treasurer Ron Estes, has begun conversations with delegates as he weighs his options.
Part of Cobb's pitch to delegates, he told BuzzFeed News, is that his "closeness to the Trump administration" could help him be an influential voice for the district in congress. And while he cautioned that the Ohio GOP situation was "unique," he saw it as a "positive" sign for his own circumstances that the president-elect was "willing to get that involved."
Cobb said he's had "discussions" with members of Trump's political team and they've been supportive of the idea of him possibly running for the seat, but that no commitments had been made.
The uncertainty surrounding Trump's role in internal party battles has left some GOP outside groups in wait-and-see mode when it comes to gaming out the next cycle, as no one is entirely sure what the battle lines will even be.
"I think everybody around town was building plans for next year based on Clinton winning the election," David McIntosh, president of the Club for Growth, told BuzzFeed News last month.
Republicans say much will depend on how successful Republicans are in pushing through the agenda they promised in a fully Republican government, and how unified they prove to be in doing so. There are still questions about what exactly that agenda will be, and where the House and Senate conservatives will clash with Trump — or not clash with Trump — if he departs from Republican orthodoxy.
Coming out of the summer, it looked like the major rift within the party that spurred big-spending primaries would continue to be the battle between more hardline, anti-establishment Freedom Caucus members and the candidates they backed, and more establishment groups, aligned with the Republican leadership. That fight came to a boil in Kansas this summer, when Rep. Tim Huelskamp lost his primary, after groups spent millions against the congressman, a Freedom Caucus member and a constant thorn in leadership's side. For the first time, after years of groups like the Club for Growth targeting members deemed as insufficiently conservative, interests who supported House Republican leadership successfully ousted a Club for Growth backed conservative. Freedom Caucus members were furious; their opponents were emboldened.
Now, both sides say they feel that battle is likely to take on a different form. McIntosh professes himself less worried about challenges to members the group supports than they were a few months ago. "My bet is they don't materialize," he predicted. "I think it'll be hard for the establishment to make a case for taking out a conservative Republican who has just been supporting Donald Trump's agenda."
Primaries could, some Republican operatives believe, become cast as Trump allies versus Trump enemies, even if Trump himself does not personally weigh in. Huelskamp, who quickly filed to run for his old seat after his loss, is already attempting to set up this dynamic against the man who took his seat, Rep. Roger Marshall. In a recent email to political supporters, he wrote, "the forces that worked to defeat me will work against President Trump to protect the status quo."
Ohio Rep. Steve Stivers, the new chairman of the National Republican Congressional Committee, which is charged with electing Republicans to the House, also anticipates a less fraught landscape. The NRCC will be a new addition to the primary playing field this cycle with what Stivers calls it the "Patriot Primary Program," a riff on the committee's Patriot Program designed to help incumbents who face tough races in the general election. In August, Stivers sounded like he had the Club for Growth in mind when he said he wanted a program to help protect incumbents from outside groups. But now, Stivers said, "I feel like the world has changed, and we will find out what that means. But I believe that a lot of the infighting will be less than it has been."
"I think we need to wait and see how things fall into place," said Dan Flynn, a Republican operative whose Right Way super PAC spent several hundred thousand dollars in primary efforts against the more hardline, anti-establishment Freedom Caucus members and primary candidates backed by them this year. "There's still some settling to do from the earthquake."