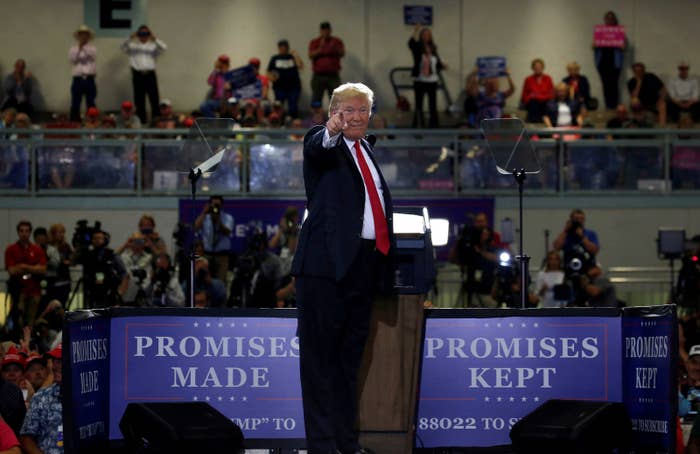 "It's not all about Trump," former representative Bobby Bright said Saturday, sitting on a folding chair in the middle of a field, dangerously close to several piles of cow dung.
It might have been an easier road for Bright if it were. He is in an uphill battle to unseat Rep. Martha Roby in a Republican primary runoff on Tuesday that has presented Republican voters with an odd choice: Roby called Trump "unacceptable as a candidate for president" shortly before the 2016 election; Bright is an avowedly pro-Trump former Democratic member of Congress who once voted for Nancy Pelosi for speaker. It will be their second head-to-head matchup: Roby ousted Bright in 2010. And now Roby has the president's endorsement.
It is a race that has been shaped wholly by President Donald Trump and candidates' perceived support for him — or lack thereof. But when Republicans go to the polls, those who talked to BuzzFeed News in the final weekend of the race said Trump's blessing will not be foremost on their minds.
Delane Goggans, a Trump voter who attended a candidate meet-and-greet Friday with her husband, did not wish to talk about who she was supporting in the runoff. But her decision, she said, was her own. "Just having Trump endorse somebody is not going to make me vote for them," Goggans told BuzzFeed News. It was a sentiment other Republican voters repeated over the next 24 hours.
Alabama voters proved that point last year when they twice rejected Trump-endorsed candidates. First, Republican primary voters picked Roy Moore over Trump's pick, Luther Strange, in the Senate special election Republican primary. Then, Alabama voters elected Democrat Doug Jones over Roy Moore in the general election after Trump weighed in for Moore.
"Just having Trump endorse somebody is not going to make me vote for them."
But Trump is the reason there is a race in this district in the first place. Roby went from a fairly safe incumbent to a major target in October 2016, when she said candidate Trump should "step aside" and that she would not vote for him following the release of the Access Hollywood video. She won reelection with less than 50% of the vote in 2016, and in 2018, she drew four primary opponents, animated by her perceived disloyalty to Trump. Republican primary voters proved to still be sore over those comments two years later, despite her attempts to mend fences with the administration — she won just 39% of the vote, forcing a runoff with Bright, who finished in second with 28%.
Late last month, when Trump endorsed her in a tweet, calling her a "consistent and reliable vote for the Make America Great Again agenda," DC Republicans breathed a sigh of relief. It was the rescue they felt Roby needed. Vice President Mike Pence recorded a robocall urging voters to support Roby, which the campaign began running Saturday night.
"Join me and President Trump in supporting Martha Roby," Pence says in the call, calling Roby a strong conservative and "a reliable partner in our work to advance the Trump administration's priorities."
But in the final days of the race, both sides have backed away from the idea that Trump will decide the race. Republican voters described his endorsement as a nonfactor in their decision-making. There is no mention of the endorsement in any of Roby's television ads.
"We think the race is about their respective voting records," said Roby consultant Blake Harris when asked whether the race was about Trump. "Martha's voted with the administration's conservative agenda 97% of the time, and while Bobby Bright was in Congress, he not only voted to make Nancy Pelosi speaker, but he supported her efforts in Congress 70% of the time as a member of Congress. That's what we think the race is about."
Some younger Roby supporters actually pointed to her 2016 stance on Trump as a selling point and said they liked that she had expressed "no regrets" about her earlier criticism in a Fox News interview last week.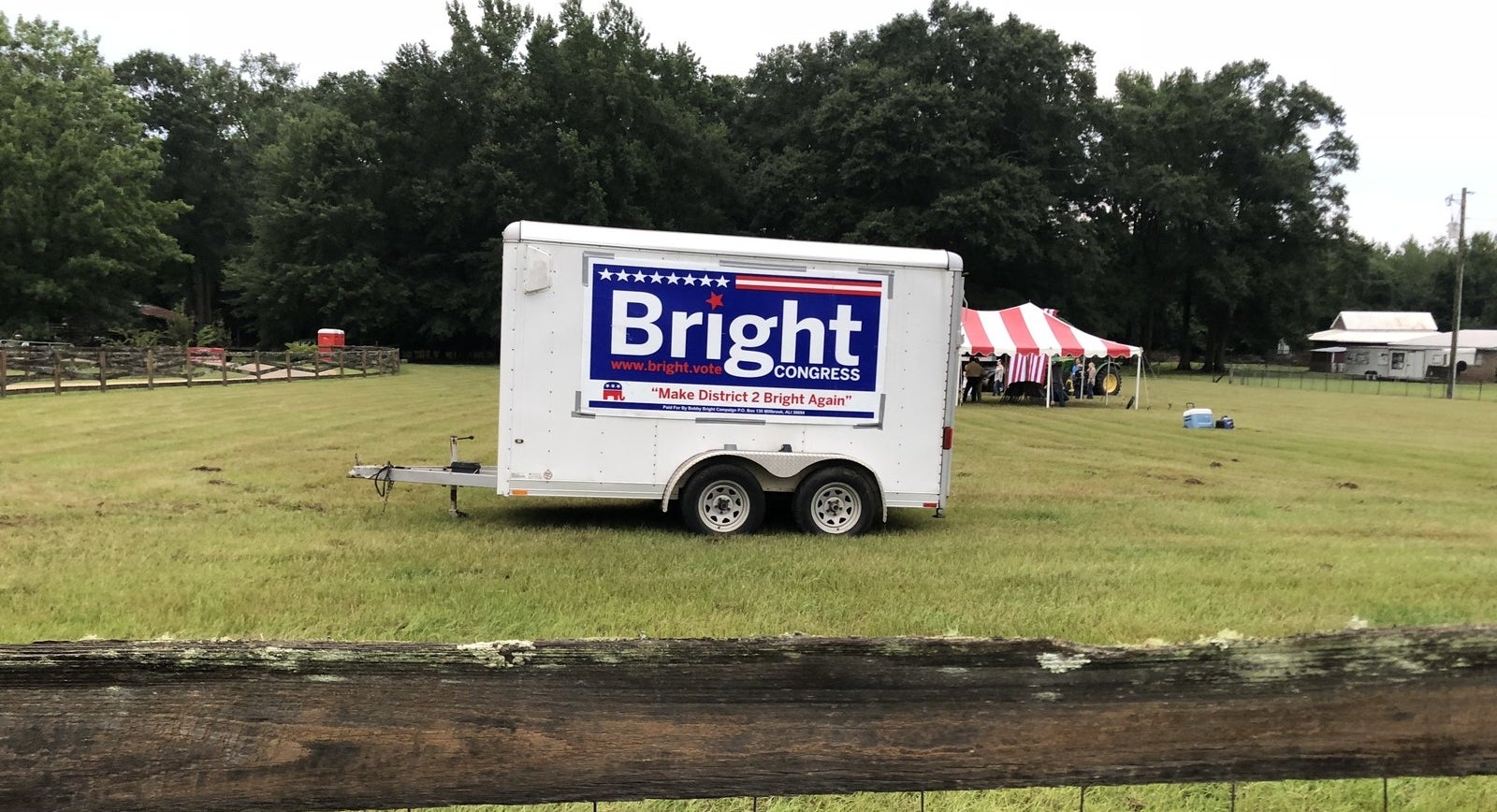 And Bright, in an interview with BuzzFeed News, cast Trump's endorsement of Roby as a bad thing — suggesting that attaining it had required so much ass-kissing that it had stripped her of her independence and made her beholden to him.
"She told the president to step down and get out of the way, and then she went — every time he pooted, she was there to smell it," Bright told BuzzFeed News. "And she's continuing to do it."
("I don't want you to say it," Bright added, after a brief consideration, apparently thinking better of the phrasing. "I know it's on record now, but don't say it. She's there to smell it.")
Roby supporters spoke of the endorsement less as a campaign-defining feature and more as a means of putting to rest a problematic perception. It's true that Roby said she didn't support Trump in 2016, but some of her supporters have bristled at the idea that she therefore supported Hillary Clinton. The Trump endorsement was a way to, at least in some corners, formalize that she was on the right team.
"I think we were all saddened because of her remarks about Trump," said Al Booth, a probate judge now running for a House seat, who recalled campaigning for Roby when she first ran for Congress in 2010.
"I think the fact that Trump endorsed her healed some of those wounds," he said.
Roby has the advantages: She was the top vote-getter in the primary last month, and the fact that Bright is a former Democrat has been a boon, giving her an easy attack line and a means of getting skeptical Republicans into her corner.
Bright points out that 61% of Republican primary voters picked someone other than Roby last month. But now, said Cleve Poole, the chair of the Butler County GOP, "I would look to those people typically to go more toward Congresswoman Roby than to Bobby Bright who has just not proved himself to be, I mean, a Republican."
She also has the significantly larger campaign war chest, and she has help: The US Chamber of Commerce has spent more than $250,000 on television advertising for Roby that attacks Bright for backing Pelosi and highlights Roby's alignment with the Trump agenda. Winning for Women, a group that backs Republican women and is funded by some of the party's top donors, spent over $100,000 on digital advertising to support her. And she now boasts the endorsement of the president, who remains popular in the district.
But for a number of Republicans who spoke with BuzzFeed News, the Trump endorsement was not a part of their decision-making.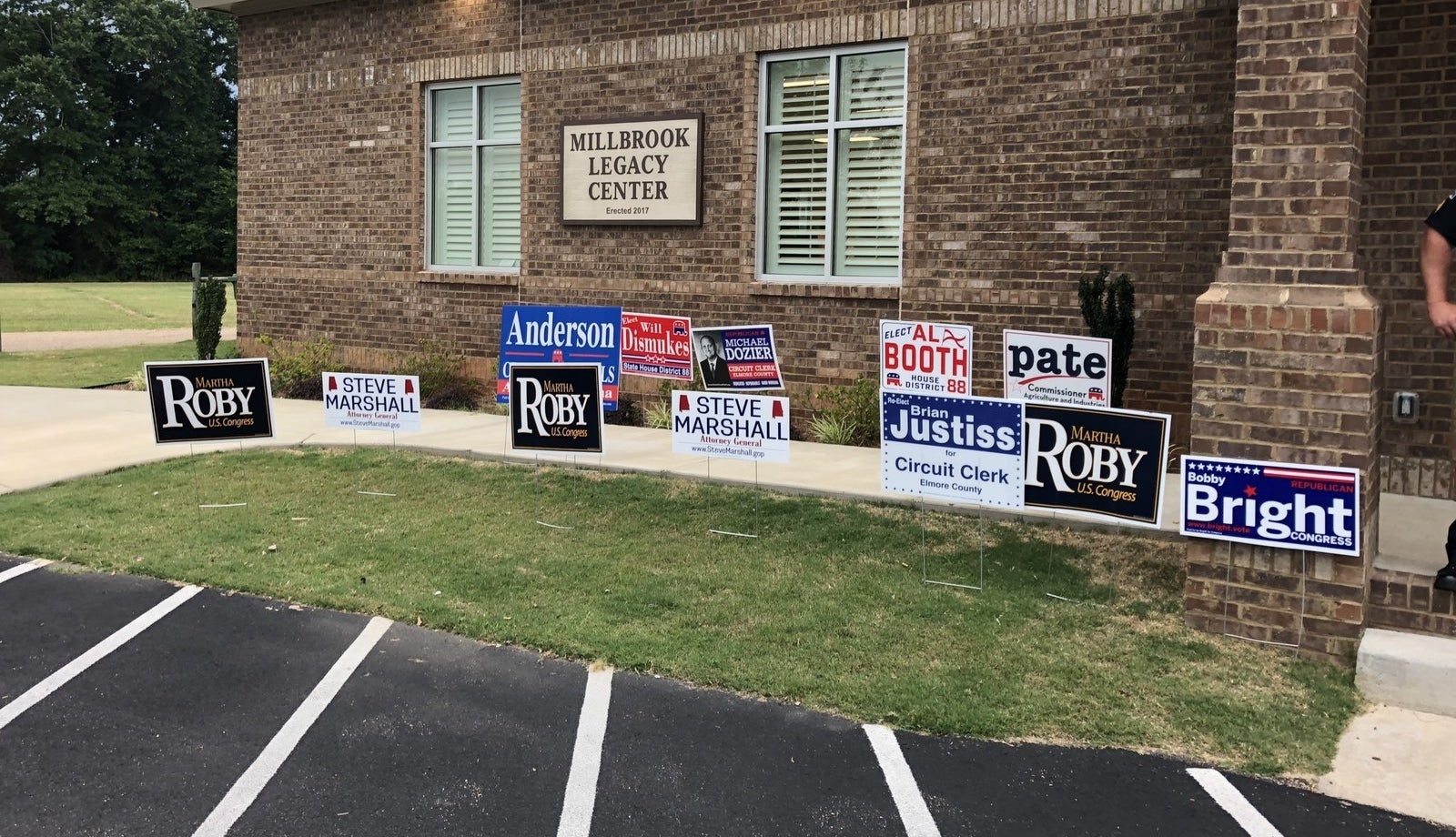 "I'm going to vote what I think best regardless," said Glenn Goggans, sitting with his wife at the candidate meet-and-greet hosted by the Elmore County Republican Party Friday. He declined to say who that would be.
The endorsement had "not really" been a factor for Greg Bennett, either, who told BuzzFeed News he remained "really up in the air" about who to vote for. He had been "leary" of Bright, given that he was a former Democrat, but Bright eased some of his concerns when they spoke at the event Friday night in Millbrook. Bennett also had concerns about Roby — namely that he didn't feel she'd been forceful enough in attacking the Obama administration — but he hadn't seen her at any of the GOP events he'd attended, so he hadn't gotten the chance to address them with her. Roby was not in attendance Friday, as she was flying back from Washington, DC. Her husband was there in her stead, surrounded by a number of supporters wearing T-shirts emblazoned with her name. Roby's campaign did not make her available to BuzzFeed News over the weekend.
"We vote for who we like," said a Roby supporter at the Elmore County Republican Party event, who asked that her name not be used. Bright being a former Democrat, the woman said, was a nonstarter. He was changing political parties with the casualness of "changing underwear" she told BuzzFeed News. "I just don't trust him."
Trump's endorsement did not wipe the memory of Roby's 2016 comments. "I'm voting for Bobby," said Melanie Wallace, who wore a name tag proclaiming her membership in the Wetumpka Tea Party, a group founded by Roby's 2016 primary opponent, Becky Gerritson.
Others were suspicious of the terms of Trump's endorsement.
Riley Seibenhener, who chairs the Republican Party in Geneva County, said the Republicans he was speaking to in his county "felt like Trump was probably pushed into that or encouraged to do that by leadership in Congress — and that leadership in Congress is held in very low opinion in Geneva County."
"I thought it was a backdoor deal up there," said Billy, a Bright supporter at the rally who asked that only his first name be used.
"I thought it was a backdoor deal up there," one voter said of Trump's endorsement.
Bright has fanned those suspicions. "I know how that goes down in Washington, and I know that he struck a deal. He's the king of dealmakers.
Bright is not the first candidate to run as a Trumpian figure only to see the president endorse his opponent. It worked for Roy Moore, who bested Trump-endorsed Luther Strange in the Alabama Senate primary last year, only to lose in the general. Former representative Michael Grimm was less successful last month when he lost a bid to unseat Trump-backed Rep. Dan Donovan in a primary on Staten Island.
Bright is on television with an ad attacking Roby for "turning her back" on Trump. But in an interview with BuzzFeed News, Bright instead emphasized his attacks on Roby's representation of the district. She had gotten off the Agriculture and House Armed Services committees to instead join the Appropriations Committee, which Bright described as an abdication of her responsibilities to a district whose major industries are agriculture and the military.
"The issue is not being on an important committee, this is being on the most important committee or committees for the district. And the most important thing is Agriculture and Armed Services. An important committee is Appropriations." (Roby argues that her committee assignments put her in a prime spot to help military funding.)
"It's not her position on Trump doing his personal problems," Bright went on. "You know, I agree; I don't support Trump's personal life, if in fact it's proven he did some of that stuff. I don't support that. I'm a 26-year deacon in my Southern Baptist church, so I don't condone illegal activity or immoral activity at all. That's not the issue here with Martha and me. My issue is she has done a poor job."
In a runoff race on a random Tuesday in July where the secretary of state has predicted 15–18% turnout statewide, Roby remains the favorite to win. But whether she wins or loses, Trump's endorsement may have little to do with it.
Besides, the president's track record in influencing Alabama politics has not been great.
"The president's oh and two in Alabama, by the way," Bright said. "I'm gonna make him oh and three."