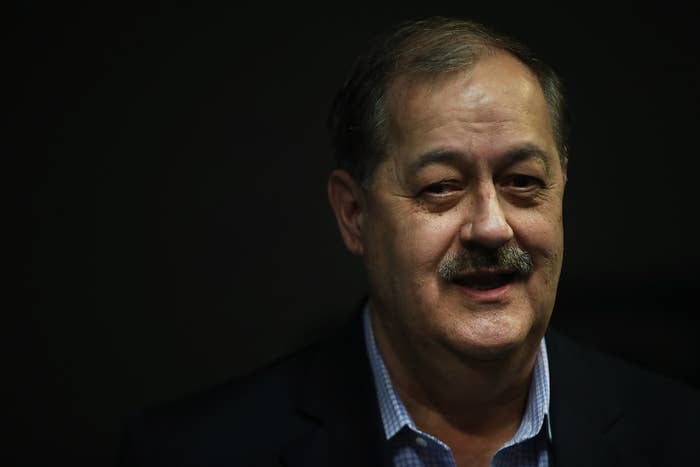 Coal baron Don Blankenship was released from prison less than one year ago after a jury found him guilty of engaging in a conspiracy to violate mine safety regulations, resulting in the deaths of 29 miners in the 2010 Upper Big Branch Mine disaster.
He might celebrate the anniversary of his release as the newly minted Republican Senate nominee in West Virginia.
In the final hours of the race, President Donald Trump and his party are racing to try to slow Blankenship's momentum and prevent a top pickup opportunity from falling out of reach. But Trump's tepid entry into the campaign and lack of endorsement of the other candidates may not solve the problem.
National Republicans have largely kept away from the contentious primary to take on Democratic Sen. Joe Manchin in November, eager to avoid the mistakes that gave them Republican nominee Roy Moore in Alabama last year and cost them a Senate seat. But now, some Republicans are second-guessing the hands-off approach.
Trump disavowed Blankenship in a Monday tweet, reportedly at the urging of Senate Majority Leader Mitch McConnell.
But some worry that the president's involvement might be too little, too late.
"By getting involved this late in the game, when it is almost too late to really have an effect, I worry that the White House has set the president up to take the blame if Blankenship wins," said a GOP consultant following the race.
A day before the GOP primary, there are now concerns in the party that Republicans might wind up with a Senate nominee who has, just in the last week, drawn national attention for a race-baiting ad campaign. McConnell — whom Blankenship has nicknamed "Cocaine Mitch" — is beholden to "China people," Blankenship says, because his wife, Transportation Secretary Elaine Chao, was born in Taiwan. Blankenship doesn't understand why people find those comments to be racist, because, he told Roll Call, the "Races are negro, white caucasian, Hispanic, Asian. There's no mention of a race. I've never used a race word."
Republicans fear Blankenship would jeopardize their ability to compete for a seat that should be one of their best Senate pickup opportunities this year. Internal polling from one of the campaigns opposing him, confirmed to BuzzFeed News, has Blankenship narrowly edging his competitors in the final weekend. Blankenship's campaign on Monday released the top line numbers from a poll that they say show him at 37% of the vote, with Patrick Morrisey at 20% and Evan Jenkins at 15%.
White House press secretary Sarah Huckabee Sanders declined to respond to a question Monday about the president's tweet calling Blankenship unelectable, citing the Hatch Act, which restricts federal employees from engaging in political activities.
It's not the first time Trump has broadcast his preference for Morrisey and Jenkins: At a roundtable on tax reform in West Virginia last month, Trump sat flanked by the two candidates. Blankenship, pointedly, was not invited.
But there is some concern among people involved in the race that by not picking a favorite of the two, Trump is doing little to help tamp down Blankenship's chances. And Trump has so far done little to explain why Blankenship is unelectable. Sources compared Trump's comments to this point to his actions in the Alabama primary, when he endorsed former Sen. Luther Strange but didn't make a strong case against Roy Moore.
"If the president was going to get involved, it should have happened last week and should have included a full throttled endorsement of one of Blankenship's opponents."
The halfway-endorsement left room for Alabama primary voters who support the president to believe that Trump was being forced to back Strange because of bad advice from his aides or McConnell.
"If the president was going to get involved, it should have happened last week and should have included a full-throttled endorsement of one of Blankenship's opponents," said the GOP consultant following the race. "It should be clear by now that simply saying 'Don't vote for Blankenship, he's unelectable' isn't very effective messaging in a GOP primary."
Trump is an effective messenger in the state: He boasts a 61% approval rating in West Virginia according to March polling from Morning Consult.
But his tweet comes only at the end of the primary campaign. The early voting period is already over, and "there's a question of how many people it will reach by tomorrow," said Noah Wall, national director of campaigns for conservative group FreedomWorks, which endorsed Morrisey.
Trump aside, there may not have been much for national Republicans to even do had they decided to forcefully jump in the race earlier.
"What we've seen is that the people of West Virginia, the people of Indiana, the people of Missouri could care less who the senatorial committee is supportive of," National Republican Senatorial Committee chair Cory Gardner recently told the Washington Examiner. "In fact, [an NRSC intervention] may have the opposite effect.
Mountain Families PAC, a group with ties to Senate Leadership Fund, the Senate Republican super PAC, went on air in mid-April with ads targeting Blankenship, but other than that, there has been little outside involvement from Republicans. Some people involved in the race attributed that attitude to an unwarranted hangover from Alabama, when McConnell became a liability for his favored candidate.
Blankenship, whose recent ads have attacked McConnell as much as his opponents, has attempted to recapture that dynamic.
Blankenship, Morrisey, and Jenkins have all tried to paint themselves as the Trump candidate. Jenkins and Morrisey each sent out a statement Monday treating the president's tweet as an endorsement of their campaigns.
"I am Trumpier than Trump."
For his part, Blankenship excused the president's comments as an oversight. "The President is a very busy man and he doesn't know me, and he doesn't know how flawed my two main opponents are in this primary. The establishment is misinforming him because they do not want me to be in the U.S. Senate and promote the President's agenda," he said in a statement.
"As some have said, I am Trumpier than Trump and this morning proves it," he added.
Trump's allies are also divided in this race. A number of conservative groups and Trump backers have endorsed Morrisey, including Trump's former deputy campaign manager David Bossie and his group Citizens United, former administration official Sebastian Gorka, and GOP Sens. Ted Cruz and Rand Paul. Jenkins has the support of Trump's West Virginia delegates and held an event Monday morning touting their endorsement.
Morrisey and Jenkins have been sparring for most of the race. But Morrisey spent the final weekend directly attacking Blankenship, holding a press conference and releasing a robocall talking about Blankenship's criminal record. On Monday, he released a digital ad contrasting Blankenship, a "convicted criminal," with himself, "a conservative fighter."
If Blankenship does pull off a win on Tuesday, Republicans said, it would have broader implications outside of West Virginia.
It would be a "blow for the party," said former Rep. Tom Davis, who chaired the House Republican campaign arm, taking a great pickup opportunity and making it "a much longer shot."
What's more, said GOP strategist Doug Heye, Blankenship's comments about "China people" could reflect back on other Republicans on the ballot, forcing them to spend months answering for his rhetoric, just as many Republican candidates spent the final months of 2014 dodging questions about former Rep. Todd Akin and his opinions about "legitimate rape."
"They'll be faced with those questions every day, just like in 2012 and 2014," said Heye.