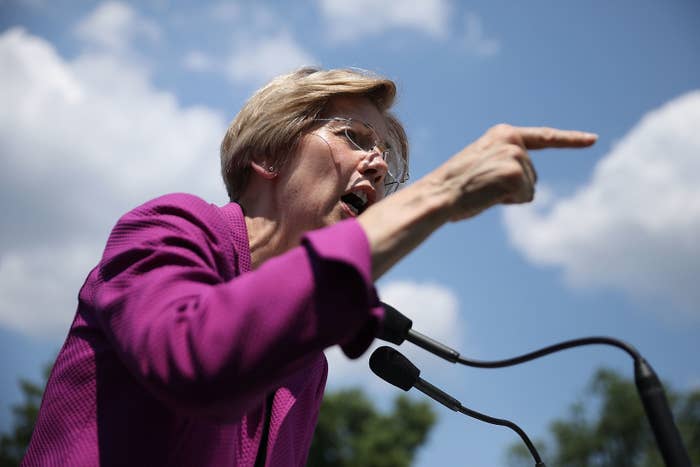 BERRYVILLE, Virginia — Democrats spent the better part of a year leading up to 2016's elections trying to explain to voters in detail what they would do if elected and how they would do it. Donald Trump swamped them with single-page, bullet-pointed policy proposals and four words: "Make America Great Again." In the end, Democrats lost the White House and saw Republicans take full control of Washington.
On Monday, Democrats launched their attempt at a messaging do-over.
Ten Democratic lawmakers took the stage here one-by-one before a crowd of about one hundred sweating people, spending just over an hour making the pitch for their newly stripped down, to-the-point message, which they're calling the "Better Deal."
"When you lose elections as we did in 2014, in 2016, you don't flinch, you don't blink. You look in the mirror and ask, 'What did we do wrong?'" Senate Minority Leader Chuck Schumer said, standing on a platform in direct sunlight in the middle of a park. "The number one thing we did wrong? Not present a strong, bold economic agenda to working Americans so that their hope for the future might return again."
The new plan has three points: create more, better paying jobs; lower prescription drug prices; and take on corporate interests when they harm individuals.
"Democrats have too often hesitated from directly and unflinchingly taking on the misguided policies that got us here. So much so that too many Americans don't know what we stand for. Not after today," Schumer said.
The lawmakers fanned out across the stage, a Pantone color wheel of various shades of blue, from the most understated (House Minority Leader Nancy Pelosi in a blue-and-white seersucker pantsuit) to the most aggressive (Illinois Rep. Cheri Bustos's electric-blue skirt suit). Massachusetts Sen. Elizabeth Warren, wearing open-toed shoes, had painted her toenails blue for the occasion ­— several shades lighter than her royal-blue jacket. Schumer missed the memo, kicking off the event in a white shirt and gray slacks.
Attendees were arrayed around the park for the event, which started just after noon. The lucky ones gathered in the shade under a shingled gazebo or a large tree; half sat sweating in chairs arrayed in front of the platform. Aides walked around the back of the platform to hand water bottles to the increasingly red-faced lawmakers. Democratic Senatorial Campaign Committee Chairman Chris Van Hollen mopped his brow with a napkin. Sen. Mark Warner sweated through his light-blue shirt.
The event's location was intended as something of a warning shot: Democrats spoke in Republican Barbara Comstock's district, a top target in 2018 as one of the 23 Republican-held districts where Hillary Clinton beat Trump last year. Several audience members wore "Dump Comstock" shirts emblazoned with a broken heart, a play on popular T-shirts featuring the state's slogan: "Virginia is for lovers."
It was also a mere hour-and-thirty-minute drive from DC, enabling a full gaggle of Capitol Hill reporters to make the trip. When the 10 lawmakers were done speaking, Schumer opened the floor for questions — reporters first, he requested. The audience for the Better Deal, in the long term, is voters; the audience for Monday's roll out was the media.
The message is the first step in Democrats' attempts at rehabilitating their brand. It's not just a political message, Schumer insisted, "That's not our sole focus at all." But it might as well be. Democrats are in the minority in both the House and the Senate, and most legislation they introduce over the next year is likely to go nowhere with Republicans setting the agenda. With the chairmen of both the House and Senate campaign arms on stage, Democrats are transparently looking ahead to 2018.
Things will be different, Rhode Island Rep. David Cicilline promised, "when we take back Congress a year from now."
Democrats have grappled rather publicly with where to target their efforts in 2018, particularly in the House, where the landscape currently appears to be most favorable. Some have split between whether the party should focus on reinvigorating the old Obama-coalition, or instead focus on the rural, blue-collar voters who swung away from Democrats to vote for Trump in 2016.
"It's a false choice," said Schumer.
"Whether you're from Brooklyn or Berryville, the zip codes might be different but the issues are the same," Rep. Hakeem Jeffries, who represents part of the New York borough, told the crowd.
It was in many ways an odd group to make that point. Pelosi, who has led House Democrats for a decade, launching what Schumer deemed "the start of a new version of the party"; Mark Warner, the top Democrat on the committee investigating Russian involvement in the 2018 elections, making the implicit argument that Democrats should look away from that shiny object. Members from New York, Rhode Island, Massachusetts, Delaware, and San Francisco — a veritable who's who of the coastal elite — conveying a message meant to appeal, in large part, to rural voters.
Democrats emerged from 2016 in a state of disrepair, with the party's base fractured between divided affections for Bernie Sanders and Clinton. The Democratic National Committee chair had resigned mid-election — and a divisive party election along those same primary contest lines ensued in the race for the new chair. Democrats are now virtually powerless to push any kind of agenda in a Capitol dominated by the GOP.
But Democrats appear to have a saving grace in Republicans, who despite unified control of government have struggled to pass major legislation into law, and whose agenda is constantly distracted by Trump's latest tweet or intellectually inconsistent policy proposals.
Still, It was just a month ago that some House Democrats were talking about ousting Pelosi, who has proved an effective point of attack for Republicans over the past several cycles. That tactic was on full display most recently in Georgia, where Democrats lost their fourth special election this year following a barrage of Republican attacks linking the Democratic candidate to the House minority leader in the historically Republican district.
But on Friday, Pelosi was on the platform to launch what Schumer deemed "the start of a new version of the party."
"The fact that we're all standing here together today sends a powerful statement: Democrats are unified," Schumer said.
"It's future versus past, and the Democratic Party has always been at its best when it's future leaning," said Warner.
But there were divided visions for the Democratic Party's future on stage: Minnesota Sen. Amy Klobuchar and Warren, potential 2020 presidential hopefuls, both spoke. Warren received the loudest applause. As she made her way out of the park to leave the event, she was beset upon by fans, who grabbed desperately to get a photo with her. Klobuchar stood to the side as the Massachusetts senator moved through this impromptu receiving line, watching her colleague and potentially future rival as she told a local cop what state she was from.
Several protesters in the crowd — who declined to say if they were involved with any Republican outfit — held up Papa John's pizza boxes with Pelosi's face plastered over them and the words: "Still Pelosi," a play on the chain's "Better Ingredients. Better Pizza," slogan.
With 15 months remaining until the 2018 midterm elections, it remains to be seen if Democrats' message reboot will have Pelosi's staying power.
CORRECTION
A previous version of this story misstated Democrats' performance in the 2016 elections. The party gained seats in the House and Senate, but not enough to become the majority in either chamber.