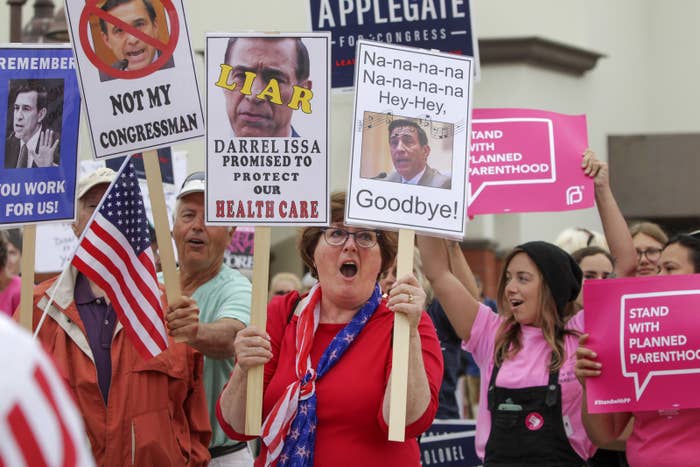 The Democratic candidates running for an open Southern California House seat faced a problem when they came before an overflowing gathering of 70 local activists last week: There wasn't quite enough space at the front of the packed meeting room for them all to stand in a row.
Four candidates and a surrogate representing a fifth were each there to make the case to the Torrey Pines Democratic Club that they should be the next US representative from California's 49th District.
The Democratic activists in attendance seemed more concerned with making the case that most of them should drop out.
"At what point before the election, before the voting, what's the percentage of support in the polls that would cause you to drop out and endorse another Democrat?" one man asked the candidates. "What's the number that would cause you to go, 'You know what, I can't do it. I have to give up my candidacy for the greater good'?"
Democrats have a real shot of taking control of the House of Representatives in November, and nowhere is there a bigger opportunity for electoral gains than in Southern California. Shifting demographics and President Donald Trump's unpopularity in the state have given Democrats hope that they might finally be able to break through the so-called Orange Curtain that separates these Republican districts from the solidly Democratic ones next door near Los Angeles. Democrats are targeting five Republican members who were reelected in 2016 even as their constituents voted for Hillary Clinton.
When two of the Republicans in those districts — Ed Royce and Darrell Issa — announced they would not seek reelection earlier this year, it seemed at first like just another political gift from Trump to Democrats. Opposition to Trump has invigorated the left, and Democratic candidates have already ridden that unprecedented energy to unexpected victories in special elections.
"There is a legitimate concern that we have a situation where no Democrat makes the top two because so many Democrats are running."
But now Democrats worry they might have a surfeit of enthusiasm. California has a top-two primary system — meaning all candidates of whatever party affiliation compete head-to-head in a June primary, and the top two advance to the general election. In safely Democratic areas, those two candidates are often both Democrats. In the Issa and Royce districts, which each have five or more serious Democratic contenders running, some Democrats worry the top two might both be Republicans.
"There is a legitimate concern that we have a situation where no Democrat makes the top two because so many Democrats are running," Rep. Ted Lieu, who represents a Los Angeles-area district and serves as a vice chair of the House Democratic campaign arm, told BuzzFeed News in a phone interview.
But there's little anyone can do about that.
"We can't tell people they can't run for Congress," said California Rep. Zoe Lofgren.
"There's nothing wrong with them," she added. "It's just there are too many of them."
Last week's Torrey Pines Democratic Club meeting in a side room of the local library in Del Mar had been organized, in part, to explicitly address this concern. But the questioner struggled to get a straight answer on how ­— or whether — the bursting Democratic field might whittle itself down.
"A percentage? Oh, that's a tough one," said Christina Prejean, who only got into the race last week. "I think that, well, this is what I think: I think we'll all come together, and we'll all figure out a way so that that never is the case, and that we have two top Democrats." It was a particularly rosy assessment from Prejean, an Air Force veteran and lawyer who focuses on combating sexual assault in the military. She's the newest entrant to the field, and there was already some skepticism about her candidacy: One activist suggested her "passion" could be of more use elsewhere. "We're already crowded here."
"What about 14?" interjected the questioner. "Would you drop?"
"This is a campaign where hypothetically 14% could be the leading candidate. Hypothetically," pointed out Paul Kerr, a businessman who has been endorsed by Democratic Rep. Scott Peters but has gained little traction according to Democrats in the area. "So it's an impossible question to answer real candidly."
Sara Jacobs, a Clinton campaign adviser who entered the race in November and has been endorsed by EMILY's List, promised to be "responsible."
Doug Applegate, a retired army colonel who lost to Issa by a mere 1,500 votes in 2016, was less charitable: "If you aren't above single digits in the next 10 days and you stay in, you're gonna have two Republicans that are gonna run in the general election," he said.
He elaborated in an interview with BuzzFeed News after the event: "Everybody but me needs to get the hell out of dodge."
Democrats have been burned by the top-two primary system before. In 2012, redistricting made California's 31st district a more favorable landscape for Democrats. They had a top recruit in the race — then-mayor of Redlands Pete Aguilar — and they had set their sights on flipping the district. Aguilar succeeded in beating out all the other Democrats, but two Republicans scored more votes in the primary, leaving Democrats locked out.
"We just had too many candidates in the race," Aguilar told BuzzFeed News last week with a sigh.
Aguilar won the seat two years later, but he has become a cautionary tale.
For now, Democrats are hopeful that the large number of Republicans in both races will balance out the large number of Democrats. There are three serious Republican contenders, so far, running for Issa's seat. In Royce's district, there are five.
Still, Aguilar said, that's not a guarantee.
"Obviously, I just can't underscore enough, it's a math issue. Even if there are races where there are three Republicans, the possibility of one getting out exists, and then you have a strong possibility of creating a math problem with multiple Democrats in," he said.
Democrats say there's no power center that can nudge candidates out of the race. Fran Sdao, the chair of the Democratic Party of Orange County, says people keep telling her she has to do something about the number of candidates.
"Well, you know, thank you for thinking I have that kind of authority," she said she tells them.
California Democratic Party Chair Eric Bauman recently phoned into a meeting of the six major candidates running for Royce's seat. The meeting was convened to talk about the numbers problem, and he called in "to talk about what's at stake and the risk of having too many candidates," he told BuzzFeed News in a phone call.
His role, he said, "was to sort of lay out the map for them. Here's what it looks like right now. Here's a reminder of what happened the first time Pete Aguilar ran when he certainly should have won. Here's how we can fix that. Because if people's belief and reason for running is that we think we need to take back the House of Representatives in order for us to have some ability to block Trump's divisive and dangerous agenda, then we have to think of — as they used to say — we have to think of the good of the order."
Bauman didn't stick around to hear the discussion after, but told BuzzFeed News, "I understand the meeting went very well and there were some folks who really seemed to take it to heart."
And he said he remained incredibly optimistic about Democratic chances in these districts. "I don't want you to think that I'm sitting here knitting my hands," he said. "I'm not."
Another possibility is that the Democratic Congressional Campaign Committee could step in. The House Democratic campaign arm, said Ted Lieu, "absolutely reserve[s] a right to get involved" to sort through the chaos. But in a state where the DNC's perceived slight against Sen. Bernie Sanders in 2016 continues to be a sore spot, the DCCC putting its finger on the scale could do more harm than good for a preferred candidate.
Ten miles up the coast from the drama unfolding in the library, Mike Levin, the fifth candidate running to replace Issa, made clear to a group of voters at a house party that he was not, by any means, the handpicked choice of the Democratic establishment.
"Everybody's on the edge of their seat because there are so many candidates," said Nancy Hardwick, who hosted the gathering of members of the local chapter of Indivisible, an upstart Democratic group that has been active across the country, in her living room. She will host a similar event next month for Applegate. Applegate and Levin have both been campaigning since 2017, and Hardwick says she sees the two of them as the strongest candidates. But she feels activists have to pick one to rally around, and fast.
Levin said Democrats had attempted to recruit him to run in 2014, and he declined. But after Trump won, he said, he called those people back and asked if they wanted to clear the field for Applegate, or if they wanted another candidate in the field. They didn't discourage him, he said.
"They also didn't tell me, they didn't tell me it was gonna be me," he added. "That's another thing that's important to know."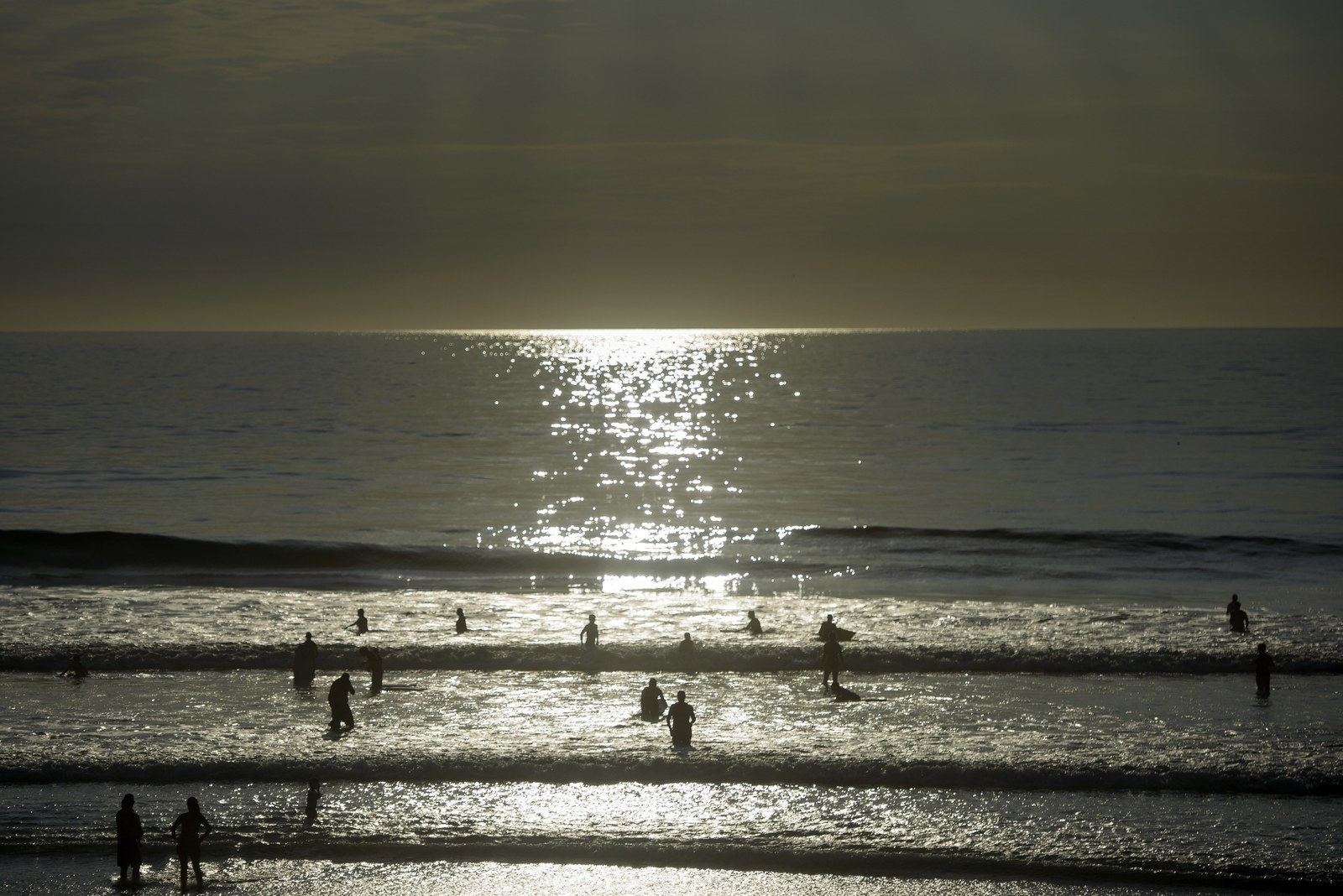 But back in Del Mar, things were getting uncharacteristically loud in the library, with the mere perception that the Democratic powers that be are trying to put their thumb on the scale raising tempers and voices.
Ellen Montanari, who has organized weekly protests outside Issa's office since the start of the Trump administration, asked the candidates to pledge that "if you do not get the nod in the primary, that you will wholeheartedly, without reservation, support and go out for the person who does win the nomination."

"As long as it's a fair primary," said Applegate, kicking things off. "Absolutely."

"You sound like Trump," retorted a man near the front, incredulous, after a somewhat pointed back and forth. "He kept saying 'fair.' And then he defined what 'fair' was, and it kept on changing. Are you gonna tell us what 'fair' means? How is a primary not going to be 'fair'?"

"Maybe if you're not so defensive, we'd be able to hear you better," interjected another attendee, Kay Hoeprich. "I want to hear what you're saying, but I can see that you're angry. So, your anger comes through more than your message."

Applegate's gripe, he explained, was that he felt the Democratic powers that be were unfairly weighing in on the race. At a meeting of a Democratic group last week, Applegate recounted, a DNC member had maligned his candidacy. The member, Applegate said, "stood up and said, 'Nobody voted for Applegate. It was an Issa protest vote.'"

"The DNC has their finger on the scales in this one," he said.

One thing that could help settle the race is the somewhat convoluted California Democratic Party endorsement process, which began in earnest with pre-endorsement meetings this past weekend. Democratic clubs in each district are awarded delegates based on the number of members, and those delegates, in turn, voted Saturday on whether to endorse any of the Democratic candidates at the California Democratic Party's convention in March. On Saturday, Levin got the vote of 61 of the 107 delegates in the district, easily clearing 50% and putting him in contention for the party's official endorsement. Applegate got 37 votes, Jacobs got six, and Kerr and Prejean got zero.
It is a step, perhaps, toward slimming the field. "I think it is significant," Levin said in an interview with BuzzFeed News before the pre-endorsement meetings, of the prospect of ultimately getting an official endorsement. "We had polling on this that showed that the California Democratic Party endorsement definitely does impact how a lot of people look at the field, particularly a divided field," he said.
But it is an intermediary victory, and there's no guarantee that other candidates will get out. And in Royce's district, no candidate got enough votes to lend any modicum of clarity.
"We no longer have our big, bad villain on the ballot."
The Issa and Royce retirements also raised questions about exactly how Democrats compete in these districts. On the one hand, it mitigates the advantages of incumbency: Royce, for instance, was sitting on nearly $3.5 million in his campaign account. But he and Issa also had records that challengers could point to: decades of votes to parse, years of quotes to reporters and comments in committee hearings, and, most recently, ample documentation of their affiliation with the unpopular president and his administration's efforts.
A less well-known Republican candidate, like the ones who have jumped into these races so far, might prove tougher than the incumbent.
"We no longer have our big, bad villain on the ballot," Jacobs said last week at a forum of women candidates in Irvine.
For instance, Republican Diane Harkey, Issa's handpicked successor, openly expresses reservations about Trump and the new tax plan, which poses particular problems for Californians.
"I think that some of the policies coming out are great," she told BuzzFeed News of Trump. "Some of the mannerisms? Probably not my favorite. But, you know, it's a mixed bag."
And without a big bad, some Democrats are still grappling with the question of just who they're running against.
"We were running against Royce, and I don't really know if it's been figured out yet, as to like who... I mean you had this person, right. It was your, this is who you're running against. And I think everybody's still trying to figure out, OK, who is the thing that we're running against?" said Gil Cisneros, a Democratic candidate who set out to challenge Royce and watched the ground shift under his feet earlier this month when Royce decided to retire. A former lottery winner and Navy veteran, Cisneros is backed by a number of members of the Congressional Hispanic Caucus.
"I know most of us who've been campaigning focused so much on Ed Royce's voting record, that we really didn't look at more what the needs and the issues are in the district," Mai Khanh Tran, a pediatrician who decided to challenge Royce after the Republican health care debacle, told BuzzFeed News after the women candidates forum. She has the endorsement of EMILY'S List. "And so, in a way, I think it's exciting. So now that we don't have him in the race, we really can focus on the issues that are really important to the district."
The uncertainty is "uncharted territory" for Orange County Democrats who have been in the wilderness for years, said Sdao.
"Nobody ever paid attention to Orange County before," she added.
Now, she said, everybody does.
"We just have to harness the enthusiasm."
CORRECTION
Sara Jacobs entered the race to replace Darrell Issa in November. An earlier version of this story misstated when she began her campaign.