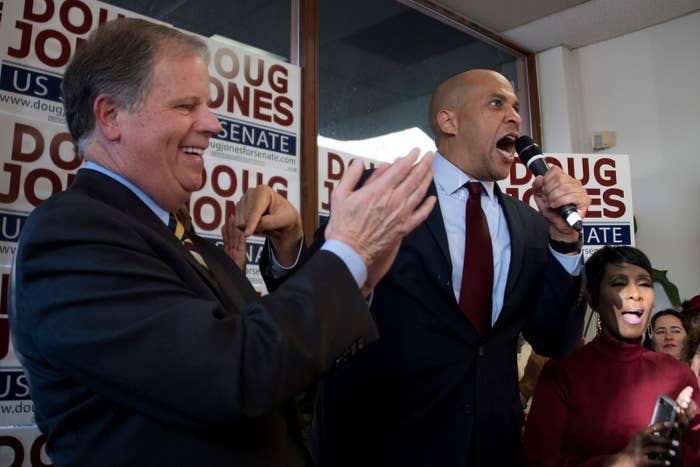 "The eyes of the world are on the state of Alabama," Rev. Arthur Price proclaimed from the pulpit at 16th Street Baptist Church Sunday morning.
Price didn't say anything about who to vote for in Tuesday's special Senate election (only that everybody should get to the polls), but there wasn't a lot of mystery for the largely African-American crowd, many sporting stickers announcing their support of Doug Jones, the Democrat in the race.
Jones faces Republican Roy Moore, who, twice removed from the state's bench as chief justice, was already a controversial figure before this campaign. But Moore's notoriety has only increased in the past month, as several women have accused him of pursuing sexual relationships with them when they were teenagers and he was in his thirties. One woman has alleged sexual assault; another says Moore attempted sexual intimacy with her when she was just 14.
As the political world descends on the state in the last two days of a Senate race that has roiled the Republican Party, Democrats have a message for voters: Don't embarrass Alabama.
Jones' allies from in state and out are arguing in the campaign's final days that this race is not a partisan question, but rather a fight for the soul and reputation of the state. Moore's record — his removal from the bench and questions about the use of funds from his charitable foundation, along with the accusations of the past month — Jones and his supporters argue, would make him "a disaster" for Alabama.
"We deserve to have a senator whose character and integrity and veracity is not questioned on day one," Rep. Terri Sewell, Alabama's lone Democrat in Congress, told a crowd at Alabama State University in Montgomery Saturday afternoon.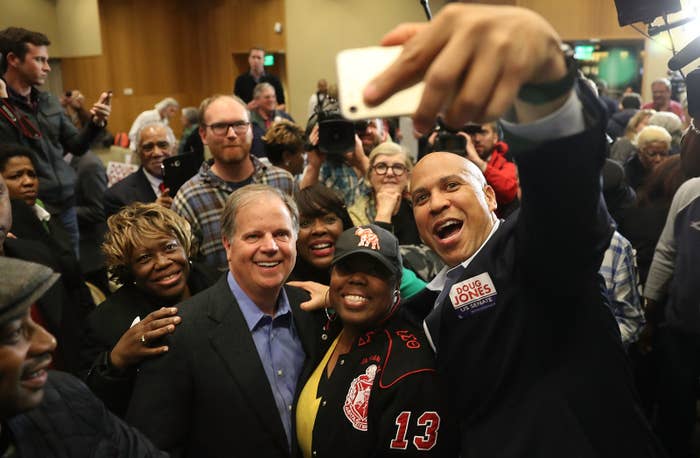 There's more at stake for national Democrats, though, than just concerns about Alabama's image: The party is hoping to seize on this opportunity to capture a Senate seat in the Deep South, shrinking President Donald Trump's majority in the upper chamber to just one. An influx of money to Jones has resulted in a steady barrage of Democratic radio and television ads supporting him, with only the occasional Moore ad peeking through.
And over the weekend, as snow threatened to dampen last-minute attempts to lift enthusiasm, Democratic star power crashed the state. New Jersey Sen. Cory Booker, former Massachusetts Gov. Deval Patrick, and Sewell stumped with Jones up and down the state to help turn out the black vote. Mathew Knowles, Beyoncé's father, made a surprise appearance at a prayer breakfast in Gadsden, where he grew up, to try to motivate turnout among the largely black crowd. Jason Isbell, a singer from Alabama, played a get-out-the-vote show for Jones in Huntsville; part of the band St. Paul and the Broken Bones did the same at a rally in Birmingham.
Each of the surrogates — from Alabama or not — urged voters to take pride in their state, and show a skeptical country that they can defeat Roy Moore.
"Don't let anybody talk about Alabama, talk down to Alabama," Booker told an audience in Birmingham Sunday afternoon. "And please, I'm from Jersey. I definitely don't want some people just singling out a few folks on the Jersey Shore TV show and thinking that's my entire state."
Knowles, after Saturday's prayer breakfast, told BuzzFeed News that "people already view Alabama as a rural area, people that are not smart. And I think, you know, if Moore's elected, it reinforces a belief that many have had about Alabamians."
"I just think the perception of the state is also at stake," he added. "We're not just voting for a person or voting for a party, we're voting for the perception of Alabama."
Paul Janeway, the lead singer of St. Paul and the Broken Bones, told a raucous crowd Saturday night that he and his band members consider themselves as ambassadors of a sort for their home state. "This is one of those elections where it's like, please, let Doug Jones win. 'Cause God knows I don't want to take any questions about Roy Moore," he said.
"I can't hardly conceive of any white people in their right minds voting for the Republican. There's no basis for it. You can't — you've got to put dignity, you've got to put your state ahead of all the rest of this stuff," Joe Reed, the head of the Alabama Democratic Conference, the African-American caucus within the state Democratic Party, told BuzzFeed News after the prayer breakfast in Gadsden.
The argument that the state's Republican candidate is not worthy of its Senate seat transcends normal political lines. Even as Trump is promoting Moore in a robocall, Sen. Richard Shelby, the Republican who would serve with Moore should he win, said on TV Sunday that the Republican is beneath the GOP.
"I didn't vote for Roy Moore. I wouldn't vote for Roy Moore. I think the Republican Party can do better," he told CNN's Jake Tapper.
Turning to outside political help to achieve that this past weekend is a shift for Jones' campaign. Jones previously left some distance between himself and the national Democratic Party to allow him to court some Republican voters disenchanted with Moore. In a race that has been largely devoid of policy debates, he has significantly declined to say if he would back Sen. Chuck Schumer to stay on as the Senate's Democratic leader. The last time Jones appeared with a high-profile national Democrat before this weekend was when former vice president Joe Biden came to town shortly after Moore secured the Republican nomination.
Jones, however, is still running uphill. In the presidential election, Trump very nearly doubled Hillary Clinton's vote total in the state. Most recent polls give Moore a slight lead. As much as anything, Jones needs to make sure his voters don't stay home.
And with time running out, the Jones campaign seems happy to take help from Democrats, particularly those who can help get out an important constituency: black voters.
Patrick, who has done few political events in the last year, gave a direct, dire message to a Birmingham crowd Saturday night: "It is not up to Doug. It's up to you. Because you know what? In a democracy, you get the government that you deserve."
"What's at stake is our very livelihoods. I mean we need to go and vote like our life depends on it. Because it does. It absolutely does," Sewell said to a crowd that flooded out of Jones' jam-packed Birmingham office and onto the sidewalk Sunday afternoon.
For those listening on the speaker outside, her words had competition: a man driving a van around the block with speakers on the top blaring the message "Vote Tuesday. Vote Doug Jones."
"This campaign, ladies and gentlemen, is on the right side of history," said Jones, speaking after Sewell.
In the company of potential presidential candidates, Jones often seems more like he's along for the ride than the principal. At an event in Montgomery, Saturday afternoon, Sewell introduced him, and then he introduced Booker, who delivered a speech that sounded as much a potential presidential stump speech as a touting of Jones' candidacy. Booker was the main attraction, not Jones.
"I'm just a spokesman for this incredible adventure Louise and I are on," Jones said in Birmingham later that night, referring to his wife. "I'm just a mouthpiece out there; the pretty face on TV."
"Good set, Doug," Janeway cracked, as Jones exited the stage and St. Paul and the Broken Bones came back to play more songs.
Outside Brown Chapel AME in Selma on Saturday, facing a crowd of shivering reporters, Jones stepped up to take his turn at the microphones after Sewell and Patrick — and promptly toppled all the microphones to the ground.
"No one has never accused me of not being clumsy on occasion," Jones said, after the laughter had quieted and the microphones had been returned to their place.
Clumsy, though, Democrats are good with. Clumsy, at least, isn't Roy Moore.
"You know he'll be an embarrassment," Reed told BuzzFeed News of Moore. "You wouldn't want him either."