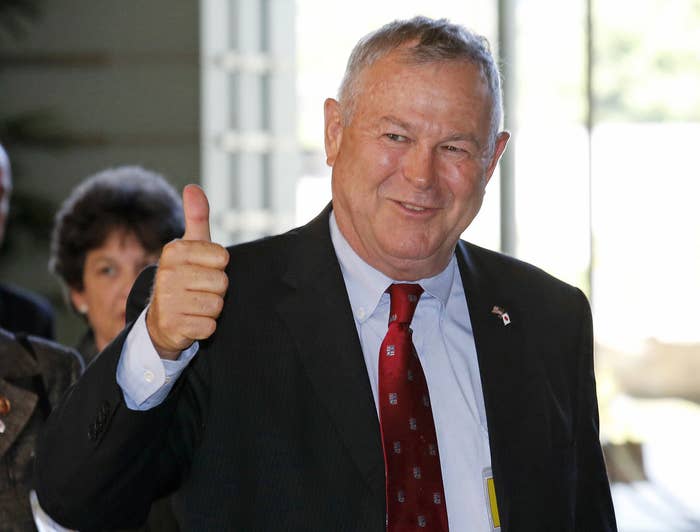 Dana Rohrabacher has been called "Putin's favorite congressman." The FBI once warned him that Russian spies were trying to recruit him. He met with a lawyer connected to the Russian government in Moscow in 2016, just months before the same lawyer famously met with Donald Trump Jr. at Trump Tower. Last year, he attempted to act as an emissary from WikiLeaks founder Julian Assange to President Donald Trump. He is mentioned frequently in connection with Robert Mueller's investigation into possible collusion between the Trump campaign and the Russians.
In Washington, DC, the Russia investigation is the story of the year. In Rohrabacher's Orange County district? Not so much.
"No one gives a rip about Russia," said GOP pollster Justin Wallin of the voters in Rohrabacher's district, of which he is one.
But Rohrabacher's opponents hope it could still be part of a winning argument: that Rohrabacher has spent 30 years in Congress focused on pet issues like Russia, instead of trying to help his district.
"No one gives a rip about Russia."
Rohrabacher's bid for reelection is one of the most hotly contested races in the country. Hillary Clinton won his district in 2016, along with a handful of other Republican-represented districts in the area. It has become almost a cliché at this point: The Democratic path to a House majority runs through districts like Orange County.
But Rohrabacher's involvement in the Russia investigation has made him a special case. His opponents send press releases reacting to new twists in Mueller's investigation, tying those developments to Rohrabacher. "It's clear that Rep. Rohrabacher thinks the district boundaries of the 48th extend to the Kremlin," said Hans Keirstead, one of Rohrabacher's Democratic challengers, in a November press release about Rohrabacher's meeting with former national security adviser Mike Flynn becoming part of the probe. "It's time for a leader that represents us, not Russia," says Harley Rouda, another Democratic challenger, in a January digital ad.
For Paul Martin, a Republican candidate in the race, Russia animates his entire campaign. He sees it as a "moral duty," even a "spiritual duty," to "inform voters that we have a congressman here who is lobbying for a government that is currently, according to every intelligence agency, trying to weaken the nation," he told BuzzFeed News in a phone interview.
Rohrabacher is unconcerned. "It's as phony an issue as it was against Trump," he told BuzzFeed News in an interview outside the House chamber. "Everybody knows that."
"The trouble with the Democrats is that they are talking to each other and they are reading, they're reading the analysis from somebody else who is a Democrat as well, and they're just talking to each other —same thing that happened when Trump came along and surprised all of them. I think in my race, they're gonna be really shocked when they find out that they don't really represent anybody, and that stupid things like making claims about conspiracies with Moscow doesn't go anywhere," he added.
People watching the race mostly agree that the Russia issue probably isn't foremost on the minds of Huntington Beach voters. Rather, they say, it is symptomatic of broader issues voters might have with their congressman.
"If you ask anywhere out in these districts, people don't have Russia as a top of mind issue," said GOP consultant Rob Stutzman. "But it just becomes another thing that adds to this definition of their congressman being a bit off, or a click out there."
"It just becomes another thing that adds to this definition of their congressman being a bit off, or a click out there."
Rohrabacher's eccentricities have always been a part of the package. The Hill dubbed him "The Aging Surfer" in a 2007 profile, in which Rohrabacher's then-spokeswoman noted that she would occasionally get calls informing her that the congressman had just held a press conference while wearing a wetsuit. His campaign office sits on the second floor of Skosh Monahan's Irish Pub. His affinity for tequila is well-documented — he once told the Hill that the margaritas he served at his annual tequila and chili party were strong enough that they "permanently killed the grass" at a colleague's house when spilled. In the 1980s, he authored a screenplay called The French Doctoresse, which the LA Times described as a "World War II melodrama." He continues to be one of Congress's foremost advocates for the marijuana industry.
The case for ousting Rohrabacher, as it is being made by the handful of Democrats and Republicans who have crowded into the race to challenge him, is that these eccentricities, like his vocal affinity for Russia, aren't just fun character quirks — they're distractions.
"The people in the district aren't waking up in the morning going, 'How can we tackle legalized marijuana and better relationships with Russia?' But those are Dana's priorities," said Matthew Cunningham, a spokesman for Scott Baugh, Rohrabacher's most serious Republican challenger.
Rouda told BuzzFeed News "the [Russia] question comes up a lot" on the campaign trail, but he too frames it as a broader issue. "How is Rohrabacher's constant push for better relationships with Russia and Putin helping you?" he said he tells voters.
"At best, it's stupidity, his love affair with Russia; and at worst, it's nefarious," Rouda added. "But it's doing nothing to move us forward."
Democratic Congressional Campaign Committee spokesman Drew Godinich told BuzzFeed News that Rohrabacher's ties to Russia are "alarming," but he quickly pivoted away from it. Democrats, he said, view Russia as "but one issue where Dana Rohrabacher has been out of touch with the needs of Southern Californians."
Rohrabacher scoffs at the idea that he's out of touch with his constituents. "I've been around for 30 years. No matter how negative they get, people know me," he said.
"There's a saying in politics that the fastest-drying liquid known to mankind are human tears of gratitude," Rohrabacher said. "But I have been very gratified at the people who are coming up to me, who are outraged that they're saying that there's negative campaigning being waged against me. So that's gratifying to know people like you and care about you."
Baugh argued Rohrabacher has proven ineffective, pointing to several amendments he proposed last month to alleviate airport noise, a common complaint among Huntington Beach residents. The proposed amendments to the Federal Aviation Administration's reauthorization bill fell in a vote, 37 to 375.
"He claims that his seniority gives him clout," Baugh told BuzzFeed News. "Well, the bill got slaughtered … That doesn't look like clout to me." One of the ads a Republican super PAC is running against Rohrabacher takes him to task for his seniority, pointing to a 1992 quote in which he said he supported term limits as he makes his bid for his 16th term.
Rohrabacher said the quote is being taken out of context; that he's for term limits, but only if they apply to everyone. If you impose term limits on yourself, he said, "you're screwing your constituents."
"One term is enough for somebody that's got bad ideas. Thirty years means experience and seniority and knowing how the system works for a guy who's got good ideas," he said. "And it's not a matter of term limits, and it's not a matter of how long you've been here. It's what ideas, what you believe in, and who your loyalty is. My loyalty is to the United States and to my constituents."
As for his clout, he said with a laugh, only people "interested in self-credit" care how many bills their name is on.
"I've cosponsored bills and thus had an impact on bills, but I've also been very involved in stopping bad bills," he said.
The question is who, ultimately, will get to make the case against Rohrabacher to voters. California's open primary system means that Rohrabacher, and all of the Republicans and Democrats challenging him, will compete in a big pool on June 5. The top two vote-getters, regardless of party affiliation, will advance to November's general election.
Baugh, a former state assemblyman, changed the shape of the race when he entered at the last possible moment. With two well-known, well-funded Republicans in the field, it became possible in this historically Republican district that voters might choose the two Republicans to advance, blocking Democrats out of the general election.
"There is a real danger that Democrats could get locked out of one the top pick-up opportunities in 2018," said Kyle Quinn-Quesada, Keirstead's campaign manager.
The DCCC moved to try to quell that danger Friday morning, announcing a de facto endorsement of Rouda, in the hopes of consolidating Democrats behind one candidate and ensuring that there is a Democrat in the runoff. Consolidating the party isn't an entirely straightforward proposition: The California Democratic Party endorsed Keirstead in February. On Thursday, the DCCC updated the research file on Baugh that is posted on its website — a helpful notice to independent expenditure groups that might decide they want to spend against Baugh and try to depress his share of the vote.
On the Republican side, Rohrabacher has the endorsements of the local and national Republican party apparatuses. But Republicans see an opening for Baugh running against a congressman who has not necessarily endeared himself to some of his colleagues in Washington.
"Rohrabacher is not seen as a team player by leadership," says a GOP consultant.
House Majority Leader Kevin McCarthy was recorded in a private 2016 GOP meeting positing — in what his spokesperson later called "a failed attempt at humor" — that "Putin pays" Rohrabacher and Trump. The Foreign Affairs Committee chair pushed out Rohrabacher's top aide on the committee in November over concerns about reported ties to Russian lobbyists. His fundraising, until this cycle, has been lackluster, despite the fact that he represents a wealthy Republican district. "Rohrabacher is not seen as a team player by leadership," said Stutzman, adding: "He doesn't raise enough money to contribute to the cause."
Doug Heye, who sat in on House GOP meetings as communications director for former majority leader Eric Cantor, recalled that Rohrabacher would take advantage of the "open mic" time at those meetings, when any member could get up and speak on any topic.
"Whatever the issue of the week is, Rohrabacher usually brings up a different topic," Heye recalled. "And it had gotten to the point where as soon as people saw him speaking, they'd pull out their phones, they'd roll their eyes, or they'd walk out."
And within the 48th District, Republicans said, there has been little retaliation against those who would buck status quo and go against Rohrabacher.
"I rebelled," state Sen. John Moorlach, who represents a part of the district, told BuzzFeed News in an interview of his decision to endorse Baugh. "Have I gotten really strong blowback? No. Which has kind of been surprising to me."
Baugh said he got little pushback himself: He got one call from a member of Congress whom he knows personally, and who is not a member of leadership, he told BuzzFeed News. But there were no calls from the National Republican Congressional Committee and no calls from leadership. Other than the one call, he said, "there was no effort to get me to stand down."
NRCC press secretary Jesse Hunt backed Rohrabacher in a statement to BuzzFeed News. The congressman, he said, "will be reelected once again because he's been a stalwart defender of the 48th District's interests."
There is a sense among some Republicans, though, that Rohrabacher might make a seat where they hold a 10% advantage in voter registration uniquely vulnerable, and that another Republican, who didn't have Rohrabacher's Russia-sized target on his or her back, might end that concern.
Rohrabacher acknowledges this campaign has been different from the past 15 or so.
"This is bare knuckles, and I haven't had to do that before, I've been in a relatively safe Republican seat," he told BuzzFeed News, citing in his opponents "a certain amount of arrogance in, 'oh, we're gonna smash him!' and all this other 'we're out to get you!' and all those things."
"Anyway," he said, "that's just politics, I guess."