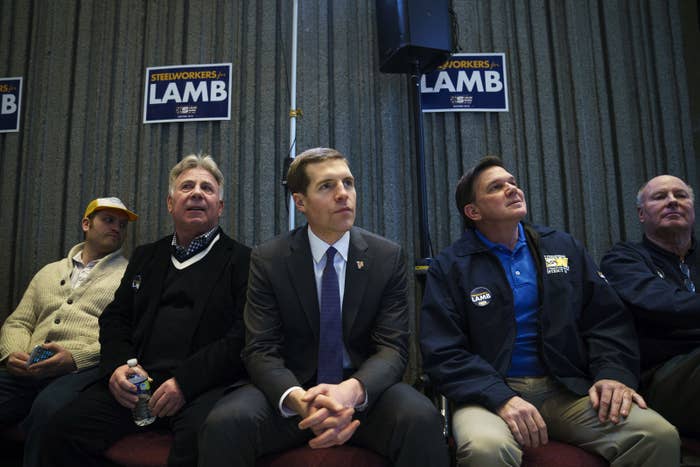 Donald Trump says he doesn't want to meet Conor Lamb, because the Democrat is saying all kinds of good things about what Trump is doing.
"I might like him," the president told a crowd in Moon, Pennsylvania, at a Saturday night rally for Rick Saccone, Lamb's Republican opponent in Tuesday's special House election. "And then Rick is going to be very angry with me."
In this union-heavy, blue-collar district just outside of Pittsburgh where Trump won by 19 points, Lamb is running as a Republican's Democrat. And some in his party hope his campaign will prove a blueprint for how Democrats can win back the working-class voters who deserted them in 2016.
Lamb opposes any kind of assault weapon ban, a stance he reiterated in the aftermath of last month's Parkland school shooting. In one of his campaign ads, he aims an AR-15. He says he is personally anti–abortion rights, though he would oppose 20-week abortion ban legislation. He supports Trump's tariffs. He will not back Nancy Pelosi for House Democratic leader.
And on Tuesday, Lamb, a former Marine and federal prosecutor, might become the first Democrat to win this district in 15 years. Public polling shows the race as a toss-up; many closely watching the race — including some Republicans — give Lamb the edge.
"I think you're really starting to see how that can be a message that keeps us very competitive in some red seats," said Rep. Tim Ryan, pointing to Lamb's focus on "bread-and-butter economic issues" as opposed to the usual political flashpoints. Ryan, an Ohio Democrat who unsuccessfully challenged Pelosi as leader, has spent the aftermath of 2016 on a soapbox talking about what Democrats need to do to win back the white, working-class voters that make up a large portion of this district. He campaigned with Lamb Thursday.
"I think you're really starting to see how that can be a message that keeps us very competitive in some red seats," said a House Democrat.
In the fight for control of the House of Representatives, Tuesday's special election is meaningless. The winner of the $12 million contest will serve for just nine months. A recent court ruling on Pennsylvania redistricting, which for the moment remains in legal limbo, dissolved the district, splitting it into two newly configured districts. When a new Congress convenes in 2019, the district will likely no longer exist.
Democrats need to net 24 seats in November to gain control of the House. The most obvious targets are the 23 districts that voted for Republican representatives and Hillary Clinton in 2016. But few people on either side of the aisle expect Democrats to sweep all of those, and even if they did, they'd still be a seat short. Democrats have focused, in large part, on suburban districts where Trump won only narrowly. If Lamb wins in a Republican-heavy district, it would suggest they might have more routes to 24 than they previously thought.
Some Democrats credit Lamb for deftly navigating what has been a potent attack against other Democrats: attacks tying him to Pelosi, who is unpopular in this district. In the last multimillion-dollar House special election, Republicans used Pelosi to help sink Democrat Jon Ossoff in Georgia. Some Democrats running this year have declined to engage on the question of Pelosi's leadership in much more Democrat-friendly districts than this one, deeming it a question they can't possibly answer before they're elected or without seeing the other options.
When Lamb came out in early January and said he would not back Pelosi, the Pittsburgh Post-Gazette noted that "such questions may seem premature." But Democrats suspect it has helped Lamb rebuff Republican efforts to paint him — as they did Ossoff — as nothing more than a vessel for Democratic interests.
"What he was really doing was trying to send a message to moderate voters that he's a different kind of Democrat," said Mike DeVanney, a Pittsburgh-based Republican consultant who worked for former Rep. Tim Murphy, the Republican who held the seat until resigning in October.
"That's really what this race has been litigated on: Is Conor Lamb a moderate who will work across the aisle? Or is he a closet liberal?" DeVanney told BuzzFeed News.
Of course, it hasn't done anything to deter Republicans from linking him to Pelosi.
"Nancy Pelosi — you can't have that," Trump said at Saturday's rally. "Lamb the sham," Trump dubbed him. "He's trying to act like a Republican [but] he won't give me one vote."
As of a week before the election, two different Republican groups were on the air with ads tying Lamb to Pelosi.
"I think the question voters are going to determine is how effective is that argument," said DeVanney.
"The idea that you can run against the House Democratic leader when Republicans are in charge of the White House, the Senate, and the House, is an impossible task," Drew Hammill, Pelosi's deputy chief of staff, told BuzzFeed News. "And it shows just how desperate they are."
Ryan and Rep. Seth Moulton, who has also called for a new House Democratic leader, credit Lamb for answering a Democrat-specific hit with a rejection of politics as usual, a message that can resonate on both sides.
"I think most people look at Washington as being broken, and I think him coming out and saying that he wants to move in another direction is kind of reflective of where a lot of people in the country are, with both our leadership and Paul Ryan's leadership," said Ryan.
"If we're going to change Washington, then we can't just bash Republicans. We need to look at ourselves in the mirror," Moulton, a Massachusetts Democrat, told BuzzFeed News.
Tim Waters, director of the political program for United Steelworkers, said Democrats have recently failed at messaging in these types of areas.
"It's a consultant-driven message of really ignoring working-class voters and focusing on other constituencies, to the point where the party had the same message in Phoenix as they had in Pittsburgh. They weren't understanding the district," Waters told BuzzFeed News. "And it was a losing message."
"I hope after 2016 that they learned that lesson — because it was a very expensive lesson to learn," he added.
The United Steelworkers, along with the several of the major unions in the area, are enthusiastically backing Lamb; they're knocking doors, and on Friday held what turned out to be a 300-person rally for him.
If Lamb pulls it off on Tuesday ­— an uncertain prospect, despite Democratic optimism ­— some Republicans say it may prove a moment for Republicans to "recalibrate" their own 2018 message, as DeVanney put it.
"My instinct is this is a real acid test on the durability of the Trump coalition."
"My instinct is this is a real acid test on the durability of the Trump coalition, and also the ability of Republicans to reach out to and hold working-class voters," said former GOP Rep. Phil English, who represented Erie, Pennsylvania — a little more than 100 miles north.
"I think in the end if Saccone doesn't win, the National Republican Congressional Committee is going to have to reexamine its playbook," he said.
National Republicans, preempting a potential loss, have trashed Saccone, a state legislator and Air Force vet, to reporters in the race's final weeks. They say he was a bad candidate, and even the millions of dollars they put in couldn't save him. Democrats, meanwhile, are excitedly watching a race where their candidate should never have had a shot in a normal moment.
The Democratic National Committee meeting in Washington, DC, this week was buzzing over the election, said Nancy Patton Mills, chair of the Democratic Party in Allegheny County, the part of the district with the most Democratic votes.
"This could be the bellwether," she said. "It could be the beginning of a blue wave."
"I think giving candidates some freedom to be who they need to be to win these races, you know, this race shows that Democrats can win if the candidate fits the district, even some of the tougher districts in the country," said Mike Mikus, a Pittsburgh-based Democratic consultant.
"I think if Conor Lamb is able to win, this will expand the map with showing that just because Hillary Clinton didn't win a district doesn't mean it should be written off, if you have a strong candidate and a strong message," Mikus added.
The question is whether the Lamb model, if it is successful, will prove replicable.
As a special election, more money and interest have followed this contest than a normal House race on the ballot in November. Lamb has benefited financially from the outsized enthusiasm on the left, while Saccone has struggled to raise money, much to the chagrin of national Republicans.
"It's the perfect storm," said Bracken Burns, a former Washington County commissioner and a Democrat.
The fact that it was a special election also meant that Lamb didn't have to run in a primary — he was chosen to be the nominee at a convention — sparing him from competing against other Democrats in a year when "moderate" has become a dirty word in some parts of the Democratic Party. If the new congressional map for the state goes into effect in its current form, Lamb could test the limits of the theory. If he wins, he would likely find himself in a district that looks more like a swing district, and might well face other Democrats in a May primary.
As Trump said Saturday, "It's a crazy time out there."