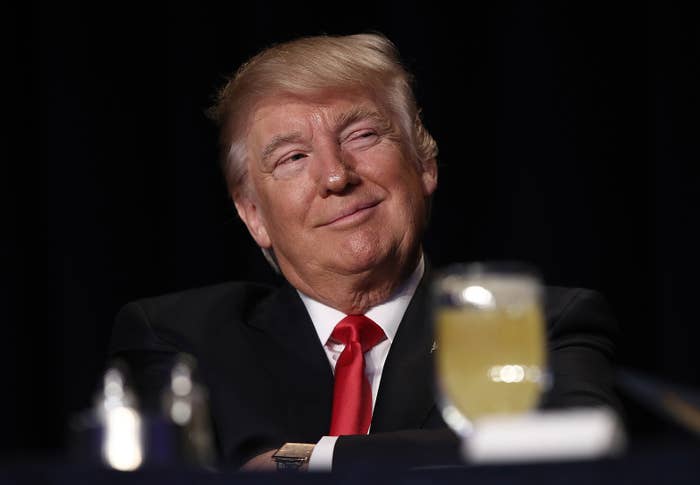 WASHINGTON — If you're working to keep up with what's happening every day, you are not alone.

"At midnight I'm checking all the stories, and I'm doing the same at 6 a.m. so I can make sure I'm up to speed with what may or may not happen," said North Carolina Rep. Mark Meadows.
Welcome to the new normal in Washington, D.C., where in less than two weeks, Trump signed a sweeping executive order that barred refugees; implementation difficulties and protests ensued; he fired the acting attorney general, after she refused to defend it; the White House press secretary said the president believed voter fraud cost him the popular vote; the president announced his intention to investigate said voter fraud; the White House, president, much of the press, spent days talking about inauguration crowd size; and about 16 other things.
So it is, with a mix of "excitement and nervousness," as one House GOP staffer put it, the Republican conference greets the deluge.
Hill Republicans have been walking around elated at the opportunity this election afforded them: In control of both houses of Congress and the presidency, they look certain to be able to pass the agenda they have only been able to talk about for the past eight years. But the only certainty of the first 13 days of Donald Trump's presidency has been the utter lack of certainty.
"What a mess," griped a second House Republican staffer earlier this week, as the dust continued to settle in the wake of the rocky roll out of the travel ban — replete with protests, outside members' D.C. offices, and in their home districts. Republicans on the Hill are just trying to keep up.
The immigration order, in particular, caught a number of members flat-footed. Republicans were slow to release statements, with few saying anything publicly before Sunday. "Predictably, every Republican in Congress was immediately asked about it, and they didn't have basic information to understand the policy let alone go advocate for it," said Alex Conant, a Republican consultant and the former communications director for Florida Sen. Marco Rubio. "So it's hard to be a surrogate without talking points. It's hard to have a well thought out position without knowing basic facts."
Trump's policy-making as president is coming as fast and furious as his tweets. Policy prescriptions are far less easy to ignore than a tweet, and that has left Hill Republicans trying to figure out how to respond appropriately.
"We by no means want to start by commenting on everything he does," said a third House GOP staffer, of how they were dealing with this. Republicans, he said, "don't know whether one day he's going to be the savior of the Republican Party and the next day bring the Dark Ages back."
There are continued efforts at normalcy. At a press conference Tuesday, the top House Republicans spoke calmly and seriously about repealing Obamacare and passing the Congressional Review Act. It was as though there was nothing else happening — until the speeches ended and the questions from reporters began.
Ohio Republican Rep. Steve Stivers, who chairs the House Republican campaign arm, brushed off the turbulence. "I've been in the military 32 years, and there's always distractions; you just need to focus on your mission," he told BuzzFeed News.
The upside, say some Republicans, is that with the attention focused elsewhere, they can focus on the unglamorous work like writing bills. That is especially true for House Republicans, who have some time on their hands as they wait for the Senate to work its way through cabinet confirmations and, now, a Supreme Court nomination fight, before they can focus their attention on things like Obamacare repeal and tax policy.
"I actually think that the leaders in both houses are doing a very good job focusing on moving important big ticket items, not chasing the story of the day but putting one foot in front of the other to make it progress," said Michael Steel, who served as press secretary for former House Speaker John Boehner.
The question is just how long this tumult will last. Does it wind down as the new administration gets its sea legs? Or is this simply how Trump does things?
"We are not bracing for [this to be] how it is," said the third House GOP staffer. The first House GOP staffer took a different view. This, he said, is the "new normal, and it's only going to get crazier once Congress gets into deep legislative mode. Buckle up."
South Carolina Rep. Mark Sanford, who was on the other side of this equation when he was governor, said he did not believe this was "a sustainable normal."
"I think that there's a value and a necessity with regards to predictability. It allows forces to align for you and against you, and, therefore, the normal give and take of politics to work. If you don't have that, then there's chaos because people don't have a sense of what's coming next. If they don't, they get anxious," he told BuzzFeed News.
One House GOP aide pointed out that things have rarely been so subdued on that side of the Capitol, which has drawn attention for all manner of Republican infighting and unanticipated drama over the past several years. Now, compared to the White House, the House looks almost sedate.
"When," asked the aide, "was the last time House Republicans weren't the biggest shit show in town?"
Sarah Mimms contributed to this report.