If Roy Moore overcomes multiple allegations of improper sexual relationships with teenagers, including one allegation of assault, to become a United States senator, many Alabama Republicans believe one issue may largely be the cause: abortion.
Moore and his supporters have heavily emphasized abortion in the weeks since the allegations against the Republican came out, implicitly daring religious and socially conservative voters to sit out the race and allow a Democrat who supports abortion rights to take a deep South Senate seat.
It's rare for a candidate to devote quite so much time to the topic of abortion in a competitive general election. It's a topic usually relegated to Republican primaries, and even then only on the rare occasion that there is some discernible difference between the slate of generally pro-life candidates.
But this is Alabama. And in a state that went 62 percent for Donald Trump in a general election and hasn't seen a competitive general election in a Senate race in years, many Republicans see a discussion about the candidates' different positions on abortion as part of a strong closing argument for Moore.
Whatever the allegations against him, they say, this is a topic that puts him on what many Alabama Republicans see as the right side of a non-negotiable issue, something that could help keep some Republicans made queasy by the allegations from staying home or jumping to Moore's opponent, Doug Jones.
"It's huge," said Alabama GOP consultant Blake Harris. "If Jones is pro-life," he hypothesized, "it's a totally different scenario right now."
"If Jones is pro-life, it's a totally different scenario right now."
Trump, who faced a similar situation with the release of the Access Hollywood tape in the month before his election, was able to leverage a similar dynamic to the one Moore is attempting. The comments Trump made on that tape, along with his personal history, made some conservative voters uncomfortable. But, his supporters argued, it was still vitally important that conservatives vote for him in order to make sure conservative, anti-abortion rights justices make it to the Supreme Court.
Jones' comments during a September appearance on Meet the Press have been at the center of Moore's attacks. Host Chuck Todd asked him if Jones would back a 20-week abortion ban, and Jones said he would not. "I'm not in favor of anything that is going to infringe on a woman's right and her freedom to choose," he said.
One Republican operative who has worked in Alabama described supporting abortion rights as the one position that was simply not tenable in Alabama, suggesting that you could have more liberal positions on just about any other issue — "I think you could be in favor of raising taxes" — just not that one. The operative deemed it "a fatal flaw" for Jones.
"I think that really handicaps his ability to either flip potential supporters or get them to stay at home," the operative said. "I think that's a powerful issue and ultimately think that's one of the reasons Moore is going to win."
Republicans have seized on the Meet The Press interview, saying Jones had taken "a radical position on the issue," in the words of Moore senior advisor Brett Doster. Kayla Moore, Roy Moore's wife, coined an entirely new term, "full-term abortion," to attack Jones with at a rally before Thanksgiving.
Jones has said his comments to Todd are being wildly misinterpreted. "The law for decades has been that late term procedures are only acceptable when there's medical necessity. And that's what I support," he told reporters in Troy earlier this month. "Clearly that's what I support."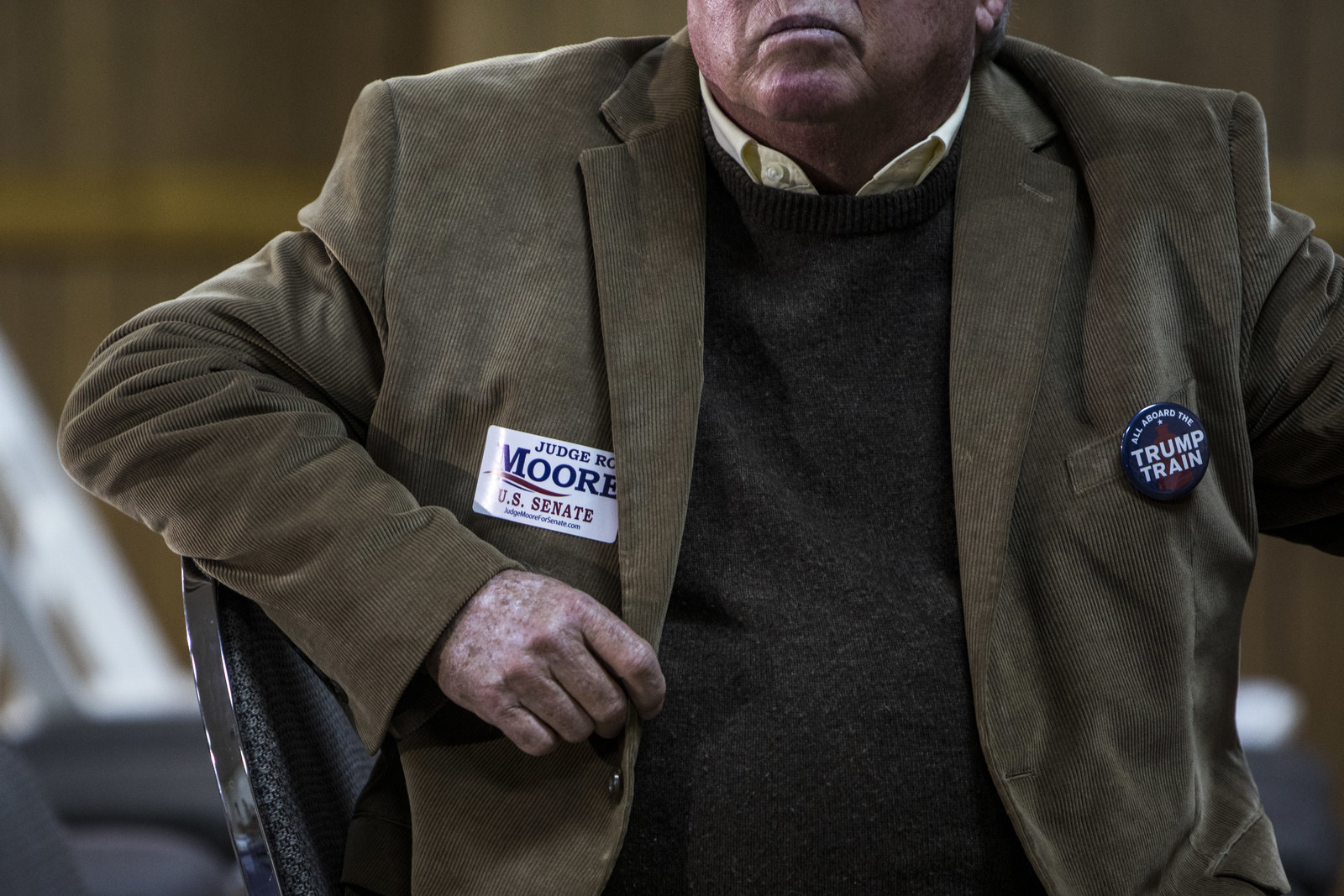 When a woman is considering an abortion, he said, "I believe the decision she makes should be hers, and she can make alone in consultation with her family, her physician, her faith. And that's what I think. I think she should have that. I do not believe that I should be making the decision for her. I doggone don't believe that Roy Moore should be making that decision for her."
But Jones' phrasing in the interview has been hard to erase from the public memory.
"I have never seen a Democratic candidate [in Alabama] before take the position that Jones appeared to take with Chuck Todd," said former Alabama Democratic Rep. Artur Davis (Davis became a Republican for several years but has since returned to the Democratic Party). Davis acknowledged "ambiguity" as to whether that phrasing was reflective of Jones' true position on the subject, but said it had become a problematic narrative regardless.
"I think that this position certainly put a ceiling on Doug Jones at a time when there was beginning to be increased focus on him and he needed to be able to answer questions why he was different from national Democrats," Davis told BuzzFeed News.
The issue, Alabama Republicans say, is at once pragmatic and emotional.
The crowning accomplishment of the Republican Congress during the Trump presidency is putting a conservative justice, Neil Gorsuch, on the Supreme Court. And for many Alabama Republicans, strategists say, sending someone who will vote for future conservative, anti-abortion justices is a crucial factor in deciding how to vote in this Senate race.
But there's also a visceral personal component for some.
"People really in the south and Alabama really want their elected officials to care about that issue," said Harris. "And then they also really want United States Senators who are going to confirm pro-life judges." The two things, he said, "go hand in hand."
"If Roy Moore wins, that will be why," one Alabama GOP operative said of abortion. "Because enough people are concerned about keeping a solid vote for a conservative justice."
Abortion "continues to be a theme, a primary justification."
Chism Strategies, a Georgia-based progressive Democratic consulting firm not otherwise involved in the Senate race, did an automated survey of 1,500 white female Alabama voters on Nov. 21, and found that among undecided women and Moore supporters, abortion was a fairly frequent explanation for their position. The firm did not post the poll results, but rather looked at the responses of the women about how they're thinking about their vote.
Abortion, the firm's president Brad Chism told BuzzFeed News, "continues to be a theme, a primary justification." He said he also took note of the fact that abortion was an issue in multiple age groups, noting that in other states it is often less of a driving issue for younger voters.
Moore brings up abortion in most of his stump speeches. On Monday, he declared Roe v. Wade, which established a right to an abortion, unconstitutional and said he would vote not to fund Planned Parenthood.
But it was just one prong in his attack on Jones. Moore also devoted a significant amount of time to talking about transgender rights, especially relative to the military. "I oppose transgender rights. There's no right to believe you're a person of the opposite sex," he said, saying he opposed allowing transgender people to serve in the military.
Doster, speaking with BuzzFeed News, described Jones' abortion position as, "kind of a marker of how liberal and out of touch Doug Jones is." And indeed, in his campaign speeches, Moore makes an effort to cast Jones as alien to the culture of Alabama and perhaps actively fighting against it.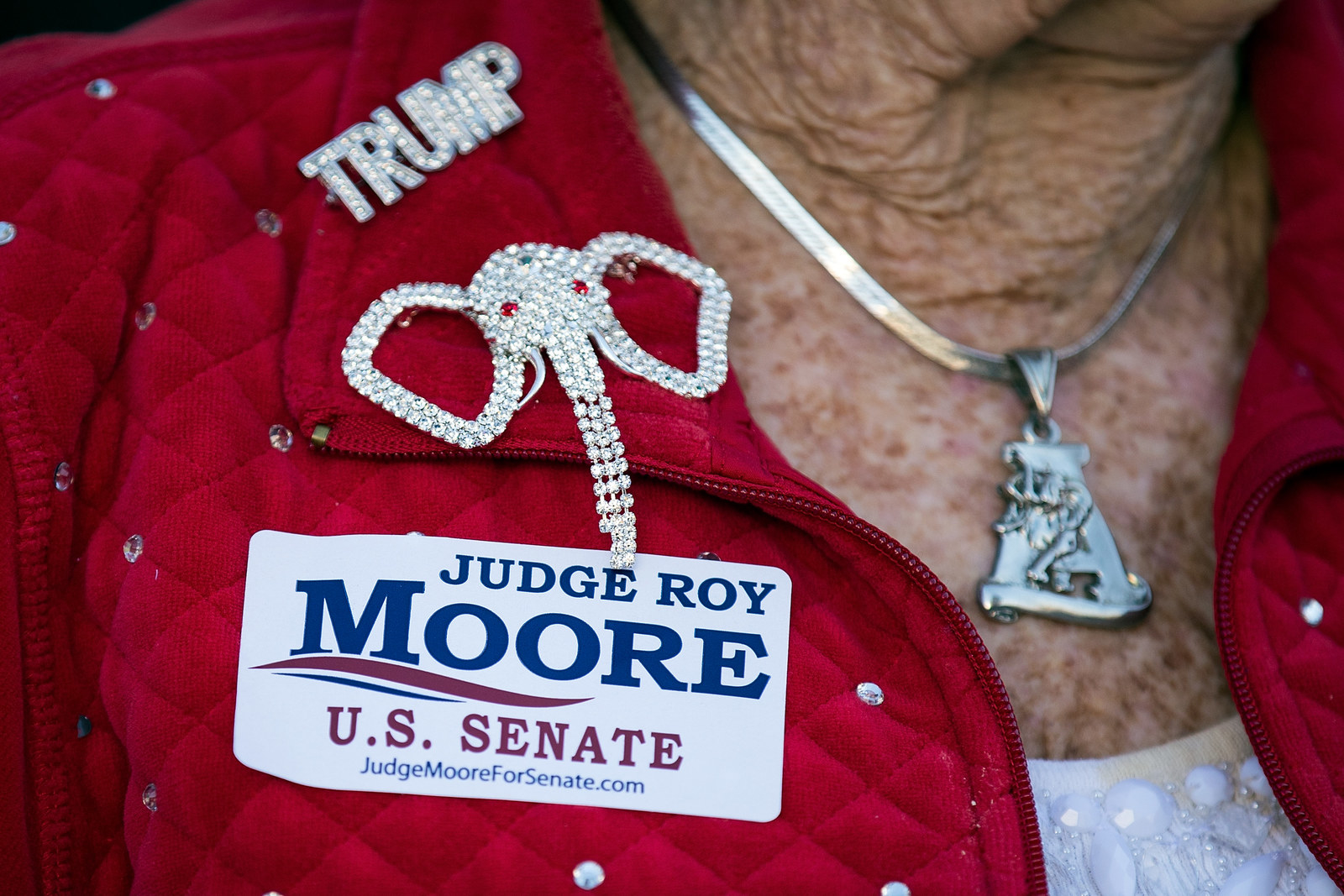 Moore and his campaign point to an interview Jones gave to The Economist, when he was asked how he would "reassure" Moore supporters that he would not "take away their religious freedom and their guns, their culture."Jones, in part, told the magazine he would not "protect discrimination of any sort, in any way, whether it's race, religion, sex orientation or whatever. So I'm not going to protect that culture if that's what their culture is. What I'm hoping to see is that if they are truly religious and they are truly Christian in the same way that I am, that my faith is, well, we take care of everybody."
"Let me put a little translation on that," Moore told voters in Henagar Monday, after reading Jones' answer. "If your Christian culture — and I think we have a few Christians in here — if your Christian culture does not accept abortion, same sex marriage, sodomy, transgender rights in school bathrooms and in the military, then you are discriminatory and will not be protected. Nor will your right to keep and bear arms be preserved."
The most recent ads Moore's campaign has put out have touched on abortion only tangentially, with mention that he will support "conservative Supreme Court judges." The ads have more explicitly dwelled on border security, the Second Amendment, tax cuts, and "rebuilding the military."
"Alabama is as pro-Trump as a state can get, and the argument they're making is any Republican is better than any Democrat if you want Trump's agenda to go through," Alabama state Sen. Dick Brewaker told BuzzFeed News. "And most Republicans have found that compelling."
"The argument they're making is any Republican is better than any Democrat if you want Trump's agenda to go through."
Brewbaker himself said he will not vote for Moore, having been distressed by what he saw as an insufficiently emphatic denial on Moore's part following the allegations. "What I'm going to do is follow Sen. Shelby's lead and write somebody in," he told BuzzFeed News.
"I think abortion is a part of it," echoed Jack Campbell, an Alabama GOP consultant who plans to vote for write-in candidate Lee Busby. "But I think the major rub is that everybody knows that Doug Jones is going to go up there and vote with Chuck Schumer and Nancy Pelosi."
But Democrats are skeptical that abortion is anything close to the silver bullet that so many Republicans have made it out to be.
"I think Roy Moore's just trying to take the heat off himself and use that as a distraction," said Ann Green, who chairs the Etowah County Democratic Party. Jones, himself, gave a similar response to reporters in Troy. "You expect them to say something like that to try to divert attention from the very serious allegations that he's facing," he said.
"I think it's completely overstated and misunderstood," said Alabama-based Democratic pollster John Anzalone, noting that the topic has not appeared in Moore's television ads. Single issue voters who could be swayed by that one issue, he said, were never on the table for Jones anyway. "If you're a pro-lifer, that's all baked into the cake," he said.
Then why do Republicans see it as such a powerful issue?
"They've got nothing else to hold on to," Anzalone said. "They've got a guy that's a pervert and they have nothing else to hold on to."