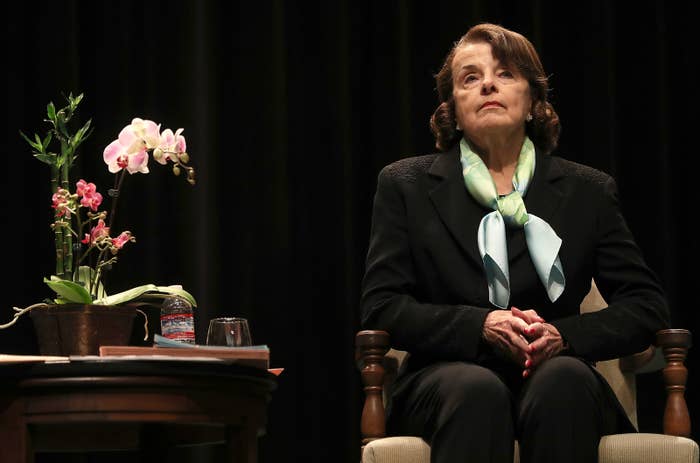 Dianne Feinstein has been a fixture of Democratic politics in one of the country's most liberal states for four decades. But now, as she seeks a fifth full term in the US Senate at the age of 84, the state's progressive wing isn't looking for stability: It's looking for someone who can more fully embody complete resistance to President Trump.
"The base is just sort of not gonna take it anymore as far as compromising our values," said Eddie Kurtz, president of the Courage Campaign, a progressive group in California. "We're sick of running on kinda, sorta what we want."
Feinstein is a traditional liberal, which has for years been enough for her in California, even when she's occasionally positioned herself against the state's most ardently progressive bloc.
When Feinstein ran for governor of California in 1990, she attended the state's Democratic Party convention with a mission. She knew her centrist politics would never win over the more liberal delegates in the room to earn her their endorsement, according to news reports at the time. So instead, she deliberately drew their jeers. She declared her support for the death penalty, and then, according to the Los Angeles Times, let their boos ring out "as she stared, unblinking, into the eye of cameras recording the scene."
She won the Democratic nomination, though she lost to Republican Pete Wilson in November.
Now 27 years later, Feinstein continues to defy some liberal orthodoxies and attract boos from the left. But this time, as she begins her reelection campaign, the booing might prove more of a problem.
"She's never been the sweetheart of the Democratic left," said California Democratic consultant Garry South.

But when California's senior senator drew fire from activists last month for counseling "patience" with President Donald Trump, some saw the moment as a sign that she was not fully cognizant of the change they say has taken place among the state's Democrats.
"It just seemed to be an indication where she was still playing by these rules where Republicans had good ideas and should be compromised with," said Kurtz.
"That's not where the Democratic Party is, that's not where the base of the Democratic Party is. And if Sen. Feinstein wants to continue representing California, she probably needs to change her approach a bit to understand that the resistance being asked of her now is different," Kurtz said.
California was at the forefront of the progressive movement even before Trump was elected last November. The state is increasingly dominated by one party, with a Democratic governor, two Democratic Senators, and Democratic super majorities in both the state house and the state Senate.
But Trump's election, Democrats who work in California say, has put everything in even sharper relief.
"In the age of Trump, there's more at stake than ever before," said Rebecca Katz, a former special adviser to New York City Mayor Bill de Blasio now working for Joe Sanberg, an entrepreneur who is considering challenging Feinstein.
The result has been an unprecedented level of political involvement. Among the most visible representations: Democrats have piled into races to challenge Republican members of Congress in the seven California House districts where Hillary Clinton won last November. And Democrats have not shied away from taking on some of their own, with supporters of single-payer health care mounting a recall effort against state House Speaker Anthony Rendon earlier this summer after he stopped the progress of a single-payer health care bill, owing to the difficulties of paying for such an overhaul.
Feinstein has said she does not back a single-payer health care system, one of an increasing number of litmus tests progressive voters want their representatives to pass. And in the Senate, she has not joined Kamala Harris, California's junior senator, in voting against nearly every single one of Trump's cabinet nominees. Her positions aren't new, and some of the angst about her on the left owes to past positions she's taken — not necessarily the context they've taken on in the Trump era.
"I think history has shown some of her stances to be wrong, speaking bluntly," said first-year California Rep. Ro Khanna, pointing to her vote in favor of the war in Iraq and her support for the Patriot Act.
"I do think the party has become more progressive, but I also think she's been particularly bad on some of these issues that have become the defining issues of our time," he added.
The congressman publicly called for someone — not him — to challenge Feinstein for her seat.
Bill Carrick, Feinstein's longtime consultant, agrees with the premise that Trump has dramatically changed the landscape. But he says that's an argument to reelect a senator with the seniority and power in Washington to help combat that.
"She's the person for the current time. It's a time when you need clout and stature in Washington to fight back against Trump," he told BuzzFeed News.
And he objected to the idea that Feinstein was out of step with progressives.
"Sen. Feinstein's been out there on a whole lot of progressive issues — gun control, immigration, women's reproductive rights, environmental protection. On many issues, she's been a major leader on issues progressives care deeply," he said.
Many California Democratic consultants throw cold water on the idea that this new political moment could imperil Feinstein. California has an open primary system, in which every candidate — Republican, Democrat, or otherwise — competes in the same pool in the primary. The top two vote-getters, which in recent years has sometimes meant two Democrats, then face off in a November election.
That, many Democrats said, mitigates the danger to Feinstein from her left flank. It spares her from having to compete in a closed Democratic primary, where the electorate is often made up of the most left-leaning voters. And in the head-to-head general election race, Feinstein's centrist position — along with her money and name recognition — will make her the clear favorite.
"Regardless of who emerges from the primary, whether it happens to be someone to her left or to her right, she'll consolidate everybody on the other side of them in either direction," said California Democratic consultant Roy Behr.
Any potential challengers are only just getting started. Kevin de León, the state Senate president pro tem, now plans to run for the seat, CNN reported Thursday afternoon. And then there is Sanberg, who helped successfully lobby the state to enact an earned income tax credit for low-income workers and works to help people take advantage of that credit. He has acknowledged interest but has not yet made the jump. "If politics, running for office, is a way that I can contribute, it's something that I would consider," he told BuzzFeed News in a phone interview.
Tom Steyer, a wealthy Democratic donor, is also considering a run at Feinstein's seat, the Sacramento Bee reported Wednesday. Steyer has called on Democrats running for office to pledge to support impeaching Trump.
And it's not yet clear whether a progressive effort would have support among voters commensurate to the decibel level of its loudest advocates. Bernie Sanders–aligned forces fell short in the special election to fill now–attorney general Xavier Becerra's House seat. Two candidates who were veterans of Sanders' campaign failed to make the runoff, getting less than 11% of the vote combined in the top-two open primary.
And it's not yet clear how much appetite there will be among outside progressive networks to spend energy and money taking on a Democratic incumbent, instead of going after Republicans.

Daily Kos founder Markos Moulitsas tweeted on Monday what sounded like support for de León, and he told The Hill: "I just wanted to make publicly clear that if there's any doubt in his mind about running, that Daily Kos would be enthusiastically in his corner in the fight."
But that support might not be there for a less well-situated progressive candidate. In a Wednesday morning post explaining the group's endorsement process, Daily Kos political director David Nir wrote: "our strong preference is to endorse in races either with Republican incumbents or Republican-held open seats." The exception, he said, was in cases of "a particularly lousy Democratic incumbent who's out-of-step with his or her constituents, [if] a good progressive comes along to challenge them, then we'll consider getting involved."
The Courage Campaign has never gotten involved in intra–Democratic Party election fights before, but Kurtz said this could be the year that changes — not necessarily because of Feinstein, but rather because of the crowded primaries brewing in seven contested House races in the state. But he did not rule out getting involved in the Senate race — likely to back a challenger to Feinstein. "If we're going to break a longstanding policy like that, it wouldn't be to back an incumbent probably. But I don't want to say never," he said.
Dave Metz, a California-based Democratic pollster, thinks there could be a big difference between what engaged activists and typical voters think about the still far-off race.
A poll conducted by the Public Policy Institute of California last month found that 46% of California voters did not think Feinstein should seek reelection. But again, Metz said, there is reason for caution.
"Are they willing to look at someone new and kick the tires? Sure. But that's very different than voting to replace" an incumbent senator.