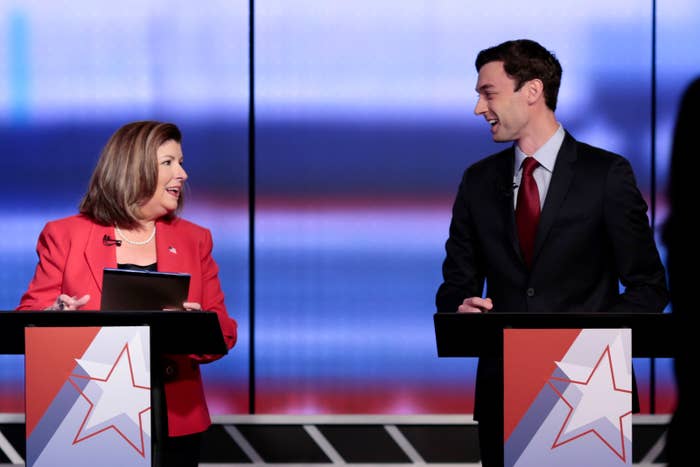 Voters in Georgia's 6th District have seen a lot of new things in the short few months since, Tom Price, the previous representative, resigned to become Secretary of Health and Human Services.
Record-breaking amounts of money have poured into the district, a longtime Republican stronghold whose residents narrowly voted for Trump in November, in the special election to replace Price as Democrats have tried to capitalize on the opening.
But they have never seen anything quite like this.
A man, standing on the front step of a house in this quiet residential area of Marietta Georgia, turned to stare agape as six motorcycles (one with three large American flags waving from the back), a truck towing a motorcycle on a trailer, a car of volunteers for Republican Karen Handel, and two reporters in white sedans whose regrettable outfit choices of skirts had prevented them from hitching a ride on a motorcycle, roared into this quiet residential neighborhood on a Saturday afternoon.
"I guess I don't have to ask who you're voting for," said the young man, who turned out to be a canvasser for Handel, when he walked over to speak with unlikely assembly of high school students in Handel t-shirts and leather and denim clad bikers with "Bikers for Trump" crests emblazoned on their backs.
The district in which this neighborhood resides is home to one of the most closely watched congressional races in history, pitting Handel against Jon Ossoff, the Democrat, in a referendum on a changing and contentious political moment. With just over a week until election day, the bikers – some local, some from out of town – wanted to do their part.
"This race is too important for us to be off hobnobbing with other bikers," said Chris Cox, the founder and president of Bikers for Trump, said.
"This race is too important for us to be off hobnobbing with other bikers."
The special election has attracted outsized attention from all over the country. Handel has raised $4.5 million, an impressive haul in any other setting, but not compared to the $23 million Ossoff has pulled in since the start of the race. Outside groups on both sides have also doubled down on the race. And that sheer lunatic amount of money has meant voters in the 6th District have been inundated with information about this election — mailers, phone calls, polls, radio ads, television ads, door-knockers. In a poll conducted by the Atlanta Journal-Constitution, a stunning 54 percent of voters said they'd been directly contacted by the Ossoff campaign. 25 percent said they'd been contacted directly by the Handel campaign. With six days to go, the universe of undecided voters is down to a sliver.
"I've never seen bikers knocking on doors before," observes the man who opens the first door they knock on, after telling them that he plans to vote for Handel.
And in this suburban district that was once represented by Newt Gingrich, and went 48.3 percent for Trump to 46.8 percent for Hillary Clinton in November, these barrel-chested, leather-clad men with "Trump" plastered everywhere are perhaps an odd choice for the task. Their very presence is a contradiction to the image Handel has largely tried to present throughout the campaign: a traditional Republican more aligned with Vice President Mike Pence, who fundraised for her the day before her stump speech at a rally at Williamson Bros BBQ, a speech in which the man in the White House went unmentioned.
But with so few days remaining and so much on the line, there is room for both of these at times perhaps competing visions of what the Republican Party should be. Because in a race that both sides believe to be extraordinarily tight –"belly to belly," as Georgia GOP chairman John Watson puts it — it all "depends who shows up," said former Virginia Rep. Tom Davis, who chaired the House Republican campaign arm. With such tight margins, it will come down to which side can dredge up every single last possible voter and get them to the polls.
On both sides, that's resulted in an odd sort of tap dance as each candidate try to make sure their base turns out, without alienating that elusive swing voter: the longtime Republican who doesn't much care for President Donald Trump.
Political operatives on both sides are careful to avoid projecting larger meaning onto this race, despite the fact that it has evidently taken on mythical properties. Despite everyone's best efforts, the race has proven something of a political test tube. Saturday's unorthodox door-knocking effort, said Cox, was "Really kind of a political experiment, if you will, to see if bikers will show up for congressional races" in the same way they did for the presidential race.
And it's not that Handel eschews all mention of the president – he endorsed her and held a fundraiser for her after the primary. But speaking to a crowd clad in Americana garb, he's evidently not her focus A woman in the front row was sporting a sparkly "MAGA" pin, but Handel's pin was more demure: it was a button that read, "Republicans that stay home elect Democrats."
"I'm not worried about the polls. A special election is about one thing: it's about voter turnout. And it wouldn't matter if a poll had one of us up by 20 today. It's irrelevant. It's about who is coming to the polls," she told reporters after the event.
And while Handel has been careful not to hug Trump too tightly — after all, he's the reason the seat is in play — her campaign did not reject the help of these visibly pro-Trump bikers.
"Some people say only 46 percent of this district voted for Trump. Well, if the Democrats stay home and we get our 46 percent out to vote, boom," said Ellen Diehl, the second vice chair of the DeKalb County GOP, who had connected Bikers for Trump with the Handel campaign. "Bikers really are not scary, they're just people that – most of them just bike on the weekends," she adds.
Walking down the street with the bikers is like corralling a group of large, leather-clad children.
Brian Sleeth, who seems to have a permanent grin plastered on his face under his wrap around sunglasses and backwards camo hat, periodically takes off in a mad sprint, waving a large flag that says "Bikers for Trump," which he carries with him to each door.
"I killed a donkey once," said a chatty Hugh Norris, clad in a red Vets for Trump shirt, cautioning that motorcycle riding, while wonderful, can also be dangerous. He wasn't making a political metaphor; the donkey stepped out in front of him while he was posted in Africa during his military service.
"Car!" shouts Diehl, and the crew slides off to the sides of the street. The driver of the passing minivan waves.
Moments later a shadow passed behind a glass a door of a House as the group passes. The sound of the lock clicking into place is audible on the quiet street.
Door-knocking efforts often concentrate on houses whose residents are likely to vote for the candidate you're pitching. In this impromptu door-knocking adventure, that seemed like an important thing. Some of the people in this suburban district had likely never seen bikers, Strzalkowski observed as the caravan prepared to leave the parking lot of Williamson Brothers BBQ. And with their giant "Bikers for Trump" flag and correspondingly branded gear, this likely wasn't the group to sway undecided voters.
The Handel canvassers, evidently, had a list for that. At one house, a man answered the door wearing a "Make America Great Again" hat. At another, Scott McDaniel greeted the motley crew on his doorstep barefoot, in palm tree covered pajama bottoms, an African Grey Parrot staring placidly from her perch on his fingers.
"This is Reagan," he said, introducing the bird. "Named after Ronald Reagan."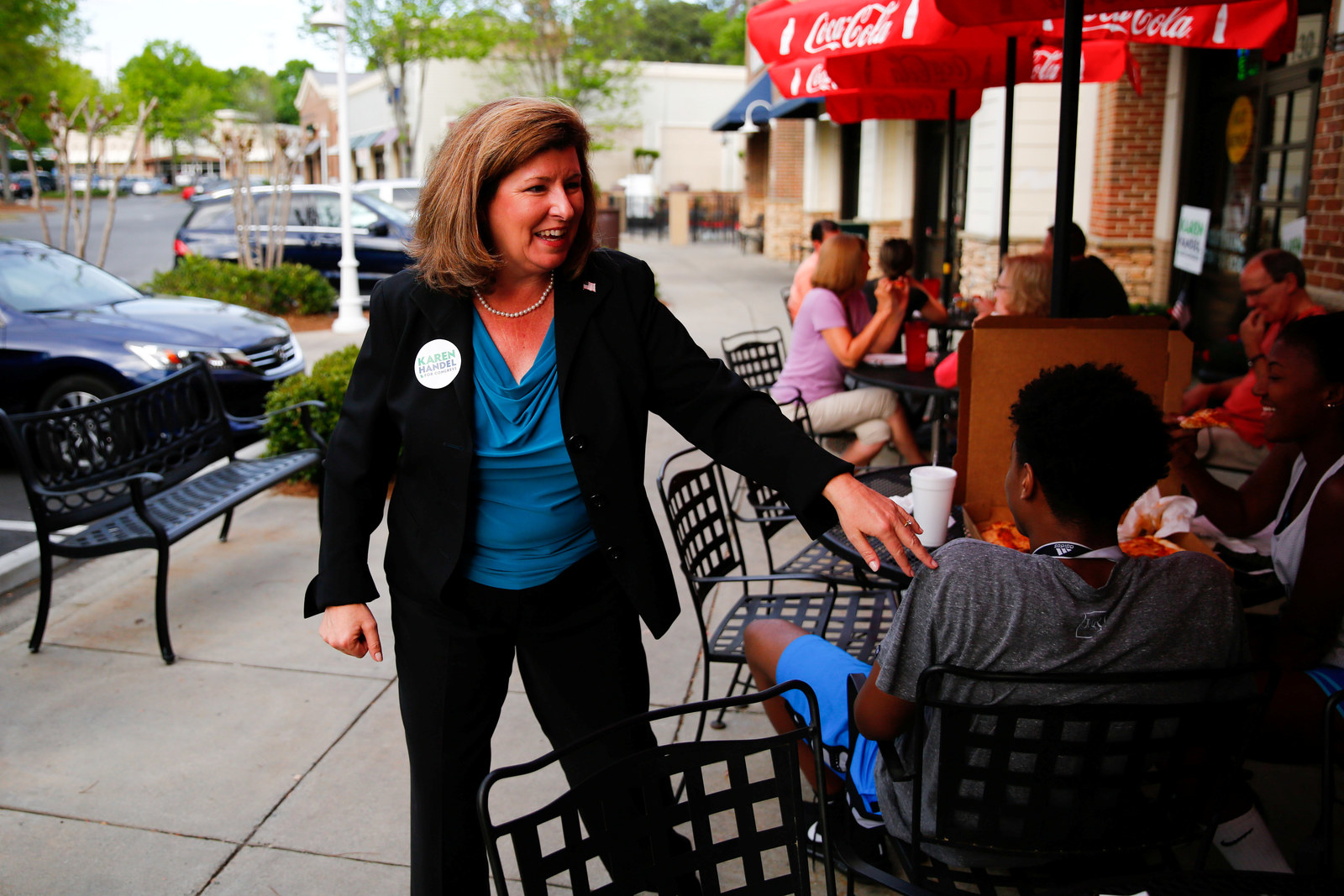 Both candidates are minding a fine line when it comes to the national parties whose hopes rest on them.
Handel spends much of her stump speech talking about Democratic Minority Leader Nancy Pelosi, at one point likening her to the devil with a bastardization of some lyrics from "The Devil Went Down to Georgia": "Well Nancy Pelosi, my name's Karen. And it might be a sin, but I'll take your bet, you're gonna regret, cause Handel's gonna win."
Ossoff, likewise, never mentions either party or its standard bearers over the course of four Friday events. "I think against this backdrop of chaos and disarray and dysfunction in Washington, the prospect of some leadership that is focused on delivering for home and not getting mired in the same nonsense is appealing to folks across the political spectrum," he says in a Saturday interview with BuzzFeed News, asked about Trump's role in the race.
"I had no plans to get back into politics anytime soon. Until November," he told an audience of teachers at an event with educators Friday, to laughter, his allusion leaving little doubt as to what he is referring.
Ossoff's bid is an experiment in harnessing the wave of emotion and angst that welled up after Donald Trump's election. It follows him from get out the vote rallies to a more staid sit down with educators on Friday, where Joanne Marks, a teacher, explaining her planned attendance at two Ossoff events in a single day, after first protesting Pence's visit earlier, says, "We've all just been swept up into this."
Jill Vogin was wearing a knitted sleeveless sweater that said "Flip the Sixth" on each side as she stood with a crowd waving signs around the corner from an early voting location. The president of the local knitting guild, she says a second Georgia special election-themed sweater is almost complete. She needs to be prepared she tells Ossoff, who stops by briefly to pump up volunteers, because "We're gonna do this again in 2018!"
CORRECTION
Donald Trump narrowly won Georgia's 6th district in November. A previous version of this post said Hillary Clinton had narrowly won.