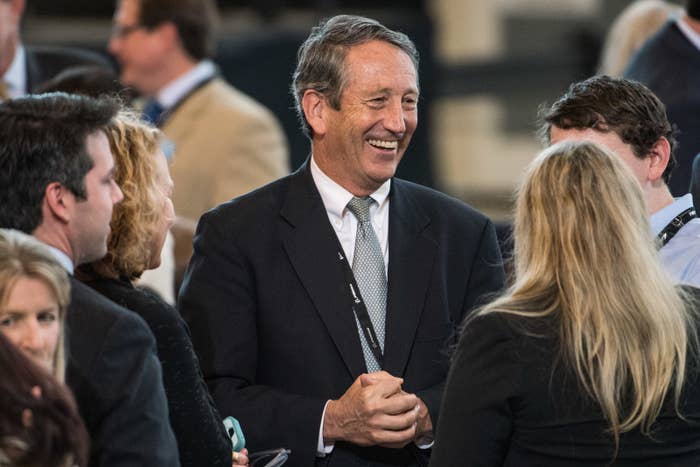 MT. PLEASANT, S.C. — "What do y'all want to do?" South Carolina GOP Rep. Mark Sanford asked the crowd of 235 or so supporters and protesters packing a small auditorium shortly after 9 a.m. on Saturday.

This was Sanford's mantra for the morning, when the hour-long town hall he had scheduled with South Carolina Sen. Tim Scott ballooned into a three hour and 38 minute exercise in playing, as Sanford put it the night before, "a human piñata."
Heading into the recess week, many Republican members of Congress and staff met questions about in-person town halls with a point blank "no," and the occasional question about the sanity of any member who did one. Since the election of President Donald Trump, members' offices have been flooded with phone calls and protesters have flocked to their offices in Washington and back home, eager to press members on Trump's policies and the GOP plan to repeal Obamacare.
Before this week's recess — the longest break members have had at home since Trump's inauguration — Republican House members discussed security precautions to prevent town halls from becoming violent, and talked about strategies to keep events under control in the face of heightened activism around the country in opposition to Trump.
Then there's Sanford, who organized the town hall mid-week in conjunction with protesters, in this case the Charleston chapter of Indivisible, a loosely organized national network dedicated to resisting Trump's agenda and holding members of Congress' feet to the fire.
"They said they wanted to do one, and we said, 'OK, let's do one,'" Sanford told BuzzFeed News Friday evening.
Joe Preston, the legislative coordinator for Indivisible Charleston, corroborated that version of events, remarking on just how amenable Sanford's office had been to working with them.
"It blows my mind, actually," he told BuzzFeed News.
Though Saturday's town hall was scheduled for 9 a.m., the room had hit already capacity by 8:09, and an equal number of people were stuck outside. Sanford was trying to find a way to accommodate everyone. He offered to relocate to the nearby building, or to move the whole thing outside to the waiting crowd, but those people who had arrived before 8 a.m. to secure seats were not inclined to give them up. They wanted another town hall next weekend, in a bigger venue.
The crowd outside was not pleased, jeering Scott and Sanford when they went out to talk to them.
"The group outside didn't like the plan," Sanford deadpanned when he came back in.
Finally, Sanford settled on a solution. "We'll do 45 minutes in here, then we'll come outside," he told the crowd. Scott, would stay only for the first hour; he had to leave to get to a funeral.
So, Sanford began, "Do y'all want to do questions?"
Sanford knew what he was getting into. The former governor, who earned notoriety when he was caught lying about an extra-marital affair, then rekindled his political career by winning back his old congressional seat, is no stranger to political fireworks.
"They're down to watch me blow up tomorrow morning," Sanford, can of Miller Lite in hand, told acquaintances and friends Friday evening, as he introducing them to the two reporters he was teaching to shuck oysters at a fundraiser for Ducks Unlimited in Charleston.
"What's gonna happen tomorrow is gonna be a little bit weird," he acknowledged later that evening, perched on a table as an auctioneer took bids for duck-related items.
The room he and Scott — who asked to join the event at the last minute on Friday — walked into the next morning was charged, but polite. Wearing matching blue and white checked shirts ("His has buttons [on the collar], mine does not," Scott protested), the two faced a crowd armed with signs that read "agree" on one side and "disagree" on another.
The "agree" side got very little use.
"Are you personally proud to have this person representing our country?" a man asked, kicking it off with an immediate reference to Trump.
"Given the two choices I had, I am thankful that Trump is our president," Scott said.
Sanford, who has been openly critical of Trump at times, was more circumspect. "I think we're all struggling a little," he said.
It was the reason that many of the people in the crowd were there; the reason Indivisible was founded. "Trump brought us here," said Brandy Southerland, who was seated in the front row.
But Sanford tried to move the conversation away from the president. "Let's not make this a referendum on [Trump]," he urged. "It's the Irish prayer: we can control certain things, certain things we can't control."
The subjects ranged the gamut, but healthcare was the dominant topic of discussion, with attendees voicing concerns about the quality of care and range of options they would have if Republicans follow through on their promise to repeal and replace Obamacare.
True to his word, Sanford stopped the discussion 45 minutes later to move the proceedings outside. Flanked by attendees asking more questions and one urging him to stop Oversight Committee Chairman Jason Chaffetz from continuing to investigate Hillary Clinton, Sanford and the crowd slowly processed to the football field where a crowd was waiting. He stood on the field, facing a crowd arrayed along the track and in the bleachers.
The crowd ping ponged between applause for Sanford, in appreciation of the fact that he was sticking around or when he gave an answer they appreciated (like suggesting Trump ought to release his tax returns, calling it unrealistic that Mexico would really pay for the border wall, or suggesting that perhaps a House committee ought to look into the circumstances surrounding Gen. Mike Flynn's resignation as National Security Advisor), and jeers and boos when he said things with which they disagreed. At one point, he was serenaded with a version of "Big Yellow Taxi," by an environmental activist who asked him, in song, to "save paradise."
"We'll agree on some things; we'll disagree on other things," Sanford told the crowd. But he asked that people not yell over each other so that he could hear them.
By 11:30, two and a half hours in, the crowd had started to dwindle. "I totally get it," he said. "Two and a half hours into any town hall gets boring." But, he promised, "as long as y'all want to talk, I'll talk."
Finally, he agreed to stop at noon, if only to let the police officers who were working security leave. But he made the most of his time. When an aide attempted to cut him off at 11:57, he stopped her. "We're" going right 'til 12," he said. "We have three more minutes."
When his time ran out, Sanford meandered over to a car and leaned against it, taking questions from the small group of people remaining. "Would you call the boys and see if any of them want to have a late lunch?" he asks his aide at one point, referring to his four sons.
Asked before the town hall why he would want to put himself through this, Sanford deflected, calling his "human piñata" comment the night before just a joke and then turning the floor over to Scott. But he is fiercely proud of the character of his district, where the people, he says, are uniquely suited to have these types of disagreements without ever becoming disagreeable.
Sanford, too, may be uniquely suited to voluntarily wade into such an, at times, unfriendly situation. He often finds himself in political "no man's land," he tells the crowd — that is to say, vocal when he's not on the same page as his own party. And he very evidently relishes being the one who stays and takes questions and criticism — despite the fact, as he noted several times, there are plenty of other things he could be doing with his Saturday.
Three hours and 38 minutes later, Sanford had taken his last question, and shaken his last hand. He dashed across the road, narrowly avoiding oncoming vehicles, and hopped into a waiting car.