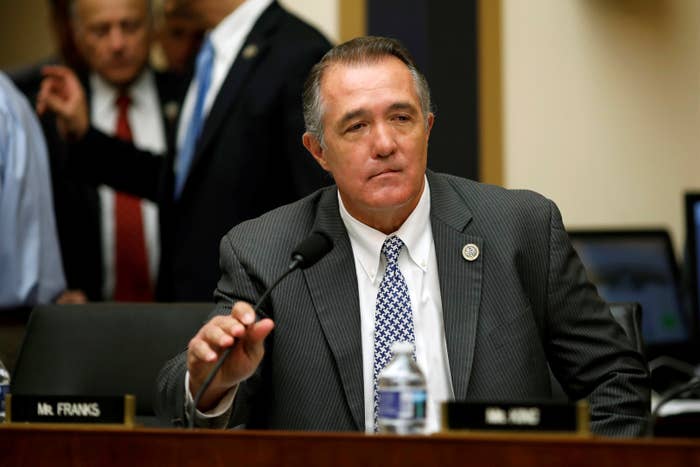 Arizona Rep. Trent Franks, a Republican, is resigning from Congress immediately, after the House Ethics Committee launched an investigation into allegations of sexual harassment.
House Speaker Paul Ryan, per a statement from his office Thursday, was "briefed on credible claims of misconduct by Rep. Trent Franks" last week. After Franks did not deny them, he told Franks to resign.

Franks, in a statement Thursday, said the investigation is the result of him discussing surrogate pregnancies with two women who worked for him.
Politico, citing House GOP sources with knowledge of the allegations, said Friday that aides were unclear whether Franks was suggesting that the women have sex with him. The sources also told Politico that the congressman allegedly tried to convince an aide that they were in love, by having her "read an article that described how a person knows they're in love with someone." A Franks spokesman denied those allegations to Politico.
Additionally, a former aide told the Associated Press that Franks asked her at least four times to act as a surrogate for him, once offering her $5 million.

Franks' office did not immediately respond to a request from BuzzFeed News for comment on the new allegations Friday.
Franks had initially said Thursday that he would resign effective January 31. But in a new statement Friday afternoon before the Politico and AP stories were published, Franks said he would resign effective immediately after his wife was admitted to the hospital "due to an ongoing ailment."

"After discussing options with my family, we came to the conclusion that the best thing for our family now would be for me to tender my previous resignation effective today, December 8th, 2017," Franks said Friday.

Ryan's office did not detail the allegations against Franks Thursday night, but per the statement from his office, he "found the allegations to be serious and requiring action." Ryan was informed of the allegations last Wednesday, after his general counsel interviewed one of the former Franks staffers and a "third party" who was familiar with the matter. The allegations were then filed with the Ethics Committee last Friday.
"The speaker takes seriously his obligation to ensure a safe workplace in the House," his office said in the statement.
The Ethics Committee said in a statement Thursday that it is establishing an investigative subcommittee "to determine whether Representative Trent Franks engaged in conduct that constitutes sexual harassment and/or retaliation for opposing sexual harassment."

Franks denied Thursday that his resignation was the result of sexual impropriety, allegations of which resulted in the resignation of Minnesota Sen. Al Franken earlier that day.
"I have absolutely never physically intimidated, coerced, or had, or attempted to have, any sexual contact with any member of my congressional staff," Franks said in a statement announcing his resignation Thursday night.
"In the midst of this current cultural and media climate, I am deeply convinced I would be unable to complete a fair House Ethics investigation before distorted and sensationalized versions of this story would put me, my family, my staff, and my noble colleagues in the House of Representatives through hyperbolized public excoriation," Franks said in the statement. "Rather than allow a sensationalized trial by media damage those things I love most, this morning I notified House leadership that I will be leaving Congress as of January 31st, 2018."
Franks and his wife have twins who were born via a surrogate. Franks said they had tried to find another surrogate to give their children a sibling.
"Due to my familiarity and experience with the process of surrogacy, I clearly became insensitive as to how the discussion of such an intensely personal topic might affect others," he said in the Thursday statement, adding: "I deeply regret that my discussion of this option and process in the workplace caused distress."
UPDATE
This story has been updated with the news Friday that Franks would resign immediately, rather than waiting until Jan. 31.
UPDATE
This story was updated with new allegations of misconduct by Franks, as reported by Politico and the Associated Press.