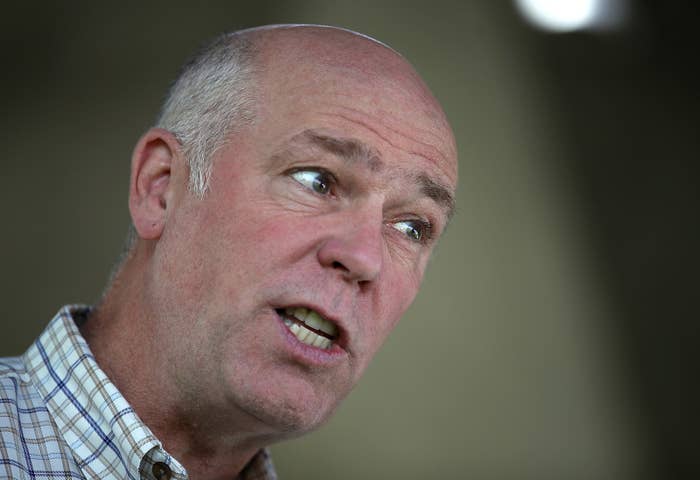 Everybody here is talking about Greg Gianforte's alleged attack on a Guardian reporter except for Greg Gianforte.
At about 5 p.m. Wednesday — just 14 hours before polls opened here on Election Day — I was standing in the main room of Gianforte's campaign headquarters, where volunteers were making phone calls and chatting in advance of a planned event with the candidate. Gianforte was in a side room, with the door half open, where a camera crew was set up to interview him. Ben Jacobs, The Guardian reporter, walked over from where we were standing to listen in. All of a sudden, I heard a loud crash and Gianforte angrily yelling and saw Ben's feet fly into the air through the half open doors. The incident was audible to the 20 or so people standing several feet away in the main room of Gianforte's campaign headquarters, including a dozen or so campaign volunteers, who were reduced to stunned silence and awkward chatter in the minutes that followed.
Gianforte tried to blame Jacobs for the fracas, but the Guardian recorded the attack, the Fox News crew who had been set up to interview him attested to the attack, and the Gallatin County Sheriff charged the Republican candidate with assault in later that evening.
But happening just hours before polls opened, it's entirely unclear if this will affect the race in any way.
"It just made me more resolute to get here," said Eric Meleny as he left a polling place at Hope Lutheran Church, having voted for Quist. "I think i could have been busy and not gotten here, and I think [Gianforte's] actions just made it imperative that I got here."
The three major Montana newspapers pulled their endorsements of Gianforte, and the House Democratic campaign arm started running with the shocking recording of the incident. "Before you vote, ask yourself, if Greg Gianforte could be sentenced to jail, should he really be elected to congress?" But many voters in Montana vote early or absentee, so the result of this election may have been largely decided before the events of Wednesday night.
In Washington and New York and Twitter, Gianforte's alleged assault has been spun into the familiar national narratives: Did Donald Trump's rhetorical attacks on reporters enable this event? If Gianforte wins, will it normalize attacks on the press? House Speaker Paul Ryan said Gianforte's behavior was unacceptable but he "going to let the people of Montana decide who they want as their representative."
But Montana has a unique political personality. Voters here pride themselves on being independent, and even attendees of Gianforte's campaign events Tuesday expressed some skepticism of the man — even if they said they planned to vote for him. If he wins, it might be as much because voters preferred his pitch about creating jobs as a Montana business owner over Quist's history of financial troubles. If he loses, it might be as much because of lingering damage from the governor's race last year as anything that happened during this race. For instance, he moved here from New Jersey two decades ago, which seems not to be as long a period by the Montana clock as it is on the ephemeral coasts.
"What a lot of people don't understand, one of the quirks of Montana, just cause you've lived here doesn't make you a Montanan," remarked Martin Shrock, a third generation Montanan, told at a Gianforte event in Kalispell on Tuesday. "Just cause you've lived here 25 years doesn't make you a Montanan. It's when your parents and your grandparents and your great grandparents have lived here, that makes you a Montanan. So when you say you're a Montanan, those of us who are true Montanans, that doesn't play."
Not commenting on the race — or the controversy — has been Gianforte himself. The candidate has been radio silent since the altercation with Jacobs occurred. Polls close at 8 p.m. in Montana.