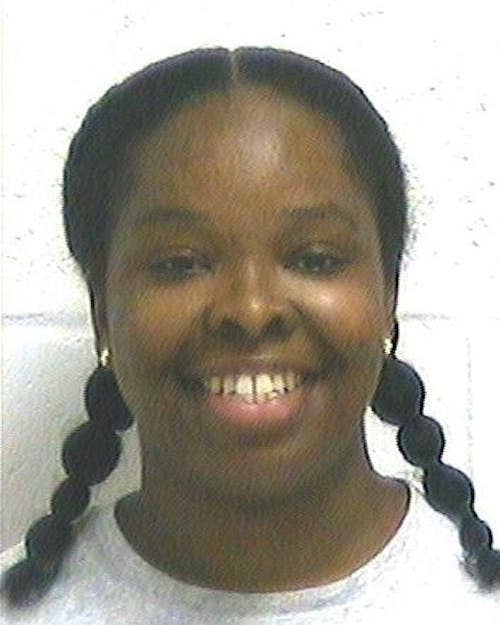 Tondalo Hall's case for clemency has the support of at least 70,000 people who have signed an online petition — but her fate now rests in the hands of just six individuals.
Hall was sentenced to 30 years in prison for failing to protect her children from her abusive boyfriend, Robert Braxton. He admitted to breaking the ribs and femur of their young daughter — but he received only a two-year sentence.
Hall alleged in and out of court that she, too, had been a victim of Braxton's violence, saying that he had choked and punched her. Even the judge who sentenced her said that during her testimony, Hall seemed to fear her boyfriend.
Hall was featured in a BuzzFeed News investigation last year that found 28 mothers in 11 states who were sentenced to 10 years or more for failing to protect their children from their violent partners. In every one of these cases, there was evidence the mother herself had been physically assaulted by the man.
Hall is one of three women BuzzFeed News found who got a longer sentence than the man who actually harmed the child.
After Hall applied for clemency in November, the national women's rights group UltraViolet sent around a petition demanding her release, and got more than 70,000 signatures.
Under the law, her case comes down to the vote of five parole board members and then, if the board approves, Oklahoma Governor Mary Fallin.
Hall, who pleaded guilty to "enabling child abuse" in 2006, has not applied for a full pardon. Rather, she is seeking a commutation, which would release her while not absolving her of her crime.
Still, prosecutors might argue that her long sentence is justified. At her original sentencing hearing, prosecutor Angela Marsee told the court that Hall's children were "in pain because of what she didn't do, and she should pay for that." In that same hearing, Marsee also blamed Hall for not providing strong enough testimony to help secure a longer sentence for Braxton.
In her application for clemency, Hall expressed remorse for not getting her children out of the home sooner: "I had a duty to protect my children and I failed." But, she wrote, "I was trapped in an abusive relationship and I feared that alerting authorities would provoke [Braxton] to increase his violence."
A presentencing report noted that Hall was 22 years old, had no prior arrests, and suffered from depression. Hall wrote in her commutation application that since she's been in prison, she has completed her G.E.D., taken parenting classes, and held down a job in the laundry department. She also writes letters to her children, the youngest of whom is now 10.
Each parole board member has a background in law enforcement, either as a police officer or a prosecutor, including three who worked in Oklahoma County, where Hall was arrested, tried, and convicted.
They're all new to the job, too, with the longest-serving member having joined in April of last year. But The Oklahoman reported that the new board has granted parole at a lower rate than in years past.
To win clemency, Hall will have to clear two separate board votes. First, during the week of June 22, it will vote on whether her initial application is worth further consideration. If they vote no, her case is dead, and she will remain in prison for at least 15 more years, when she will become eligible for parole.
If she passes that first vote, then she will be granted a "personal appearance" hearing. At that point Hall will be invited to give testimony. People wanting to speak for or against her case will have a chance to testify too.
After that hearing, the parole board can vote for one of three options: keep her in prison for her full sentence, shorten her sentence, or set her free right away.
If the parole board recommends reducing or ending her sentence, her case will go to Gov. Fallin.
Here is a primer on each board member, and Gov. Fallin:
Vanessa Price, board chair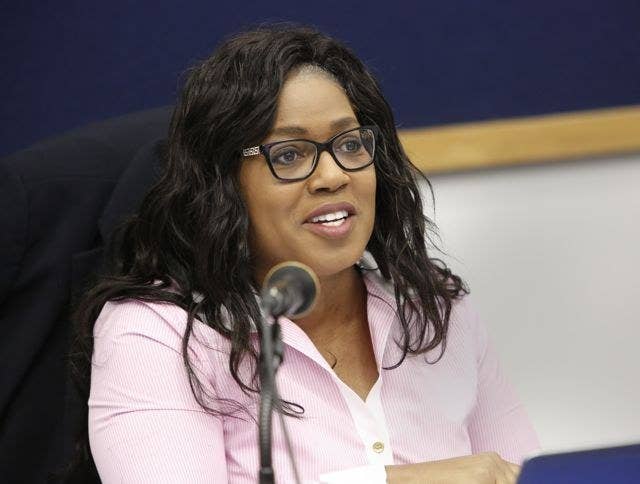 Vanessa Price is the parole board's longest serving member, at a little more than a year. She comes from the Oklahoma City Police Department, where she was a police officer for more than 20 years. She spent much of that time helping to develop the Oklahoma County Drug Court Program and retiring at the rank of inspector. She has also been a trainer at Save the Children.
Asked about the Hall case, Price said in an email: "I do know that the case has received a lot of press however; I have not finalized review of the commutation docket nor have I followed the media stories."
Patricia High, board vice chair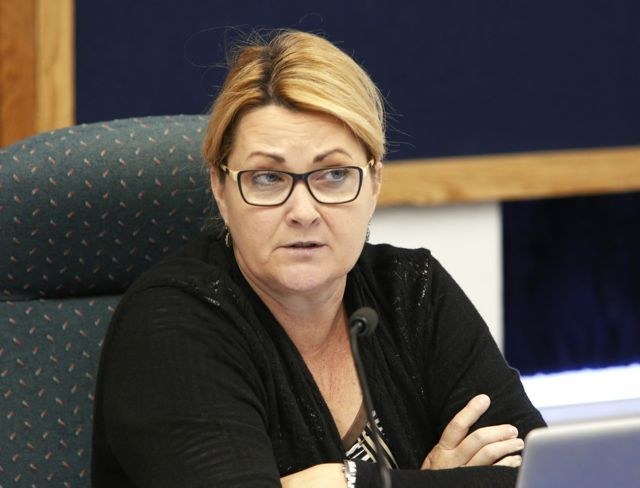 Patricia High spent almost 20 years as a felony prosecutor for the Oklahoma County District Attorney's office. She also served as head of the Child Abuse and Sexual Assault division, until 2003. She did not have a part in Hall's case, which began in 2004.
High has also had her own law firm focusing on family law — in that role she has been a court-appointed guardian for children in some cases. High, like Price, declined to comment ahead of the vote.
Brett Macy, board member
Brett Macy served for many years in the Oklahoma City Police Department, retiring as a lieutenant. He also spent some time with the FBI, on its Violent Crimes Task Force. He won a Medal of Valor for his work during the 1995 Oklahoma City bombing.
Macy's father, Robert Macy, was well-known as a longtime District Attorney in Oklahoma County. He served until 2001, and died in 2011.
Brett Macy did not respond to a request for comment.
Tom Gillert, board member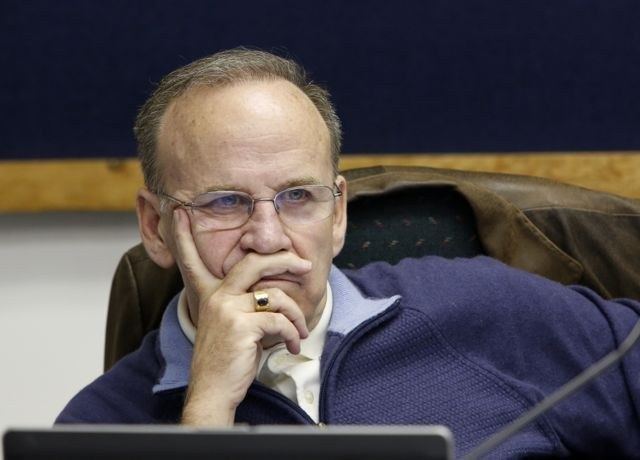 Gillert comes from Tulsa, where he was a judge for 20 years. He retired in January and was appointed to the board soon afterward. Before he was a judge, he was a prosecutor in Tulsa County. He did not respond to a request for comment.
William Latimer, board member
Latimer is also from Tulsa, where he was a police officer. He has also been an investigator for the state's Medicaid Fraud Control Unit, and has worked as a special agent for the Department of Defense. He declined to comment.
Mary Fallin, governor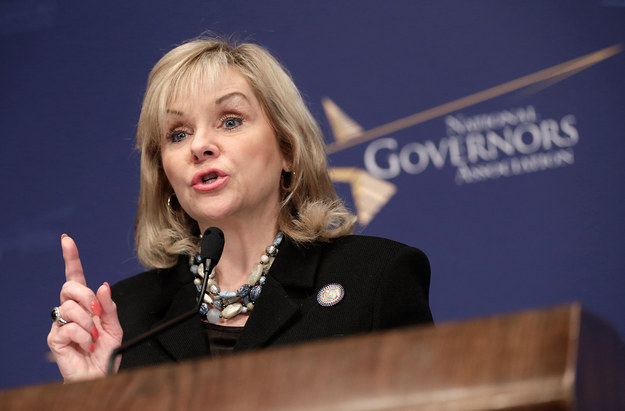 Second-term Republican governor Mary Fallin has pledged a "smart on crime" approach to "separate truly violent criminals who represent a threat to their communities from nonviolent criminals," as her spokesperson has said. Fallin cited criminal justice as one of her top three issues. Oklahoma has more female prisoners per capita than any state in the nation.
Still, last year, a joint investigation by The Oklahoman, the Tulsa World, and the AP found that Fallin's office "dropped prison reform efforts in 2013 like a hot potato." This year, however, she has signed two bills that reduce mandatory sentences for certain nonviolent crimes.
Fallin appointed Price, High, and Macy to the parole board. In addition to commutations, like Hall's, Fallin also approves some parole recommendations. In 2014 she approved 17% of eligible offenders, according to The Oklahoman.
Fallin spokesperson Alex Weintz did not respond to a request for comment.