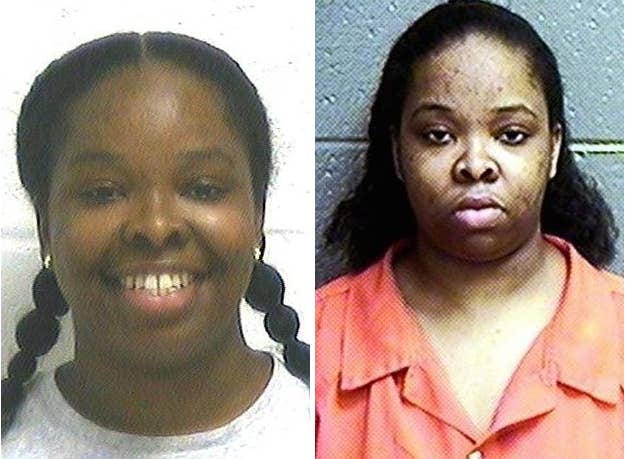 OKLAHOMA CITY — Tondalo Hall, a battered woman whose lengthy prison term in a child abuse case has outraged women's rights advocates, had her plea for clemency denied on Wednesday.
The Oklahoma Pardon and Parole Board voted 5-0 against her application for a commuted sentence. Hall, who was not accused of hurting her children but only of failing to prevent her boyfriend from abusing them, is set to remain behind bars until at least 2030, when she becomes eligible for parole.
Hall's abusive boyfriend, who admitted to breaking the ribs and femur of their 3-month-old daughter, was sentenced to only two years and was released from jail in 2006.
"The Oklahoma Pardon and Parole Board had the responsibility to make things right and they failed with today's decision," said Shaunna Thomas, co-founder of UltraViolet, a national advocacy group that garnered 70,000 signatures in a petition demanding the board set Hall free.
A spokesman for Gov. Mary Fallin's office did not respond to a request for comment Wednesday evening. Spokesman Alex Weintz told BuzzFeed News previously that Fallin cannot grant prisoners clemency without a recommendation from the parole board. "You can't skip the intermediate step," he said. The governor does have influence on the board, however, as she appoints three of its five members.
Board members provided no explanation for their decision, but during a tense hearing, in which Hall appeared via video-conference, Vice Chair Patricia High grilled the 31-year-old woman about what she knew about her children's injuries, and when.
Hall spent most of the hearing choking back tears. "I know I failed as a mother, and I'm just asking for a second chance," she said.
A BuzzFeed News investigation last year found that Hall was one of at least 28 mothers in 11 states who had been sentenced to 10 or more years in prison for failing to protect their children from abusers — despite evidence the mothers themselves had been abused.
Hall has alleged both in and out of court that she had been a victim of violent attacks by Braxton — Hall says that he had choked and punched her.
Braxton was charged with child abuse and Hall was charged with failing to protect her children from him.
Hall pled guilty, but Braxton did not, and went to trial. Hall testified at his trial, but frustrated prosecutors because she did not provide many details on witness stand about how he had abused her children. Fearful that without her testimony, they would lose the case prosecutors cut a deal with Braxton in which he pled guilty but was released from jail.
When it came time for Hall to be sentenced, the judge who presided over both trials faulted her for being "less than candid" about his alleged crimes, although also noted that she seemed to be afraid of him. Still, he sentenced her to 30 years.
The case stemmed from a 2004 incident, in which Hall took her 20-month-old son to the hospital and doctors found he had broken ribs and a broken femur, and then discovered that her 3-month-old daughter had similar injuries.
At the hearing Wednesday, High seemed incredulous that Hall had not taken more action given how seriously her children were hurt.
High, the board's vice chair, pointed out that the femur is "the biggest bone in the body." "She never acted like that leg bothered her when you would change her?" High asked.
"She cried, but I didn't — I thought it was because she needed to be changed or fed, you know," Hall replied.
"So as soon as you were finished with changing her or feeding her, she just calmed right back down?"
"Um — yes ma'am."
High asked Hall if the day of the hospital visit was the first time she noticed her children had been hurt. No, Hall replied, adding that Braxton, her then boyfriend, "was already hitting on me" and their son.
Only one other person testified at the hearing, Marsha Travis, the chaplain at Mabel Bassett Correctional Center in McLoud, where Hall has been in prison. She urged board members to commute Hall's sentence.
"I have heard the remorse in her voice," she said.
Following that plea, board members voted one by one against letting Hall out.
Hall's sentence is up in 2034. She is not eligible for parole until 2030.
Update
This article has been updated to include reactions from advocates and more detail from the hearing.
Correction
An earlier version of this article misquoted the parole board's vice chair, Patricia High. The correct quotation is "I don't know the facts of your case." This quotation is no longer in the updated version of this story.