Key Signature From Con Man's Ebola Firm May Be Fake
Bio-Recovery, the firm New York City hired to clean up Ebola, has a "chief safety officer" who is a con artist and convicted felon. Now, BuzzFeed News has learned, there are questions about the CEO's signature on a corporate document. And the con artist has changed his name.
A routine corporate document, filed in January of this year, declares that Christine Dye is the chief executive officer and president of Bio-Recovery Corporation. Her signature is affixed to the bottom of the page.
And, indeed, a woman named Christina Dye worked for the company at that time. But her signature, found in a separate public document for another company, does not match the one on the Bio-Recovery papers.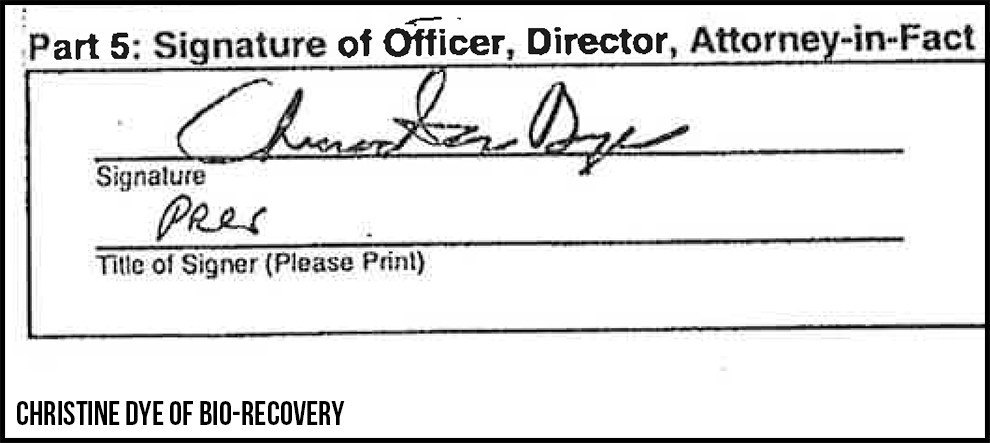 When she started working with Pane, Dye told BuzzFeed News, he promised to make her CEO in a year. But she left after six months, she said, and was never Bio-Recovery's CEO or president. She said the signature on the Bio-Recovery document is not hers.
As for the slight difference in names — Christine versus Christina — Dye said she knows of no other person with her surname who worked at the company, and BuzzFeed News did not find any other Dye associated with the company in public records or online.
The dueling signatures are the latest revelation about Bio-Recovery, the company New York City hired to clean up the apartment of Ebola patient Dr. Craig Spencer. As a recent BuzzFeed News investigation revealed, a con artist and convicted felon named Sal Pane has said he's the company's "chief safety officer," and he has been all over the media, often making exaggerated or false claims about his and Bio-Recovery's credentials.
"For the past 27 years the company's been around we've never had an issue," Pane told Fox News. But the company has only been around for 16 years, and 27 years before he made that statement, Pane was just 4 years old. When the company decontaminated Spencer's apartment, it arrived in a truck bearing permit numbers belonging to a dead man.
Before the Ebola cleanup, Pane ran a mortgage company that scammed its customers. In 2010, a judge found Pane "personally liable for engaging in fraudulent and illegal acts" and ordered that he and the company pay $12.5 million in restitution and civil penalties. So far, only about $62,000 has been paid back. That same year, after a drunk driving incident, Pane was found guilty of false personation, driving while impaired, and felony aggravated unlicensed operation of a vehicle.
Today, the difference between Christine and Christina Dye is not the only mystery involving names. When Pane ran his mortgage company, he went by his birth surname: Pane. Now, however, he spells it slightly differently: Pain.
But, it turns out, neither of those may be his legal name. In 2010 he changed it to Enzo Pagani.
When BuzzFeed News called Pane this week to ask him about the differing signatures and his name change, he hung up. Neither he nor Bio-Recovery responded to a list of detailed questions sent to various email and physical addresses associated with Pane and the company.
If Christina Dye did not sign the Bio-Recovery document, it is not clear who did. Previously, Pane has adamantly denied that he runs Bio-Recovery, and it could not be determined who exactly has been in charge.
Before Pane got involved, the company was founded by a man named Ron Gospodarski. He died in 2013 and left the company to his sister, Fran Gospodarski Senko. Fran told BuzzFeed News that Pane duped her into selling the company name and other assets after telling her that he was good friends with Gospodarski. Fran said she signed over the company this past New Year's Eve. Pane was there and orchestrated the sale, she said, but the paperwork named a company called Vinmar Associates as the buyer.
Dye told BuzzFeed News she worked at Vinmar Associates with Sal Pane starting in October 2013, when, she said, Pane promised to make her CEO of the company in a year. She said that she stayed until April 2014 and that she was working with Pane when Vinmar bought Bio-Recovery.
In late January 2014, Bio-Recovery filed a "Biennial Statement" with the New York Department of State, declaring a new address and a new president and CEO: Christine Dye. It's this document that bears the signature that Christina Dye says is not hers.
Shortly after Dye left Vinmar and Bio-Recovery, she founded a company called Brooks Remediation and signed her name to that firm's incorporation documents. The signature is clearly different from the one given for Bio-Recovery. Asked about this, Dye said that the Brooks Remediation signature is correct, the Bio-Recovery signature is not hers, and she knew of no one else at the company with a name similar to hers. She also said she never held the title of CEO or president while at Bio-Recovery.
She said she is no longer associated with Pane and has not spoken with him since she left to start her own company. She declined to comment further.
Dye was publicly listed as Bio-Recovery's CEO and president until August, four months after her departure. That month, the company filed a new document declaring that a Louis Caliendo was the CEO.
Then, in October, yet another document was filed. It said that Bio-Recovery's CEO is a Stephen Robert Clarno. According to news reports, Clarno worked at Amerimod, Pane's loan modification company that was found to have violated the law and misled many of its customers. Clarno has not responded to multiple messages to his Facebook account seeking comment. A phone number listed for him is no longer in service, and BuzzFeed News was unable to locate an email or physical address for him.
In January 2010, Pane filed a request for a name change in Westchester County Supreme Court. In his application, he declared that he needed to change his name because a man named Sean Murphy had been harassing and threatening him. "My safety/well-being is in jeopardy," he wrote.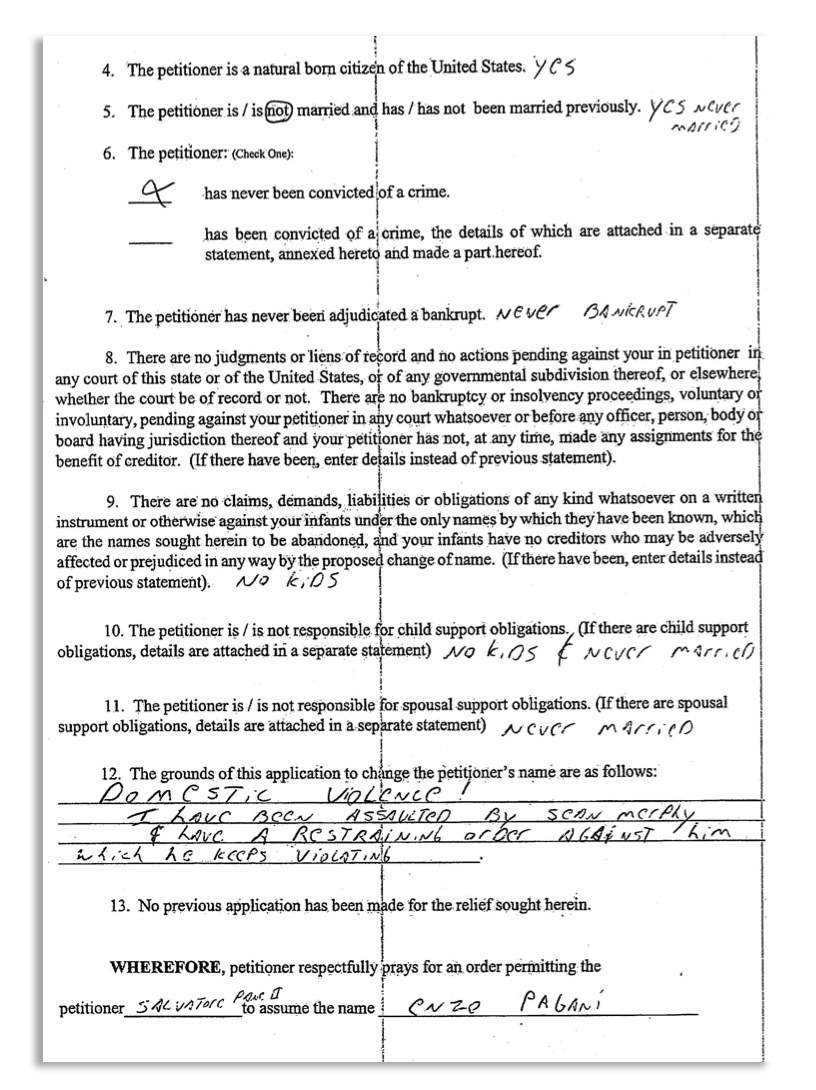 At the time Pane applied to change his name, the civil case against him for scamming his mortgage customers was pending, as was the criminal case against him stemming from the drunk driving incident. Yet Pane left one section of his application blank — the one where he was asked if he had any "actions pending" against him "in any court of this state or of the United States."
"That should have been filled out," David Bookstaver, spokesperson for New York State's Office of Court Administration, told BuzzFeed News.
Regardless, the judge granted his request, legally changing Pane's name to Enzo Pagani.
Pane and Bio-Recovery did not respond to a detailed letter seeking comment on the name change and on the Dye signature. Reached by telephone, Pane asked, "What's today's story?" After being asked if Christina Dye was Bio-Recovery's CEO, he hung up.