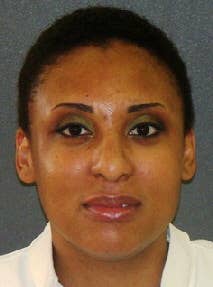 A Texas woman sentenced to 45 years for failing to protect her child from her abusive partner has been granted parole after nine years in prison.
The Texas Parole board voted in Arlena Lindley's favor this week. They offered little in the way of explanation for the move, noting that she had avoided major disciplinary infractions and had participated in job-training programs.
Lindley's case was the focus of a 2014 BuzzFeed News investigation that showed how laws in many states turn battered women into criminals. The investigation found at least 28 mothers in 11 states who were sentenced to a decade or more in prison for failing to protect their children from their partners. In each of these cases, there was evidence that the mothers had been battered themselves.
Lindley's boyfriend, Alonzo Turner, beat her son Titches to death in 2006. There was no suggestion Lindley hurt Titches herself, but authorities said she didn't call 911 in the hours immediately after she witnessed the beating and while Titches was still alive and conscious. A witness testified that when Lindley tried to intervene to stop the abuse, Turner threatened to kill her and snatched her son from her arms. Lindley alleged that Turner had also been abusing her throughout their relationship — she told BuzzFeed News that he had punched and choked her, pulled her hair, and sat on her.

Titches' father, William Wade, and paternal grandmother, Cathy Lee, both testified in support of Lindley at her sentencing hearing. "I think that our family has really suffered enough," Lee testified. "We lost Titches. I don't want to lose her." But Judge Jeanine Howard gave her 45 years, telling Lindley, "You didn't nurture him when he needed you the most."
Lindley was sent to prison in 2008; her projected release date was listed as October 2051. She first went up for parole in January 2013, and was denied; but this week, on her second attempt, the parole board voted in her favor.
It is as yet unclear exactly when Lindley will be set free. When inmates are granted parole, it can take anywhere from a couple weeks to a couple months before they are released, said Raymond Estrada, spokesperson for the Texas Board of Pardons and Paroles.
Lindley's parole comes soon after a different result in a separate case in Oklahoma, involving a woman sentenced to 30 years behind bars for failing to protect her children from an abusive man.
Tondalo Hall's boyfriend was sentenced to 2 years in prison for breaking the ribs and femur of their 3-month-old daughter. But Hall, who was not accused of abusing her children, was locked up in 2006 and her sentence doesn't run out until 2034. Hall won a clemency hearing, but was denied by Oklahoma's parole board in September. She will not even be eligible for parole until 2030.
Lindley and her family could not be immediately reached for comment. Nor could prosecutors.

UPDATE
This post has been updated to reflect documents given to BuzzFeed News by the Texas Board of Pardons and Paroles.