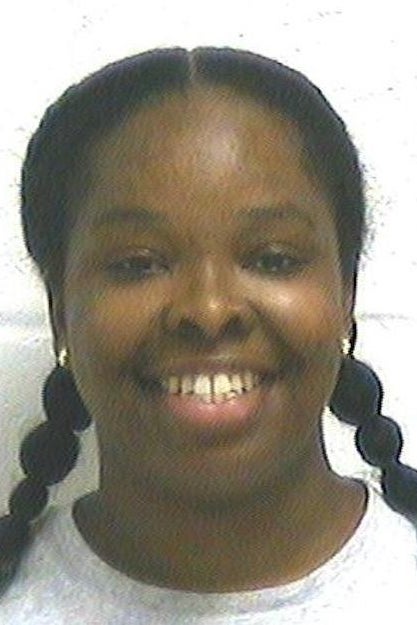 OKLAHOMA CITY — Tondalo Hall's plea for clemency has passed its first test.
The Oklahoma Pardon and Parole Board voted 4 to 1 on Monday to advance her case and grant Hall a full hearing on her application for a commutation of her sentence.
Hall, whose case was part of a BuzzFeed News investigation, is serving 30 years in prison for failing to protect her children from her abusive boyfriend, Robert Braxton. Braxton admitted to breaking the ribs and femur of their three-month-old daughter, but he received only a 2-year sentence. He has been free since 2006, while she has been behind bars.
Hall alleged in and out of court that she, too, had been violently abused by Braxton, saying that he had choked and punched her.
The board rejected most of the nearly 60 commutation applications heard before Hall's name was called on Monday. In her case, William Latimer, a retired Tulsa police officer, was the only no vote.
The board will now give Hall a "personal appearance" hearing in either August or September, where she can testify. Others will be allowed to speak for or against her. Then the board will make a final decision.
In her application for clemency, Hall described being arrested in 2004 — "rightfully so," she wrote, "as I continued to have a relationship with Robert even though he was abusive." Elsewhere, she wrote, "I had a duty to protect my children and I failed."
But, she wrote, "I was trapped in an abusive relationship and I feared that alerting authorities would provoke [Braxton] to increase his violence. My actions, although detrimental to my family, were made out of fear rather than rationality."
Her argument swayed the parole board enough to warrant the second hearing. If the board votes in her favor again, and recommends that she be either set free or given a reduced sentence, then Gov. Mary Fallin will have the final say.
A BuzzFeed News investigation found that Hall was one of at 28 mothers in 11 states who had been sentenced to 10 or more years in prison for failing to protect their children from abusers — despite evidence the mothers themselves had been battered.
Hall's case stands out for the disparity between her sentence and that of the man who admitted to abusing her daughter. Hall's sentence was 15 times longer than that of the man who actually inflicted the injuries on her child.
If either Fallin or the board denies her application, then Hall will still have 19 years remaining on her sentence. She will not become eligible for parole until 2030.
As the board voted, advocates and activists with the groups UltraViolet and Upsetting Rape Culture were busy unveiling 146 red quilts on a lawn outside the hearing. The quilts featured stories from survivors of domestic and sexual violence.
Rebecca Nagle, an organizer, said the Baltimore-based group had done something similar for Marissa Alexander, who was jailed for firing a shot in her home to warn off her abusive husband. When organizers heard of Hall's case, they decided to come in time for Monday's hearing. They drove from Baltimore to Oklahoma City in a white Chevy van. More than 40 people showed up in all, some holding signs saying "Free Tondalo Hall" or "Punish abusers, not survivors."
Several protesters said they just didn't feel that Hall's sentence added up, especially given the much shorter sentence her boyfriend received. "I think we're all kind of in agreement that it doesn't make sense," said Michelle Rodriguez.
This post has been updated with reporting from a protest held outside the parole board hearing.