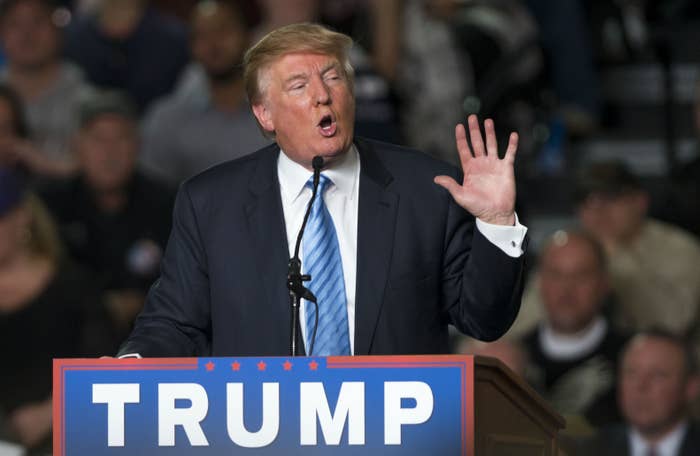 This February, as Donald Trump cleared his throat for a presidential run, he threw some innuendo in the direction of Bill Clinton.
Clinton has "a lot of problems coming up in my opinion with the famous island with Jeffrey Epstein. A lot of problems," he told the Conservative Political Action Conference.
Reporters have since pointed out that Trump has his own ties to Epstein, a financier who was arrested in 2006 and accused of sexual abuse by 40 different women, with many alleging they were teenagers at the time, some younger than 14.
Trump has distanced himself from the financier, who pleaded guilty to soliciting an underage prostitute. In July, a source close to Trump told Politico that "there was no formal relationship" between the Trump and Epstein. And in January, a Trump spokesman told Gawker that the candidate only knew Epstein because he would occasionally go to the Trump-owned Mar-a-Lago, "the hottest and most luxurious club in Palm Beach." And Epstein's former "houseman," Juan Alessi, testified that while Epstein's lawyer Alan Dershowitz received massages at the Palm Beach mansion, Trump never did because "he's got his own spa." (Dershowitz has in court papers categorically denied any untoward behavior, calling allegations against him "salacious and false.")

But court papers — in one case previously unreported — suggest that the Republican frontrunner for president had a closer relationship with Epstein than he has recently let on, dining at Epstein's Palm Beach mansion and riding on his private jet.

Alessi testified that Trump would come over to Epstein's home for dinner — though he added that Trump "never sat at the table" but instead ate "with me in the kitchen." In another deposition, Epstein's brother Mark testified he once flew on Jeffrey Epstein's plane with both him and Trump, who were "friends." Asked why Trump was on board, Mark Epstein replied, "You'll have to ask Donald. I think he wanted a ride back to New York."
Reached by phone Wednesday, Mark Epstein declined to comment beyond what was in his deposition. A call to Juan Alessi was answered by a man identifying himself as his son John, who said that Juan did not want to talk about the Epstein case.
In 2002, before those allegations surfaced, Trump told New York magazine that Epstein was a "terrific guy" who he had known for 15 years. "He's a lot of fun to be with. It is even said that he likes beautiful women as much as I do, and many of them are on the younger side. No doubt about it — Jeffrey enjoys his social life."
In response to a message left seeking the Trump campaign's comment on this article, on Thursday Trump's general counsel Alan Garten emailed threatening legal action against BuzzFeed News. "Mr. Trump's only connection with Mr. Epstein was that Mr. Epstein was one of thousands of people who has visited Mar-a-Lago. That's it. Mr. Trump has NEVER been accused of having any involvement or even having any knowledge of any of Mr. Epstein's conduct by anyone," Garten wrote.
"As a result, I have no idea what the purpose of your article could possibly be other than to try and intentionally and with actual malice defame my client's name and reputation by mentioning him in the same article as Mr. Epstein. In other words, suggest guilt by association. This is the very definition of irresponsible and reckless journalism and to publish such a story would be highly unethical - even by buzzfeed's standards."

UPDATE
This article was updated to include comments from Trump's general counsel.