This is an excerpt from Incoming, BuzzFeed News' morning newsletter dedicated to making sense of this chaotic world we live in. Join the club here.
If you qualify for Biden's student loan forgiveness plan, you can now apply online
The Biden administration's student loan forgiveness application site opened up Friday, allowing tens of millions of Americans to begin the process of having at least some of their debt forgiven. If you're one of the 40 million Americans who qualify, listen up:
The program covers federal student loan borrowers who earned under $125,000 as an individual or $250,000 for families in 2021 or 2020. Applicants can receive up to $20,000 if they were a Pell Grant recipient or up to $10,000 if they were not.

Completing the application requires little more than the applicant's contact info and Social Security number. Many people so far are praising the application process and saying it took them less than a minute to fill out.

The application is due over a year from now, on Dec. 31, 2023. The site is in beta testing right now, and applications will not be reviewed until its official launch sometime before the end of October, CNN reports. Those who apply before then will receive a confirmation email.

Once the application processing begins, applicants should receive their benefits in a matter of weeks.
If you qualify, you can apply for student loan relief
here
.
Russia's renewed offensive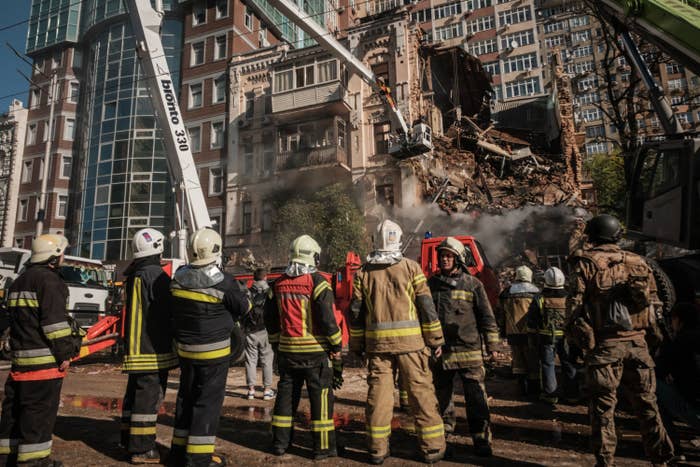 Russian drones attacked Kyiv on Monday, killing at least one person. The drones, supplied by Iran, hit the Ukrainian capital a day after President Vladimir Putin said there was "no need for more massive strikes," the Guardian reports.

Russian men are being snatched off the street to fight in the war against Ukraine. "People are very stressed because they are worried they will be pushed to shoot other people. So people are afraid not only for themselves, but about taking part in this unjust war," Grigory Sverdlin, an activist who left Russia, told the Washington Post.
SNAPSHOTS
Harry Potter star Robbie Coltrane has died at 72. Coltrane appeared in all eight films in the series as the gregarious giant Hagrid, a character beloved for his warmth and humor.
Police have arrested a man they believe is responsible for six killings that left Californians on edge for weeks. Since early July, Stockton has experienced a string of nighttime killings that have gripped the community. A motive is still under investigation.
Megan Thee Stallion gave a raw, emotional performance hosting SNL and opened up about how much she's going through. She also plugged the website she launched last month, called Bad Bitches Have Bad Days Too, where she shares mental health resources, including crisis hotlines and directories of Black and LGBTQ therapists.
Dunkin' customers are mad as hell about "ridiculous" new changes to the Dunkin' rewards program. "What idiot do you think I am, Dunkin'?" asked one online customer.

A strategically placed AirTag led police to a dumpster full of stolen Democratic campaign signs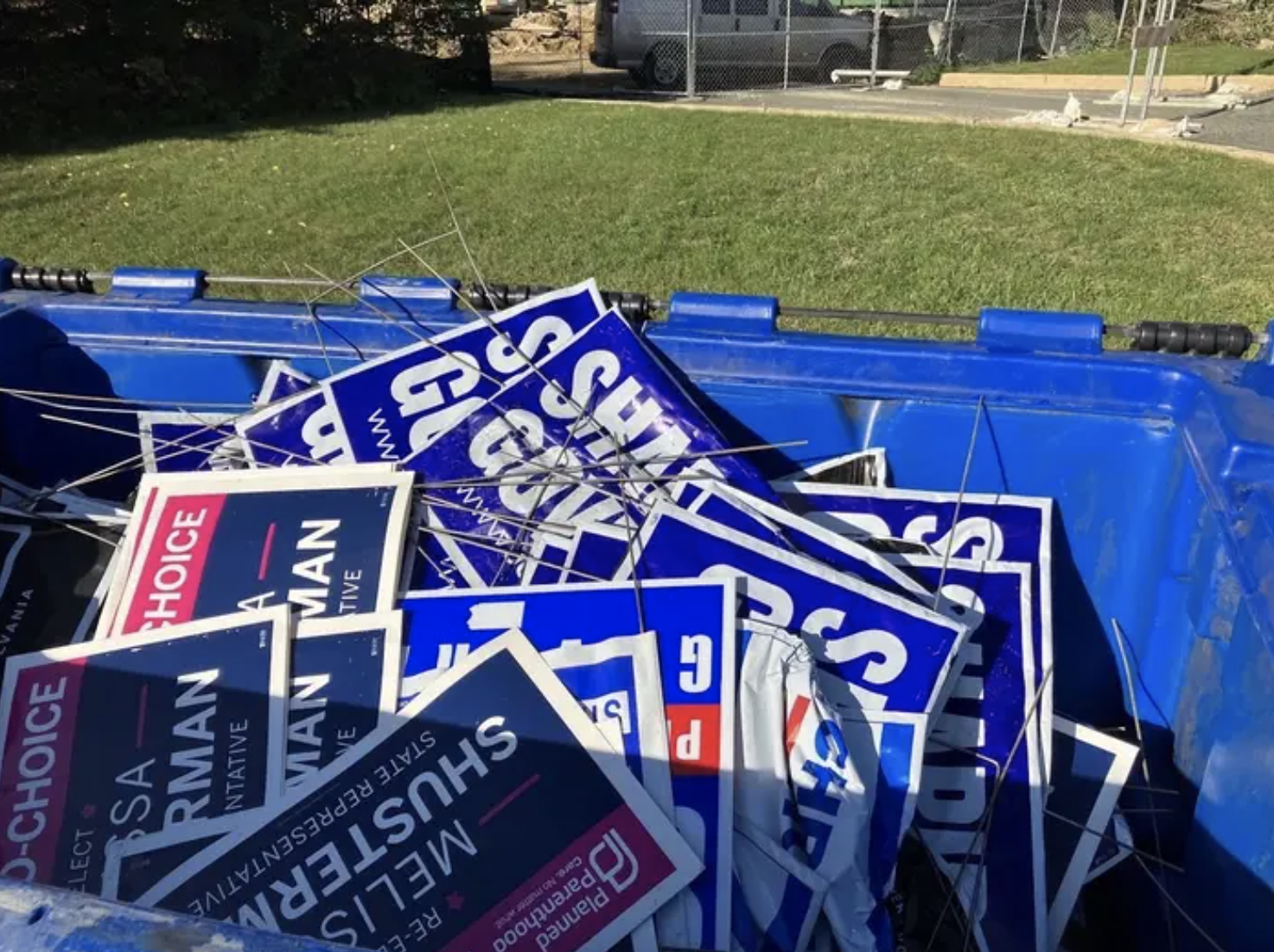 After weeks of political campaign signs being stolen from front lawns, Philadelphia police have traced over 100 missing signs to a large commercial dumpster behind a strip mall. How? Because someone had put an Apple AirTag on one of the signs.
AirTags, Apple's tracking devices that look like small, white pucks, broadcast Bluetooth signals to nearby Apple devices, allowing owners to locate them (and anything they are attached to) on a map. Since Apple released AirTags in 2021, people have used the trackers to find missing bags, keys, and pets. And earlier this year, a candidate in Florida tracked a stolen campaign sign to the house of a political rival thanks to an AirTag.
"This person obviously had signs stolen before," said one resident who reported missing signs. "So putting an AirTag on was pretty smart."
The 118 signs all support Democratic candidates or progressive causes like reproductive rights and Black Lives Matter. Police said they are combing through video footage near the dumpster but have yet to identify a suspect.
Kanye, Kendrick, and Dave Chappelle are making disappointing choices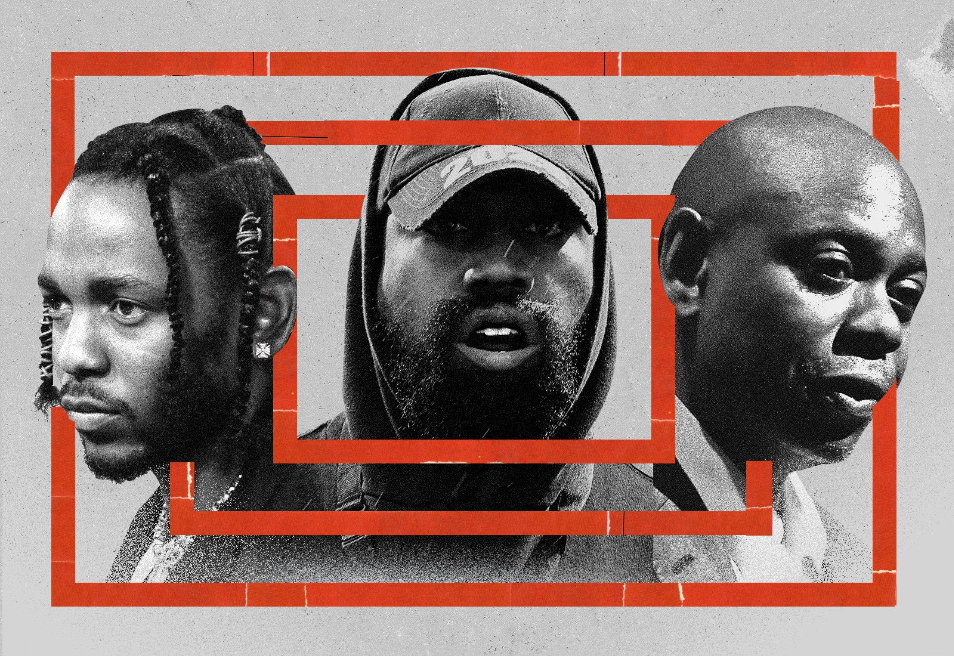 It seems the Black men I grew up admiring have grown suspicious of having their power questioned, Elamin Abdelmahmoud writes.
This month, Kanye West continued to destroy the goodwill he has left, first by wearing a White Lives Matter T-shirt at Paris Fashion Week, and then posting dangerous antisemitic tweets claiming that he will go "death con 3" on "JEWISH PEOPLE." Public support for him is cratering in a way we have not seen before, not even after the rapper told TMZ in 2018 that slavery was a choice, or after he said iconic abolitionist Harriet Tubman "never actually freed the slaves."
Dave Chappelle, who once took it upon himself to speak for Black people and extract lacerating comedy from the painful reality of racism, is now comfortable with tasteless anti-trans bits on the stage and shutting down low-income housing offstage. Meanwhile, Kendrick Lamar is begging — pleading on his latest album — to be messy, offensive, even hurtful without apology.
West, Lamar, and Chappelle were once heroes to me. They made it their business to be symbols for young Black men. They used their art to name injustice, portray it vividly, render it clearly, and blast those responsible for it. They filled a cultural void and served as spokespeople. Now, they are no longer fit for the job — West has mistaken hateful screeds and personal grudges as speaking truth to power, Chappelle has lost the plot on where he should direct his fiery skill, and Lamar simply doesn't want the job anymore.
P.S. You read the whole article! As a thank you, here's a cool lil newsletter alert: Suspicious Circumstances is an upcoming inside guide to the biggest unsolved cases, white collar scandals, and grim mysteries of today. Don't miss out.