You're reading an excerpt from Incoming, BuzzFeed News' morning newsletter written by yours truly. If you're interested in reading Incoming in full, sign up here.
I'll cut to the chase. The World Wide Web? It's vast, sprawling, and full of garbage. Your time? Precious, finite, irreplaceable. In hopes of helping you sift through the total anarchy that is the internet, I'd like to humbly present a list of online happenings that I've been obsessed with this week. These are a few of the things that I've read or watched that have made me reconsider the world from a more thoughtful perspective. I hope you enjoy it.
Originally when I assembled this list I thought my recommendations had nothing to do with one another. Upon reflection, I now see that my picks clearly oscillate between an urgency to interrogate colonialism's impact on fashion and literature — and a desire to simply close my third eye and feel a modicum of peace. And they say women can't have it all!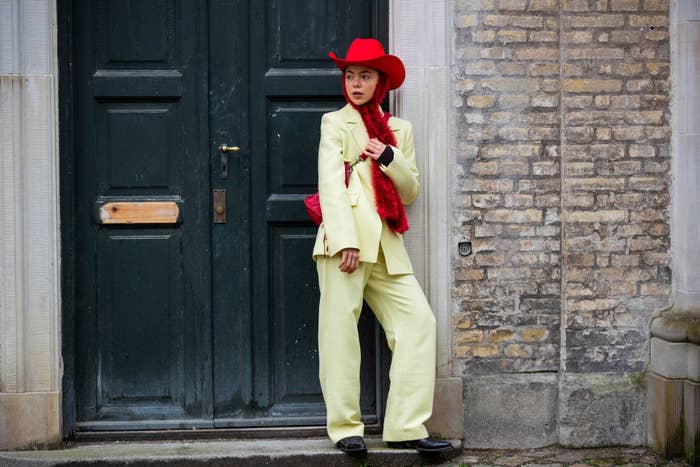 Obsessing:
"Archiving the 20teens with Ayesha A. Siddiqi." "This year's prairie skirts, western shirts, and cowboy boots do not connote nostalgia for 'the frontier.' We're witnessing the clearing house sale of a fallen empire," Siddiqi writes. "White Americana was always just kitsch with delusions of grandeur. ... As this country comes down from the final chapter in the War on Terror — its own replay of the western film genre told over the deserts of the Middle East instead of its own — and as the world has grown numb to the countless casualties that resulted, western wear is so unserious as to be fresh. It's finally time for these looks to feel meaningless."
Revisiting:
The familiar defiance of Wesley Yang. Written in 2019, Clio Chang's searing takedown of Yang's resentment toward Asian women reverberates with themes that remain relevant today: "For Yang, women are incidental to his view of the world, so much so that his political and racial analyses are often rendered meaningless. Even after all the time he spends dissecting how Asian-American men are at the bottom of the sexual totem pole, Yang writes, 'I have never dated a Korean woman,' without blinking an eye."
Bingeing:
Maschi and Yushi's YouTube channel. A father-son skateboarding duo living in Japan, Maschi and Yushi's joint YouTube channel features tips for skating as well as day-in-the-life vlogs. The pair skate around, laugh with friends, and end long days at conveyor belt sushi restaurants. My passion for their videos is ostensibly rooted in a curiosity about Japan's skate scene, but in reality, I'm unhealthily obsessed with seeing a parent–child bond that's idyllic and kind.
Streaming:
Willow Smith's cover of "Easy Easy." Before Willow's punk rock era, there was her King Krule cover era. This rendition of "Easy Easy" is ideal for driving home alone or leaving a party you have mixed feelings about. I love it.
Wow, you read the whole thing! Thanks for that. If you have a favorite corner of the internet that you'd like to share, send it my way at hellomobile@buzzfeed.com with the subject line "reSearch." We may feature it in a future newsletter.