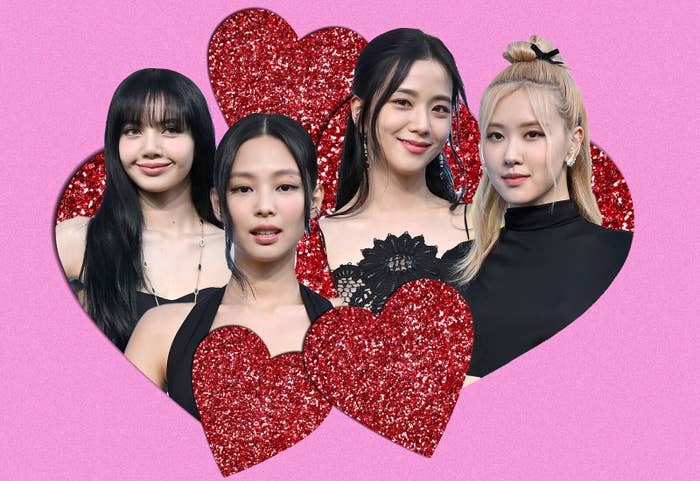 When Lin discovered K-pop icons Blackpink at the beginning of the pandemic, they were immediately "sucked into their world." In addition to falling in love with the girl group's documentary, Light Up the Sky; music videos; and behind-the-scenes vlogs, Lin felt a special affinity with Blackpink as a queer fan.

"I love their concept: black and pink, a combination of the traditionally darkest and most feminine colors, an empowering statement that women have complex identities," said the 23-year-old Canadian, who, like everyone interviewed in this story, asked to keep her last name private. "It's a concept that can also be read as something that doesn't fit in a binary box, something that I related to as a queer individual."
For Blackpink fans like Lin, 2022 has been a great year to stan. Already the most popular women's K-pop group in the world, this year, Blackpink released their sophomore album, Born Pink, in September, smashed global chart record after global chart record, and embarked on a nine-month world tour. Their single "Pink Venom," a Frankenstein mishmash of swaggering pop euphoria, was perched at the top of Billboard's Global 200 charts for weeks this fall. Despite having only released a handful of songs throughout their six-year career, the group, consisting of members Jennie, Jisoo, Rosé, and Lisa, was just crowned Time's Entertainer of the Year.
Blackpink's meteoric year has also brought in a boon of content for a very specific subset of their fandom: queer fans who want to see the K-pop idols kiss (and caress and hold and love) each other. Lin, in particular, is passionate about catching homoerotic moments between Lisa and Rosé on tour. She runs a Twitter account devoted to documenting moments of intimacy between the "Chaelisa" duo.
"They have a really playful connection that comes across organically onstage," Lin said. Although Lin doesn't "wholeheartedly believe" Chaelisa is a real romantic relationship, they find a lot of joy in seeing the two interact in ways that may or may not be gay as hell.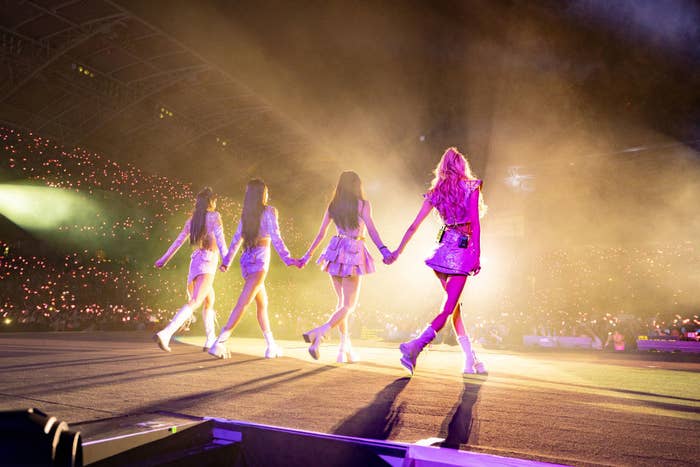 Chaelisa is just one of many, many examples of fans shipping idols with one another in queer relationships. In the Blackpink fandom alone, stans root for Jensoo (Jennie and Jisoo), Jenlisa (Jennie and Lisa), and Chaesoo (Rosé and Jisoo). With BTS, the group that has come to define K-pop for much of the Western world, fans speculate about Vmin (V and Jimin) and TaeKook (V and Jungkook). And there's an ongoing tongue-in-cheek conspiracy among TXT fans that all the members are gay and in love with each other.
This seemingly never-ending carousel of gay ships in K-pop stems in part from the music genre's vibrant queer community. When Mac, a 22-year-old grad student on the East Coast, saw BTS in concert for the first time, they were moved by seeing queer fans sporting a lesbian pride flag in the crowd. "All of a sudden I was like, life is too short to hide my interest in K-Pop, but also to hide the fact that I'm just so gay, like such a little lesbian," they said. "And to be around people who are so unapologetically themselves, that took a weight off of me."
Mac is less concerned about whether BTS members are queer, let alone in secret gay relationships with each other, but noted that the absence of explicitly gay K-pop moments doesn't mean the idols are straight.
"One of the things that I find genuinely hilarious is whenever people say things online like, BTS are gay, and people will reply, Stop assuming their sexuality. They're straight," Mac said, laughing.
Of course, fantasizing about queer relationships among celebrities isn't exclusive to K-pop. For decades, LGBTQ fans have shipped queer relationships, imagined or otherwise, as a means of envisioning representation in an overwhelmingly heteronormative pop culture landscape. Popular ships with real people run the gamut from Harry Styles and Louis Tomlinson (Larry) to Taylor Swift and Karlie Kloss (Kaylor) to Kendall Jenner and Bella Hadid (reader, I apologize, I could not find their ship name).
But queer fantasies within K-pop pose an especially interesting paradox. To begin with, idols are banned from dating by their management companies for large swaths of their careers. Though the members of Blackpink are subject to constant dating rumors, none have ever officially confirmed any relationships. Discussion about romance — heterosexual or otherwise — is heavily glossed over in interviews. Idols' tight-lipped approach to dating both provides little proof about their sexualities — and offers the perfect blank slate for fans to project relationships upon.
"If the majority of K-pop songs are about love and [idols] can't openly express it to someone, who is the safest person to express this desire with? Their own group members," Lin said. "I think it's accidentally created these queer moments within group members onstage."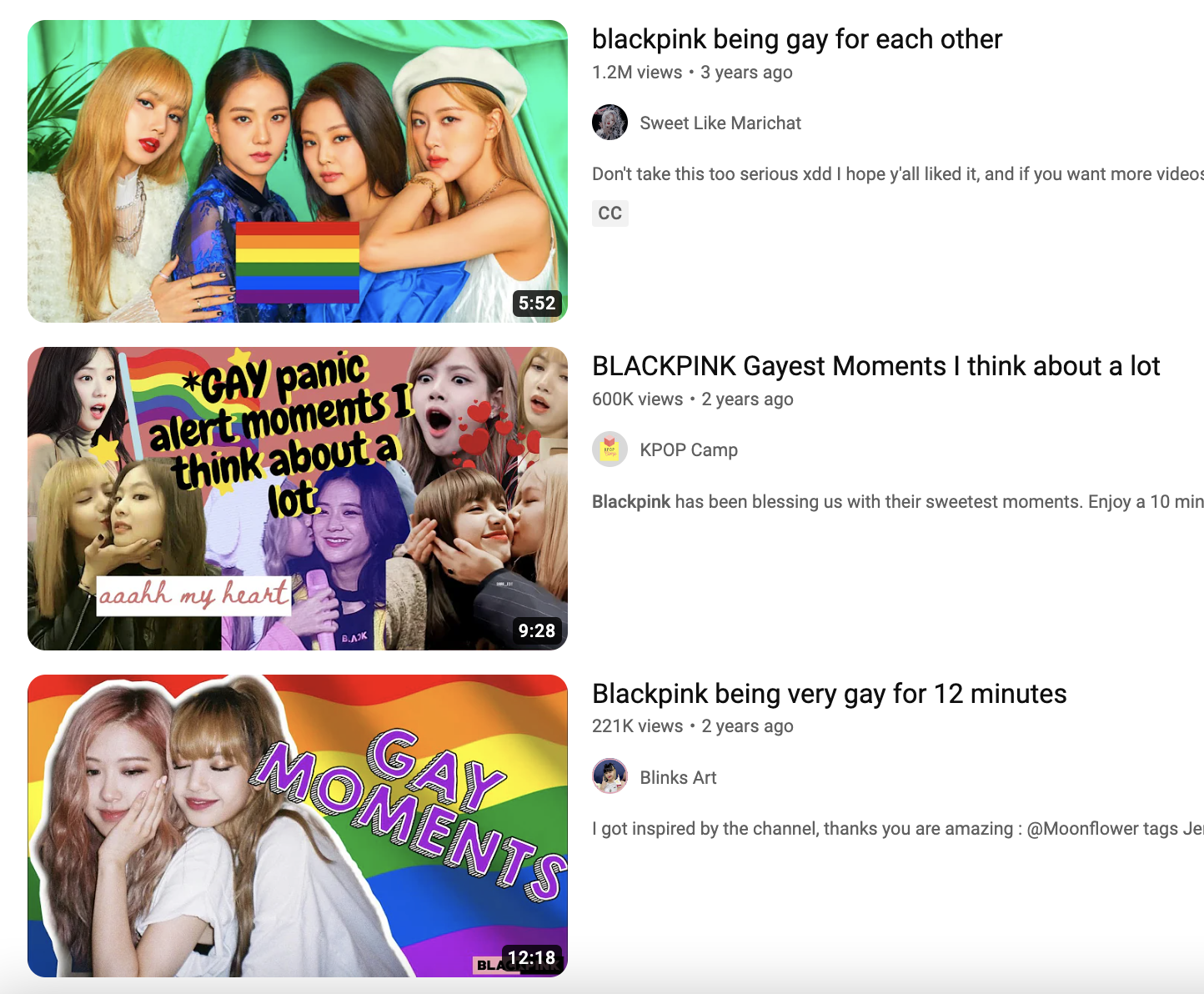 Another aspect of tension is that South Korea remains notably conservative in its recognition of LGBTQ rights. Civil unions for same-sex couples are illegal there, and only 38% of the public supports marriage for gay couples, according to a 2021 Gallup Korea poll. There are no existing national laws that ban discrimination against LGBTQ people. South Korea has very few out celebrities, and earlier this year, one of K-pop's most prominent gay idols, Holland, was attacked in Seoul in an anti-LGBTQ hate crime.

However, for some queer fans, the contrast between Korea's regressive LGBTQ culture and K-pop's queer imagery feels poignantly familiar.
"I remember growing up in the Midwest when gay was still a slur, and if you knew you were queer in any way, you're not gonna get explicit about it," Lex, a 27-year-old former educator living in the Midwest, told BuzzFeed News. "You find your community by being subtle about it and signaling it in different ways, whether that's the way you dress or certain media that you're into."
Mac, who is from Wyoming originally, agreed. "I grew up in a place where I had a lot of fear of being beaten up in the locker rooms, where I couldn't talk about my partners. It was very much like I was queer in the abstract," they said. "I could not imagine having a job where you could never confirm anything about your sexuality and literally millions of people across the globe are overanalyzing every interaction you have with a person."
And while Blackpink and other K-pop groups have faced accusations of queerbaiting in the past, fans who spoke with BuzzFeed News were adamant that this backlash felt unfair.
"Real people can't queerbait. That is not a thing that can happen," Mac said, echoing an argument my colleague David Mack recently made about the flawed discourse.
Still, not everyone is content with how Blackpink handles questions about sexuality, even if the members have a right to keep their private lives private. When asked about Blackpink, Lex referenced a recent interview with Rosé where a reporter asked if she supports gay rights. In response, Rosé shouted, "Woo!" and lifted her hand up in a "rock on" symbol — an answer that Lex found profoundly lukewarm.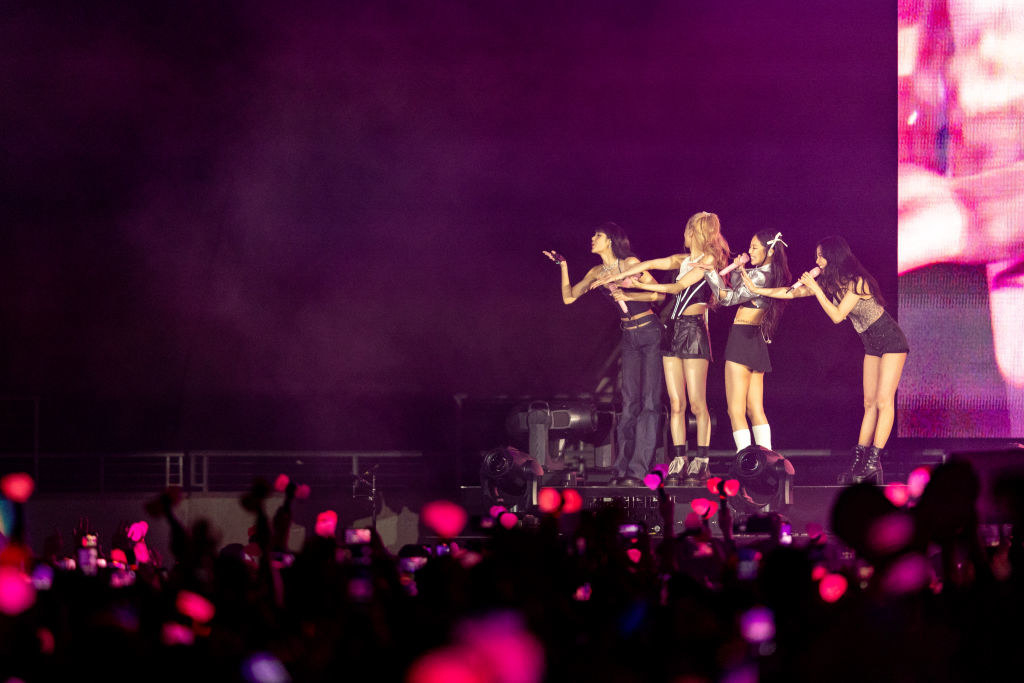 "It's not hard to make a statement when you're that big," Lex said. "I saw so many Blinks going, Well how can you expect them to say anything? They'll lose their jobs, blah, blah, blah. No, they won't. They make their company so much money. They're huge. They have very little to risk." (It's worth noting that although Blackpink is popular — and lucrative — beyond precedent, commercial success has never been enough to give idols total freedom outside their companies' watchful eyes. Even BTS members have gingerly sidestepped questions about LGBTQ rights.)

Rosé's "Woo!" response underscores the limits of queer shipping in K-pop. Ultimately, these queer ships exist within a predominantly heterosexual music industry, and even idols who may be internally navigating their own sexuality rarely use their platform to blatantly support LGBTQ fans.
But perhaps the power of queer shipping has never stemmed from the idols themselves. Intead, it's about the community brought together by a collective queer fantasy.
"Chaelisa is a vehicle to openly discuss queer topics and allow others to be open about their sexuality, where they wouldn't have the chance to in real life," Lin said. What people look for in queer fandom and shipping, fans argue, are the same things people look for in any niche passion: community, acceptance, and understanding.