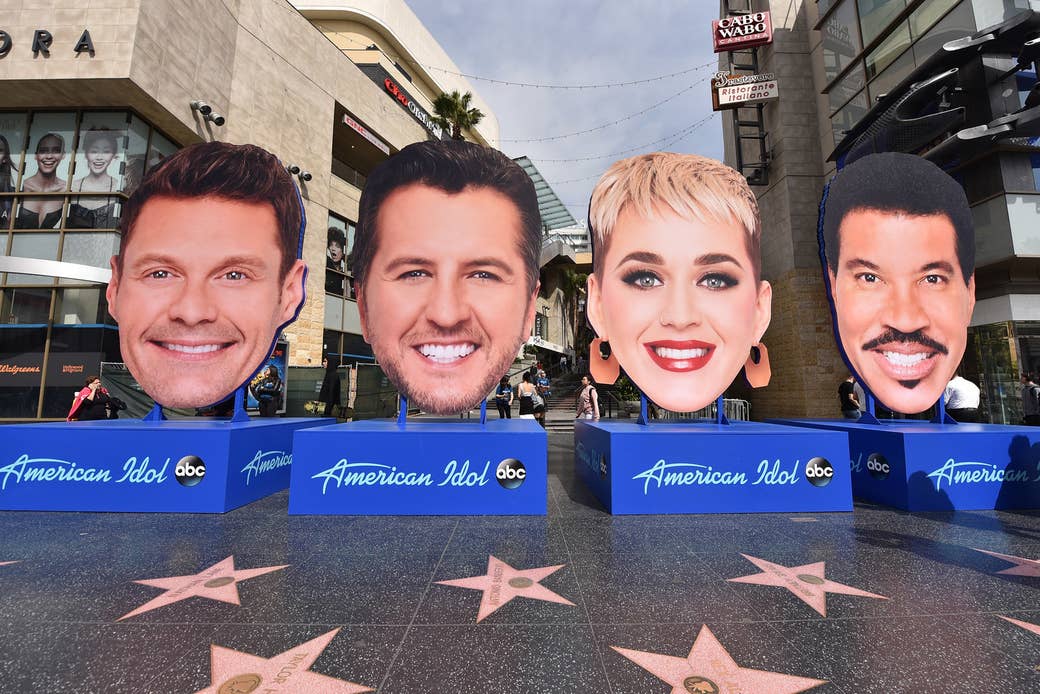 Since the announcement early last year that American Idol was coming back on ABC, after wrapping up its supposedly final season on Fox in 2016, most of the excitement about its return centered on the new panel of judges. The trio that ABC ultimately selected is a motley assortment, plucked from across the musical celebrity spectrum: contemporary pop queen Katy Perry, throwback R&B legend Lionel Richie, and the "King of Bro-Country," Luke Bryan. The controversy over Perry's $25 million salary probably made the most news, and since the show's debut, Perry's antics have garnered most of the attention. But the overall focus on these celebrity judges speaks to a larger problem for Idol that helps explain why the onetime ratings giant lost steam and seems unlikely to regain its former glory.
It's hard to remember now how Idol grew into a groundbreaking ratings juggernaut, outperforming the Oscars, peaking at 36 million viewers in 2006, and inaugurating a new wave of old-fashioned talent competitions, from America's Got Talent to The X Factor. It did so by making stars, not hiring them. The original judges — producer Simon Cowell, '80s pop star Paula Abdul, former A&R executive and bassist Randy Jackson — became iconic as judges, not for bringing their own pop star brands onto the show. But once Abdul, and later Cowell, left the franchise, it was reduced to relying on outside celebrities to attempt to bring audiences in — losing ratings, its own star-making power, and some of its identity as a forum for pop democracy in action. The show's producers started trying to generate ratings by moving the focus from the contestants to the judges, in a way that distracted from the show's musical focus and inspirational aura, as the legendary 2013 blowout between Mariah Carey and Nicki Minaj proved.
The show's uplifting brand became tarnished through these "reality" tactics, which began to seem increasingly desperate as the show's ratings fell — ending its run on Fox with 9.3 million viewers, a quarter of the audience it drew at its peak — and the later winners failed to graduate to successful (or even visible) careers in the music industry. In contrast, NBC's The Voice, the kind of competitor that Idol's success opened the door for, found a more organic way to center its celebrity judges. They were reframed as down-to-earth "coaches" who could relate to the singers onstage, in a role that allowed them to keep their own brands intact (and be replaced, as celebrity schedules inevitably demand, without upsetting the fundamental dynamic of the show).
The fact that Kelly Clarkson, arguably the face of Idol, chose to join The Voice this season as a coach — as well as Idol's ratings loss to The Voice in its premiere — underlines that the fresher competitor now better represents the earnest authenticity that Idol is struggling to recapture. Everything about the reincarnated Idol, besides the judging panel, is nearly unchanged from its first life — down to the set and Ryan Seacrest's blinding white smile. And relying on the star power of Katy Perry or her fellow judges to bring in viewers is at best a temporary patch over the changing realities of television and music that made Idol's promise of blockbuster pop stardom impossible to keep.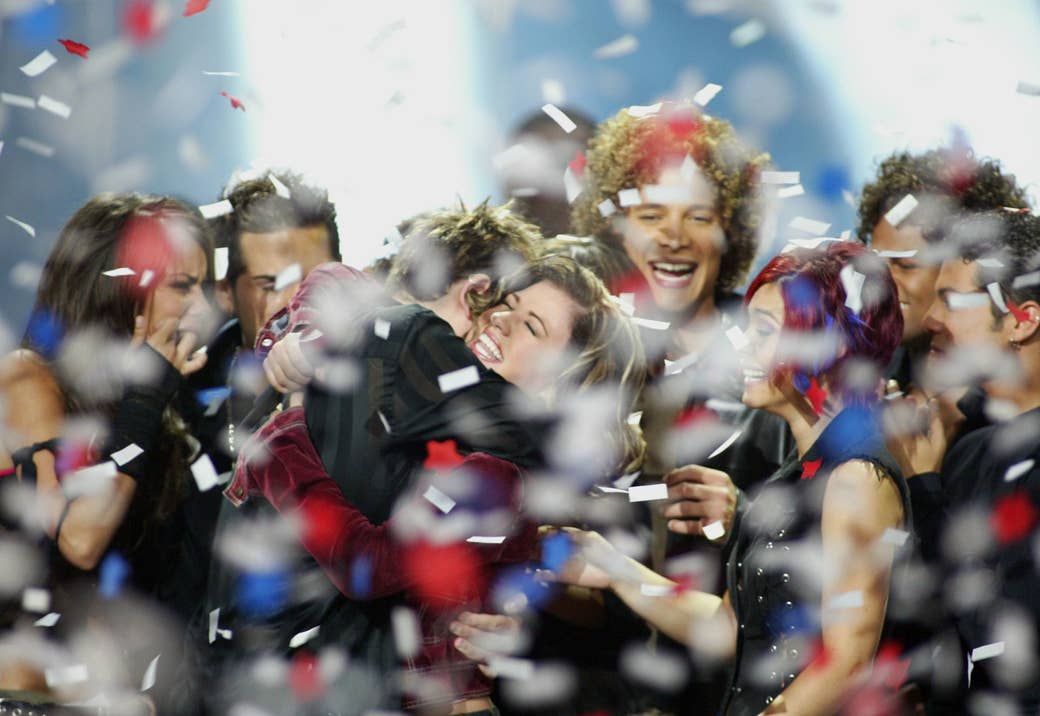 Even if you didn't watch the first season of American Idol in 2002, you might have seen Kelly Clarkson's coronation from the first finale. It is, by design, one of the most compelling moments of reality television history. YouTube is full of bootleg videos of the moment; one has over 5 million views. Clarkson had just been selected — through 15.5 million phone calls, pre-texting — as the first American Idol. Like a pop Miss America in prom-night curls, she immediately went on to sing the perfectly crafted pop power ballad "A Moment Like This" — cowritten by one of the Swedish pop wizards who helped launch Britney Spears to stardom — which was supposed to become everybody's prom and wedding anthem. As the song builds, Clarkson makes it her own with her big, belting voice, which begins to crack as she sings "I can't believe it's happening to me." She apologizes for her tears, the camera often turns to her own crying mother, and it all culminates with the other contestants coming in for a group hug and helping her finish the song as her voice breaks.

That one moment represented what made early American Idol great: a brilliant mixture of pop perfection, unembarrassed sentimentality, and reality television surprise. With its promise of a major label recording contract at the end, it was less amateurish than Star Search, yet it still flourished on the underdog appeal of its contestants. After Clarkson's win, the entertainment press raised questions about how "amateur" she really was, but the focus and excitement was entirely on her, and such questioning was still entirely in line with what the brand was selling.

Clarkson wasn't the only previously unknown quantity whose stardom was minted during that first season. Throughout the process of auditions, "Hollywood week," public voting, eliminations, and results shows, the public also came to know and love (or love to hate) the judges. Cowell, with his be-sweatered pecs and performance of snooty Englishness, seemed almost like a parody of American ideas about critics as effete Europeans. Paula Abdul had disappeared from the music scene, clearly done with her pop moment, and had never really had a defined public personality beyond her brilliant dancing and music videos, so she was a revelation. Witnessing her loopy attempts to frame feedback in positive terms was almost like watching Hallmark spoken word poetry. Randy Jackson was the seemingly objective, level-headed judge, giving practical feedback on singing — often describing performances as "pitchy" — and coining an iconic catchphrase/meme ("gonna be a no from me, dawg").
The original trio established the perfect template of commentating chemistry: the good cop, the bad cop, and the neutral tiebreaker.
After the auditions phase of each Idol season, the judges acted more like sports commentators than active participants in shaping the contestants' personas — they were central to the show, but not the center of it. And in retrospect, that original trio established the perfect template of commentating chemistry: the good cop, the bad cop, and the neutral tiebreaker. There was a delightful quality to all this perfect, cheery fakeness, which could be enjoyed both sincerely and as camp. The show, initially itself an underdog, turned unknowns into stars at every level and remained on brand, and growing, for a decade.
The show's growth was aligned with its mission of launching pop stars, and the drama it generated was primarily about the contestants — both the clashes of different musical styles and their fates on the charts after the show. The second season had the show's highest-rated finale ever, followed by eager speculation over whether runner-up Clay Aiken would end up outselling winner Ruben Studdard. Season 3's Jennifer Hudson went on to win an Academy Award and star on Broadway, and Carrie Underwood emerged as the show's country star in Season 4, which pitted her folksy appeal against Bo Bice's rocker style.
Idol ratings peaked in Season 5, in 2006, as sexy-sad rock singer Chris Daughtry was upset by Taylor Hicks's drunk-uncle-at-karaoke act (much to Cowell's annoyance), though Daughtry ended up massively outselling him. From there, the show's winners began to blur into a forgettable hegemony of white guys with guitars, punctuated by the spectacle of Season 8 runner-up Adam Lambert as the show's first not-yet-openly gay pop star in 2009 — arguably the last season the show made news for the right reasons.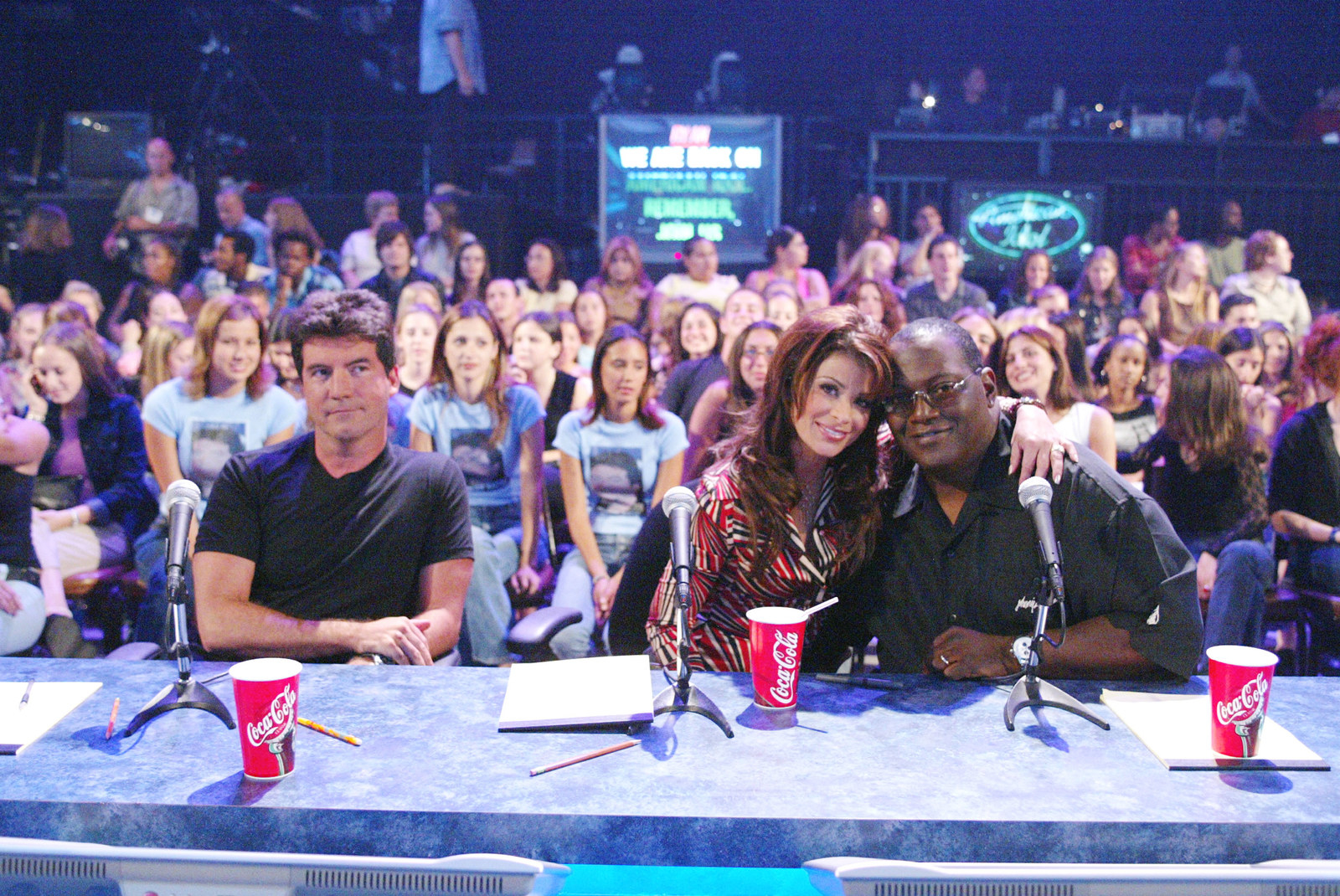 Paula Abdul uttered one of the great truths of our time when she declared, on her masterpiece Bravo reality show Hey Paula, that people don't treat her like the gift that she is. On Idol, she was the gift that kept on giving: a tireless engine of train wreck television and sweet platitudes. But when her salary demands weren't met for the ninth season — she reportedly wanted a raise from $4 million to $12 million — she tweeted her goodbye. "I'll miss nurturing all the new talent, but most of all being a part of a show that I helped from day one become an international phenomenon."
It's impossible to pinpoint one cause for Idol's struggles in its later years, as it failed to produce pop stars and ratings declined, but songwriter Kara DioGuardi's addition as a fourth judge during Abdul's final season (she was most memorable for her singing battle with "Bikini Girl") certainly upset the existing balance and chemistry of the judging panel. The show's falling ratings fell further once Abdul left, and even more tellingly, that was the first season that none of the top four finalists achieved noteworthy singles or sales success.
Ellen DeGeneres joined the panel for Season 9, in what she later called the biggest mistake of her career. Like Abdul, she didn't want to be mean, but as a professional comedian she gave harsh critiques wrapped in humor ("the line between sexy and scary is a thin line") without any of Abdul's loopy charm. (Though she did jump on Cowell's lap to dispel persistent rumors of a feud.) Ellen's stint on the show made clear that Abdul was impossible to duplicate, and probably worth every penny. But more importantly, it highlighted the difficulties of bringing established celebrities onto the show in an organic way.
Some critics have argued that Cowell's departure after Season 9, which both diluted the Idol brand and contributed to TV's singing-competition overload by bringing The X Factor to the US, put the nail in the coffin of the show's ratings. But X Factor and post-Cowell Idol both had the exact same problem: They were trying to bring in ratings and recapture the magic of watching no-name artists become big stars, while leaning on static formats and the attraction of famous judges who would inevitably distract viewers from actually paying attention to the contestants.
Big pop stars like Jennifer Lopez have no incentive to pollute their existing brands by becoming a mean Simon or a compellingly zany Paula.
Idol tried to solve the problem by hiring Jennifer Lopez and Steven Tyler for the 2011 season, but neither were distinctive or compelling judging personalities, and even their big names weren't enough to prevent a major 13% ratings drop. They played their already existing pop personas and seemed more interested in boosting their own careers than adding to the show. As CNN noted, it was unclear if Tyler was promoting Idol or himself. Lopez debuted new videos on the show, performed her own songs, and used the job to launch a further TV career. But big pop stars like Lopez have no incentive to pollute their existing brands by becoming a mean Simon or a compellingly zany Paula. Idol offered these stars in need of a career boost a huge platform, but the celebrity judges got more than they gave, and Idol only slid further into irrelevancy.
While Idol and The X Factor (which recruited Britney Spears, with disappointing results) were struggling with their judging problem, The Voice appeared in 2011, and seemed to find the best role for itself in the new pop landscape by giving the judges, and their interactions with contestants, as much screentime as possible. Featuring Cee Lo Green, Christina Aguilera, Adam Levine, and Blake Shelton in its first season, The Voice purposely framed the judges as coaches and co-conspirators, and made their relationships with the contestants the point of the show: They work together on teams. Because they didn't have the specter of any original, archetypal judges to compete with, The Voice's pop star coaches basically played themselves, and the format still worked.
The show also benefited from viewers coming to accept that TV competitions are — for numerous reasons having to do with the way the music industry has shifted — no longer a viable way to instantly mint stars. The Voice's very name doesn't promise pop stardom, but rather the chance to craft a style based on "pure" vocal talent, as the famous chair-swiveling shtick of the show's blind auditions suggests. The turn to live television for the public eliminations on Voice does send some of their songs rushing to the top of iTunes, and this more modest success somehow seems like an acknowledgment of the way that pop stardom — in the age of Spotify playlists and SoundCloud indie rap — can no longer be a big destination predetermined from the top down, but an ongoing process of tiny wins. The complaint against The Voice has always been that it has never launched a star, but arguably, after Adam Lambert, neither did American Idol.
As The Voice used this new format to deal with the changing realities of the music industry and the celebrity-judge economy, Idol kept trying to fix their problems by sticking to their usual format and simply adding more celebrities. Their pop star stunt casting reached its nadir with the Mariah Carey–Nicki Minaj contretemps of Season 12. Footage got leaked to TMZ of Minaj cussing out Carey. Their feud produced iconic television, but not so much on the show as in the lead-up — in a Barbara Walters interview with Carey, for example, during which Walters solemnly quotes a Minaj lyric to Carey ("I'm quick to check a bitch if she is out of line"). Once the show started airing, their fights — with Carey contesting Minaj's authority by shadily citing her lack of No. 1 pop hits — extended to Twitter and seemed all too real. Unlike Simon and Paula's affectionate squabbling, the feud took viewers' attention outside the world of the show and away from the artists they (and we) were supposed to be evaluating, and seemed off-brand for the show's usually wholesome image.
In an article for New York Times Magazine at the time, Heather Havrilesky wrote about their fight as symbolizing a struggle between different kinds of pop stardom — but it was the very fact that the judges were being taken as symbols of what the show represented that was the problem. The contestants — pitting R&B against country, big-voiced divas versus rockers — had once played those roles. And the most striking moment of 2016's supposedly final Idol finale once again came not from any of the celebrity judges, but from the show's onetime contestant and original queen, Kelly Clarkson. She cried while singing, this time not from the raw emotion of winning but over a ballad she wrote herself, "Piece by Piece," about her relationship with her father.
Clarkson's new role on The Voice allows her to be "real" and open about the nature of reality television. "Although you have the most amazing voice, these shows are about strategy," Clarkson tells a contestant in the current season. "Like when to show what you can do, and when to show a little more to keep you on the show and how to get you to the finale." And this willingness to pull back the curtain on its own mechanics is one of the ways The Voice now better captures the brand of authenticity and pop democracy that early Idol sold. "I don't fit the pop star image," Clarkson explained about her relationship to The Voice, "but I am a pop star." In contrast, Idol's attempt to return to its roots by hiring Perry — the epitome of the carefully crafted pop star image — comes across as dissonant with its aspirational underdog brand.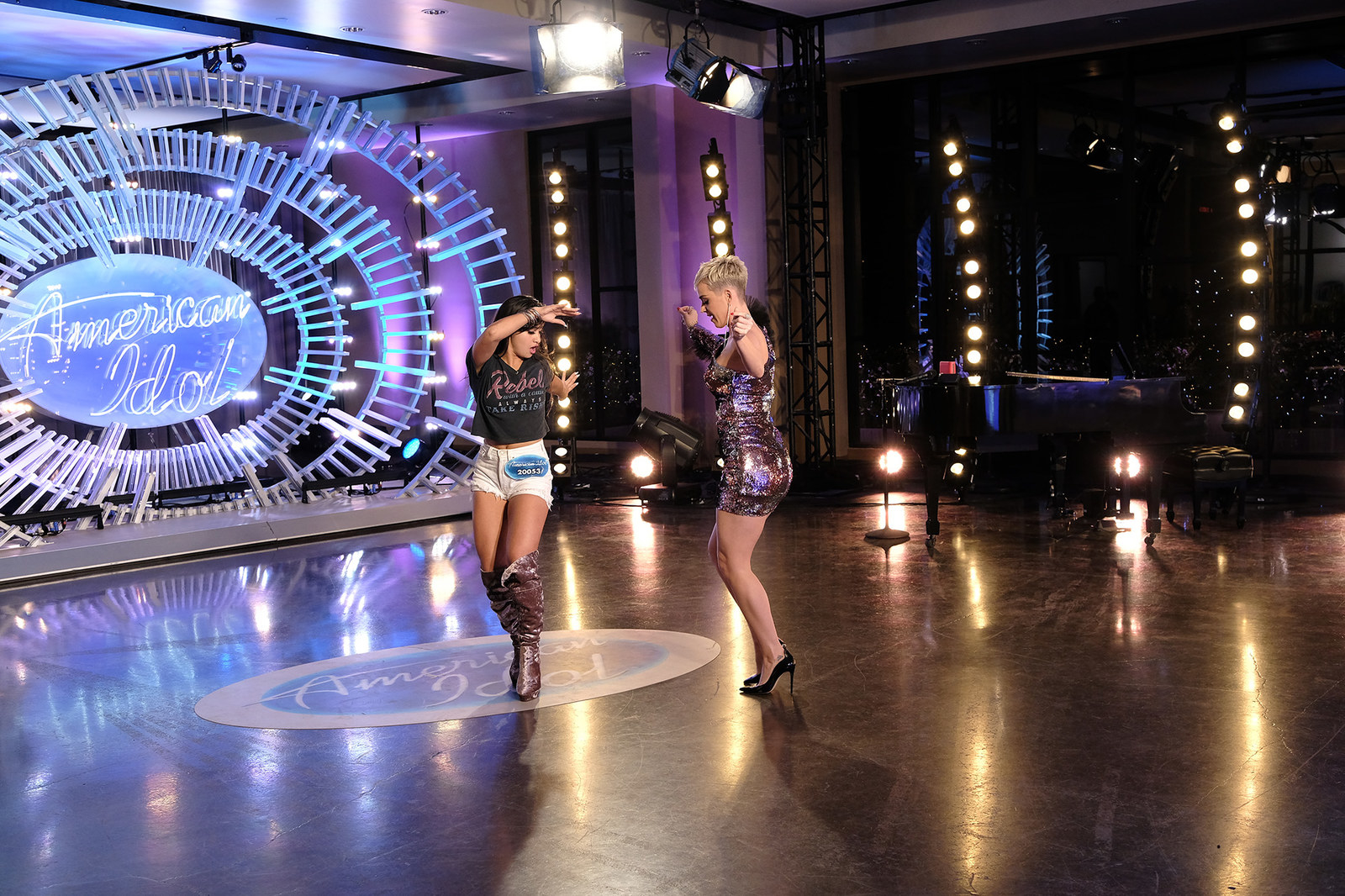 The new reboot of Idol opens with Carrie Underwood (by most measures the runner-up to Clarkson in the Idol graduate fame rankings) narrating a monologue about the power of music to move you. She describes how the show will showcase voices ranging "from the dreamers to the lullaby singers," as images of rural and urban Americana play in the background. It's an attempt to return the show to its roots — everyday people becoming stars — but of course Underwood is not one of the judges, and neither is Clarkson. Instead, the new set of celebrity judges are playing off one another with versions of themselves that are, once again, far removed from the simple but effective judging chemistry of "mean," "nice," and "neutral." Lionel Richie is playing the "wise" judge, Perry offers a savvy younger perspective, and country star Luke Bryan is the resident jokester.
Right away, the show makes sure to dispel any suggestions of judge discord or reality television tactics. "The relationships between me and Lionel and Katy, we are like peas in a pod," Bryan insists. They're even shown creating a group text: The Judgmentals. (So fun!) But Perry is already emerging as the show's breakout star in ways that demonstrate the inherent challenge of relying on celebrity judges. One audition vignette, for instance, becomes about Perry kissing a contestant, as her hit "I Kissed a Girl" plays in the background. But she also shares a powerful moment with another contestant, 18-year-old Noah Davis, who sits down at a piano to sing Rihanna's "Stay." They connect over his use of the word "wig" (as in "wig snatched" or "blown away" because he can't believe he's standing in front of Perry), when only Perry understands what he means. "It's not your language — it's just for us," she tells Richie and Bryan.
It's a beautiful moment of connection, and outside the show, the exchange quickly went viral and became a celebration of Perry's own new brand of wokeness. Perry is a powerful presence, and that is the kind of moment that on The Voice would get a contestant on her team. But her relationship with Davis won't really be part of this season of Idol, which is sticking to its original format, and will also be relying on celebrity duets to woo the existing fanbases of singers like Luis Fonsi and Toni Braxton.
Idol is still trying to sell its old self as new by attaching its brand to the novelty of big pop stars. But it can never return to its former glory, dependent as it was on a blockbuster moment of both music and television. "You don't need us," Adam Levine tells one contestant on The Voice. "We need you." He was referring to their relationship on the show, but the comment also hinted at the changed relationship between pop music and reality television. If Idol found a way to acknowledge that, it might be able to adapt to its new reality. ●