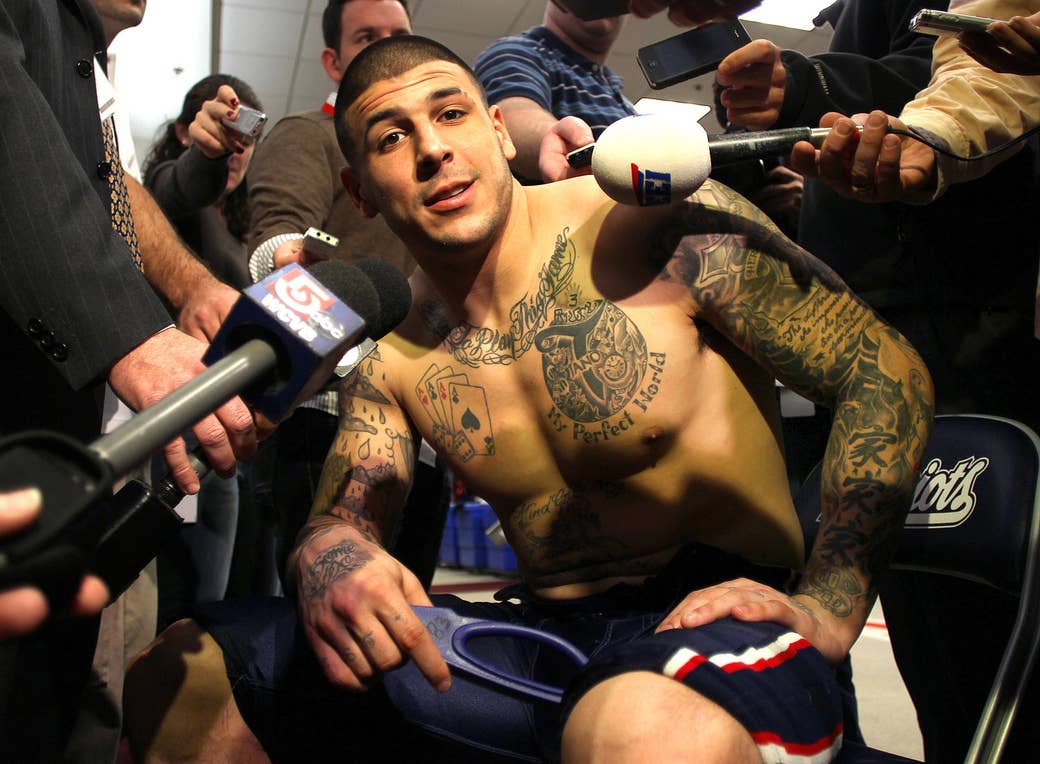 Since his initial arrest for murder in 2013, the story of Aaron Hernandez, the former Patriots tight end who became embroiled in two murder trials before killing himself in April, has riveted the public. With its echoes of O.J. Simpson, the story was first framed as an American tragedy: the story of a strikingly handsome football player with a $40 million contract — heralded as one of the best tight ends in the nation — who somehow got involved in the senseless murder of his friend.
Hernandez's 2015 trial and conviction for the 2013 murder of Odin Lloyd, the boyfriend of Hernandez's fiancé's sister, appeared to come out of nowhere; there was no obvious motive. But it was followed by a second trial this year for an earlier crime — the shooting of two strangers at a Boston nightclub in 2009, of which Hernandez was acquitted — which provided a portrait of escalating acts of random violence fueled by paranoia and perceived disrespect: in this case, a spilled drink. There was a pattern to the senselessness.
Throughout both cases, many theories were put forth by Hernandez's family, the press, and the police to explain his downfall. His father's untimely death when Aaron was only 16, many accounts noted, made him angry and sent him down the wrong path; his brother, his fiancé, and even the police blamed his propensity to fall in with unsavory associates and hangers-on; others close to him noted his increasing drug use, which fed an intensifying paranoia prompted by the Boston shooting.
After Hernandez hanged himself in his jail cell on April 19 — with no drugs in his system — it was reported that he was actually bisexual or gay, and the American Tragedy narrative morphed into a gay melodrama: Brokeback Mountain meets Oz. Suddenly there was room for sympathy and understanding; perhaps he had killed himself because he was not able to lead his real life, or was terrified that he would be outed. Perhaps that even explained why he had murdered his friend. (This report has since been contested by his fiancé and lawyer.)
In the aftermath of his death, Hernandez's family turned over his brain to the Chronic Traumatic Encephalopathy Center at Boston, in the hopes that his pathology might be located somewhere in his chemistry, amid the growing research about the impact of football concussions on players' violent off-field behavior. But the football industry was distancing itself from Aaron Hernandez from the moment of his arrest.
"I'm just shocked," Patriots owner Robert Kraft announced after Hernandez's arrest in June 2013. "Our whole organization has been duped." Sports columnists followed suit, defending the Patriots from "guilt-by-association finger-waggers ... as if the franchise should possess shame for the association with a disguised psychopath." In a theatrical moment of catharsis as brand management, the Patriots ProShop organized an event for fans to exchange their Hernandez jerseys — confirming his expulsion from the football firmament.
Like many men of color, Hernandez was celebrated, and learned to value himself, as a sports-achieving body.
There's no single coherent explanation for Hernandez's downfall, but what does connect the disparate strands of his crime, his death, and their aftermath is a broader social contradiction that is not just Hernandez's to own. Grappling with this story means confronting inconsistent values about achievement and worth that Hernandez received from his father and the sports corporations that became his "family," and which he was unable to transcend.
Like many men of color, Hernandez was celebrated, and learned to value himself, as a sports-achieving body. From the time he was a teenager, that body represented the promise of talent in the American dream. But this embrace of professional achievement seemed to stunt his personal development. As the sports industrial complex protected him from consequences during his formative years, it ultimately helped turn him into another body for the prison industrial complex.
By the time he was convicted, Hernandez was no longer allowed to signify anything beyond himself; he became a sociopath or "thug" — as online comments describe him — who must take responsibility for his own actions. But his trajectory cannot be divorced from the institutions that shaped him, from his family to his football teams, and the values they instilled in him. Another way to understand this story is that he made sense of those values in an ultimately self-destructive — but not necessarily irrational — way, which culminated in what may have been a final attempt at seizing some control: his death by his own hands.
Almost every post-arrest profile about Aaron Hernandez begins or ends with the ghostly, idealized figure of his father, Dennis, and the brief, shining moment when the family witnessed Aaron's initial rise as a professional athlete. That moment is made to symbolize his promise as the heir to his father's ambitions for the Hernandez family.
Dennis Hernandez (and his brother, David) were sports heroes in Bristol, Connecticut, where they excelled in high school basketball and football. Nicknamed "The King" for his superb athletic abilities, Dennis's football skills got him a full scholarship to the University of Connecticut. But as one friend noted in Rolling Stone's richly reported pre-trial account of Aaron Hernandez's downfall, one of the few stories to even mention race, "They had to be tough – they were about the only Puerto Ricans in an Irish-Italian town."
Dennis Hernandez eventually dropped out, became a custodian, and married Terri Valentine, an Italian-American woman. Despite his own inability to "go pro," Dennis seemed to internalize the ideas about talent and color-blind meritocracy — anyone who works hard enough can make it — that sports in America is made to represent. And he instilled that philosophy in both his sons, Jonathan (nicknamed D.J.) and Aaron. Discussing the evidence of Dennis' influence on Aaron, a former Bristol football teammate framed it precisely in terms of American assimilation, respectability, and self-discipline: Aaron "didn't speak Spanish and had no tattoos. He was so focused on his body that he barely partied, maybe snuck a little weed here and there." His prized body and self-discipline were supposed to take him places, and — at first — they did.
Even in high school, Aaron Hernandez's abilities made him look like "the man playing with children," as one reporter told CNN. "He was literally head and shoulders above all the competition on the field," another reporter remembered. Both Hernandez sons became publicly celebrated athletes in Connecticut. Within three years of each other, each would be named a Gatorade Connecticut Football Player of the Year, a title hinting at the intertwined promise of sports heroism and commercial sponsorship.
Because of sports' — and in American culture, particularly football's — role as the ultimate embodiment of masculine achievement, there is a tendency to forget that it is also a branch of the entertainment industry. This kind of story about passing on frustrated dreams of fame and fortune to one's children is often framed as a problem when it involves female entertainers; the label "stage mom" implies that a mother's expectations are an inappropriate projection — even putting too much pressure — onto her daughter. But in the profiles of the Hernandez family, the multigenerational relationship between sports and masculine bonding is represented as a proper vehicle for cultural belonging, working-class achievement, and pride.
"They'd [hold up] signs there that said HERNANDEZ," his brother DJ later told Sports Illustrated, evoking a sense of melancholy and yearning for what the family once represented to the community. "Our whole family would sit up there." But this idealization of the sports-achieving, self-sufficient, working-class family of color — with the patriarch at the center — would unravel with the death of Dennis Hernandez.
In news documentaries, profiles, and even police statements, Dennis's death, of complications from a routine hernia operation in 2006, functions as a big dramatic moment that precipitated Aaron Hernandez's personal dissolution.
Friends and family speculated about Aaron's reaction — or lack thereof — to his father's death, as if some nascent personal pathology could be read through his emotions. His brother, D.J., claimed that Aaron was stoic at the funeral. "Crying is not always the answer, but being an emotional family, for him to put up a wall during the services... it was shocking to me," he later remembered. In contrast, Brad McMillan, a Bristol teammate, told CNN years later about that period, "He was just sad; he can't stop the tears." Another teammate added: "I felt uncomfortable just to see him so hurt. I felt bad for him."
His mother suggested that Aaron's grief turned into anger. "It was a rough process, and I didn't know what to do for him," she later said. "It was very, very hard, and he was very, very angry. He wasn't the same kid, the way he spoke to me. The shock of losing his dad, there was so much anger."
Many authority figures retrospectively expressed concern for Hernandez's emotional state as a grieving 16-year-old. Years later, his high school coach said he'd always had "concerns" about Aaron going off to college in the midst of his grief. One of the recruiters for the University of Florida admitted that signing Hernandez was one of his "toughest" recruiting jobs. But there appears to have been no suggestion at the time — at least on the record — that he take a break from football to work on himself or turn to mental health professionals.
Instead, the opposite happened. Hernandez graduated from high school early after deciding he would play for the Florida Gators instead of the Connecticut Huskies, his brother and father's team. One reporter later remembered that Hernandez's mother, Terri, had called him in tears because "She was so upset that he was not going to UConn. ... I think what she did know was that if he had gone to UConn, D.J. would probably have taken him under his wing."
It seemed nearly impossible to think outside the event of his father's death in considering Aaron's trajectory.
In an interview with a local station announcing that he had chosen Florida, Hernandez sounds like a sweet kid parroting parental dreams. He calls the reporter "sir," explains that his mom makes him get good grades, clarifies that football is second to school, and muses that he wants to major in education. In another report, he says, with a good-natured smile, that he still hears his father's instructions in his head — both his encouragement and admonishments.
At nearly all levels — from Hernandez himself to the people around him, and later the media — it seemed nearly impossible to think outside the event of his father's death in considering Aaron's trajectory. His fatherless downfall would be depicted less as the result of, for example, a collective failure to identify or address mental health issues, and more as as a preordained, unstoppable fate in a Greek tragedy.
Looking for retrospective ways to make meaning, profiles and thinkpieces contained an overwhelming archive of anecdotes and stories about Aaron Hernandez's anger over his loss. One Sports Illustrated reporter remembered a moment right before Hernandez's 2013 arrest when he walked out of a sports bar and defiantly peed on a taxicab. "Then I lightly touched his elbow to guide him back into the bar and said, 'Aaron, come on. This is stupid.' At that point Hernandez whipped around, got in my face, unleashed a stream of expletives and concluded, 'I'm not a child! You're not my dad!'"
Even in prison, a guard later reported that Hernandez had shouted, in anger, that he wanted to be "my father figure and show me how to be a man." Whether he was lashing out about his own loss, projecting anger outward toward perceived father figures, or aggressively offering to father others, Hernandez seemed lost in a maze of paternal ghosts.
This conservative, patriarchal idea that only a father can teach a son how to be a good man still permeates all kinds of narratives, from Boyz n the Hood to Moonlight to Aaron Hernandez's story. This fascination with fatherlessness echoes, in many ways, the cultural and social policy obsession with absent fathers in poor or working-class families of color that has circulated at least since the infamous Moynihan report of 1965. If only the heteronormative family structure could be kept intact, these stories imply, crime, poverty, racism, and emotional turmoil could be prevented or overcome.
But the cultural obsession with missing fathers displaces the way that their absence might be managed with real-world action by the state and institutions to support families; for instance, a more robust public school system with a better school counselor and mental health professionals might have helped Hernandez deal with the enormity of his grief. Instead, Hernandez was entrusted to the corporation of college sports.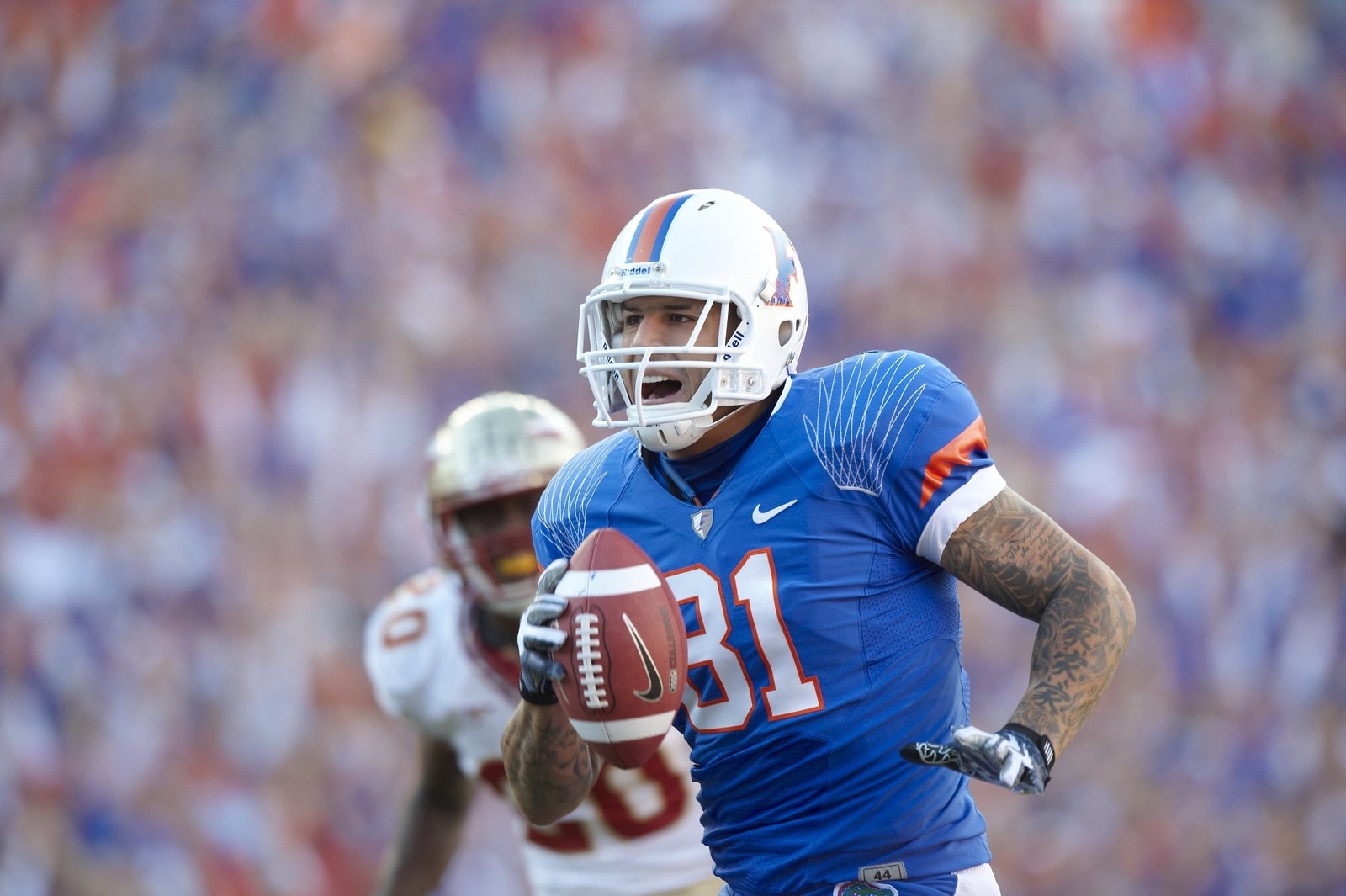 At the University of Florida, Hernandez was placed under the wing of coach Urban Meyer, who was depicted in early profiles of Hernandez as a kind of heroic savior mixing football discipline with spiritual guidance; a less secular version of Friday Night Lights' Coach Eric Taylor. Hernandez's mother told USA Today that Meyer "became his father more or less and the team was his family."
But soon after arriving at the University of Florida — before playing a single game — Hernandez got involved in an altercation at a Gainesville bar called The Swamp. After ordering two drinks and refusing to pay the bill, Hernandez stepped outside with the bar's manager and punched the man, rupturing his eardrum. The police recommended felony battery charges, but the bar manager asked them to drop the case a week later, after speaking with UF lawyers and coaches.
It was later reported that the lawyer Huntley Johnson, an "unofficial" member of the Gators team and part of the institutional culture, helped resolve the incident. Already, the institution that stood to profit from Hernandez's success was stepping in to save him from consequences, not by dealing with the issues of Hernandez's immaturity or inability to process his grief, but by tidying up the effects.

Just months later, Hernandez was questioned in connection to a shooting outside The Venue, a nightclub where he'd been with teammates. Two men were shot and a witness named Randall Cason initially told police that the shooter was a "Hawaiian" or "Hispanic" male with a large, muscular build and a lot of tattoos. Hernandez was detained by police, but refused to answer questions without an attorney present. The police publicly declared him a non-suspect, and Cason recanted his identification. (Hernandez was eventually cleared as a suspect again in 2015.)
The institution that stood to profit from Hernandez's success was stepping in to save him from consequences.
Hernandez was suspended from the first game of the 2008 year for testing positive for marijuana. It was later reported that Meyer had covered for him. "Meyer kept us at such a distance," one reporter later said, "or flat-out lied, that we couldn't verify a pot suspension." And Hernandez was still struggling with his father's death. Meyer described one "10-hour meeting. We finished at my house at 10 o'clock. Then it continued the next day. When your guy, your idol, your soul is taken from you, how do you deal with that? I just think there's a part of his life that was not there. He needed discipline; he needed someone to talk to."

This discipline involved meetings at Meyer's office at 7:30 to read the Bible. Meyer also entrusted Hernandez to the twin teammates Mike and Maurkice Pouncey and to Tim Tebow — hoping that Tebow's white evangelical philosophy of religious fervor and self-discipline would somehow rub off on Hernandez by proxy.
"He was very, very immature," an NFC personnel executive later said. "Urban did him right by having him follow Tebow — and he was such a follower. He could go in any direction. And everyone knew that if you didn't keep an eye on him, he was an easy guy to persuade to do the wrong thing."
Years later, in an ESPN profile of Meyer, both the coach and his wife were presented as a kind of Blind Side family taking in the troubled Hernandez, who they said was always respectful and polite to them. The implication of such an arrangement is that the young Hernandez simply needed a proper family structure model to emulate, as if structural issues of class, race, gender, or mental health could be addressed privately through a benevolent white family's generosity. But in a radio interview at the time of Hernandez's murder trial, Meyer framed his view of Hernandez's downfall in less idealizing terms that more accurately reveal the cultural — and often unacknowledged racial — distance between them: "Unfortunately, you can't lock them up and keep them away from their homeboys."
Hernandez's joking nickname at Florida, "Chico," was an allusion to the '70s sitcom Chico and the Man, about a jokey, self-effacing Chicano and his crotchety, benignly bigoted boss. It was a more savvy acknowledgment of the racial and class dynamics at stake in Hernandez's role in these sports corporations than the metaphors about family that hid — rather than addressed — the complicated power dynamics in play. Hernandez would be "cared" for as long as he was an excellent player and a valuable employee.
Even as the attempts to help Hernandez deal with his emotions through religious and patriarchal models of authority failed to keep his personal life on track, Hernandez was developing into an even more talented (and valuable) athlete. Tight end is a demanding offensive position that requires the strength and size to block opposing defensive players, in addition to being fast and agile enough to work as a receiver. Hernandez effortlessly excelled at both roles. By 2009 he got a splashy profile in USA Today about his increasing role as a playmaker and receiver after Tim Tebow's injury. His rise was confirmed when he won the 2009 John Mackey Award for best tight end in the nation.
When asked about Hernandez in 2015, during the murder trial, Urban Meyer sidestepped any responsibility he might have had to identify behavior problems that needed serious attention. "I don't think anybody ever dreamed of this, myself included," he told the reporter. "He had a positive drug test and sat out a game." But it was at Florida that Hernandez — facing the void left by his father's death — seems to have started turning toward a dangerous ideology of self-reliance and toxic masculinity. And it looks in retrospect as if Meyer, along with the rest of the university figures now acting as Hernandez's "family," believed that as long as they kept him with the "right" company, they could manage that void and keep him professionally on track.
There is a now-iconic photo of a gun-wielding Aaron Hernandez taken in 2009, the same year that he won the John Mackey Award. In the picture, Hernandez's eyes look drowsy; with his mouth curved upward on one side, he proudly exhibits a .45 Glock handgun with one hand, and holds his cell phone with the other as he takes the picture.

According to later testimony from his weed dealer, Alexander Bradley, by then Hernandez was smoking so much pot — from one to four ounces a week — that the two became close. Hernandez "felt like people thought he was soft or something and he was out to prove something." The selfie suggests a conscious performance of hypermasculinity; it looks like a 19-year-old crafting an aesthetic and trying on a style, searching for some kind of meaning.
This is also evident in the way Hernandez started tattooing his father's philosophies of self-reliance all over his body, partly couched in the languages of religion and self-help. "Some do. Some don't." "If it is to be, it is up to me." "The difference between the impossible and the possible lies on a person's determination." "Self made." A spider web was meant to represent how "spiders create their own path. I make my own decisions, don't blame anyone," he told a reporter in 2009. Figures of angels and Jesus's hands on the cross were an acknowledgment of "the pain we all go through," he noted.
He only seems able to admit his pain by talking about hiding it — he exhibits by concealing.
But Hernandez admitted that he was, in fact, having trouble dealing with his own pain about the loss of his father. "I don't go to his grave," he acknowledged in that same profile. "I hide from it. I kind of feel like it didn't happen, still in denial, but I have a lot of support." Hernandez sounds caught in the contradiction between acknowledging that he needs support and assuring the world of his strength and stability. He only seems able to admit his pain by talking about hiding it — he exhibits by concealing.
Much has been made of pre-draft reports — documents compiled by professional football teams to make their drafting decisions — analyzing Hernandez before he was signed to the Patriots in 2010. The reports' language implies that they are diagnosing him, but it also sounds like he's performing or putting his dissatisfaction out there, in an unconscious cry for help. One report states: "Self-esteem is quite low; not well-adjusted emotionally, not happy, moods unpredictable, not stable, doesn't take much to set him off, but not an especially jumpy guy."
In another report, in contrast, he was given high ratings for self-confidence and work ethic but the lowest possible rating (1 out of 10) in social maturity. His responses "suggest he enjoys living on the edge of acceptable behavior and that he may be prone to partying too much and doing questionable things that could be seen as a problem for him and his team." It hints at the same kind of performance of the exhibitionist gun photograph, suggesting that Hernandez was testing boundaries as he looked for meaning outside football.
Based on the pre-draft reports, Hernandez fell from a first-round talent to the fourth round of the draft. This meant that the guaranteed money dropped from millions of dollars to hundreds of thousands of dollars, and by signing him teams would be making a willing and knowledgeable gamble — an economic calculus pitting potential off-field behavior against a low price for on-field performance.
"We knew he had some issues prior," Floyd Reese, a senior football adviser for the Patriots, said later. "I think Urban [Meyer] convinced Bill [Belichick] that, you know, that these things weren't going to be an issue. ... It was just from our standpoint, we were getting a first-round talent in the fourth round under a contract that was going to keep him in line or it wasn't going to cost us a penny." The Bible-toting father figure Meyer later admitted: "Coach Belichick is a friend of mine and of course I was very honest and I said you just need to keep an eye on him."
It was seemingly in the Patriots' best interest to simply overlook the 19-year-old's mental health, rather than risk losing a player who could benefit them in the short term.
Some journalists later argued that Hernandez was an almost sociopathically talented liar who hid his violent side. The Boston Herald's Ian Rapoport mused: "I definitely know the storyline, and I think there are a lot of examples of coaches and teams who say, Yeah I know this guy is a problem but he is a great athlete so I'm keeping him. I don't know that Hernandez was really like that, because he did such a good job of hiding everything that he was doing. Guns, drugs, violence, all of the things. ... He lived a double life but did a very good job of covering it."
It's not clear exactly what was known or said about Hernandez, and how much of it happened through official channels versus off-the-record conversations. But those who were looking certainly did register Hernandez's emotional immaturity. An AFC (American Football Conference) director who was present for one team's pre-draft meeting with Hernandez later said: "It was the emotional state of this kid, the highs and lows, the overall stability that got you. You're not saying, 'OK, this guy may be a murderer.' It was just, 'He's not mentally ready.'"
It was seemingly in the Patriots' best interest to simply overlook the 19-year-old's mental health, rather than risk losing a player who could benefit them in the short term. Later speculation questioning what NFL coaches and owners knew focused not on Hernandez's emotional troubles, but on its symptoms: the drug use, unsavory associates, and rumored gang affiliations. But that was a result of Hernandez's reasonable calculation — the flip side of the team owners' — that his extraordinary ability as a football player would allow his immediate issues to be endlessly deferred or overlooked. And until his arrest, that proved true. In its aftermath, the sports corporation could simply claim they didn't know anything; all the guilt could be assumed by the pathological Hernandez.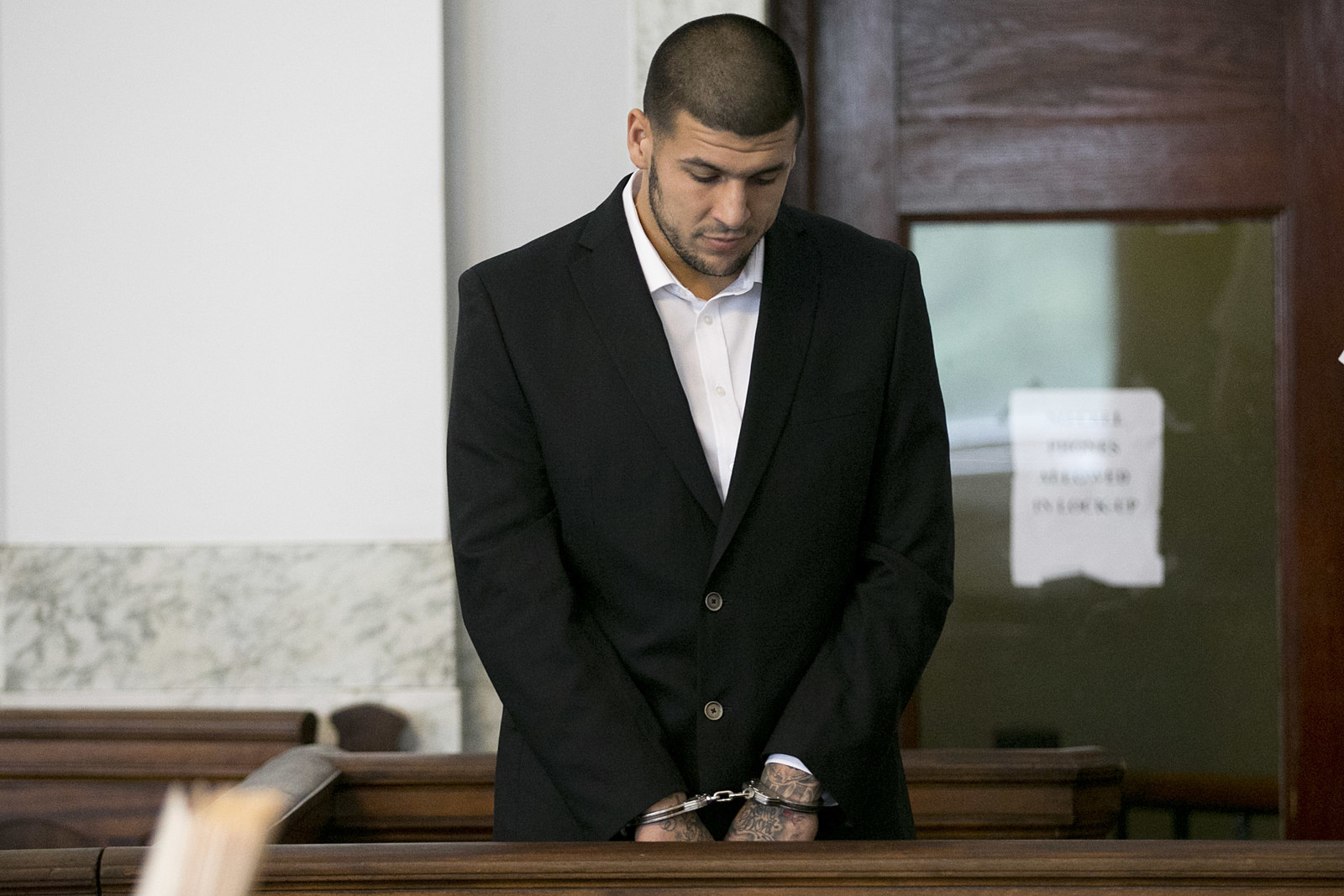 Because the only eyewitnesses to Hernandez's crimes are themselves implicated in the action, events and motives remain unclear. In retrospect, and after the trials, it appears that his crimes built on each other through a combination of paranoia and toxic masculinity.
It was around the time that Hernandez signed his contract extension with the Patriots in 2012, when he was 21, that his personal life started careening out of control. In July, Hernandez went to a Boston nightclub with his pot dealer turned close friend, Alexander Bradley. Bradley claims that Hernandez shot two other men in a drive-by after getting into an argument with them at the club over a spilled drink. They were supposedly "testing" him, or staring him down.
In the shooting's aftermath, Bradley said that Hernandez became increasingly paranoid that he was being surveilled by cops and recorded by other people's iPhones. In February 2013, Bradley claims Hernandez shot him in the face after he snappishly reminded him of the "stupid shit you did in Boston." Bradley refused to cooperate with police in the aftermath, but he ultimately lost an eye and later sued Hernandez, right before his arrest, and settled out of court.
When pondering how his brother got caught up in these crimes, D.J. Hernandez later pointed out: "I just know he cared about people. And some of the people he cared about, I wasn't too fond of. I didn't think they were the best for him at that stage in his life. But he cared so much. He really did."
That Hernandez felt alone and was looking for some kind of comradeship and loyalty — and trying to discern financially motivated hangers-on from genuinely loyal friends — is even evident in some of the text exchanges with Bradley after the shooting:
"I never thought ud be da one to shoot me," Bradley texted in the aftermath of the shooting.
"I love u and ur not gonna frame me for some bread," Hernandez replied.
"Cameras in that alley where you thought you killed me," Bradley texted. "Do you have trustworthy [expletive] like me around you? Doubt it."
"I have no friends," Hernandez texted to Bradley at another point, in a combination of aggression and vulnerability, "but I was raised by the best, and I got myself!"
"I have no friends, but I was raised by the best, and I got myself!"
His allusion to the perpetual theme of his idealized father and his self-reliance reads almost like a consoling self-help message. By then Hernandez was engaged to his college girlfriend — and mother of his daughter — Shayanna Jenkins, and publicly hoping that his own fatherhood would set him straight. "It's just going to make me think of life a lot differently and doing things the right way," he told NESN about these life developments. "Now, another one is looking up to me. I can't just be young and reckless Aaron no more. I'm gonna try to do the right things, become a good father and [have her] be raised like I was raised."
But the 22-year-old was still struggling to take care of himself. It was later reported that in February, the same month of the Bradley shooting, Hernandez asked to speak to Bill Belichick and requested a trade from the Patriots because of "heat" back home, probably an allusion to Bradley's death threats. Seemingly not understanding the level of Hernandez's paranoia or troubles, Belichick said he couldn't trade him — his contract size suggested how crucial he was to the team — but offered instead to increase his security.
In June, Hernandez's fiancé's sister's boyfriend, Odin Lloyd, became entangled in Hernandez's web of paranoia, after he talked to some men at a club — friends from Antigua — whom Hernandez then became suspicious of. Some have speculated that Hernandez mistakenly thought they were connected to the Cape Verdean men from the Boston shooting. The prosecution alleged that Hernandez, accompanied by two other men, picked Lloyd up and took him to an industrial park, where he was shot five times.
Unsurprisingly, the subsequent 2015 legal drama and trial turned the story into a family melodrama. Hernandez's older cousin, Tanya Singleton, who became a parental figure to him after his father's death, allegedly helped him cover up the Boston shooting, and it was her friends — whom Hernandez met at her house — who became involved in the Lloyd shooting. She was jailed for contempt for refusing to testify against him, and prosecutors alleged that Hernandez tried to buy her silence by claiming he would set up a trust fund for her children, suggesting that even his most intimate family relationships were affected by his money and professional achievements.
Hernandez's fiancé, Shayanna Jenkins, had to testify about (and, many speculated, cover up for) her partner's potentially illicit activities on the stand. She became known as his "ride or die" girlfriend because she was symbolically pitted against her sister Shaneah, the girlfriend of the murder victim. (The sisters no longer speak, Shayanna Jenkins recently confirmed to Dr. Phil.) This network of women he provided for seemed willing to clean up his messes, just like the sports industrial complex once did.
Ultimately, the only Patriots figure called to testify was the team's owner, Robert Kraft, who recalled how Aaron had lied to him about his involvement in the Odin Lloyd murder. "I understood there was an incident that had transpired, and I wanted to know whether he was involved, and if he was, any player that comes into our system, I consider part of our extended family, and I wanted to get him help," he explained. "He said he was not involved." Paradoxically, jurors later highlighted Kraft's testimony as one of the most compelling pieces of evidence to convict him — finally easing Hernandez's transition from the sports industry to the prison industrial complex.
In a letter from prison, Hernandez later wrote about "fake-ass non-loyal Kraft who told me he loved me everytime he seen me but obviously shows his word aint shit. But my love [for the Patriots] was real and still love all them cuz I'm not a phony like many of them!" This language of loyalty, genuineness, and phoniness — which almost evokes the earnestness and teenage moral imagination of Salinger's Holden Caulfield — suggests the contradictory mixture of innocence and anger, adult violence and childlike earnestness that coexisted in Hernandez.
Ironically, according to some who knew him, Hernandez sounded liberated in his prison correspondence, relieved of the rigors of his football dreams. His former Little League coach painted a different picture of his idealized life in sports, finally raising questions about the pressures put on him that were first normalized by his father: "It almost feels like the pressure on him is off, now that he is in jail. He must have felt a lot of pressure. It makes you feel sad. Why didn't he try to deal with it through counseling or something?"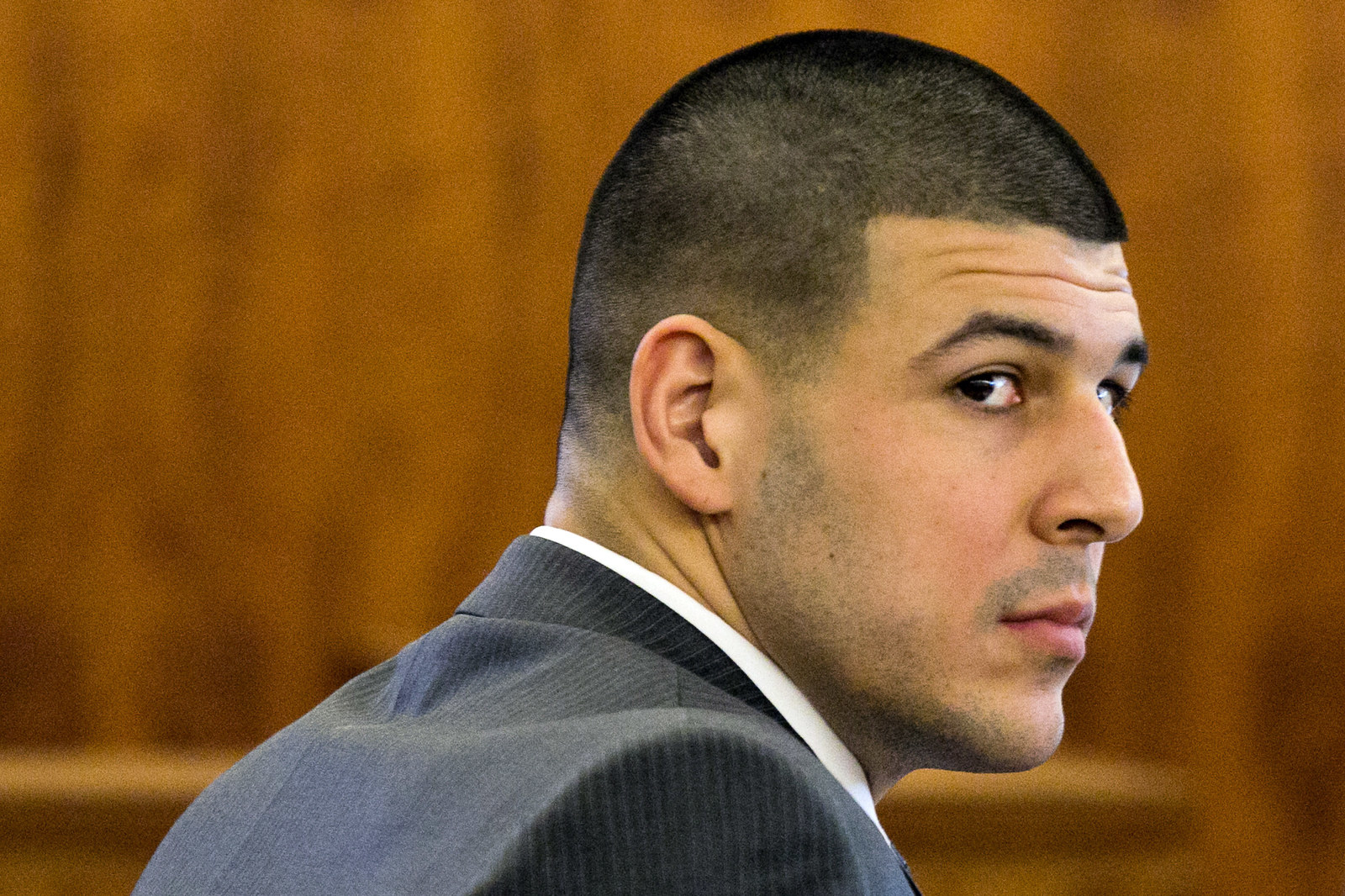 There is, in Aaron Hernandez's final gesture — his suicide — the same element of performance that permeated the gun-wielding picture and his personally symbolic tattoo art. He methodically hung a sheet in front of his cell window and blocked his door with cardboard; he apparently put shampoo on the floor before hanging himself to make sure he wouldn't back out.
Press accounts seemed enamored with the fact that he killed himself the same day that his teammates were scheduled to visit the White House, as if to punctuate the distance he had traveled, and as if there were a built-in sad poetry to the moment.
But his act also symbolized his beliefs about his own worth and his embrace of the idea that he could only be worth something as an athletic body or a dead one. "You're rich!" he told his fiancé, in a note also asking her to look out for his godson and brother. Because his case was still under appeal, his death would mean that — thanks to a little-known legal statute — his murder conviction would be vacated. An inmate later remembered that Hernandez had asked about that loophole, which could also mean that the terms of his contract would have to be fulfilled, and the money would potentially go to his estate. The sports family that disowned him after his arrest might now have to honor the terms of his contract, despite his legal troubles.
"Tell my story fully," he wrote to his fiancé. But in seizing control of his death, he left his own account as well. Before killing himself, Hernandez inscribed in ink on his face — and in blood on his cell walls — the biblical passage John 3:16, with the 16th verse marked in blood. The passage states: "For God so loved the world that he gave his one and only Son, that whoever believes in him shall not perish but have eternal life." He was still seemingly caught up in his unresolvable grief about fathers and sons, and still trying to make sense of it by turning to ideas about spiritual transcendence. This mixture of messages, about paternal ghosts and religious sacrifice, manly providership and capitalistic self-worth, is the failed script — or script of his failure — that he left behind. Should he be the only one to own it? ●