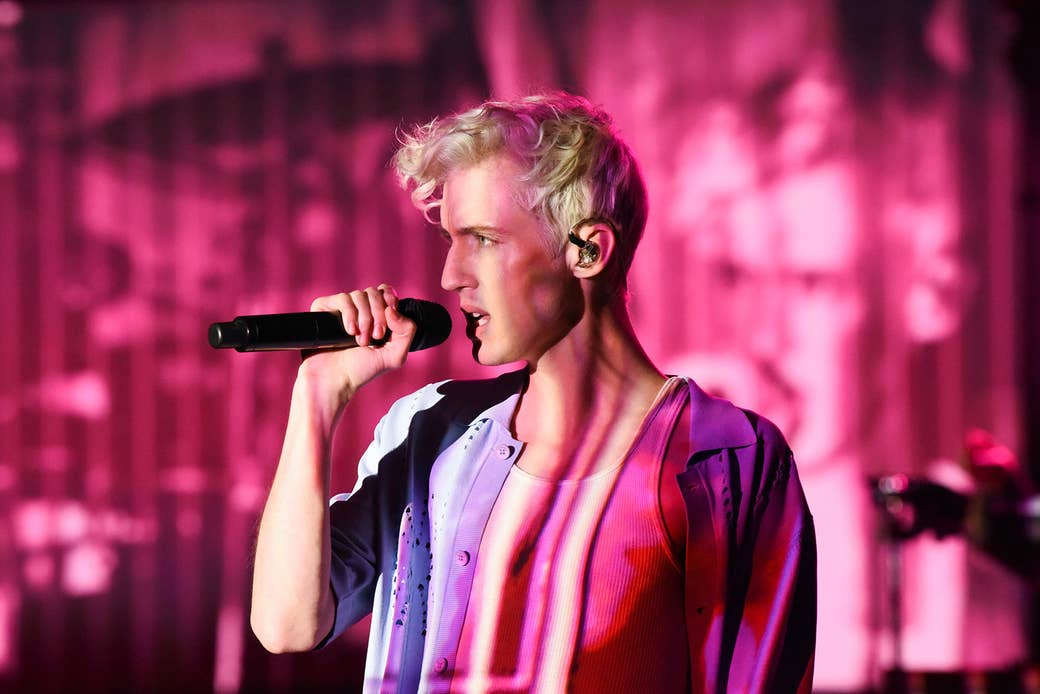 The title of Australian singer-songwriter Troye Sivan's new sophomore album, Bloom, is a multipurpose metaphor. It certainly captures the state of his career, as the 22-year-old has blossomed from his YouTube beginnings into mainstream stardom as a musician (and actor), with the album debuting in the top 5 on US charts. The lead-up to Bloom's release included appearances on Ellen and the Today show, big profiles in Rolling Stone and the New York Times, and even a promotional single with Ariana Grande.
"Bloom" also happens to be the title of the record's conversation-starting bottom anthem, and its sexy double entendre speaks to the performer's unique public emergence as a gay pop star. Pop stardom and gay men have long been intertwined, whether in the well-documented phenomenon of gay men's passion for pop divas, the disco fabulousness of Sylvester, the flamboyance of figures like Freddie Mercury and Elton John (who interviewed Sivan earlier this year), or, more recently, out stars like George Michael, Ricky Martin, and Adam Lambert.

But Sivan is often mentioned as part of a newer wave of unabashedly queer musical artists like Hayley Kiyoko, Kehlani, and King Princess, many of whom have refused, for instance, to change the pronouns of their love songs or the stories of their music videos to appeal to mainstream (straight) audiences. Sivan's rise is particularly meaningful because, unlike earlier gay musicians who came out later in their careers, he's been able to experiment with his identity throughout. And that has led him to Bloom, which sees Sivan specifically exploring gay male sexuality and embracing femme style in his music videos (a move often derided as stereotypical for out gay men, yet celebrated when performed by straight ones).

The flowery fantasies of the "Bloom" video and the carnality of the album's lead single "My My My!," in which Sivan sings, intimately, of tongues on teeth, are clear statements about queer love and desire. And it's a sign of changing pop audiences, and our post-blockbuster pop moment, that Sivan has built a fanbase that appreciates his music because of, not in spite of, its specifically queer perspective. The fact that Sivan is now a burgeoning pop star himself — in music videos with Ariana Grande, opening for Taylor Swift, who sashayed down the runway with him in one of her concerts — is a sign of a slowly changing industry and the shifting role of gay men's queerness in the factory of (often) conventional desire that structures mainstream pop.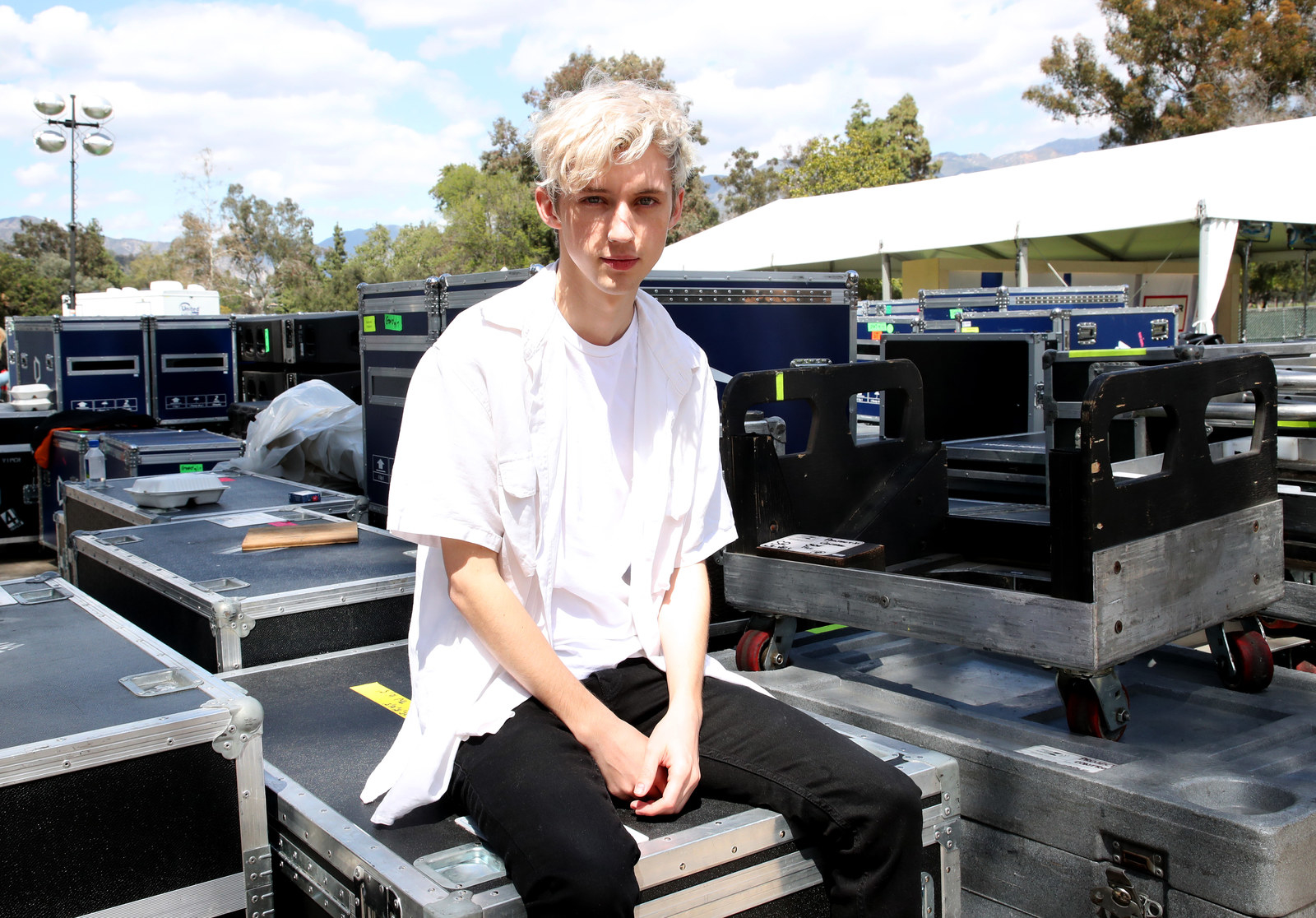 Sivan's emergence through social media, rather than conventional music industry channels, helped him connect with younger fans who had different expectations about music, stardom, and identity. He famously came out on his YouTube channel in 2013 and shaped his own public persona — through vlogs, song covers, and eventually his own music — before it could be molded by a big pop machine.
The careers of other queer male artists in recent years have looked very different: Adam Lambert, for instance, struggled to come out through the American Idol PR machinery in 2009, and Sivan's near-contemporary Sam Smith has had a much harder time defining himself — as both gay and gender nonbinary — after releasing his debut album through a major label. Earlier in his career, Smith faced backlash over his shame-y assimilationist comments about Grindr and his seemingly limited knowledge of gay history, as well as for changing the pronouns of his songs to make his music "universal." As he said regarding his output, "I've made my music so that it could be about anything and everybody — whether it's a guy, a female, or a goat."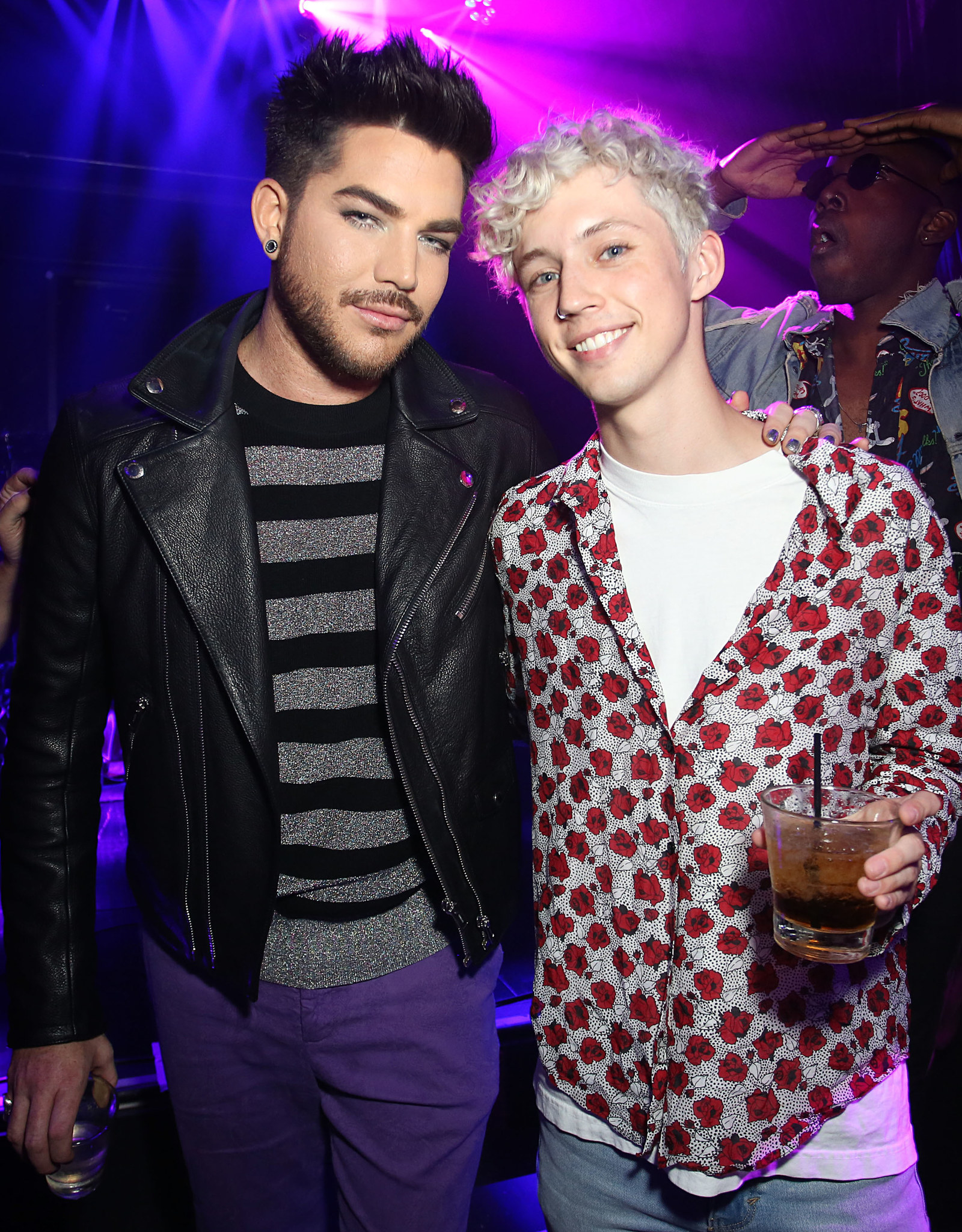 Sivan has himself admitted that despite coming out, he "just wanted to keep things as PG as [he] could" during his first musical era. He introduced his moody electro-pop to the wider, non-YouTube world with an EP for EMI Australia, which yielded the Australian top-10 single "Happy Little Pill," in which he sings, in a kind of hypnotized disenchantment, about "empty hearts buying happy from shopping carts." In the surreal video, his sweatered and coiffed style, juxtaposed with scenes of two women kissing in a swimming pool and a flying owl, evokes a sense of dislocation; he comes off like a lost boy looking for meaning.

Sivan's official debut album, 2015's Blue Neighbourhood, was launched with the song "Youth," a more upbeat pop presentation of the EP mood: "My youth is yours," the chorus bursts in a euphoric-melancholic shout, which Sivan explained was about giving up his youth to the internet — he started vlogging at 12 — or to a romantic partner. That song remains his only US hit to crack the Billboard top 25, with over 100 million video views.

But among his fans, the album became best known for its video trilogy based on the songs "Wild," "Fools," and "Talk Me Down." The trilogy was like a teen Brokeback Mountain for the YouTube era, featuring a Romeo and Juliet melodrama between two boys and their fathers, set in rural Australia. It gave his music a more concretely gay setting and narrative, though the videos were not the kind of big, accessible pop statements that would spark a viral hit. It makes more sense within the entire Sivan experience and trajectory, and the YouTube comments are full of questions about what aspect of Sivan's life inspired it, and what the ongoing storylines — including a funeral scene in the last video — mean.
Possibly searching for a wider "Youth"-sized audience, Sivan remade "Wild," the inaugural song of that boy-on-boy trilogy, through a video with Alessia Cara in 2016. Some critics raised concerns that Sivan would fall prey to straight-washing in his bid for Top 40 appeal — concerns he laughed off in an interview. (Even the remade "Wild" video, after all, includes scenes of him making out with a guy.) But Bloom did represent a conscious decision to, as he put it, "make music for queer people. I want to make music for people like me, and make something real about what's actually going on in my life."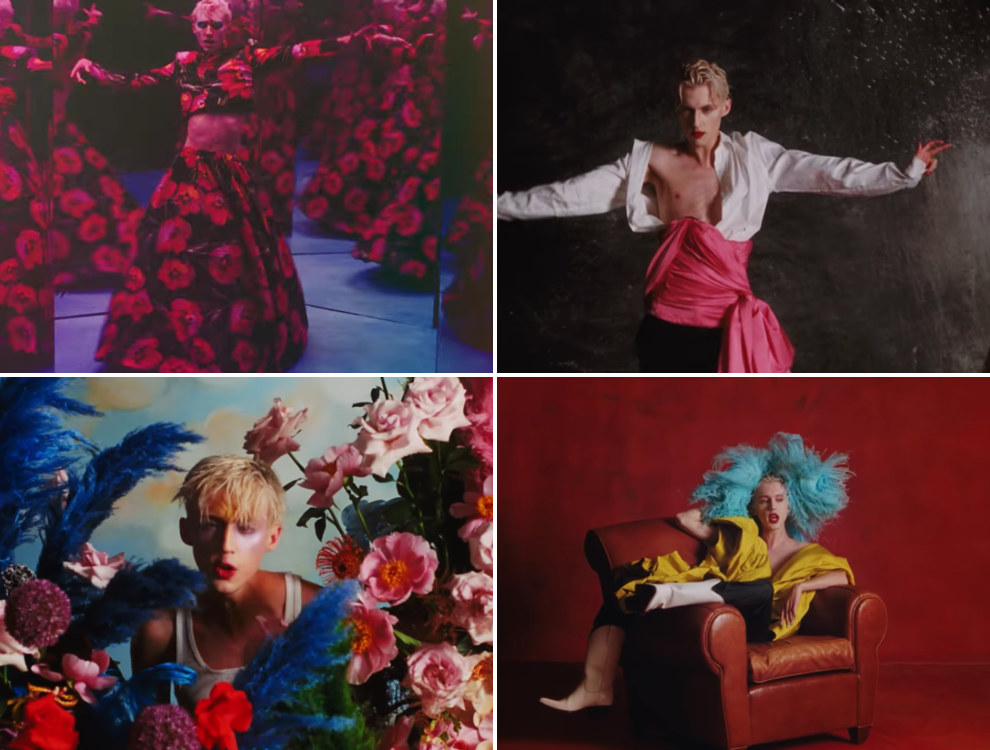 The Bloom era's significance isn't just about pronouns or lyrics, but also about Sivan's image reinvention, as he moved away from his early "good boy" persona through a carefully staged queer coming of age. In a cover story for Attitude magazine, he teased this "grimy sexy" new era, posing like a twinkified version of Tom of Finland, an explicit self-fashioning through gay male idioms. He even joked on Twitter, "i think 2012 me would have been really scared of 2018 me lol. too gay."
In the video for lead single, "My My My!," an upbeat EDM track about desire, he is more front and center than ever before, strutting, shimmying, and posing in a gritty warehouse. "The way that I moved was the way that I moved when I locked my door as a kid and listened to 'Like a Prayer' by Madonna," he told the New York Times. (Even Sam Smith told the paper, "He's moving in that video like every single gay boy. I identify with that video so much.")

Playfulness about gender presentation, and not just sexuality, sets him apart.
That playfulness about gender presentation, and not just sexuality, sets him apart from an artist like, say, Frank Ocean, who Sivan credits as one of his influences, and whose lyrics and public persona of unavailability play on the glamour of masculine emotion (even with the promotional materials for his album, including a zine titled Boys Don't Cry). It's also a different self-presentation than that of a predecessor like Lambert, who has achieved longevity less through reinvention, and more through a recognizable style of glam (but still masculine) rock flamboyance, not unlike Freddie Mercury's, whose lead singing with Queen he took over.

Sivan reclaims a specifically gay male (and devalued) femininity. This is clearer than ever in "Bloom," where he sings, in a delicately intimate and sometimes urgent tone, about passivity. "Take a trip into my garden," he invites a partner, "the fountains and the waters are begging just to know ya." One repeated phrase, "Baby, I've been saving this for you," is the kind of line that, if it were sung by a man to a woman, would bristle with the menace of phallic penetration. But here the man offers himself up in the delicate combination of agency and surrender that characterizes bottoming. The theme appears again in "Seventeen," where he sings about an early sexual experience, "Got something here to lose that I think you wanna take from me."
For many gay men who grew up in the '90s and early '00s, the dearth of mainstream representation speaking to queer experience meant instead projecting their feelings and experiences onto straight pop stars. Songs like Lady Gaga's "G.U.Y." or Cher's "Take it Like a Man" could be repurposed as gay bottom anthems (with these women's at least tacit support — just look at that Cher video). "Bloom" itself is unique because its theme about being a receptive partner isn't exclusive to gay men, but it was written about the experience of bottoming, which arguably makes Sivan's audience relate to his experience, on his terms. (Sivan has both embraced and helped shape the song's iconic status, initially tweeting out the hashtag #BopsBoutBottoming, but he ultimately deleted the tweet and has since said he'd rather not be reduced to one label.)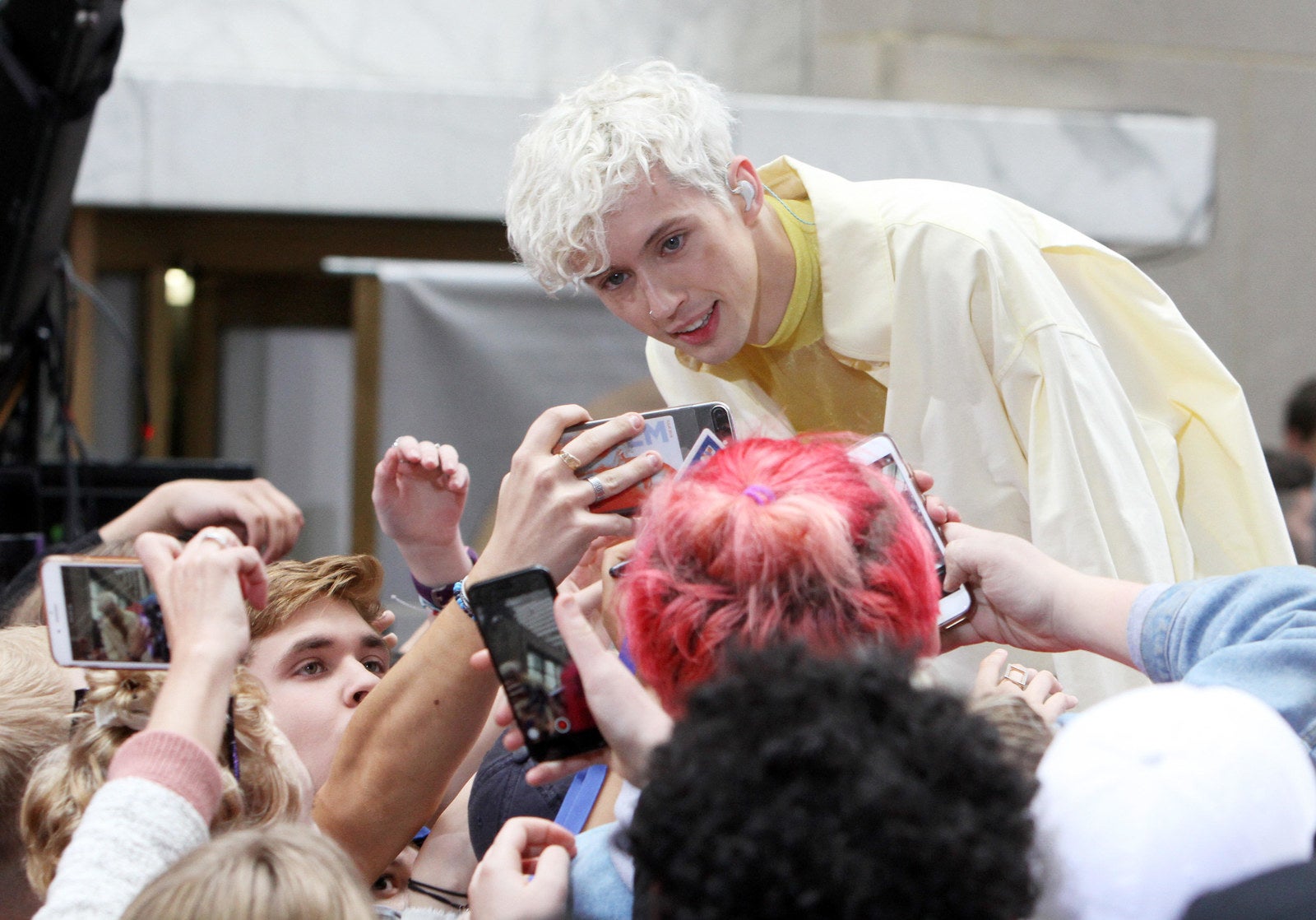 Pop stars are always complicated stand-ins for an audience's desire and recognition. In some ways, Sivan is a symbol not just of how much music has changed, but also of how much pop listeners' expectations have. As a recent Wired piece about queer pop points out, woke online audiences have become increasingly savvy about gender, sexual, and racial identity, and prize the "authenticity" of performers who speak from their own perspective. "I wonder sometimes about who is it that I am appealing to," Sivan told Variety. "Is it girls? Is it guys? Is it gay guys? I don't know. And I think my response to that is to not think about it and just do what feels right."

Sivan is a symbol not just of how much music has changed, but also of how much pop listeners' expectations have.
It is hard, when considering the meaning of Sivan's new era and the freedom to "do what feels right," not to think of the trajectory of George Michael. The pop master helped define culture in the '80s and '90s. "I was every little hungry schoolgirl's pride and joy," he sang, alluding to the expectations he generated through his massive stardom in the song "Freedom '90!" But he was forcibly outed after an arrest for performing a "lewd act" in a public restroom during a police sting. At the time, the idea of gay men in bathrooms was the kind of thing that terrified the mass audience he had accrued during the biggest era of blockbuster music sales.

He made a disco pop song and brilliant video, "Outside," that commented on the scandal, even playing a gay clone version of a cop. But the song, an attempt to own a "grimy sexy" moment, didn't even chart in the US. He tried to jokingly own the ordeal in an Oprah interview, while promoting the release of a 2004 album, where he was forced to explain the codes of cruising and the mechanics of police entrapment in rather prurient detail — framing his queerness more in reaction to a public outcry than on his own terms.
"I would say that I am really lucky that I came into the industry at the time that I did — people were ready for it," Sivan told Variety, acknowledging how he has benefited from a cultural moment in which explicit explorations of queerness could be an asset to a performer, rather than a liability. Far removed from his besweatered beginnings, Sivan can strut his stuff as he performs his bottom anthem on the nation's most wholesome morning show. "I bloom just for you," he sings to a cross-section of fans, and everyone who hears it can believe it. ●